Bohemian design concepts are characterized by a vast variety of styles that combine color, pattern, and texture.
A basic, clinical bathroom can be transformed into a colorful, varied space that is brimming with personality and charm by looking at boho bathroom decor.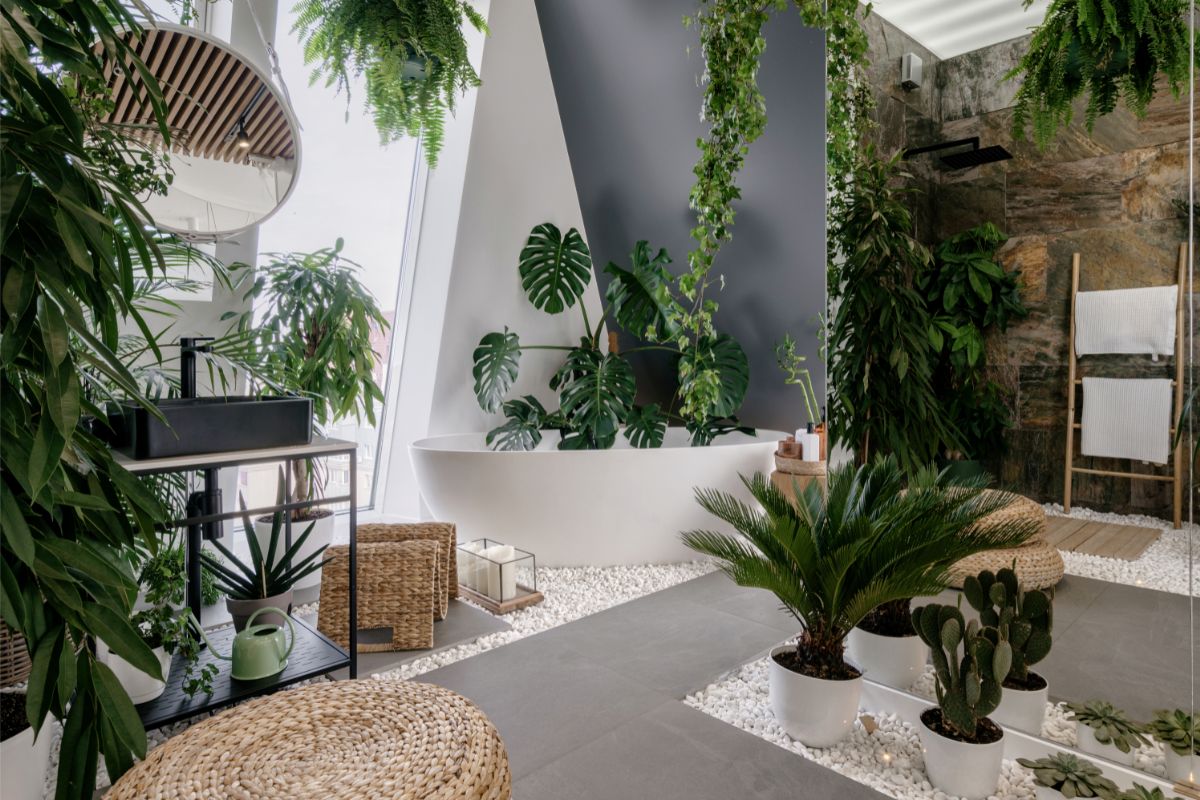 Your bathroom should be a welcoming, tranquil setting that nevertheless reflects the interior decorating style of the rest of your house.
With the help of our boho bathroom decor ideas, you can construct a captivating place that embodies much more than simply functionality.
What Is A Boho Bathroom?
The boho bathroom should be decorated in a way that celebrates shape, color, texture, and, of course, the natural world.
There are no defined guidelines for boho bathroom design because doing so would go against what the style actually stands for. The fact that boho bathroom decor can be flexible and individualized to your particular style is what makes it so interesting and fun.
With the end result being a laid-back, friendly area that represents your personality, embracing the unexpected and the unusual is a fantastic place to start when coming up with boho bathroom decor concepts.
1. Add Bold Wallpaper
Given that it is smaller than most other rooms in the house, the bathroom is a perfect location to experiment with wallpaper designs. You can pick an eye-catching, surprising pattern to give the room a truly one-of-a-kind feel.
When selecting wallpaper for your bohemian bathroom design, picking a strong pattern can produce an eye-catching, maximalist appearance.
For instance, choosing detailed, tiger-patterned wallpaper in your bathroom inspires warm and welcoming thoughts. To give the room a sense of depth and natural texture, this can be accented with bamboo textures and an oval mirror.
2. Add Cabinet Curtains
This classic design element can be a chic way to give your bathroom space substantial texture as well as incorporate an eye-catching print and pattern.
Cabinet curtains, which are frequently used in bohemian kitchen designs, can also provide a decorative focal point in your bathroom, giving the room a special feel.
Transforming your cabinet designs with attractive curtains can give charming softness to your bathroom, whether you're going for a more vintage boho vibe or are creating a subtle boho mood in a modern bathroom space.
3. Add Comfortable Seating
Including seats in your bathroom can create a chic environment where unwinding is the main focus. The way you use your bathroom may change if you add a chair or ottoman to the area. It may also offer texture and character.
A traditional, rustic wooden or woven chair can enhance a bathroom that is rich in color and texture but still manages to be calm. This gives a boho appearance a lovely, vintage touch.
By placing a soft rug beneath a chair, you may further anchor it to the area and create a welcoming, relaxed ambiance.
4. Add Naturally Textured Lighting
Rattan and wicker are two examples of natural materials that have long been connected to boho design.
You can easily achieve a comfortable boho aesthetic in your bathroom by using these kinds of materials, and natural, textured pendant lighting will provide warmth and appealing texture to the room.
Not only can woven pendant lights and lanterns be used in bohemian living spaces, but they may also provide a distinctive, physical and visual texture in your bathroom when styled and placed properly.
5. Add Plants
Without mentioning some greenery, we can never talk about a bohemian look. The bathroom needs plants if it is to have a dynamic appearance. You can grow some special plants in your bathroom because they can endure any environment.
For example, aloe vera grows in a variety of climates and is a fantastic indoor plant.
The native look, which is a key component of the bohemian look, will be highlighted by the presence of plants in your bathroom. To avoid monotony, always combine different plant species.
6. Add A Rug
Although bathroom spaces are not typically associated with rugs, bathroom rugs are growing in popularity, especially for large bathrooms, to create a pleasant and inviting area.
Rugs, a common component of boho decor, are an easy way to give a room a soft, inviting layer of texture. When you use a rug in a boho bathroom, you can instantly feel more at home because of the way the tactile texture of the rug grounds you to the room.
7. Add Some Art
Your design has to incorporate some art. You might include some animal art into your design since bohemian art is primarily about animals.
You can swap out your standard knobs for ones that are inspired by animals. The little things matter when it comes to creating a boho space.
You can use woven wall art in your bathroom as woven art is a significant component of the bohemian aesthetic.
8. Combine Different Textures
The key to a boho style is texture. In order to get the desired aesthetic, you must be sure to combine several textures.
You can add texture to your bohemian bathroom in a number of ways. Changing your bathroom's basic floor tiles with textured ones is one way to do this.
Rugs can also be added to the bathroom to create texture. Rugs are used for more than just the floor in a boho style. Wall rugs are also essential and will contribute to a lovely appearance. A boho aesthetic has the advantage that decor matching is not required.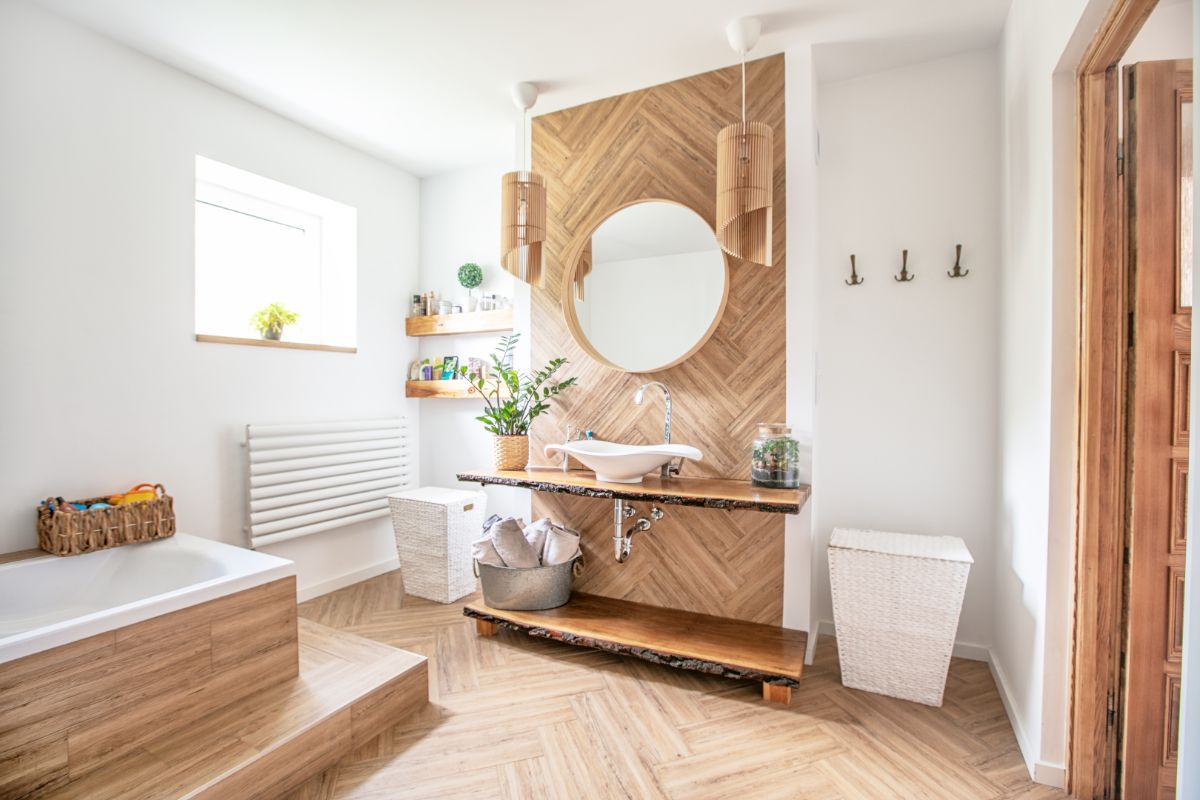 9. Decorate With Unique Objects
The core of bohemian style is rooted in accumulating items and artifacts from journeys around the world, which results in a distinctive, fusion-style environment that blends various styles, civilizations, and eras of history.
Your bathroom will feel more pleasant and connected to you and your particular style if you decorate it with distinctive items and accents.
Don't forget to accessorize when planning your boho bathroom decor because these decorative objects can tie the entire theme together.
Combining vintage and antique antiques with modern pieces will provide an eclectic and one-of-a-kind appeal.
10. Embrace Contrast
Beautiful contrasts, whether they be in print, texture, or color, are what characterize a bohemian look.
In a boho bathroom, layering several elements is a typical concept. You want to achieve a busy appearance without it being overly congested for the ideal design. It's a delicate balance to strike, but done well it can produce a cozy and welcoming atmosphere.
11. Get Inspiration From Nature
Whether it is through the use of natural materials like wood, the use of a botanical wallpaper print, or decorating with plants and greenery, bohemian decor is frequently influenced by the eternal beauty of the natural environment.
Incorporating natural components into your boho bathroom will only increase feelings of tranquility and restfulness because it is well known that being outdoors and surrounded by nature makes us feel more relaxed and serene.
12. Go With An Earthy Color Scheme
Choosing an earthy, calming color scheme for your bathroom will help you create a space that is harmonious and pays homage to the colors of the natural world.
Warm terracotta paint applied in your bathroom can provide a positive atmosphere to the space and immediately make you feel at ease and welcome.
Complemented with dark wooden cabinets and greenery, the overall look can effortlessly take you to a more tropical climate.
13. Prioritize Relaxation
When considering bathroom designs for the home, luxury bathroom concepts are becoming more and more common. To create your own little haven of relaxation at home, design a tranquil area that is reminiscent of an opulent spa.
Wood and stone, which are often used in boho bathroom decor, are ideal for creating a calming, spa-like atmosphere.
A fluted, wooden paneled ceiling, for instance, instantly makes a room feel warm and inviting, and hardwood flooring completes the look well.
A really distinctive environment is also achieved through the use of contrasting shapes, height levels, and warm, earthy colors and materials. A magnificent free-standing bath can be added as the finishing touch to create a comfortable bohemian vibe with a touch of luxury.
14. Use Colorful Tiles
In bathrooms, tiles are frequently the focal point. You can easily express your style and individuality in your bathroom space through tile designs because there are so many different patterns, colors, and shapes to pick from.
Embracing color and pattern when choosing bathroom tiles for a boho bathroom will help you create a distinctive, quirky look.
15. Use Natural Textiles
The use of natural materials, such as wood, stone, and rattan, can create a pleasantly calm ambiance that seamlessly takes you to the natural world. This is a terrific place to start when planning your boho bathroom decor ideas.
A serene, neutral color scheme unites the sophisticated combination of ornamental items and natural materials in your bathroom to create a stunning place that doesn't look at all like a typical bathroom.
Final Thoughts
You can create a gorgeous, boho style bathroom using this list of ideas! When designing your perfect bathroom, keep these in mind so you can create a bohemian paradise in your home.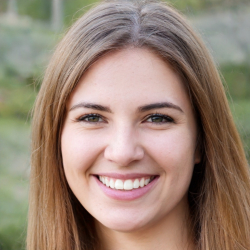 Latest posts by Maisie Park
(see all)