Playhouses are so fun for both kids and adults alike. It's a great way to play together and bond, but also allows your child to have their open space when they need it.
Everyone needs an outdoor playhouse, and we are going to inspire you with plenty of ideas.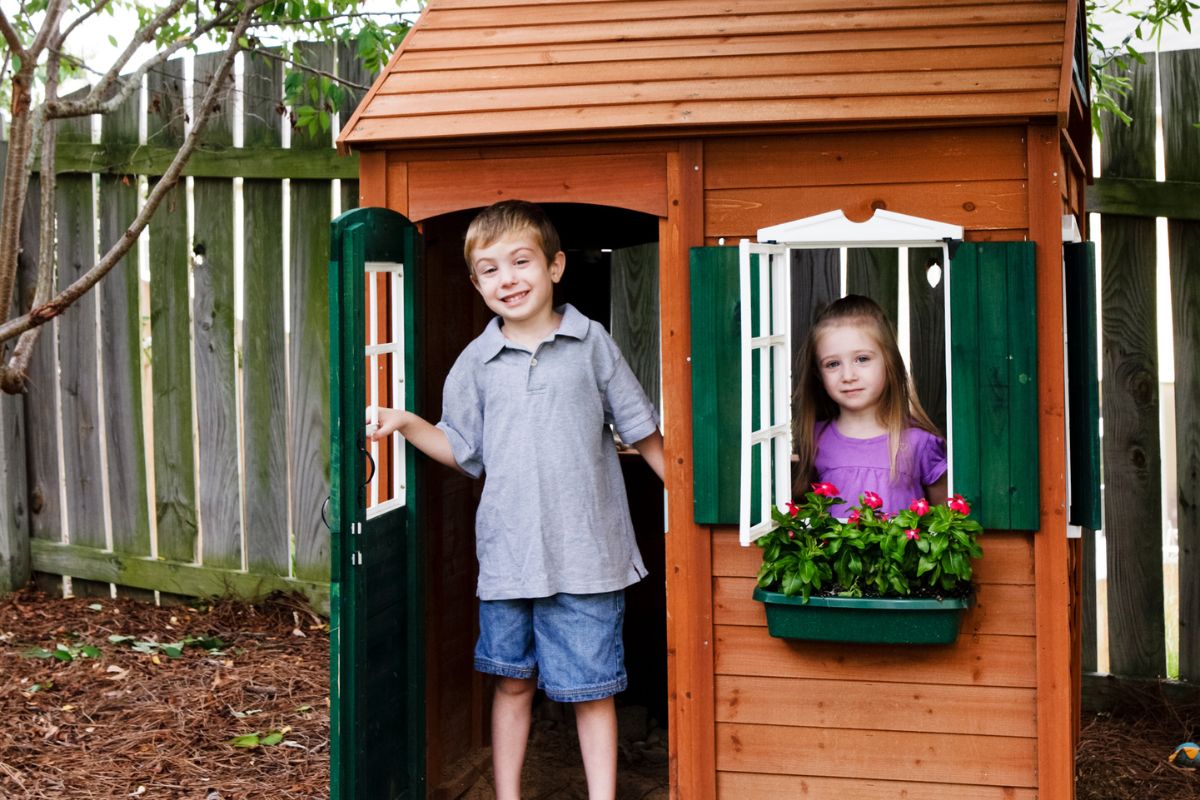 A playhouse is a small house – one doesn't have to take too much of the garden up – that is often made out of wood.
You can then paint and decorate it however you and your family want, creating another excellent bonding experience between you all.
The best thing about playhouses is that there is not one right way to make them.
You can make and decorate your playhouse however you and your children want – with extensions, additions, gardens, and more!
Building Your DIY Playhouse
A playhouse isn't going to be built within an hour, so you're going to need to account for the time it takes to make a miniature house.
Some people prefer to build it in their free time after work, while others aim to finish it in one weekend.
If you choose to make it on the weekend, your kids will be able to help you more and feel more included.
Not only will you bond over making something, but you can also teach them valuable skills concerning building and craftsmanship.
Not only that, but you can also get their input with ideas and allow them to have a say in how you make the playhouse – it is theirs, after all!
Giving them the opportunity to help build the playhouse will give them a sense of pride after it is all finished as they helped to bring their ideas to life.
So, what are we waiting for? Let's get into our ideas for your playhouse that won't break the bank!
Who said playhouses had to look like real houses? This first project created a teepee for your garden out of scrap fabrics that you can find anywhere.
Provided that you're handy with a needle and thread, you can patch together all kinds of fabric to make your playhouse look shabby chic.
Once you have your fabric ready, all you'll need are some wooden poles. You can also use PVC pipes, although they won't look as good and might be less durable than wooden poles.
Build the teepee in your garden and enjoy it as a whole family – this DIY project isn't just for kids! Make it as small or as large as you want and enjoy a blissful summer under the stars!
Be mindful that this playhouse is not waterproof (unless you treat the fabric and wood, or use waterproof materials) so it's best only to be used in summer when the forecast is sunny.
Deconstruct it when the rain comes, but keep it safe for your next sunny day!
Playhouses are fun, but what about playshops? These add another layer of imagination to their playtime, and playing shop is one of the most popular games that children can play.
Don't you remember playing with your friends and arguing about whose turn it was to be the shopkeeper?
Depending on how much time and energy you want to spend on making this house, you could always make it a house as well as a shop with different rooms!
While this will increase the price slightly, it gives your children more room to play. Plus, the house will get used more often, so your hard work will be appreciated more.
There are many components on this playhouse that you could remove if your budget didn't allow it. For example, no playhouse really needs working light bulbs.
Also, you don't need the added slide on the side or ladder for the upstairs. Make it all one story if that's easier!
The best thing about DIY playhouses is that you can customize them however you want, so don't feel the need to add all of the optional extras.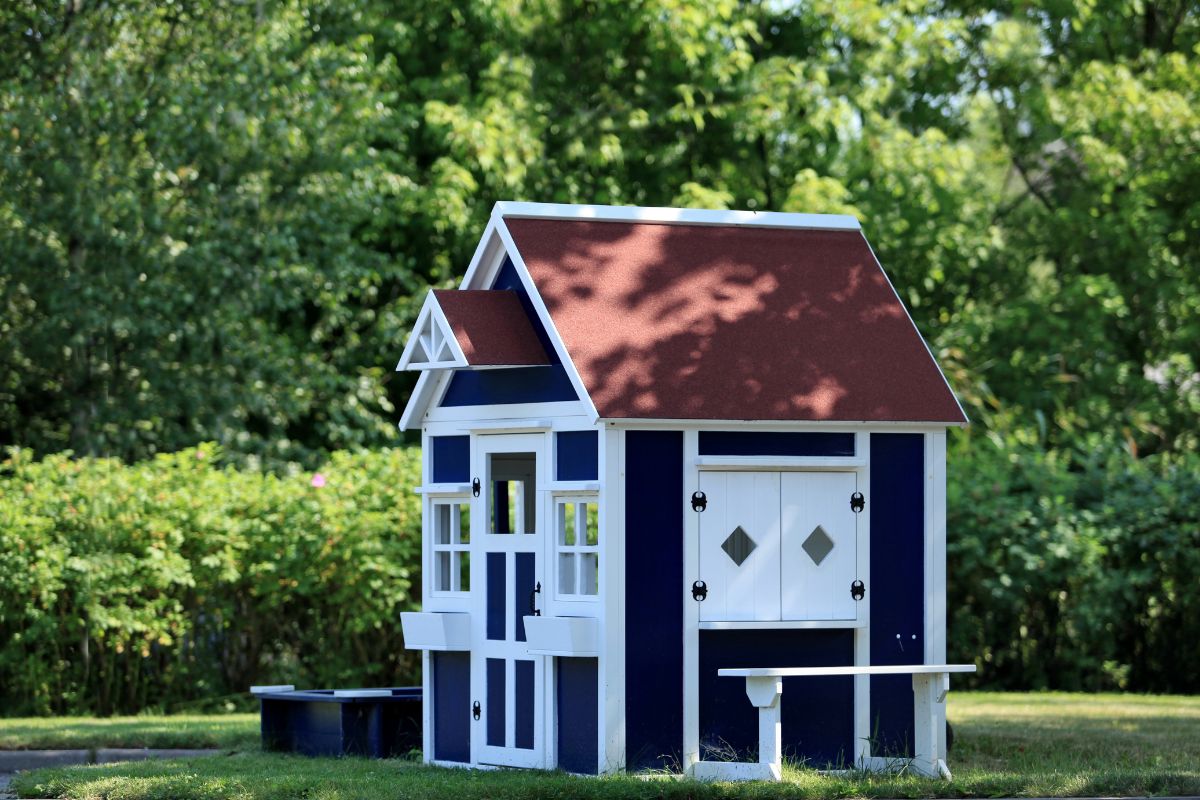 Modern houses have a particular look nowadays, where they're all dark blue and white with straight lines and fake grass.
Whether you have a modern home or not, it can't hurt to show your little ones what they might be living in the future!
We love this house because it looks like a real miniature house – like you could see a bigger version of this exact house just down the street.
This particular inspiration piece comes with its own bedroom upstairs, which might set you back more money than you were hoping to spend. But look how cool this house is! We want to live there…
Besides, if you wanted to take inspiration from this house without spending so much money, remove the second floor and only have it as one large room. Put some of their toys and mini furniture in it and you're done!
We think the porch is so cool on this house too, and the return of the little bench! This is a playhouse that you wouldn't mind taking up room in your garden, that's for sure.
Okay, this is an amazing idea – and it won't cost you much at all. Have you got a swing set in your yard that isn't getting as much attention as it once did? Don't throw it out – convert it into a playhouse!
All you'll need for this project is a piece of waterproof fabric to drape over the swing set's frame (after the swings have been removed from the frame, for safety reasons).
Painter's drop cloth is an awesome idea for this hack as it is both heavy-duty and waterproof. This means that your playhouse will last for many years and won't need to be treated like wood.
Secure the painter's drop cloth with duct tape and thread, creating a tent-like house for your children.
It might not look like a traditional playhouse, but that might make your kids think it's even cooler!
Make sure that you cut a door for them to enter and exit through, and decorate it with vinyl stickers. This teepee DIY playhouse is an excellent way to get more from your neglected swing set.
What You'll Need
¾″ x 4'x8′ Plywood (for the floor) and ½″ (for the roof), 2″x4″x8′ Pressure Treated Pine Studs (for the house)
⅝″x5.5″x 6′ Pressure Treated Pine Fence Boards (for siding). 2″x2″x8′ Pine (for the inside of the ceiling)
4″x4″ x 8′ Pressure Treated Pine Posts (for porch posts)
This wild west inspired saloon is the perfect house for imaginations to run wild in.
It's simple to make, and you don't even need to paint it if you'd prefer the rustic look of wood! If your children love pretending to be cowboys, this is the ideal playhouse for them.
Plus, it doesn't look like any traditional playhouse that we've ever seen, so your new garden addition will be the talk of the town!
This project might be a little trickier than other playhouses on our list, but look at it – it's so cool! The tiny bench outside is a nice touch, too.
Not only does this idea come with amazingly well-drawn-out plans on how to make your own playhouse, but it also looks awesome.
The materials list might look extensive, but most of the things on the list will be cheaper than you expect.
So, this house is still budget-friendly – although be warned that it might take a long time to build.
The house is made of simple lines with straight lines around the windows and doors. This makes it perfect for color blocking. While the original handyman used yellow and blue, you could use any two colors you wanted.
The fact that you will only need two colors of paint is great for keeping the budget low. Instead of having to spend money on multiple pots of paint, you'll only need two.
You might even be able to cover the door with just a tester pot, preventing you from having to waste money on the paint you're not going to use again!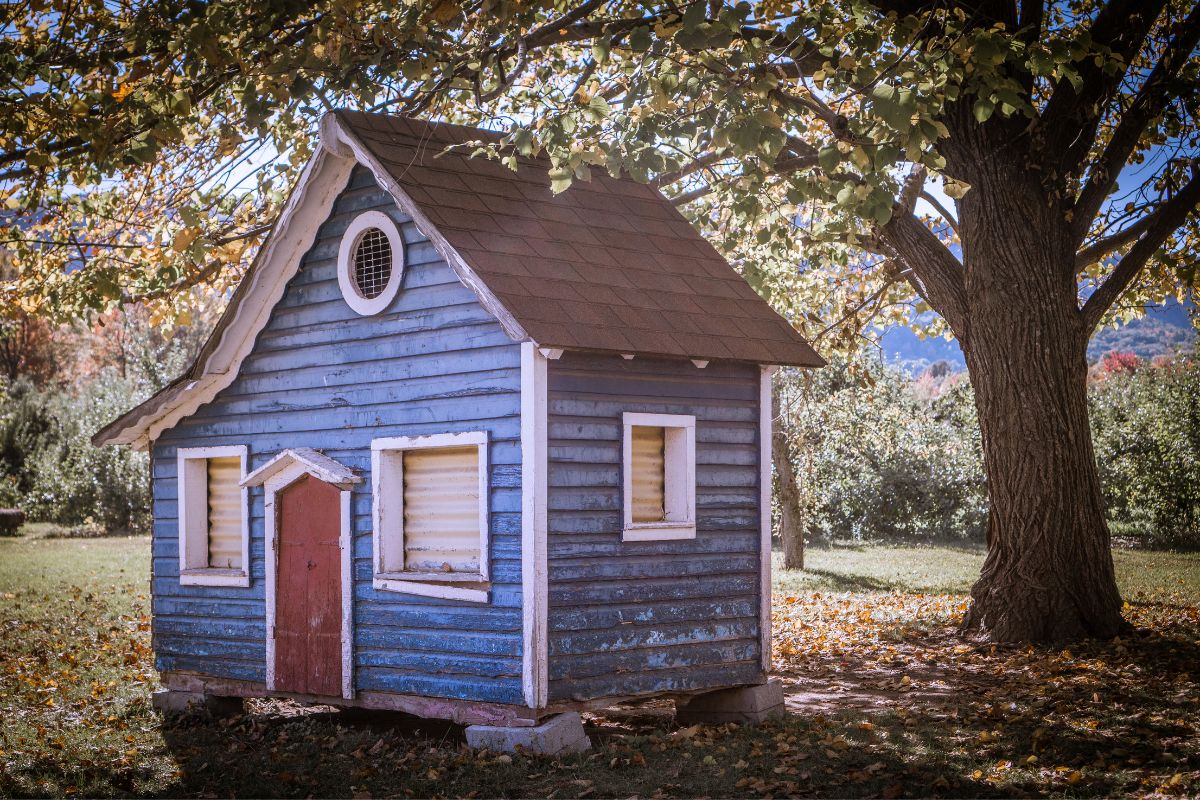 Next up is one of the most affordable ways to create an amazing playhouse for your children – and also one of the quickest.
Many people sell their old playhouses online, either on eBay, Facebook Marketplace, or other similar sites.
You can snap these up for pretty cheap as they're often not in the best condition – but that just means they've been well-loved.
Find a wooden playhouse online and upcycle it however you want. Top tip: sketch out the shape of the house and let your children color it in how they want their playhouse to look.
You can then take these ideas and make them come to life with a fresh coat of paint and any other accessories you find.
Add bunting, a little sign, and plants to give it a more homey appearance. Give old playhouses a new lease on life and save yourself from actually having to build anything!
Do you have any spare pallets lying around? Then don't throw them away! Make a DIY pallet house with them!
The pallets give you a great sense of customization as you can stack them however you like to make the house.
If you don't have any pallets, don't worry – you can drive around stores and see if any have them outside for free. Failing that, people often sell unwanted pallets online for cheap, so you could do this too.
Just make sure you give the pallets a good clean before making the playhouse and treat the wood to prevent it from decaying.
The pallet house will have holes in the walls and ceiling, so you can put a sheet of metal over the top to act as a roof.
You could also put wood all around the sides to make it look more aesthetic, but this will cost you more money.
Let your kids draw or paint on the wooden pallets and voila! A simple house for almost no money at all.
Next up is a small cottage-inspired playhouse. Seeing as it's mostly only made up of plywood and some wooden beams, it shouldn't be too expensive to produce at all.
Better yet, you can finish making it in just a few days of starting the project!
This house is small and quaint, making it great for smaller gardens where you don't want to sacrifice too much of the yard for a playhouse.
The angled roof makes the playhouse look expensive and cool, but it's surprisingly cheap to make!
The roof is where some people will be put off considering the challenging angles, but the instructions are very easy to follow.
Provided you pay attention to what the instructions say to do, you should find the roof surprisingly easy to make.
The original poster has painted the exterior of the house with only one color. Again, this will save you money on paint as you will only have to buy one pot.
We think it would look even better if the door was painted a different color though, so you can try this out with a paint testing pot to prevent having to buy another big pot of paint.
Little Tikes is a popular brand of kids' toys, and they also offer a range of playhouses for the garden.
These are made from plastic rather than wood, making them more durable to the outside elements and often safer around kids.
However, not everyone thinks that the Little Tikes playhouses are aesthetic enough to be in their garden. We get it – they're brightly colored plastic that can stick out like a sore thumb against your maintained yard.
So, upcycling the playhouse could be the way to go. If you don't want to buy a brand new Little Tikes playhouse just to paint it, look on second hand sites to see if anyone is selling them off for cheaper.
Once you've found your plastic playhouse, prime and paint the exterior to the color you want. Reassemble the pieces and get to decorating!
Priming is important for this transformation so that the paint actually sticks to the plastic rather than falling right off.
The inspiration piece for this DIY playhouse involves adding a wooden porch to the exterior.
This is going to cost more money for the supplies, so don't feel as though you have to do this if you want to save more money.
It's genius – bunk beds already have two floors and a ladder! Add plywood around the frame to make it look more like a house and add a roof before painting in your desired colors.
This house is smaller than the others that we have looked at so far, so it's perfect for a smaller yard or house.
The best thing about this product is that you can use it indoors or outdoors. Keep it as your children's sleeping space if you want to, with two super cool beds stacked on one another.
It adds a great main decoration for their bedroom and they'll be bragging about their house beds for ages!
Alternatively, you could treat it so that it could live outdoors and use it as an outdoor playhouse. Lay some plywood over the bed slats to create flooring and add some of their toys in.
Now you have a two-story playhouse that doesn't take up the entire garden!
This inspiration piece uses bunk beds from Ikea (You might want to check out IKEA Moppe Hacks You'll Love), but you could use any that you can get your hands on. Look for second hand frames to keep the costs down.
The great thing about this house is that all you need is plywood and bunk beds, and perhaps some paint.
Cheap and quick to make – what more could we ask for?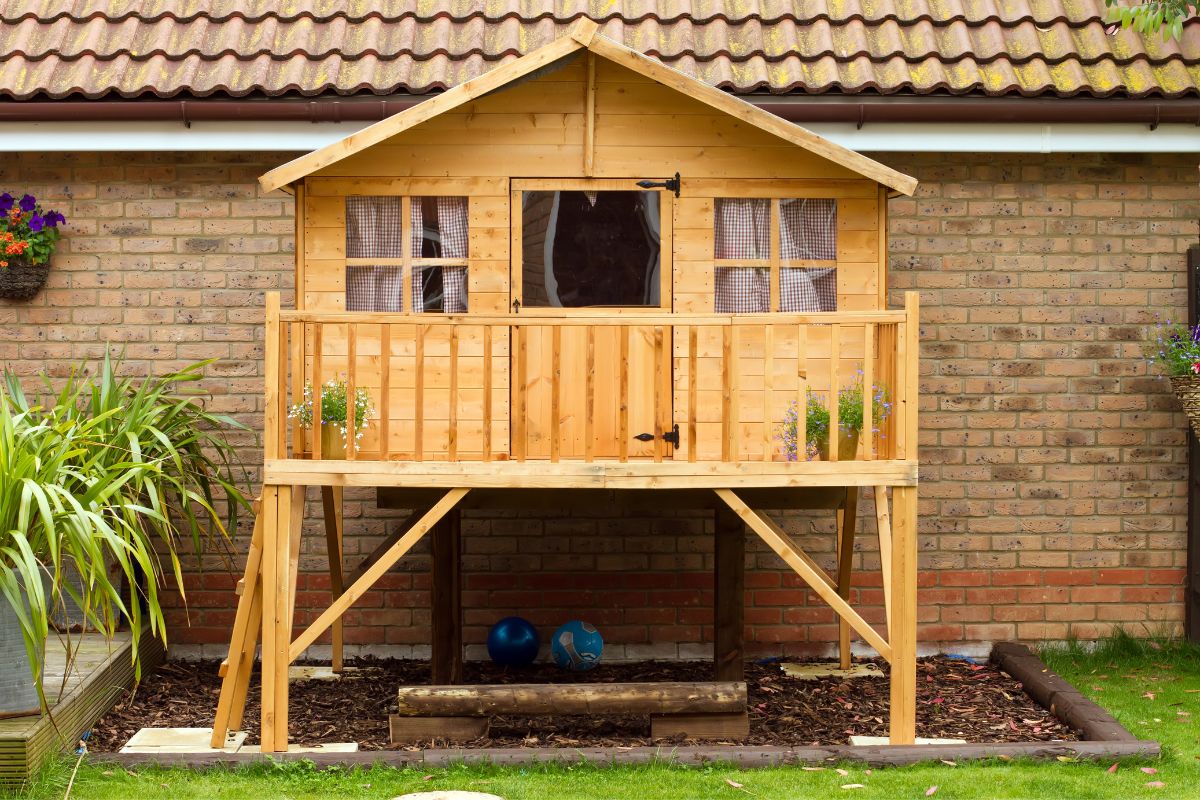 This rustic playhouse is a lovely addition to any garden. Not only does it look amazing, but it also offers your children more than one way to enjoy it!
The shape is traditional and made from wood, and there is a decent-sized room at the top of the house.
This can be built on stilts (make sure they're safe and sturdy before letting your kids use them) so that you can run a side down from the house.
Add a ladder so that they can get back up safely, as well as any other fun play equipment that you can find for cheap prices.
This playhouse might not be the cheapest to make, simply because of all of the play apparatus, but you can reduce the cost by using second hand materials and finding deals on wood and toys.
It also looks like this playhouse will take you longer than a few hours to create, but look at the results!
That extra time will be more than worth it once you see the look on your children's faces when they're playing with their new playhouse.
Up until now, we have only really been looking at playhouses made from wood – but why, when there are cheaper materials to use than wood?
PVC pipes are an example of this. They're strong, durable, and often cheaper than wooden beams.
All you'll need to make this house is some PVC pipes, joining pieces, colored fabric, and some imagination.
The house will turn out colorful and simple for your child to enjoy as they revel in their own private nook of your house. Let them choose the colors of the fabric so that they feel included in the making process.
This playhouse is not waterproof unless you use waterproof fabric and ensure that the edges are all sealed so no water can leak through to the inside of the house, so it might be best only used indoors.
Keep it up for your child to play with and use whenever they want time for themselves.
How cute is this playhouse? The gingerbread house theme is a great one to use around Christmas time, but if your kids love sweets, then they should still love it all year round.
The instructions call for you to use thick cardboard to make this house, although you could also use wood if you wanted to keep it outside.
The cardboard idea will be cheaper, though, so if you're on a budget then we suggest keeping to the instructions.
Every other material can be made with things found either around the house or at Hobby Lobby for cheap prices.
If you'd prefer to make it less Christmassy, simply remove the candy cane from the house and add a different sweet in its place.
Now it is just a Candyland-themed playhouse! Trust us, your kids will love this one.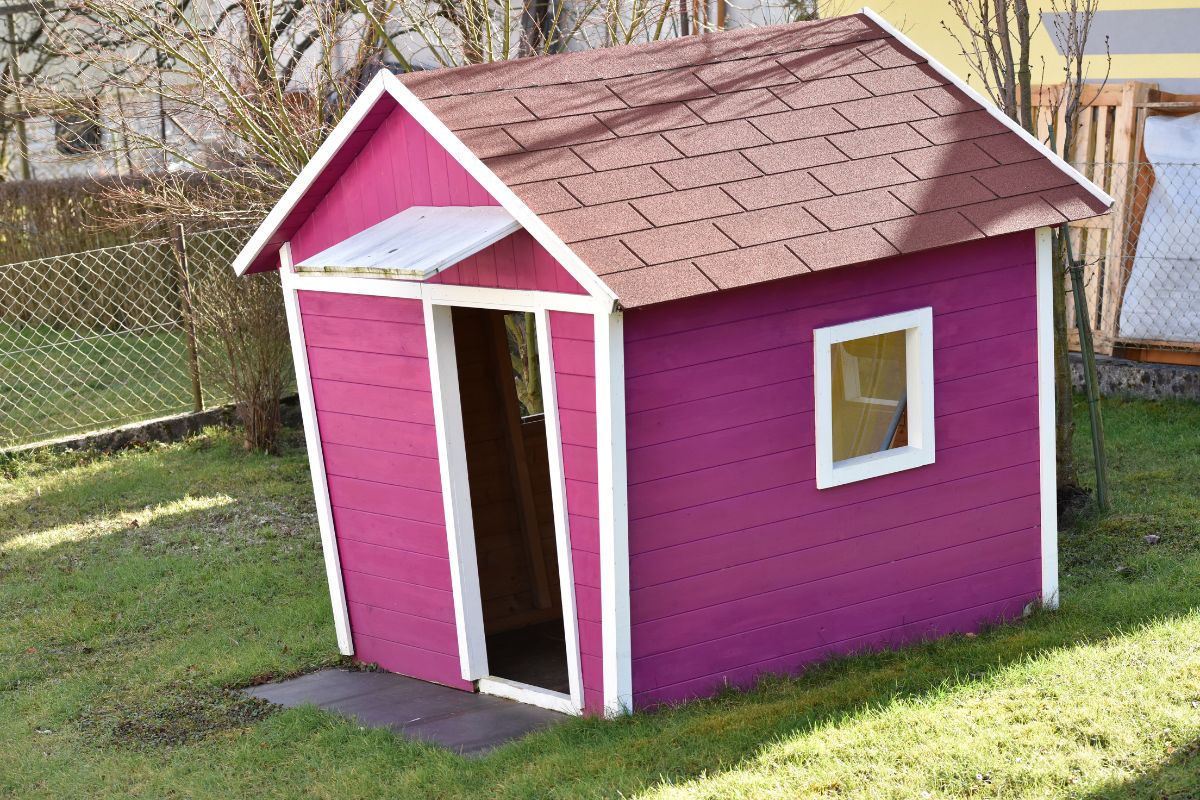 If you're worried about how you're going to find the time to create your DIY playhouse, don't panic.
Just build it one wall at a time, whenever time allows. Rome wasn't built in a day, so your playhouse doesn't need to be, either!
This simple-looking playhouse is made from solid pieces of plywood rather than many wooden beams stacked on top of each other.
The plywood makes it much easier and quicker to finish, not to mention keeping the price down.
The simplicity of this playhouse is what makes it so great for many busy parents out there.
The pattern takes into account that you might not be able to build it all within one day, giving you instructions on how to make one piece at a time.
Before you know it, you'll see the house coming to life before your very eyes. Add the final touches, like the roof and decorations, and unveil the house to your children.
We bet they'll love it, even if it did take you a while longer to make than they were expecting!
Okay, this might just be the most adorable little playhouse that we have ever seen. Look at the tongue-and-groove plants all perfectly lined up on one another! This house is the perfect blend of cute and simple.
This is the perfect playhouse for beginners to make, so if you're not that comfortable with woodworking yet, why not give this one a try?
Give your children their very own tiny home with an amazing transom window and a flower box outside the window.
This could also teach them gardening skills, and they could even grow their own vegetables out of it!
We might collapse from the cuteness here… This is an affordable DIY playhouse that you don't want to miss.
Who said you need a tree to build a treehouse? Not only is a treehouse in a real tree a little dangerous, but who actually has trees in their gardens anymore? 
Anyway, the good news is that you don't need a tree to make this treehouse. Just some wooden stilts to hold it up above the ground, giving it a little height and therefore the illusion that it is in a tree. 
This pattern calls for sheets of fabric to be used for the walls, instantly bringing the price down.
Make sure that you use a waterproof fabric, such as painter's drop cloth, to avoid it becoming sodden and degraded in bad weather.
Make a small ladder for your kids to get into the treehouse with and you're done! A perfect faux treehouse that your kids can enjoy for years to come.
If you have plenty of scrap materials around your home that you don't know what to do with, don't throw them away. Instead, make a scrap wood playhouse!
Once all of the mismatched pieces have been put together and painted, no one would even know the difference.
Plus, depending on how many pieces of scrap wood you have around the house, you might not even have to spend any money at all! Win-win, if you ask us.
This pattern is made from scrap pieces of wood as well as pallets, but you can use anything that you get your hands on.
That's the beauty of this project – you don't have to follow the pattern religiously, and it doesn't have to be perfect!
Not to mention the added benefit of finally having a use for all of the wood scraps you've been saving for far too long.
Last up is a great idea if you're short on yard space or live in an area where the weather isn't good enough to make an outdoor playhouse worth it. How about turning your child's closet into a playhouse?
This inspiration piece creates a small porch for the front of the closet, using the door as the playhouse's entrance. As this house isn't outside, you don't need to spend extra on making it weatherproof.
You don't need to worry about building the walls of the playhouse, so that's already saving you lots of money and time!
Just make a shortened roof, some porch pillars, and make it cozy with fairy lights – how cute is that?
Summary
We hope that you have enjoyed exploring plenty of inspiration for your playhouse – which one will you choose?
You could also take inspiration from multiple options to make the house your own. Make sure to get your kids involved, and have fun!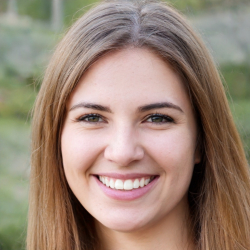 Latest posts by Maisie Park
(see all)