You really won't want to miss out on setting up an outdoor kitchen, especially since they essentially work as a natural extension of the home and allows you to create a brand new socialization space where you can feast on some incredible food with your friends and family.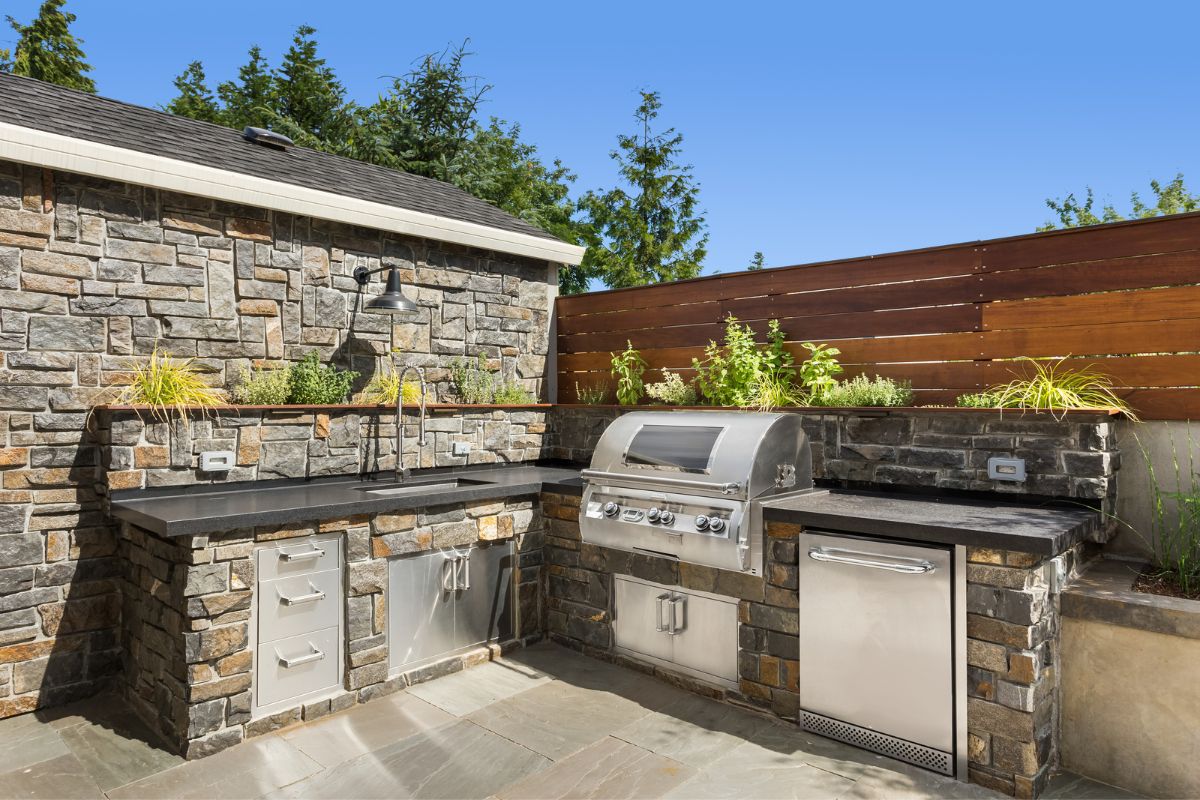 However, you don't need to just design the outdoor kitchen the same as the indoor one, this is your opportunity to experiment with an entirely different aesthetic that can match your beautiful home.
Here are some vibrant and exciting ways you can take an outdoor kitchen to the next level.
The core of this design is the beautiful handcrafted bar which is fitted with a metal roof and walls surrounding it with just a few open windows dotted around so that you and your guests don't feel too isolated.
Using corrugated tin in this social space creates a very modern aesthetic that makes the sound of rain that much more peaceful as you sit under it sipping a martini or while sizzling up some food, definitely a minimalist outdoor kitchen bar idea that you won't want to miss out on.
If you're ever thinking of creating your very own outdoor kitchen, the pergola is one thing you cannot miss out since not only do they look incredible with their deep and rich brown texture, they are also great at letting the sun shine through without being too bright while also partly protecting from the rain.
Place the barbecue and other prepping stations and equipment under a pergola to have a neat and efficient cooking space that looks incredible as part of an outdoor kitchen.
You really can't go far wrong with a pizza oven.
They cook pizza and any other baked goods incredibly fast, they're fuel efficient and their traditional design makes them an easy way to spruce up an outdoor kitchen just by having one nearby.
With how easy they are to install, a wood fire pizza oven is a great addition to any outdoor kitchen, and it makes the idea of a pizza night sound even more appetizing.
A fire pit is an essential for any backdoor gathering, but they also work just as well for an outdoor kitchen where all the guests can relax and share a few conversations while the food gets ready, or for in the evening when it's time to wined down for the day over a few drinks, definitely an easy addition that you won't want to miss out on.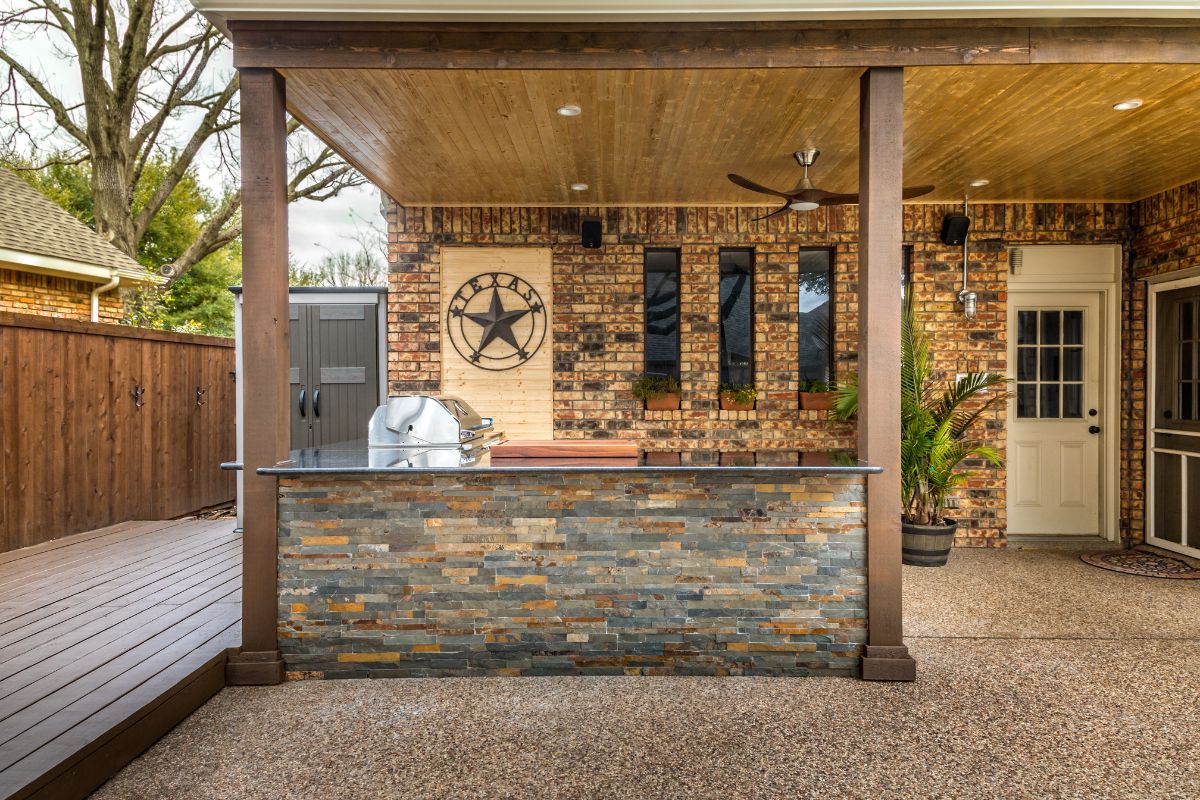 Ceiling fans may seem like an obvious addition to an outdoor kitchen, however they will actually slip our minds a lot of the time when we are preparing the ovens, chairs and other decorations that we forget about these cooling devices which are an easy way to modernize a back garden kitchen with little to no effort required to install them.
Granite countertops are not only perfect for an outdoor kitchen because they look incredibly classy with a very delicate glistening sheen to their design, they also really replicate the feeling of an indoor kitchen being transported to the outside since they are used so often in regular kitchens, making for an easy and stylish way to bring the entire room to the warm and sunny outdoors.
Not to mention, because of how smooth they are, any mess left behind can be washed away in no time, making this one of, if not the best material choice when it comes to preparing your countertop for a back garden kitchen.
Easy to install and an amazing way of saving some money when deciding how to style an outdoor kitchen, try using recycled wooden pallets to give the kitchen a very natural wooden aesthetic that goes great when paired with a stone backdrop, providing plenty of room for all of your cooking appliances.
One of the best parts about decorating and organizing an outdoor kitchen is you don't need to be far from the home in case you need anything, however you can take this one step further by actually setting the kitchen up around the walls of the house.
This means not only do you have a wall at the ready that you can use, saving you from needing to build an entirely new one, you can even install some extra windows so everyone can hang out in a small social space that is still technically outside.
There's no better way to keep you and your guests chilled and relaxed in the warmer months than with some ice cold beverages, and rather than needing a big bulky fridge, refrigerated drawers could be just what you need.
Small, compat but infinitely stylish, these popular kitchen appliances are a must have when you don't want to be running into the house every few minutes to pick up another drink.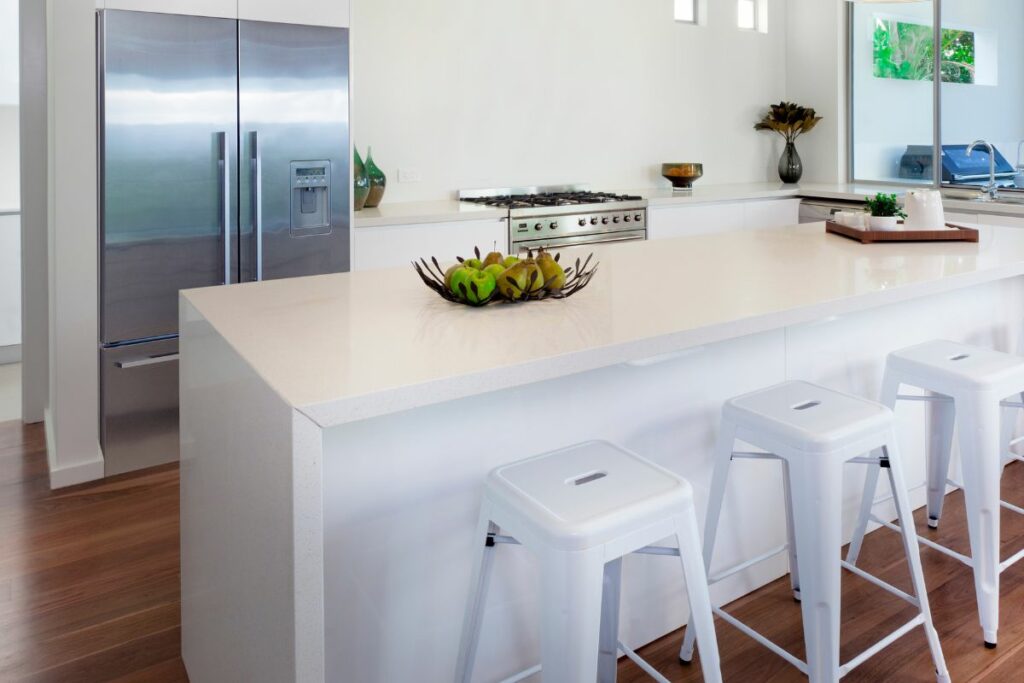 We all know that familiar bar setting of huddling around one countertop waiting for our delicious cocktail to arrive while we chatter away, and this works just as well when used as the theme for an outdoor kitchen.
With a little bit of space for the host to prepare the food and drink and a smaller area where the guests can watch the food being sizzled while having a casual conversation, by simply moving a few chairs around and creating a small DIY food station you can create this beautiful kitchen aesthetic in no time.
We all know how fun it can be getting together with our closest friends and watching a big game or binging a series on the television in the evening, however this feeling is made even better when the TV is placed outside, giving you a nice elegant breeze and of course some delicious food to enjoy with some entertainment on in the background.
A television is perfect for making an outdoor social space feel that much more homely. 
If you dread the idea of needing to build an entirely new kitchen by hand and don't want to go through all the trouble of learning how to construct each and every wall or the floorboards, if you have an indoor kitchen or a spare room that extends into the back garden, you can even simply try installing some bigger windows and maybe brushing up the countertop a bit to make for an incredibly easy outdoor kitchen that oozes luxury, but is also much easier to put together than many others.
This idea is for those who don't mind a little bit of DIY woodwork and want one of the easiest but still practical and stylish additions to an outdoor wood-based kitchen that can be taken out as easily as it can be put away, making it very compact and protecting all the cooking utensils for when harsh weather strikes.
While this won't make up an entire kitchen since it is so small, feel free to keep your grill, sink and any other cooking appliances you need on this handy kitchen addition. 
Thin wooden slats are an easy to instantly give an outdoor kitchen a bit of a more traditional and homely atmosphere while still keeping it well ventilated and very vibrant for when the Spring and Summertime come around.
By surrounding your outdoor kitchen with either thin and delicate or thick and sturdy wooden slats, you can create an incredibly warm and inviting social space that is perfect when fitted with some extra wooden shelves and some greenery to really make the area feel as unique and natural as possible.
An easy way to save a tremendous amount of space and keep an outdoor kitchen as close together and isolated as possible without needing to stretch across the entire garden is by making use of a double shelf.
These handy shelves will often be just the right amount of size to hold a pizza oven or even a few thick logs for the fire, and since you can have your grill resting right on top of it or to the side, you can be sure you won't need to go back into the house to have all you need to prepare some delicious and juicy food.
Summary
With so many new and exciting ways to style and customize an outdoor kitchen, there's never been a better way to start planning and building one, or even to add a few new features if yours is in need of an upgrade.
However you don't need to go all out and break the bank to have a beautiful outdoor kitchen that will suit the rest of your home.
Try these creative and stylish ideas that can give a smaller outdoor kitchen an incredible design and atmosphere in no time.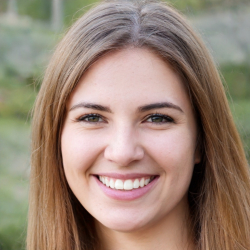 Latest posts by Maisie Park
(see all)