Outdoor kitchens are the perfect way to make use of your backyard and outdoor spaces. If you're bored of greenery and the maintenance required, an outdoor kitchen will reduce the need to get the lawnmower out and make your backyard a functional part of your home.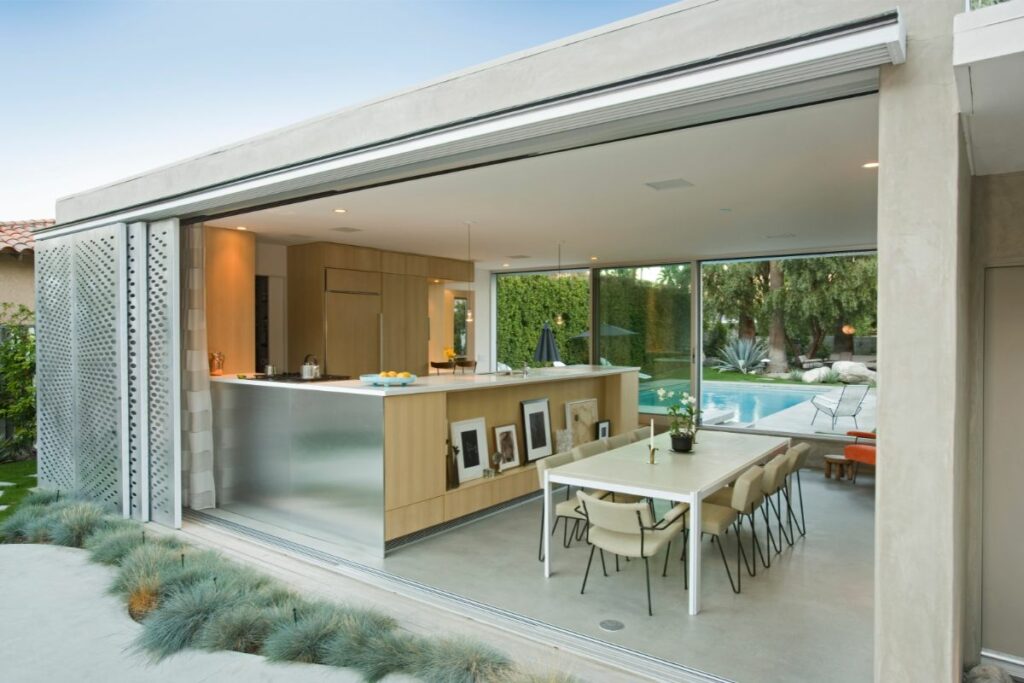 Cooking and dining outside can be a great way to entertain your family and friends. You can enjoy good weather with good company while eating your way through deliciously prepared meals. Cut out the need to go inside and be away with your guests by preparing your food outside.
Outdoor kitchens are a beautiful addition to your home that can also increase the value. If you're considering building a covered outdoor kitchen but need some ideas, then this is the article for you.
Here are 15 covered outdoor kitchen ideas for a beautiful home.
1. Beach House
If you have a pool in your backyard, consider installing an outdoor kitchen that will go with your pool. You can build the kitchen near your pool so that your guests can enjoy a delicious meal while looking over the water.
Many beach houses have canvas roofs and a light and airy feel. Look for kitchen appliances that are also colored with light and natural shades.
2. Corrugated Iron Roof
We love reusing materials when adding to our home so this idea is one of our favorites. The industrial look is a big favorite with designers and homeowners alike and making a covering from corrugated iron sheets will not only play into this aesthetic but will also protect you from bad weather.
Use some strong and solid wood as the frame for your roof and then cover it with iron sheets. This will add a unique vibe to your outdoor kitchen and is sure to be a big statement piece.
3. Gazebo
Gazebos make ideal bases for a covered outdoor kitchen. Their design gives them a solid roof but open sides so you can cook while being covered but will also be able to pass food and converse with guests as you work.
Many gazebos have counter space and interior shelving but these are easy to add if your gazebo doesn't. Gazebos are a great focal point for backyards too, so if you want to draw all eyes to your outdoor kitchen, a gazebo is sure to do that.
4. Glass Roof
There's no reason why having a covered outdoor kitchen means that your view of the sky and the great outdoors should be covered. When you have a couple of solid walls in place, why not consider using glass as the roof?
This will let you see the stars above as you enjoy your al fresco dining.
There is nothing more relaxing than eating good food with good company while you have nature all around you!
There are many farm and garden structures that can be repurposed into an outdoor kitchen and a grain bin is just one of them! Repurposing is a great way to get some character into your outdoor kitchen and also helps the environment by recycling otherwise waste material.
The inside of the silo is used as the kitchen space and is completely covered, so you don't need to worry about the weather, no matter how bad the conditions. You can also use the side of the silo as a serving hatch, making it easy to serve and speak with your guests as you cook.
6. House Extension
Most of the ideas for covered outdoor kitchens in this list place the outdoor kitchen somewhere away from the home. Gazebos and pergolas, for example, are freestanding structures that can be placed anywhere you want.
If you want something a little more sturdy and are happy to have the outdoor kitchen next to your home, then you can consider building it as an extension to your home. Don't think of it as an extra room that needs a roof and four walls and instead leave at least one wall open.
7. Nature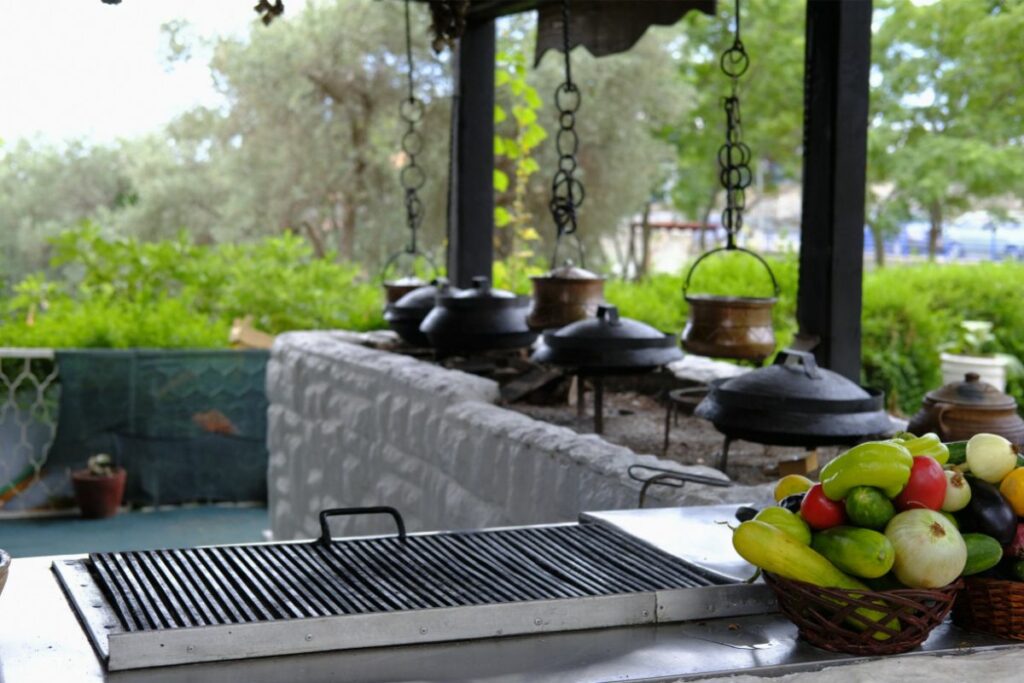 As we'll discuss a little later with pergolas, nature can also provide a great covering for your outdoor kitchen. Whether it's trees or vines, you can plant vegetation in a way that will provide a natural shelter for your cooking.
8. Open Air Room
If you want your kitchen open to the elements but still want a secure roof above your head while you cook, then an open-air room is the best compromise.
These rooms have four secure and solid pillars in each corner that support a heavy roof, often made from brick or other solid materials. 
With only pillars in the corners, the rest of the walls are left wide open. This will give you all of the air you could possibly want while also protecting you from strong sunshine or rain.
9. Partially Enclosed
One step up from an open-air room is a partially enclosed one. This type of outdoor space is similar to an open-air room but has the option of closing and opening windows or shades as needed.
If you live somewhere that doesn't have the weather for an open-air room but you like the idea, then a partially enclosed room is a good compromise.
10. Pergola
Pergolas are popular in backyards for a variety of reasons. They can add height and focus to your backyard as well as direct people to the parts of the backyard you want to show off.
However, as they're essentially frames of wood with a covering on top, they can also be used to cover an outdoor kitchen.
Cover your pergola with climbing vines and these will soon grow across all of the beams and provide you shade while you're busy cooking underneath.
You can choose from a variety of woods and stain them whatever color you want to ensure that the pergola and kitchen match your color scheme.
If you want to make an outdoor kitchen, but you're also looking for something eco and recyclable, then this is a great idea that you might want to consider.
It uses shipping pallets to create a wonderful wall of different colored walls and gives the outdoor kitchen a shabby chic look that is very popular (You might want to check out Installing A Pallet Wall).
You can add a Farmhouse vibe to your outdoor kitchen with these pallets. Finish the look with some recycled corrugated iron for the ceiling and you have an outdoor kitchen that is not only stylish but is also making use of materials that would have otherwise been thrown away.
12. Retractable Canopy
If you're not looking to build any big structures and permanent walls and are happy to have your outdoor kitchen right next to your home, then a retractable canopy is a great idea. This can affix to the side of your house and be pulled out only when you need it.
Retractable canopies are perfect for areas that have temperamental weather. If some days you want to cook with the open sky above you, but on other days you need some shelter, a retractable canopy will give you the options you need.
You can stay in the shade on hot and sunny days but enjoy the clear night skies.
13. Secret Kitchen
If you don't want or need to have a large covered space and just want your kitchen appliances to be covered, then you consider a "secret kitchen."
This is a kitchen that is built into a wall and covered when not in use. When you want to cook, simply open a panel on the wall to reveal your oven.
Often, these types of kitchens are built so the panel can be propped open above the oven when in use, so it provides shelter and cover to the cook. When you're not cooking, the appliances are safely covered by the panel and protected from the elements by the wall.
14. Stone Nook
Using stone, you can build a beautiful covered outdoor kitchen away from your home. Think of stone columns holding up a stone roof on a paved patio. This structure will be solid and beautiful.
A stone nook is also the perfect covering for more rustic kitchen appliances. A traditional pizza oven or other ovens made from stone will match a stone nook and look amazing when paired together.
15. Summer House
Summer houses come in a wide variety of sizes and styles so you're sure to find something that will suit your backyard, tastes, and budget.
Although they're normally used as places to relax on hot summer days, they're also more than suitable as bases for covered outdoor kitchens.
Get a summer house that has doors that open wide and plenty of space so you can get all of your kitchen appliances and utensils inside. Many summer houses can be bought pre-cut and partially built so they're easy to install, too.
Final Thoughts
We hope that you enjoyed our ideas for 15 covered outdoor kitchens for a beautiful home.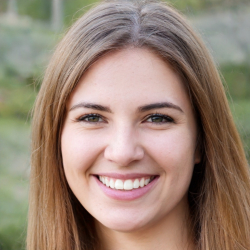 Latest posts by Maisie Park
(see all)