Screened-in porches are a great addition to any home, they not only generate a big increase in value of the property but are also a fantastic way to enjoy the outside whilst being snug and free from any pesky insects.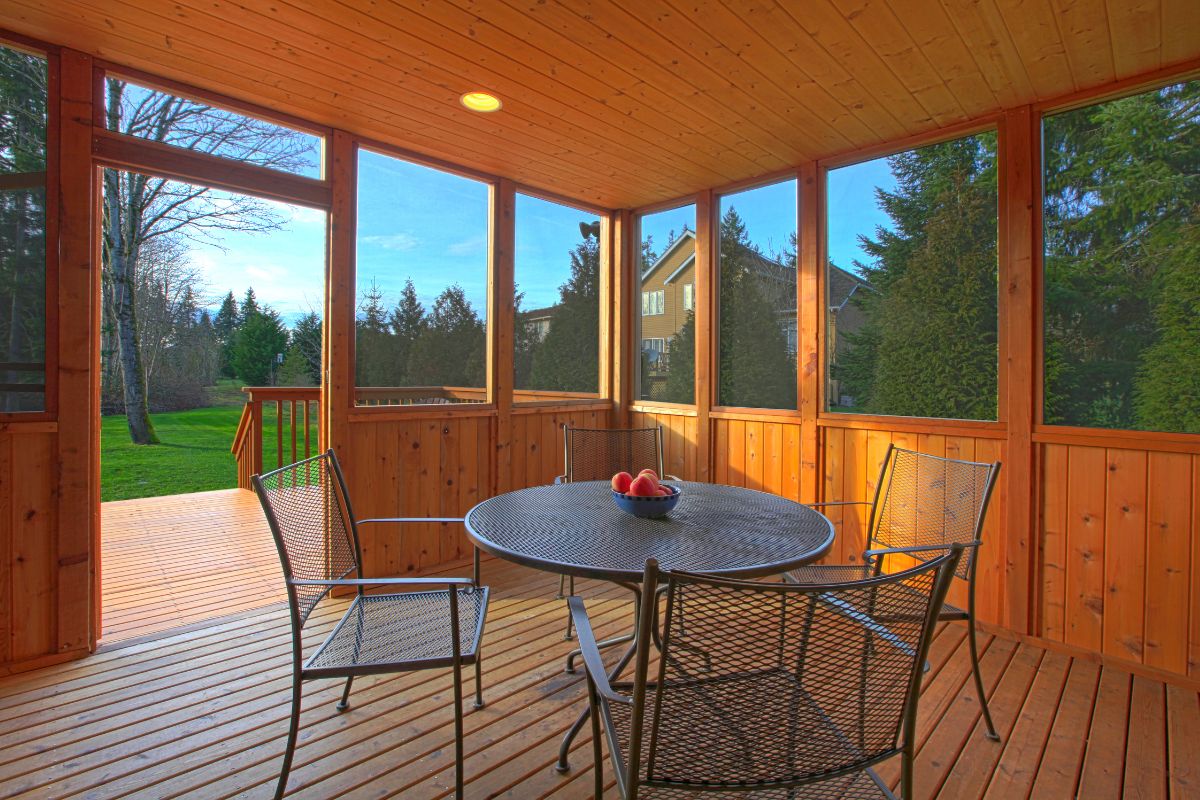 Anyone in the carpentry industry will know that there is nothing that will stump homeowners more than the shock that comes when they are informed just how much the screened in porch they wish to have installed will cost them.
It can be difficult to determine how much they are when shopping around on the internet because of the fluctuation in prices.
So to clear up all the confusion that surrounds one of the most in demand sections of a house extension, let's go in depth and learn all about screened-in porches and how much you will be expected to pay for one to be installed in your home.
What Is A Screen Porch?
A screen porch is a type of porch attached to the exterior of a house that is covered in window screen to prevent insects, undesirable objects and also debris from entering the porch.
They are usually built to further enhance the livability of a building. Screened porches allow residents to have the outdoor experience with the comfort of being inside. 
On Average How Much Does It Cost?
Your typical screened-in porch will cost you approximately $140 to $170 per square foot heavily conditional on the structure of the project, especially those that are a more unique design, it also can depend on the material that is used in the creation of it and where you are located in the country can also cause the price to fluctuate.
A screen in the porch consists of a roof made of two slopes that come together to form an 'A' shape which intersects with the opposite angle from the existing roof that will cost more money than a single slope shed roof that will tie directly to the side of the house with a singular level wall (Also check out Ideas For Your Shed Skirting) .
Nothing consumes more time than attempting to intersect a brand new multi-angled roof that is chopped into many other dormer slopes as well as a chimney.
The size of your porch will massively affect the cost of the new build. For example a porch that is built 12 foot x 12 foot would be costing you a range of $20,000 to $24,000.
A major increase from the fee we had previously discussed of 140-165 dollars. 
Can A Porch Be Built On A Pre Built Deck?
This can be done but there are specifics that have to be met before you can build on any pre built structure.
If you are wanting to build on top of any existing deck then you will need to make sure that the structure below the deck complies with any of the codes that currently exist. 
Creating a porch on top of a  20 year old deck will ensure that it will definitely not pass the codes so in that case you will need to lift up the existing deck to meet the current standards.
Otherwise you will be required to tear down the existing structure and re-build it from the ground up.
If the deck is only a few years old then you will be okay but before you just start building be sure to check with a contractor or a local office that issues permits, hopefully you will be granted permission without having to tear it down.
Most Inexpensive Way To Build A Screened-In Porch
Maybe the most complicating factor that will show up when building a new screened-in porch is the issue of the structure of the roof being tied into the current existing house.
To get around this big hole in the road you can attempt to simplify the current design so the roof is instead a single sloped roof rather than a two sloped one that would be more costly. 
The next method to save you some dollars is to lessen the number of doors that lead in and out of the new porch.
Many would prefer to have a couple of exits that allow you to quickly get to different parts of their home and yard.
Doing this can seriously reduce the overall cost saving you roughly $350 to $500 dollars that will come from removing the extra set of doors.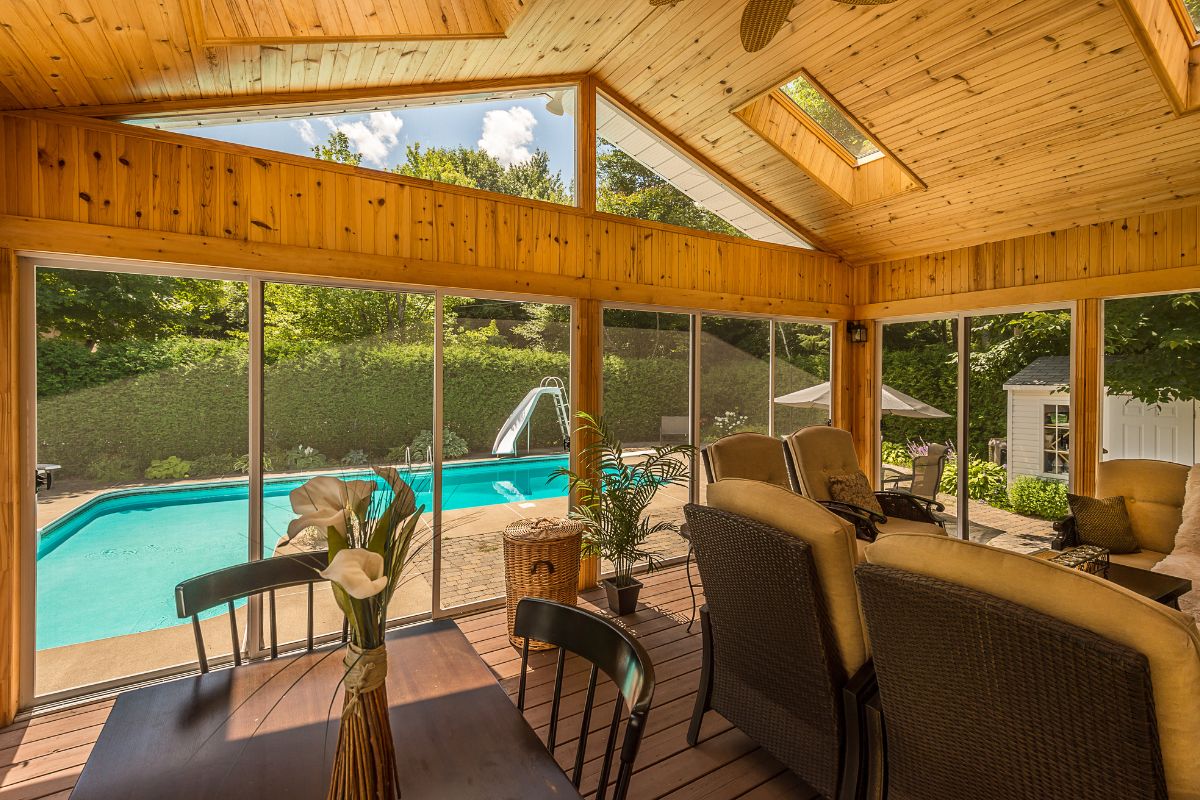 How Big Should A Screened In Porch Be?
The true size of a screened-in porch will depend on what you'll be using the space for and how much space you have to build it.
But, if you're looking for generic dimensions, then a very versatile screened-in porch that has many different uses would have measurements of around 16 feet x 20 feet.
If you're going to be wanting a dining table with chairs in there, to dine or just to sit around, then we advise that the smallest part of the screened-in porch to be no smaller than 14 feet, as it'll allow enough room for the chairs to be able to be pushed in and out with ease, whilst remaining a usable space.
It'll also allow enough space either side of the table to be used as a walkway when the table isn't being used, this allows the space to still be usable even when it's not being used for its main purpose. 
But, if you're designing the porch as a common space that will be for living etc, then you'll have to consider a few options.
You should consider things like, whether you want the table to be the center piece that people sit around, or if it'll be centered around an indoor or outdoor firepit/fireplace and if it will be, will it be a synthetic fireplace purely for aesthetic reasons, or will it be a usable fireplace to keep people warm?
These are questions that can typically be overlooked when designing a screened-in porch, and if you don't consider these design features, then down the line when you decide you want them, the screened-in porch may not be big enough.
Making sure that you plan ahead for the features you want in your porch ensures that you account for each square foot of the porch to allow everything to fit in whilst remaining accessible. 
A good rule of thumb when considering the realities of the space, is to look at the other rooms in your house that have similar serving capabilities.
For example, if you want to start using your porch as a place to provide and eat dinner, measure the current room where you're serving and eating food and evaluate how functional it is and how much space it takes up. 
If you're going to be installing a TV in the porch, you'll also want to consider where to mount it for comfortable viewing, so your seating should be relatively close, but not too close.
To figure this out, in the current space you watch tv measure the distance between the TV and the sofa. This will allow you to easily figure out the shapes and dimensions for your screened-in porch.
But, as a general rule of thumb, distances of 13-17 feet for a 50-55" TV are usually pretty good.
And of course, as your TV size changes, make sure that you adjust the sitting locations in accordance.
Because you don't want your guests to either be breaking their necks trying to watch TV because the seating is too close, or not being able to see at all because the seating is very far away. 
Just remember, the most important thing when thinking about your screened-in porch is to visualize where you'll want the features and elements of your porch to go and what the use will be for.
Not only will it make it much easier for you when it comes to actually building it and putting all the elements together, but it also allows you to plan for what you can fit in there if you're dealing with a porch that has limited space. 
Final Thoughts
We have gone over all you need to know about screened porches, you know all about how they are made, the issues that come with building them, mostly how expensive they are but no need to worry about that as we have found you a few money saving methods.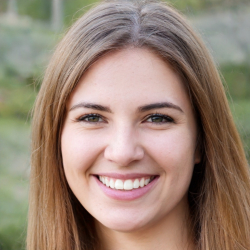 Latest posts by Maisie Park
(see all)