Garden sheds come in all shapes and sizes nowadays.  From simple and functional, through to beautiful and dainty.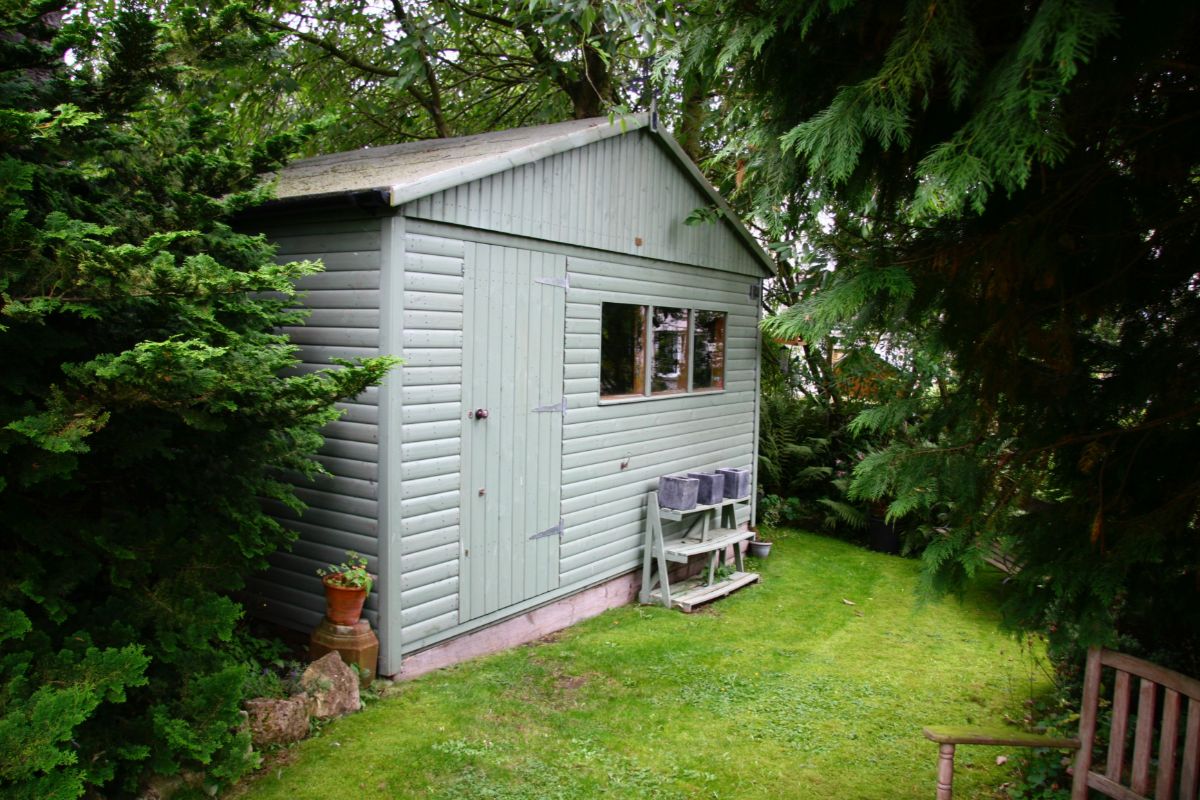 However, with all sheds, there is the problem of blocking off the space underneath to help avoid any nasty surprises when you go to get your lawn mower. 
No one wants to approach their shed, just to see a blur of movement as something darts out from underneath.  It's enough to make your blood run cold.  
Luckily, the market for shed skirting is well saturated.  With products available for function over style and some for style and substance.  Whatever kind of look you are trying to achieve with your shed, there is a skirting option out there for you. 
In this article, we will look at some of the best ideas for shed skirting available.  Whether you want to repel the critters that want to live under your shed, or just want to add the perfect finishing touch to your shed, we have the skirting idea for you.  
What Is Shed Skirting?
Shed skirting is essentially material that is placed around the bottom of your shed.  It is designed to block the gap between the base of the shed and the ground. 
Shed skirting is not a necessary addition to a shed and makes very little difference to the longevity of the shed.  Some people prefer having skirting on their shed while others can live without it.  
Why Is Shed Skirting Important?
There are a couple of reasons why someone might choose to have shed skirting applied to their shed.  One of the main reasons is to block the gap between the base of the shed and the ground to help prevent access to wildlife. 
Although a lot of wildlife won't cause any trouble living beneath your shed, some can cause damage by chewing through the floor or the base, especially if you have a wooden shed. 
Similarly, some people are just wary of wildlife and would prefer to not be surprised by an animal darting out from beneath their shed when they are accessing it. 
Another common reason for people to use shed skirting is for the aesthetic appeal.  The gap that is left between the base of a shed and the ground can be somewhat unsightly. 
When you use shed skirting, especially some of the more visually appealing options, it blocks that gap from view.  Choosing the right skirting for your shed can make it look more finished and neat. 
Depending on the look that you are trying to achieve in your garden, it can make a significant difference.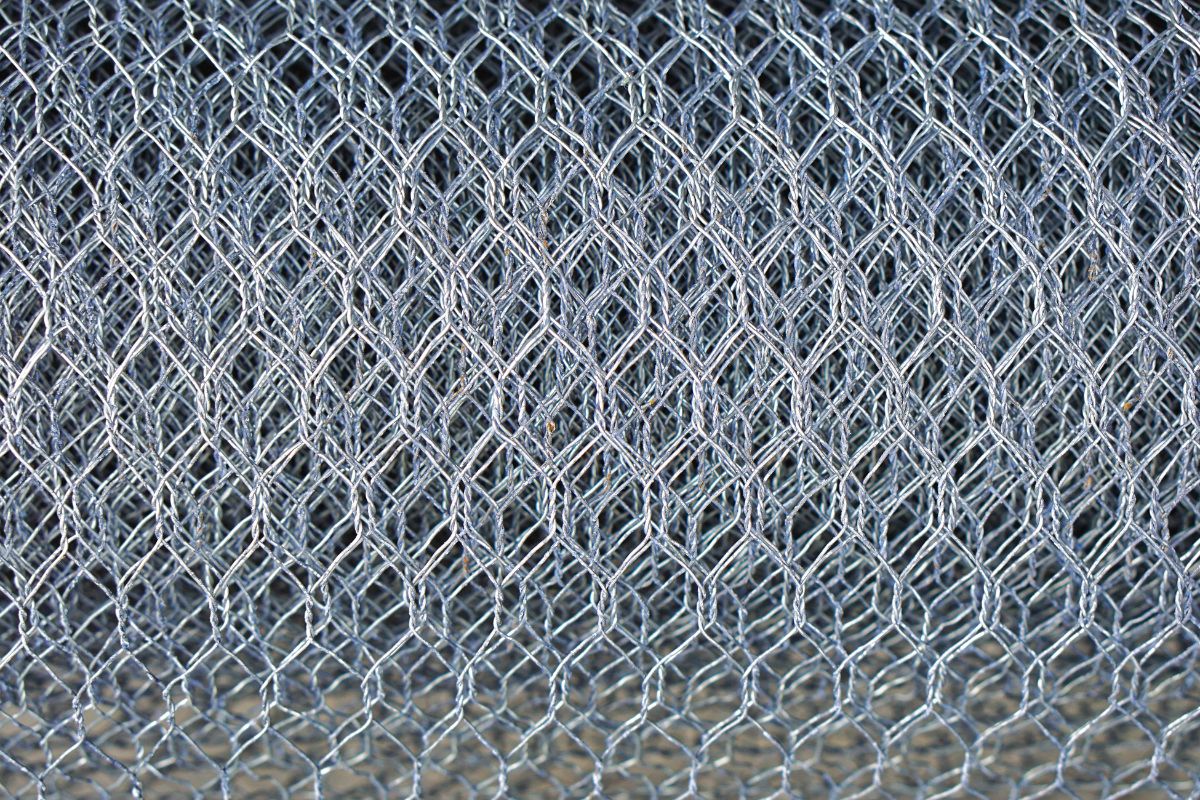 Although chicken wire isn't likely to be winning any awards for aesthetics any time soon, it is an incredibly effective shed skirting option that won't break the bank. 
If you are looking for a quick fix on a budget because you have had trouble with unwanted wildlife under your shed, this is the perfect option.  
Chicken wire can be purchased inexpensively from most gardening and hardware stores.  It will come in a roll and all you have to do is cut it to size.  Secureurs or wire cutters will do the job fine. 
Once you have cut the wire to size, you can install it along the base of your shed.  Ensure that the wire you have cut is long enough to partially lay flat on the ground to create a proper barrier.  
To fix the chicken wire in place, you can use some 2X2 wood or simply hammer in some nails to hold the wire in place.  For extra protection from wildlife, the wire that is flat on the ground should also be secured in place. 
The best thing about using chicken wire for shed skirting is that it is incredibly well ventilated.  Thanks to the hexagonal gaps in the wire, you won't have to worry about the risk of mold growing under your shed during the damper months. 
This can help extend the life of your shed.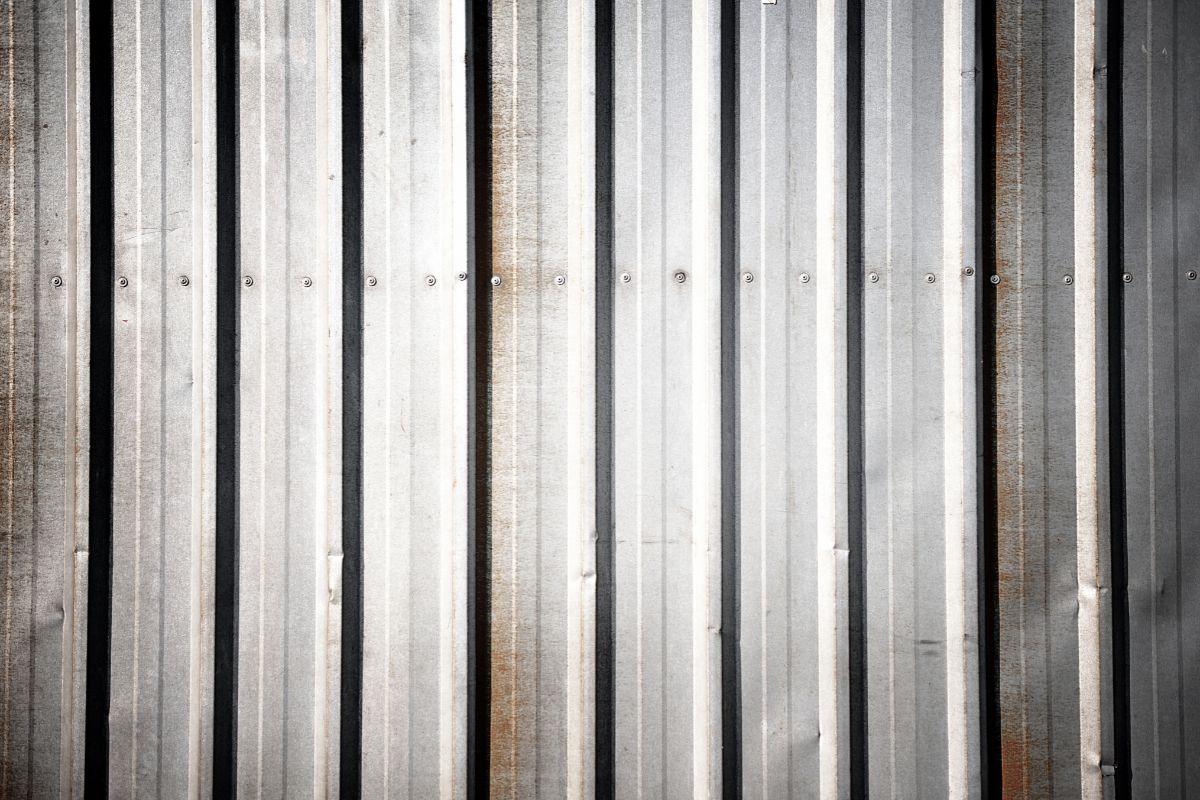 If you aren't concerned about the aesthetics of your shed skirting but want something that is more sturdy than chicken wire, corrugated metal might be the best option for you. 
The appearance of the skirting still has that industrial, function over style look, but the strength that is packed into the corrugation is immense.  
Not only is corrugated metal strong, but it is also highly durable and resistant to moisture and, therefore, rust.  This is an important factor to consider when the material is going to be largely unprotected from the elements. 
No one wants to have to replace their shed skirting every year because it is rusting away. 
When you are installing corrugated metal skirting around your shed, it is important to ensure that you are wearing the correct protective clothing.  For most corrugated metal this will mean wearing a pair of leather gloves to protect your hands from cuts and metal splinters. 
Thankfully, most corrugated metal skirting has been finished properly, therefore, the edge will be hemmed to a high standard.  However, it is always better to be safe than sorry.
Corrugated metal skirting is another budget friendly option that is available and has considerable value for money. 
It is important to note that because most corrugated metal doesn't score high in terms of ventilation, you should ensure that you are buying corrugated metal that is designed to be used as shed skirting. 
This is because it will come with small vents built in to help combat mold and increase ventilation.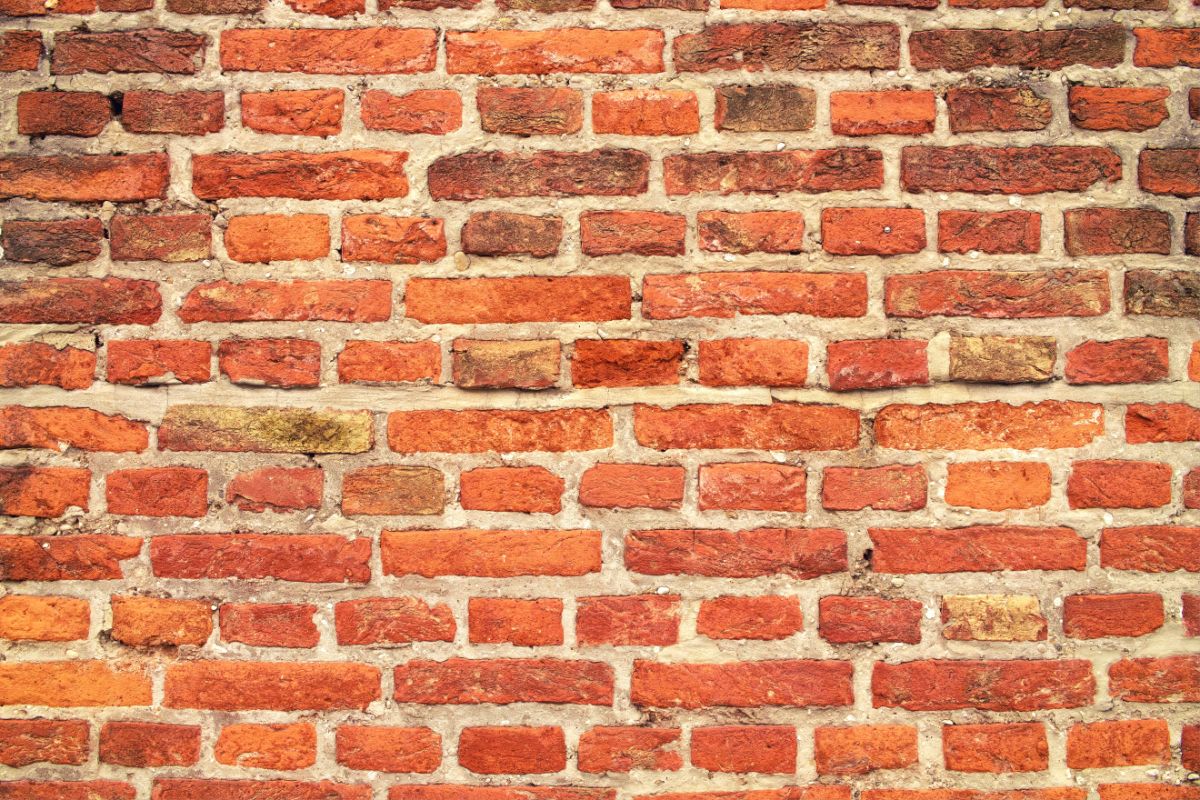 Brick is one of the most solid skirting options on this list.  The beauty of using brick as a skirting for your shed is that it provides a permanent look to what can often be a temporary structure. 
There are many benefits to having brick skirting on your shed.  For starters, it is one of the most durable and sturdy options, thanks in large part to the permanent nature of the brick. 
Bricks can also help to tie your shed structure to your house.  Matching the bricks for your skirting to the bricks of your house can create a beautiful link between the two.  
The main downside to brick skirting is that it is one of the more expensive options.  Not only are you going to have to pay for the bricks and the cement, but you should also be paying a professional to install the brick skirting. 
While it is possible to do it yourself, if you are inexperienced, you might end up with a crooked and unsafe shed and skirting.  If it is left like this then you risk damage to your shed, shifting of the bricks or the shed, and even injury. 
If you want brick skirting, it really is worth paying for a professional bricklayer to come and complete the job for you.  It will save you money in the long run.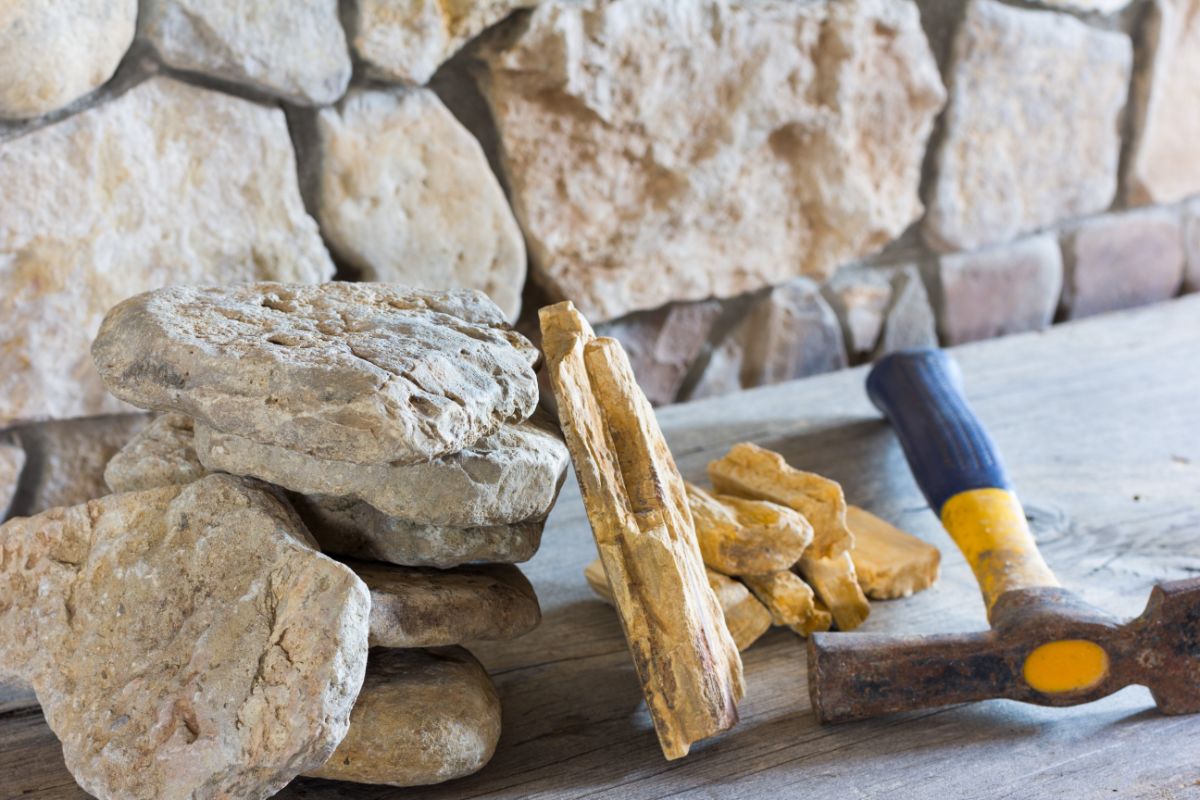 If metal skirting isn't for you and brick skirting is a little too uniform, masonry skirting might be the right choice instead. Masonry skirting uses natural rock to create a strong skirting base while maintaining a natural and creative feel to your yard.
One of the best things about choosing masonry stone for your shed skirting is that the end result will be totally unique.  Each piece of masonry will have its own shades, patterns, and shape. 
When the individual pieces of masonry are combined to create the skirting, the patterns, shades, and shapes will create a beautiful effect that can add incredible aesthetics to your garden area.  
Another great benefit of using masonry for your shed skirting is that it is an incredibly eco-friendly option. 
Because masonry stone that will be used for this type of project is natural rather than a synthetic stone or material such as plastic, it doesn't require massive amounts of energy and resources to make.  It is also a highly durable option that doesn't need a lot of maintenance or replacement. 
Much like brick shed skirting, masonry skirts should be installed by professionals.  This is due to the fact that it is a highly skilled task that requires expertise. 
Although it may be tempting to give it a go yourself, this can cause a lot of problems that can be costly to fix. You can save money by getting an expert to install the masonry in the first place.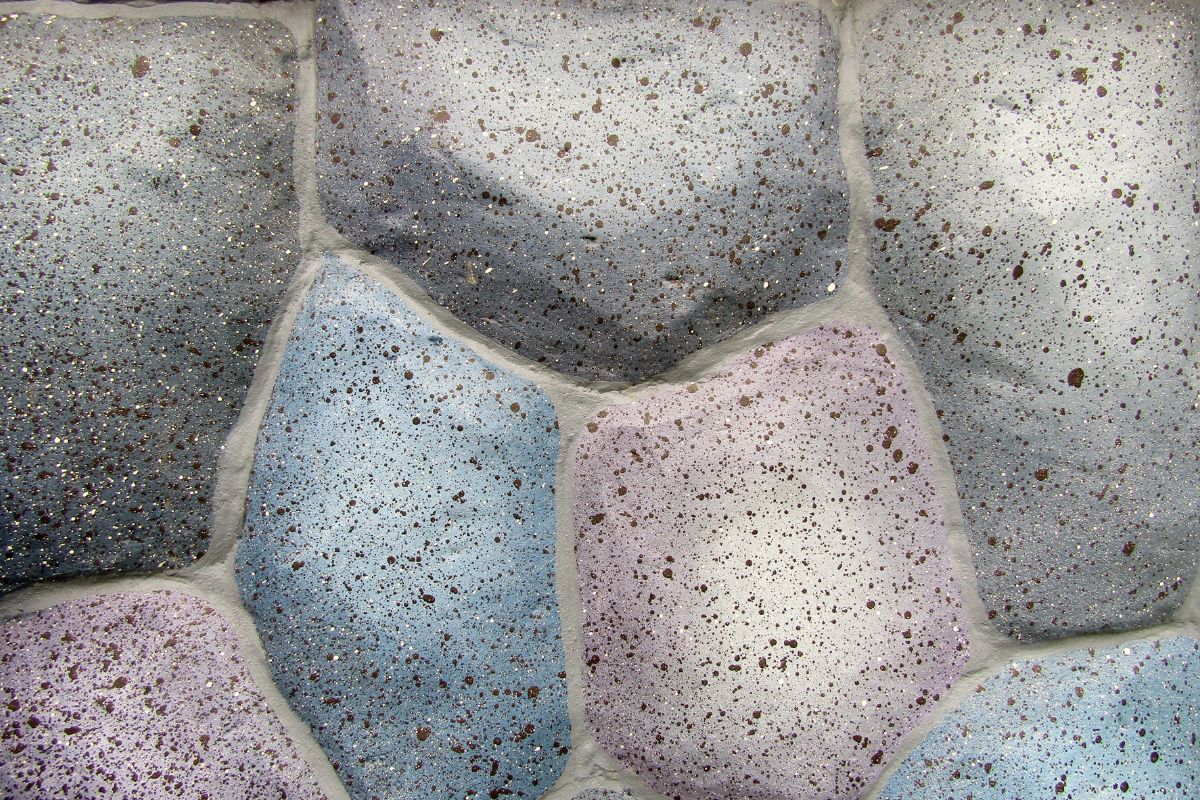 If you love the look of masonry or brick shed skirts but don't want a permanent structure in your yard, or don't have the budget for real stone, faux stone is a great alternative. 
Many high quality faux stone skirting panels are made through a process of casting real stone to produce a natural and authentic shape and texture.  To other people, it will look like you have genuine brick skirting that has cost you a fraction of the price. 
One of the best things about using faux stone panels for your shed skirting is that it is completely DIY friendly.  You don't need to employ a professional to install this like you do with genuine stone skirting. 
All you have to do to install this skirting is to measure, cut, and install.  No heavy lifting or rules of physics to follow.  
Most faux stone skirting comes in panels that can often be used straight from the box depending on the size of your crawl space.  Oftentimes, the panels can be fitted to your shed with some screws that are usually included in the box. 
Faux stone panels normally feature an interlocking design which helps to create a seamless finish that helps add to the authentic appearance of the skirting. 
You can purchase panels that are up to 42 inches wide which makes it suitable for both large and small sheds.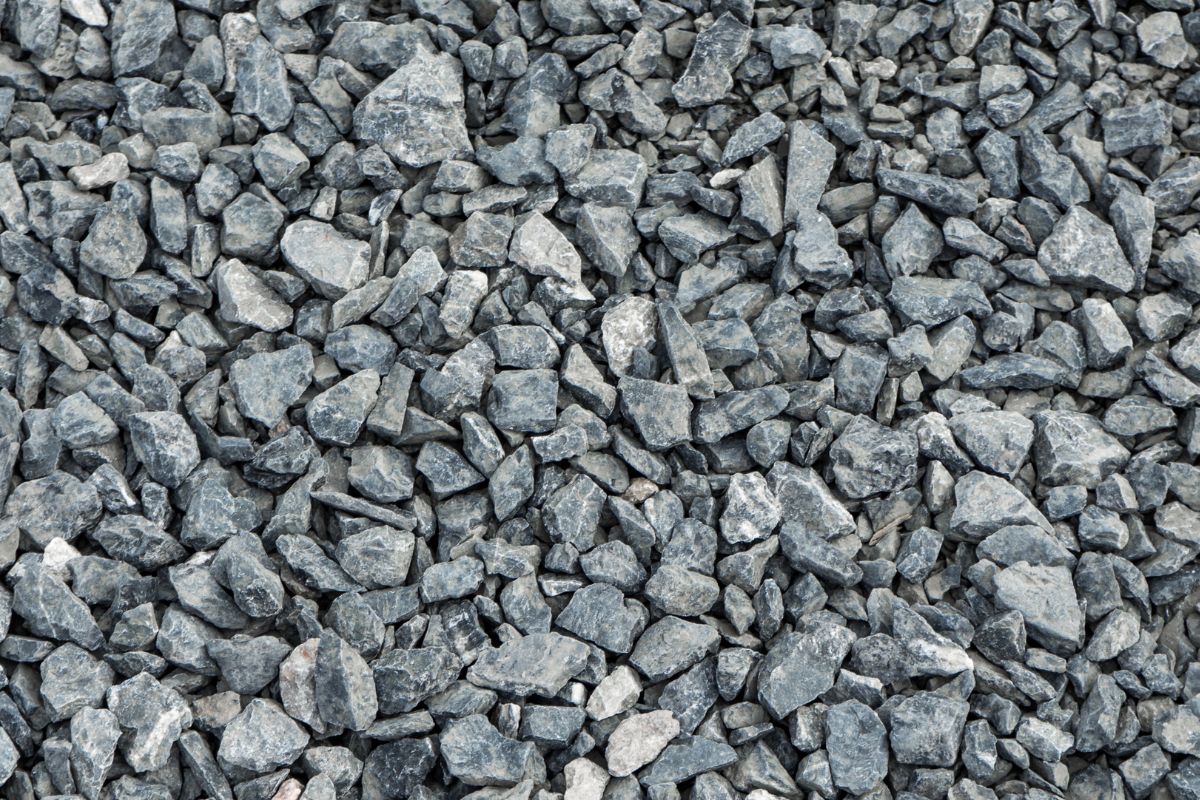 If you have a particularly small crawl space beneath your shed, it might seem like a waste of money to purchase skirting when you will have to discard the majority of it. However, you may still want to hide the gap for aesthetic purposes.
Using gravel alone can help to disguise and protect a small crawl space while maintaining a family friendly atmosphere in your garden. 
However, if you have a large crawl space beneath your shed, gravel with a landscaping edge can be the perfect way to disguise it. 
This is one of the most DIY friendly options on this list, especially if you use plastic formwork to keep a neat and professional look for your shed.  
Once the edging has been put in place and you are happy with the way it is looking in the ground, simply secure it in place with suitable anchoring spikes. 
Now you can begin backfilling the lined gap with gravel until it is at an appropriate height, often in line with the lawn or patio.  
This method leaves you with a professional and neat looking edge with very minimal effort which is what everyone wants.  It is quick and affordable to implement gravel skirting which makes it a very attractive option. 
One of the most fun parts of choosing this method is that there are no restrictions on the type of gravel that you use. 
You can use light colored gravel to lift your garden, or a darker, slate colored gravel to produce a sleeker look. The possibilities are endless.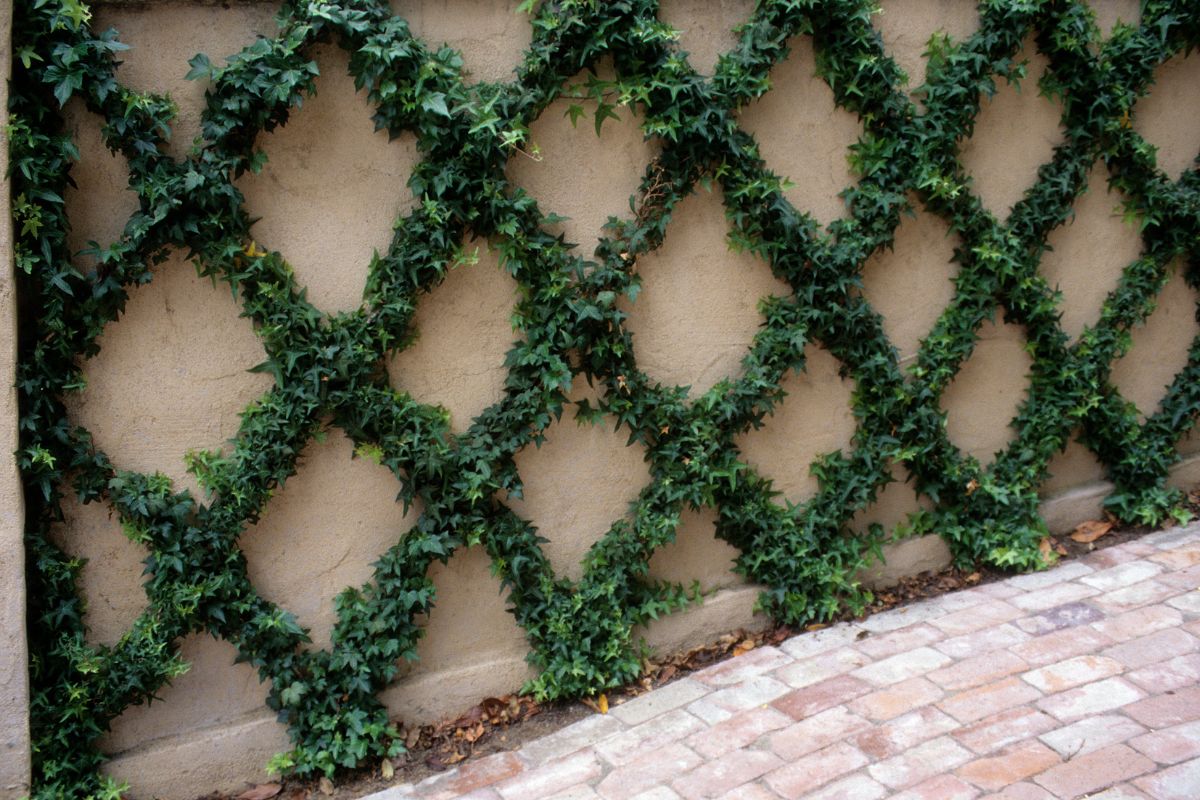 If you want to add a little bit of natural color to your shed skirting but don't want to have to invest the time and effort of maintaining real plants, artificial ivy trellis is the perfect choice. 
If you enjoy the aesthetics of ivy plants, choosing a high-quality artificial ivy is the best option.  You can plant real ivy to climb across a wooden trellis, however, it can be incredibly invasive and difficult to maintain. 
With real ivy you also risk the plant growing through the joints of your shed and damaging the structure of the building.  
Artificial ivy trellis is made from highly durable materials that are capable of withstanding the most severe of weather conditions.  It is the durability of the product that helps to make it such good value for money. 
Your trellis should remain looking green and in good condition for years to come. 
When you invest in a high-quality artificial ivy trellis, the leaves will not only be moisture resistant, but they will also be UV resistant which helps prevent fading caused by the sun.  
Artificial ivy trellis is very easy to install and can be done straight out of the box as there is no need to grow the plants.  It is very DIY friendly and the trellis can be extended up to 120 inches wide which makes it suitable for even the largest sheds. 
One of the best things about the artificial ivy trellis is that it offers a high level of ventilation for the base of your shed which can help protect against mildew and mold.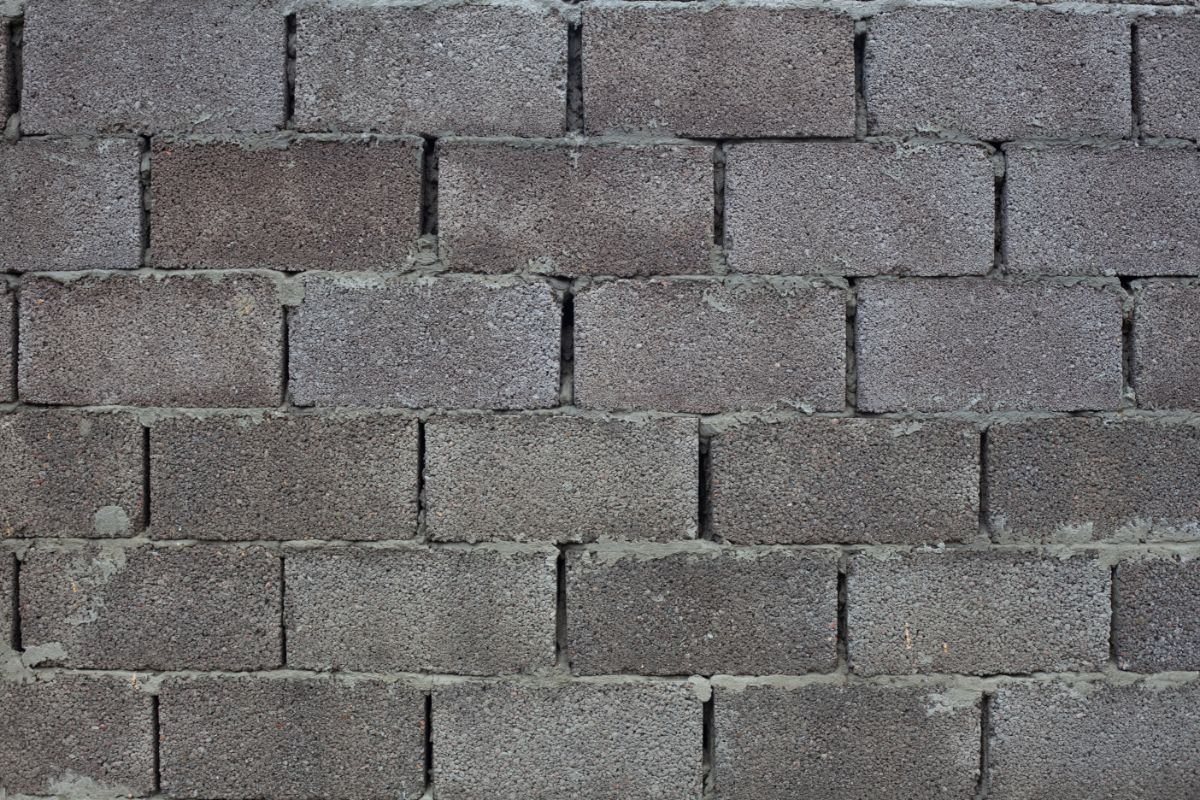 If you want a quick and easy solution to your shed skirting needs, cinder blocks are a great option.  Much like with brick and masonry skirting, cinder block skirting can be done yourself if you have the appropriate equipment, knowledge, and experience. 
However, if you do not have the tools, knowledge, and experience, it is safer to employ the services of a professional to ensure that the blocks are properly installed. 
Again, leveling is the most important part of the installation and should be done properly to avoid accidents and injury. 
When cinder blocks have been installed properly, they are great at providing additional stability to the base of your shed which is a bonus if your shed is on slightly uneven ground. 
One of the best things about cinder blocks as a skirting option is that they are relatively inexpensive considering how durable and permanent they are. 
They are also lighter than bricks and masonry which makes it easier for a single person to install. 
Ventilation can be added to cinder block skirting through the sporadic use of specially designed blocks.  It is important to remember to order some ventilation blocks when you are ordering the materials for this skirting. 
Without these blocks, the floor of your shed can become damp and develop mold issues.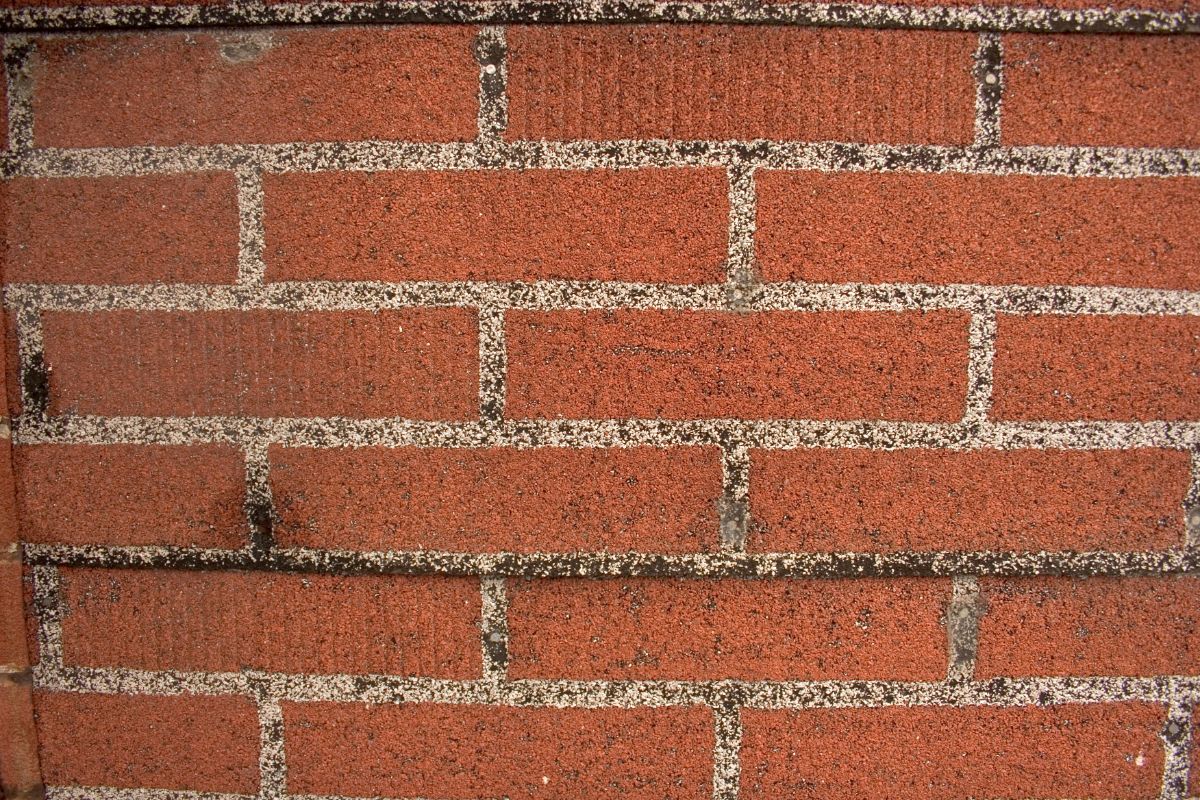 Faux brick panels are very similar to the faux stone skirting option mentioned above.  However, instead of being made to look like natural stone and more similar to the masonry aesthetic, faux brick panels provide a look that is similar to the brick skirting. 
The faux brick panels help to create a strong and permanent look to your shed with a significantly reduced price tag.  
Faux brick panels are still more expensive than wood panels or vinyl panels, but that is mostly due to the effort that is put into the design of these panels.  Faux brick panels are made to an extremely high standard in terms of materials and finish. 
Several coats of paint are used as well as color bonding to produce an authentic brick look.  
These panels are perfect for protecting the base of your shed from rodents and other wildlife, however, because the seal is so impenetrable, it means that the ventilation is not good. 
This increases the risk of mold and mildew issues developing.  Faux brick panels are available in many different sizes which makes them perfect for different sized sheds.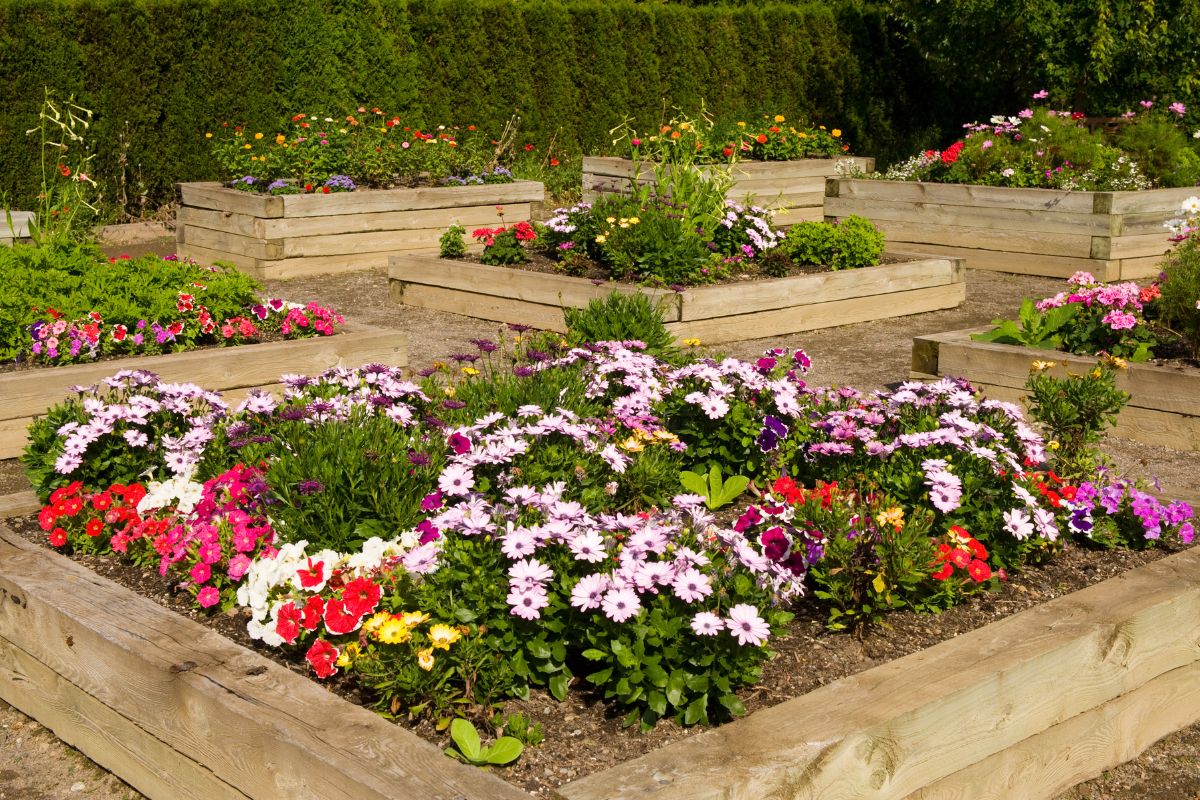 If stone, metal, and faux plants are not things that you want in your garden, raised flower beds are a great way to add skirting without distracting from a well manicured garden. 
As with the masonry skirting, there are a few chances to be entirely creative with your raised beds.  You can create the raised beds with bricks, wood, or even plastic or metal edging, whichever fits your tastes and garden more.  
Depending on the plants that you want to use in the raised beds around your shed, you may have to be a bit patient with this option before it is fully effective at hiding and protecting the gap beneath the shed. 
It is also important to think about the behavior of the plants that you choose throughout the year.  If you choose plants that only thrive in the summer, you will have to put up with gaps in your skirting through the winter months.  
If you have never made a raised flower bed before, the main thing to remember is to provide support and reinforcement for the walls of the beds.  This will help prevent the walls from bending and shifting under the pressure of the soil that you place in the beds. 
This is a 100% eco-friendly, DIY skirting option that can greatly enhance your yard.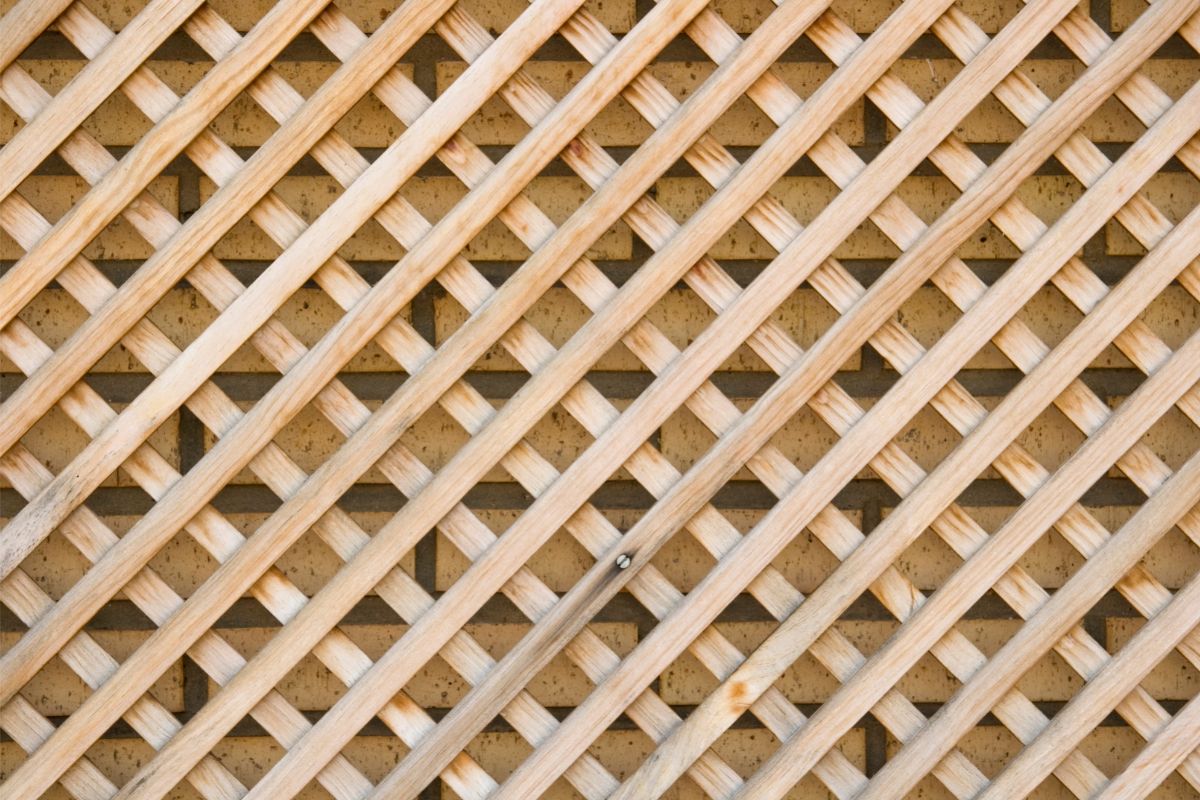 Expandable wooden lattice is one of the most inexpensive skirting options on the market.  It is on the same level as chicken wire, but provides a much nicer aesthetic around your shed. 
Because of the expandable design of this skirting, it means that the product is ideal for any size of shed.  The extra thick wood that is used for expandable lattice is weather and corrosion resistant. 
Not only is there natural appeal with this option but it is also incredibly DIY friendly too. 
Because of the wood that is used to make this option, it is one of the most eco-friendly options on this list.  There is no plastic involved in this product, but its durability is just as good which is a big plus point for it. 
One of the best things about this product is the fact that it can be used to guide some plants if you wanted it to. 
The lattice provides a beautiful skirting option on its own, however, if you did decide to plant some climbing plants around your shed, the lattice can help to guide the plants and add an extra layer of nature to your skirting. 
Additionally, many gardens already contain lattice either on top of a fence or along a wall for plants, this can be a great way to tie your garden together.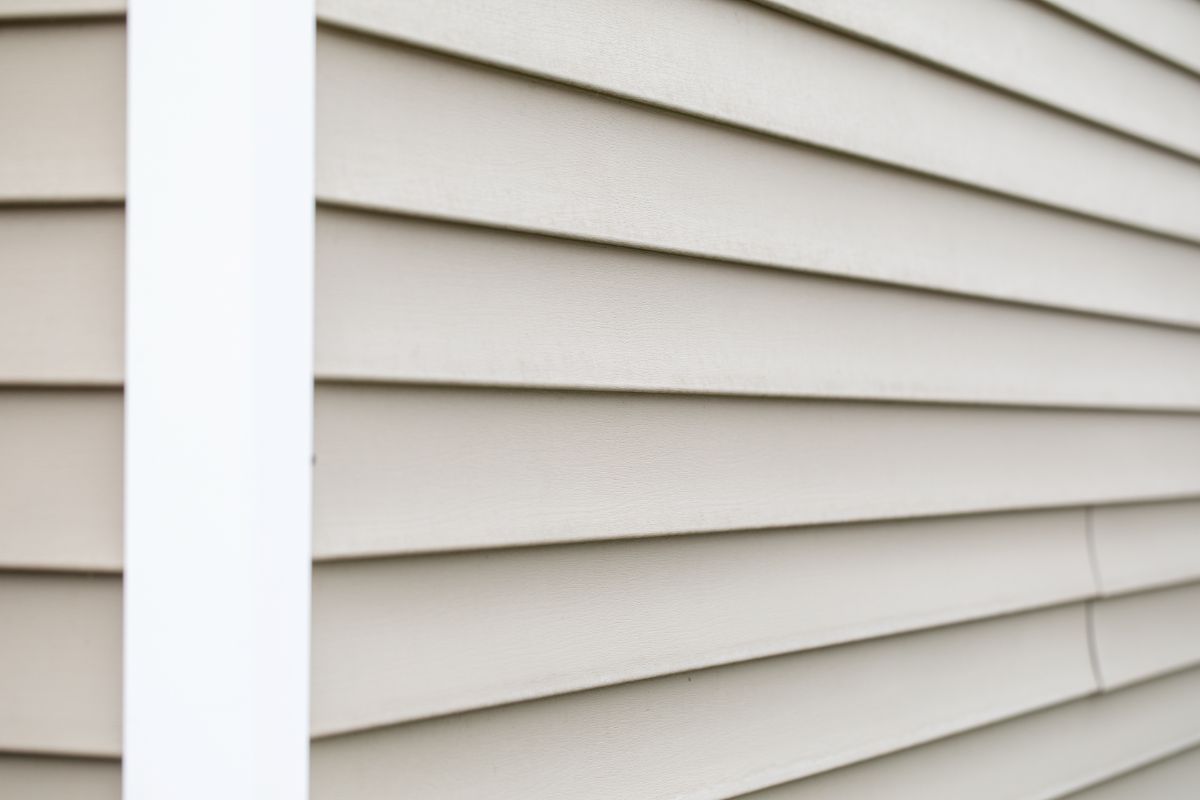 Mobile home vented vinyl panels are one of the best all rounder skirting options available.  Not only are they incredibly sturdy and durable thanks to the composition of the vinyl, but they also offer a high level of ventilation that helps to protect your shed. 
The panels are 35 inches long which makes them suitable for all shed sizes.  They are also super easy to install and are perfect for anyone who wants a DIY skirting option. 
To install these panels, all you have to do is cut them to size if necessary, and then slot them into place beneath your shed. 
Because of the design of the panels, they provide complete protection from rodents, vermin, and other wildlife, while still maintaining good ventilation. 
This is because the ventilation holes are very small, but there are many of them to ensure that there is sufficient air flow beneath the structure.  
These vinyl panels are relatively inexpensive considering the amount of durability that they have, they can also be matched to your shed relatively easily thanks to the many different styles and colors that they are available in.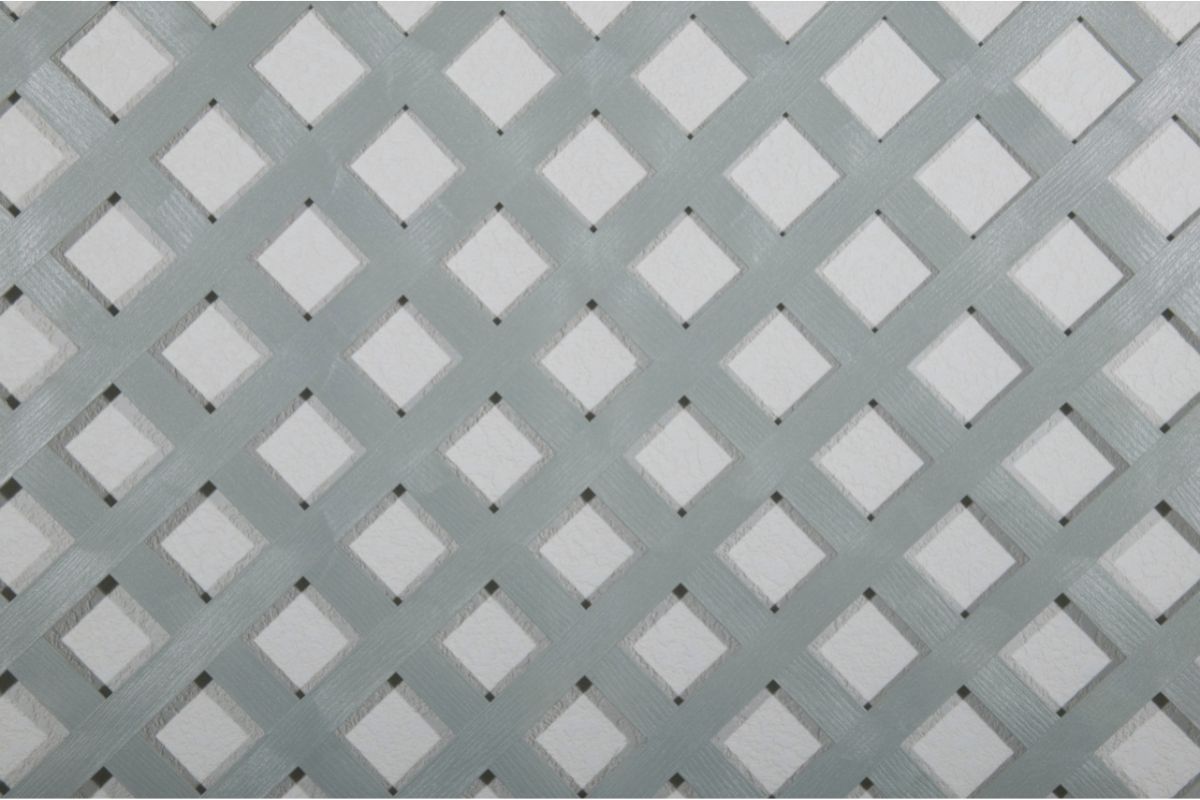 Another vinyl option for your shed skirting is vinyl lattice fencing.  This is very similar to the vinyl panels mentioned above, but rather than looking solid and having small holes for ventilation, the lattice fencing has a much more attractive look. 
The lattice effect is a common sight in gardens and although this product is made from vinyl it will fit into your garden no matter what your aesthetic is.  
Although vinyl skirting is not the most eco-friendly option, it is incredibly durable and useful as a skirting option. 
It is naturally resistant to moisture and harsh weather conditions which is incredibly important for a product that is outside permanently.  Similarly, vinyl skirting receives hardly any scratches, no matter how harsh the treatment of it is. 
This helps to keep it looking fresh and new for a long time.  
Despite the fact that this is made from vinyl plastic, it is incredibly resistant to warping, splitting, twisting, or cracking.  This means that it can withstand the hottest of summers and coldest of winters. 
It also means that the fencing is unlikely to fade in the sunlight.  Again, this is a DIY option that can be installed quickly and easily.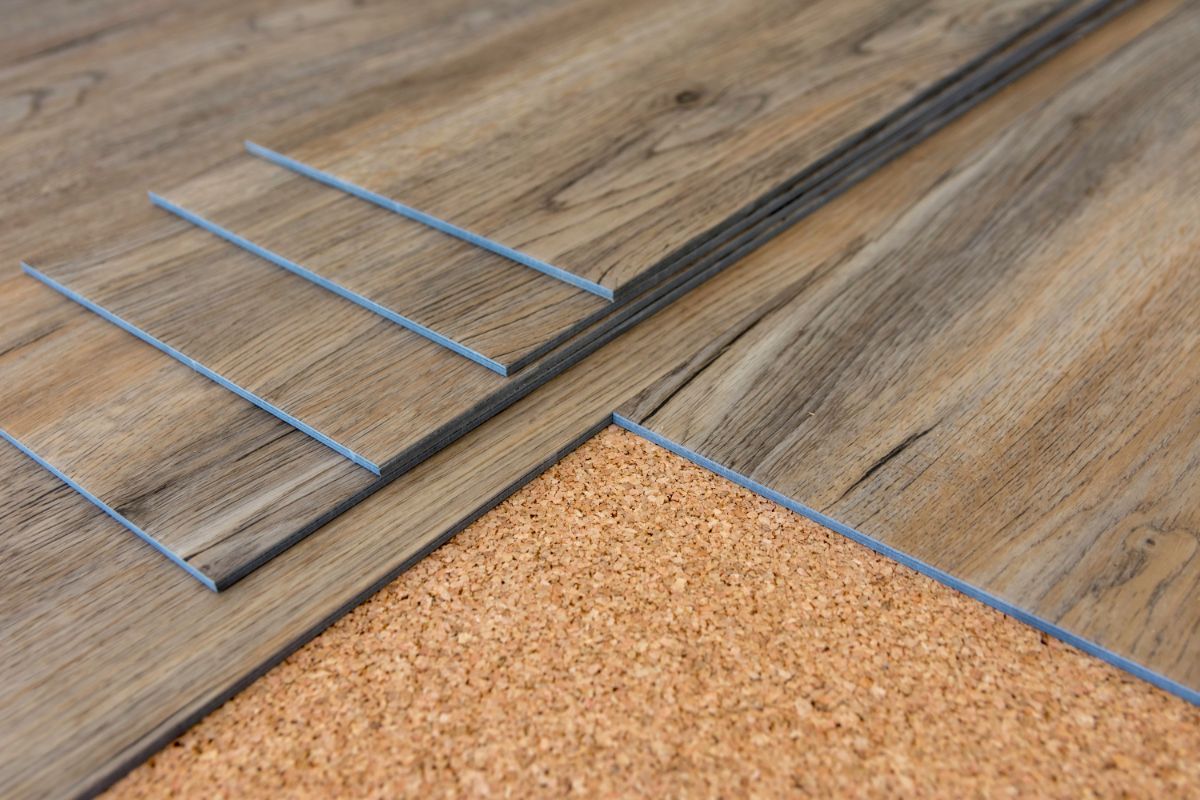 Boardwalk vinyl panels are a great way to bring in a sturdy and weather resistant shed skirting while maintaining style that matches the rest of your garden and your overall style. 
The boardwalk panels are unsurprisingly similar to the type of paneling that you would see on beach houses.  This can be a fun and creative way to bring a beach vibe into your garden while prioritizing functionality.  
Because the panels are made from vinyl, they are naturally water and weather resistant.  This can help to protect the base of your shed from the elements. 
Because of the slat design of these panels, there are plenty of gaps that provide ventilation while still providing adequate protection from rodent infestations. 
Despite the fact that the panels are made of vinyl plastic, they can be painted to make sure that they fit the current aesthetic of the shed.  
As with the vinyl lattice fencing, these panels are resistant to warping, twisting, splitting, and cracking. This makes them incredibly durable and more than capable of withstanding the elements and the weight of the shed.
Fretwork screen panels are not only highly functional, but they are also a perfect option for personalizing your shed.  The best thing about Fretwork screen panels is that there are so many different designs and patterns that are available. 
Not only that, but there are also many different colors that can fit any garden or shed theme.  
Fretwork screen panels are formed out of thick polymer material that is incredibly durable.  It is also unaffected by heat or cold weather which means that it does not significantly expand or contract based on different external temperatures. 
It is also highly resistant to warping, twisting, rotting, scratching, splitting, and discoloration which means that it retains its visual effect for a very long time. 
The main downside to using Fretwork screen panels is that they cannot be cut without sacrificing their structural integrity.  This is because of the detailed and intricate designs that are cut into them. 
Without the border around the outside, the smaller, detailed parts cannot hold their shape as well.  This can hinder application.  Aside from this, they are incredibly easy to install.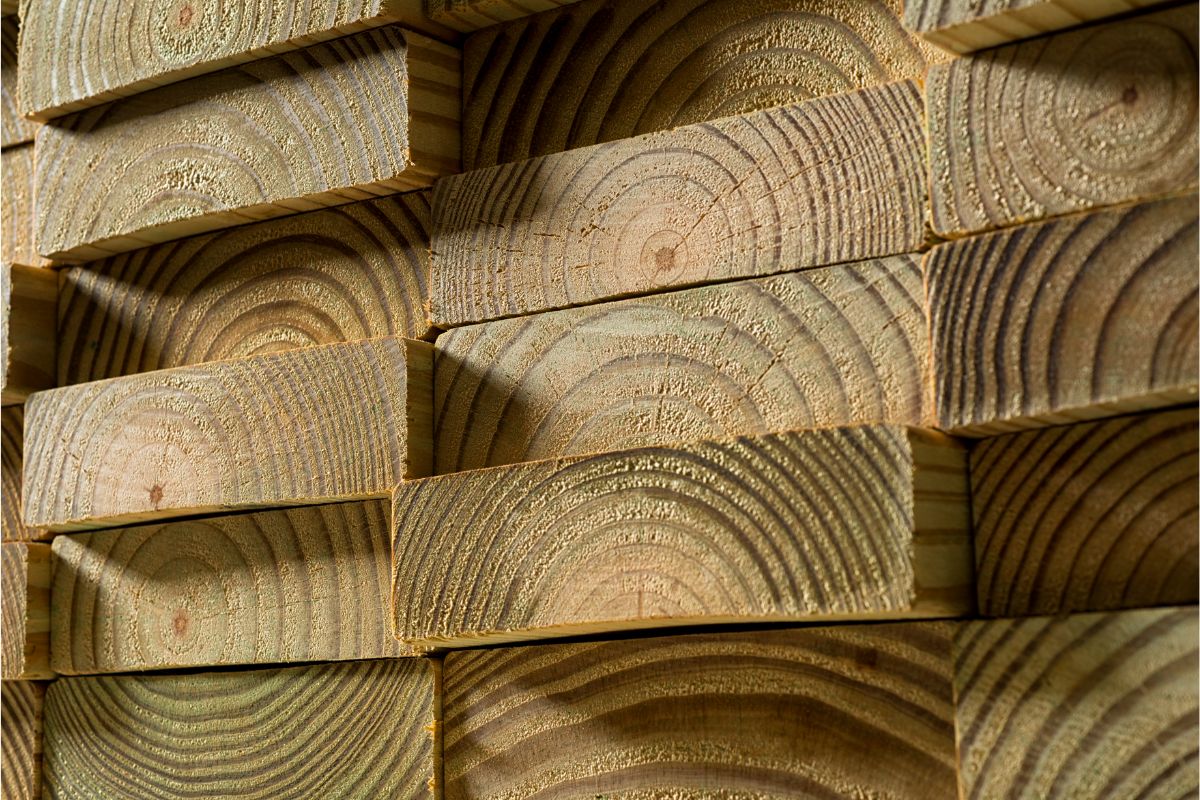 One of the most attractive options for shed skirting is pressure treated lumber boards.  Despite the sturdiness and permanence of this skirting option, this is a perfect project for the keen DIYer. 
Once you have sourced the wood, all you have to do is cut the boards to size and then run them across the bottom of your shed to block the crawl space.  For wider gaps, you should place the boards directly above one another to fill the gap completely. 
Pressure treated lumber boards are great at blocking access for rodents and pests as there should be no gaps between the boards.  However, this does mean that the ventilation is significantly hindered. 
Due to the wooden nature of the boards and potentially your shed, this can end up leading to damp issues.  
However, despite the lack of ventilation, it is possible to have the boards treated with a special chemical preservative infusion that can protect the boards and ultimately your shed from fungal growth, bacterial growth, and weather elements. 
This helps to provide higher value for money as these types of boards are cheaper than concrete and brick skirting options. 
This shed skirting option is one of the most natural looking skirtings on this list.  The real willow stick lattice skirting creates a beautifully natural look that fits into any garden. 
Because it is made from 100% real willow trees, it is completely eco-friendly and has natural resistance to weather conditions.  If you are concerned about the environment, this can be a great choice for you.  
Installation of real willow stick lattice skirting is easy enough that it can be another DIY option.  All you need to do is expand or contract the lattice until it is the correct length and begin binding it to your shed. 
Don't be fooled by the thin appearance of the willow sticks, they are naturally incredibly strong and durable which means that they are more than capable of withstanding the pressure of the shed. 
They also provide adequate protection from rodents and other pests as well as ensuring the base of your shed is well ventilated and dry.  
One of the nice things about the real willow stick lattice is that it can be used for other purposes in your garden such as supporting climbing plants. This means that you can use it to provide a theme that runs throughout your garden.
Duraskirt concrete boards are one of the most durable and sturdy skirting options on the market.  They are made from real concrete and are completely solid which means that no pests or rodents will be getting beneath your shed. 
The best thing about these boards is that no footing is required, therefore it is quick and easy to install them. 
You can cut duraskirt concrete boards yourself with a diamond blade on a circular saw.  Additional things you will need to install these boards are a shovel and a caulking gun. 
These are all things that can be obtained from a hardware or DIY store, alternatively, you might already have them. 
If you don't have access to these tools or don't feel confident to install them yourself, you can also hire a professional to install them for you.  
Duraskirt concrete boards require very little maintenance once they have been installed.  What's more, they feature a hidden vent that runs across the length of the boards to provide adequate ventilation to the base of your shed. 
It is this ventilation that really sets this product apart from the other concrete and stone options on the market. Unfortunately, the price point of these boards is significantly higher than most other options on this list, but if you can afford it, it is worth it. 
The thermal insulated foam EverRock skirting is one of the most energy-efficient ways to add skirting to your shed for the long run. 
As the name suggests, this product insulates the base of your shed which can provide increased warmth during the winter months. 
If you use your shed for more than just storing tools and spend time in there working, this can really help to reduce your energy bills over time.  The insulating foam in this skirting is 1" thick and minimizes heat loss. 
This product is more than just functional however.  The outside of the skirting is designed to feature a unique-looking rock pattern that produces a much more appealing aesthetic than foam does. 
The outer material is made from vinyl which makes it incredibly weather and moisture resistant.  It is also highly durable and will not split, warp, or twist in extreme weather conditions. 
There are three options for the color of the rocks that you can choose from.  This helps the product to fit whatever style of shed you have. 
Alternatively, if you wanted to get creative with your skirting, you could choose a color that stands out against your shed rather than blending in. 
These panels are very affordable and the fact that they can help to reduce your energy bills if you spend time in your shed makes them even better value for money. 
They are also a great option for anyone who lives in a colder climate to protect your shed.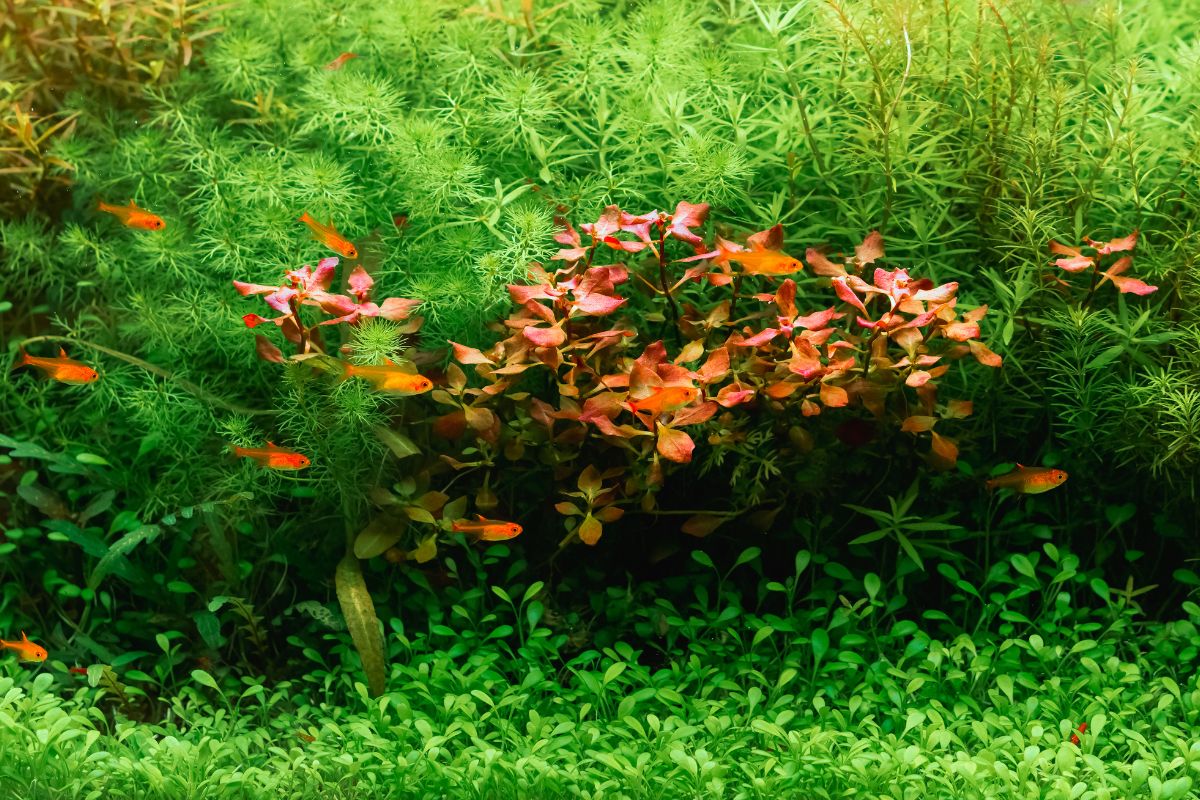 If you have a smaller gap between the base of your shed and the ground, natural plants can be a brilliant and easy way to conceal it.  Although this doesn't offer a huge amount of protection from rodents and pests, it can still deter them. 
The best thing about using natural plants as skirting is that it is completely eco-friendly and can be in keeping with the overall look of your garden. 
Because there is no need to build raised beds, the work that goes into installing this skirting is contained to nurturing and growing your plants.  If you have a lot of patience and aren't bothered by a visible gap, you can grow plants from bulbs and seedlings. 
However, if you want slightly quicker results, you can plant established shrubs and plants from a gardening store.  This can create a more established bed in a much shorter time frame. 
Because of the natural look of this skirting option, you can plant flowers and plants that attract wildlife to your garden such as butterflies and bees.  This can make it an even more environmentally friendly option. 
One of the best things about this option for skirting is that it can be incredibly inexpensive to achieve.  You can source your plants from cuttings from around your garden to keep the same plants, and the soil will be relatively cheap to purchase as well. 
If you are on a budget and have green fingers, this can be the perfect option to keep you busy and hide the gap beneath your shed. 
Tips And Tricks
If you do opt to install shed skirting, there are a few important things to consider including the level of ventilation offered by the skirting.  If there isn't enough ventilation, the risk of mold developing beneath your shed is significantly increased. 
There are many options on the market that can help avoid any mold and mildew issues.  
Another concern that should be considered when deciding on shed skirting is what you want the aesthetics to be.  This may not be as big a concern as durability or ventilation, however, you don't want to be stuck with skirting that you don't like. 
You certainly don't want to waste money by buying skirting without considering what it will look like and then having to replace it with something different. 
There are many products that offer durable and weather resistant skirting that also looks appealing. 
Finally, the ease of installation should be considered before making a purchase.  If you are an experienced DIYer, there are not many skirting options that you cannot install yourself. 
However, bricks and masonry should always be installed by a professional to ensure the safety of your shed and the skirting. 
If you are not an experienced DIYer or don't want to install it yourself, there are many businesses that offer handyman services who can be hired to install it for you.
The cost of hiring a professional should be factored into the overall price of the skirting.  If you do decide to hire a professional, especially for brick or masonry skirting, it is important to ensure that you are hiring someone who is experienced. 
Always remember to ask for references and testimonials.  The last thing you want is for your shed to shift or bricks to topple while you and your family are in the garden.  
Final Thoughts
There are many different options available for shed skirting that provide both style and substance.  Once you have decided which aspects of skirting are most important to you, it will be easy to find the right product for your needs.
No matter what your budget is, there will be something that can protect and finish your shed perfectly.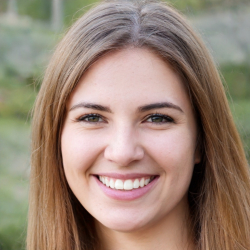 Latest posts by Maisie Park
(see all)