Attic rooms are a great way to make the most of your space but they can be tricky to work with. When done properly, they can be a real asset to your home and even increase the value of the property.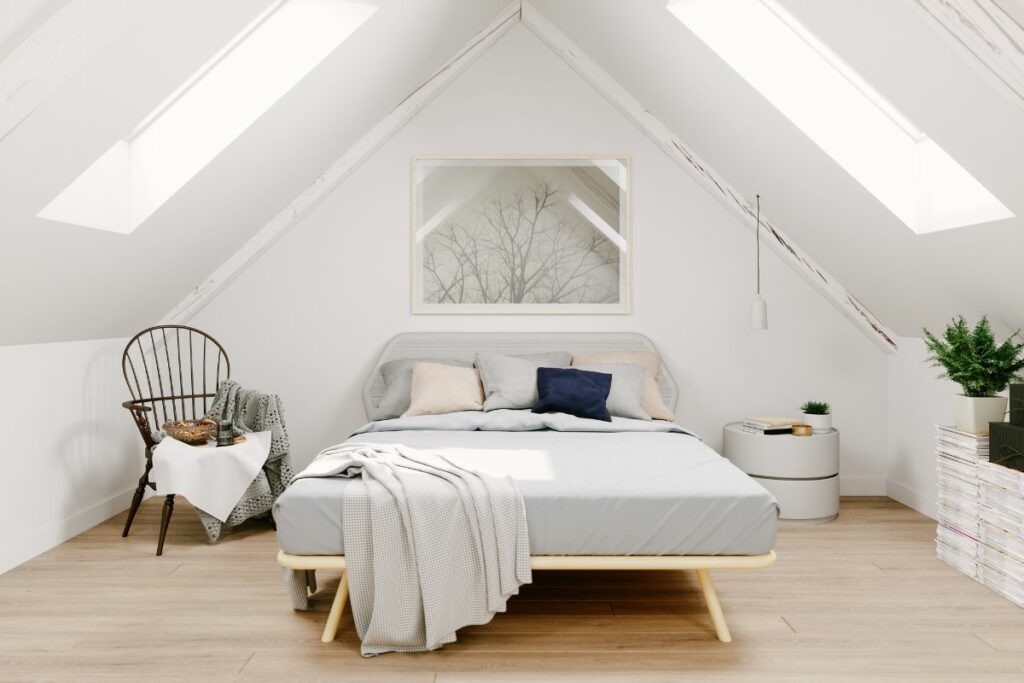 Here we have featured 15 different attic bedroom ideas to give you inspiration on how to make the space work best for you. 
1. Low Loft Beds
Low-down furniture enables you to make maximum use of the space available. There are many styles of loft beds that are low to the floor and can even have storage like this bed from IKEA.
Furniture lower to the ground helps to visually accentuate the height of the ceilings, creating the illusion of more space. 
2. Making Use Of Bold Colors
Depending on how much space and light you have to play with, you can be really bold and creative with your attic bedroom.
Although you might think using darker or bolder colors would make the room feel small and uninviting, paired with the right soft furnishings and light fixtures you can create a wonderfully relaxing bedroom. 
3. Use Awkward Spaces To Your Advantage
The eaves of a house may appear to be a huge waste of space, to begin with, but with a bit of imagination and some clever carpentry, they can be transformed. Bookshelves, storage solutions, or design features can be built-in into any awkward space you think is wasted.
Storage can be easily created with these nooks, we love the sliding barn door effect used in this bedroom as there's no need to worry about having enough room to open doors or conflicting with other furniture. 
4. Ensure There Is As Much Light As Possible
Skylights are imperative in attic bedrooms not only to create ventilation but also to let the light in. Although some attic bedrooms may already have a small window, many benefit from extra skylights to help expand the space and make it feel more inviting. Depending on the size of the room and the style of the roof will influence the skylight you purchase.
Modern skylights can have many cool features, such as those that create small balconies for you to enjoy. Others can even be controlled using a smartphone application. The main thing is that it lets in as much light as possible.
5. Maximize Storage With Built-Ins
When turning the attic bedroom into the master suite in your home, you might be concerned about the lack of storage space.
Built-in wardrobes are a great solution to this, although they can come with a big price tag. Alternatively, you can get a little creative and try to use this IKEA hack for a much cheaper option. 
Regardless of your budget, there will be a way for you to work with a good carpenter to build some handy storage that works great with sloped ceilings.
6. Create A Cozy Guest Room
As attic bedrooms can be a lot smaller than we would like, they can make an ideal guest bedroom. Depending on the size of the room you could try to fit twin beds in there or create a low-down eaves space bunk that younger guests will love. Utilizing the space by positioning the heads of the bed in the lowest parts of the ceiling. 
7. Use Vaulted Ceilings For Interesting Light Features
Period properties often have vaulted ceilings in their attic bedrooms or may have been created during conversion.
These high ceilings help to make the appearance of more space and are a great way to add some flair to the room. If there are exposed beams, this is a great opportunity to incorporate string lighting. 
Working with the angles and vaults in the room you can use statement pieces to draw the eye up to ceilings. 
8. Embrace Natural Features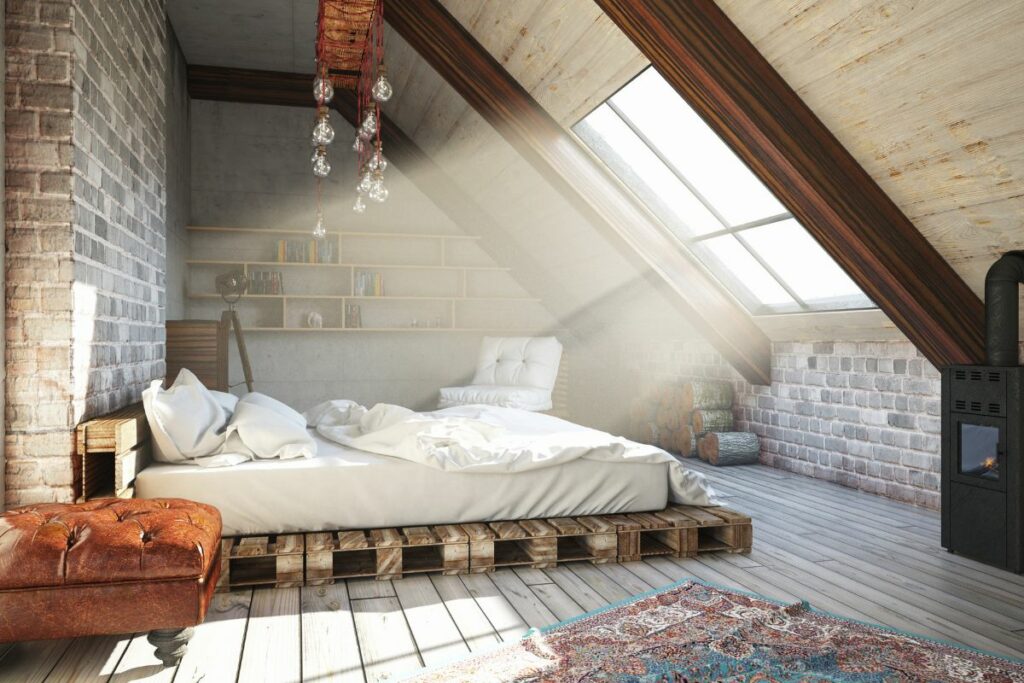 Beams, exposed brick, and other architectural quirks make for great features in an attic room giving it a rustic feel which can be incorporated into any style.
Wooden textures and natural accents create a calming and minimalist feel which is perfect for a sleeping environment. Painting walls with neutral colors can help tie it all together for a lovely cozy space. 
9. Try A Minimalistic Look 
Another way to make a small space appear bigger is to go for a minimalist look. If there's less going on then a room feels less cluttered.
For those that aren't naturally minimalists, it can be difficult, especially when you have a lot of stuff. Try turning the attic room into a guest bedroom to help with this. 
To make a statement with a minimalist bedroom, try dressing the bed with pops of color along with a few bright coordinating prints to add feelings of homeliness.
Plants are brilliant for adding some color and coziness to a room. Bright white walls are the best way to pull off the minimalist look.
10. Go Wild With A Bold Wallpaper
If you're feeling adventurous, papering the walls with a light and bright bold wallpaper makes a great statement.
This is ideal to make a rustic farmhouse-looking attic bedroom as there are various floral and gingham papers to choose from. Taking it a step further you can even paper the ceiling for an eclectic feel. 
If you are looking to make a more subtle statement then try papering one wall for a low-key feature that still makes the room feel vibrant and fresh.
11. Create A Walk-in Closet
Have you always dreamed of having a walk-in closet but didn't think there was enough space? Attic bedrooms that are tricky in terms of size and angles can be turned into a walk-in closet that frees up space in your bedroom.
Depending on the height of the room, you might even be able to squeeze in a dressing table. 
You don't have to pay for expensive built-ins in order to have a functional space. Open rails help to give the illusion of more space as well as being much cheaper to buy and install.
As attic rooms are tucked out of the way you won't have to worry about any mess. These rails also allow you to work with the shape of the room. 
12. Turn It Into A Mezzanine
Mezzanines are a great way to turn previously unusable attic space into an extra bedroom or storage nook. Although they aren't very big, they can be really handy when guests come to stay or just for an area for the kids to hang out.
Extending into attic space can be the perfect solution to having previously unusable space. 
13. Create A Country House Window Seat
With sloping ceilings, you might find that you have the perfect window positioning in your attic room to create a window seat.
You'll feel like you live in a movie with a built-in storage bench topped with a comfortable cushion. Getting a bench built in can be relatively inexpensive or even a fun DIY project to take on yourself. 
The size and shape of the room will limit the dimensions of the bench, but making it hollow is a handy way to increase storage in an attic room.
Customize the colors and fabrics of the cushions to tie into the rest of the room for the most comfortable reading nook in the house.
14. Make It Multifunctional
Attic spaces can be great multipurpose rooms, you can still have a bed in it for when guests come to stay but you can make use of it year-round.
Built-in storage could make for the ideal home office or playroom for children as you can easily hide the clutter when guests come to stay. 
We love the idea of having a bed that can also turn into a sofa to make better use of the space when you aren't using it. Built-in day beds can also offer storage space, ideal for a multifunctional room.
15. Beautiful Bathtubs
Can you picture yourself soaking the day away in a clawfoot tub and feeling a light breeze gently blowing through your skylight? Attic spaces can be turned into an extra bathroom, contrary to what you might think.
As bathtubs are low, they can be a great addition to the space and create a wonderfully relaxing atmosphere. 
If you'd like to include a shower too then make sure it is centered in the room for maximum height. Awkward spaces can be turned into storage cupboards or shelving to make the most of every nook.
The main thing to consider with an attic bathroom is the lighting, ensuring there is enough adequate lighting to give your bathroom a light and airy feel. 
Final Thoughts 
The only limit on what you can do with an attic space is your imagination. The main consideration with any attic space is lighting, as you want the room to feel like a room rather than a dusty old attic.
We hope you found this article interesting and inspiring, helping you to figure out how to best use your attic space.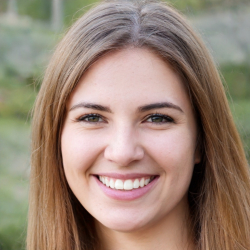 Latest posts by Maisie Park
(see all)