Dark countertops are a must in a lot of kitchens, they don't show stains or scratches and they look exceptionally elegant too!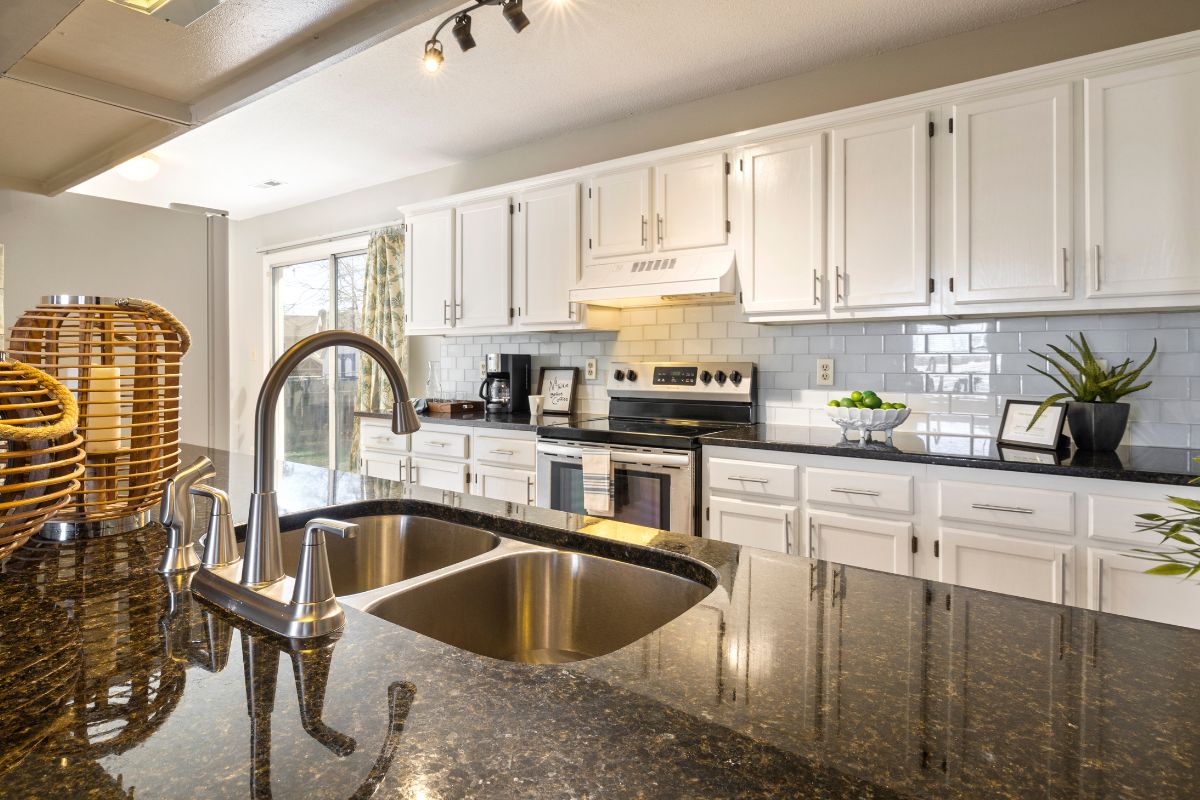 There's an array of different materials you can choose from when deciding what you want your countertops to look like, but a lot of them will require maintenance or for you to upkeep them in some way. 
This is where granite countertops come in. This material doesn't require a whole lot of maintenance and there's tons of different options to choose from when you're designing your kitchen.
Black granite is by far the most popular choice for homeowners, as it looks beautiful in your kitchen without standing out too much. 
Black granite is an excellent backdrop in kitchens as it's simplistic yet modern and stunning.
And the good thing is that it can be paired with absolutely anything, so if you want different color decor around your kitchen, this is the perfect choice for you. 
Keep on reading to find out more about our top choices for the best types of granite around.
Are Black Granite Countertops Popular?
Yes, they're immensely popular. At some point in your life, you've probably visited at least one home that boasts black granite countertops.
It's because of how easy to maintain and beautiful black granite is that homeowners keep on choosing it to decorate their kitchen with. 
Most people also prefer their kitchens to remain neutral, with white or beige walls paired with a darker countertop, so black granite countertops will always remain in  style due to the demand of neutral kitchens.
Black granite probably won't ever go out of fashion, so you can be assured that if you design your countertops in black granite, they'll remain modern and stylish years down the line. 
Is Black Granite Cheap?
Since it's so common, it's fairly cheap to buy, especially compared to very in-demand materials such as white quartz.
You should always shop about for the best price, as each retailer will vary, but you can expect to pay around $55-$65 per square foot for a black granite countertop, and that includes many different types of black granite too, not just traditional black granite. 
Should I Use Black Granite In My Kitchen?
Black granite is an excellent choice for your kitchen, as it will hardly scratch, it can withstand heat very well and you'll find that it's very durable and gets minimal to no chips.
Compared to other materials of countertops, black granite is by far the easiest material to have. 
Top Choices For Black Granite Countertops
Here's a list of some of the best black granite countertop options that are available currently.
Negresco
This type of black granite is by far our favorite. It's black honed granite which is very matte with minimal gloss on it, so it's perfect if you're looking for a deep black surface without any visible veining or a countertop that doesn't have a high polish finish.
It almost looks like soapstone – another in-demand countertop material that requires quite a bit of maintenance and upkeep, so it's a perfect alternative. 
Black Pearl Granite
If you're wanting a deep black countertop with a hint of glimmer, this type of granite countertop is the one for you.
It's a very polished type of granite that has tiny flakes of green, gold, gray and brown, making it stand out much more than the regular black color of granite.
The regular version of black pearl granite is highly polished, so it'll have a glossy and reflective finish. But if you prefer the honed or leathered look, it's also available in those finishes.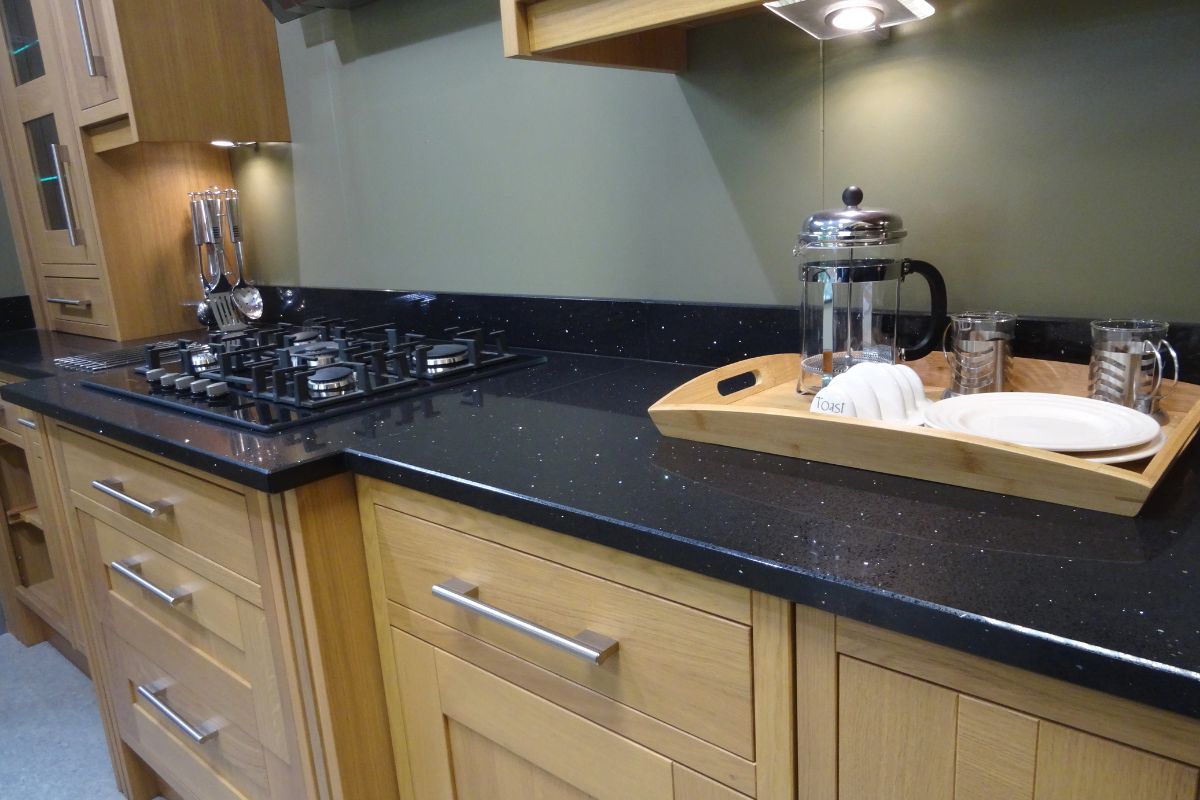 Nero Mist
This is a beautiful choice for any kitchen. It has a matte finish and it's full of gray veining, giving it a very different flair to the others listed here.
This type of granite is again honed, so it provides a very smooth and flat finish without the added polish that some people don't like.
The detailing of this type of black granite is exquisite, and it'll have everyone squinting at your kitchen countertops trying to get a closer view. 
Absolute Black
Just like the name suggests, absolute black is pure black granite.
It's the perfect option to go with if you're wanting a deep and dramatic flair in your kitchen whilst remaining somewhat neutral but decadent at the same time.
The perfect thing about this type of granite is that you can get it in any finish that you like.
So if you prefer a highly polished finish, that can be done, or if you prefer a more honed or leathered finish, that can be done too. 
It's much darker than any of the choices on this list, so if you want a pure black countertop without the upkeep, absolute black should be your pick.
What Finishes Are Available For Black Granite Countertops?
We already went through a lot of the different finishes that are available for black granite countertops, but we're going to be giving you an overview of the most popular finishes for each type.
Honed Black Granite
This finish is very matte, so if you're not one for high polish finishes, you'll love this finish. It's very similar to soapstone, but, like we said, without the high maintenance of it.
The only issue with the high satin finish of honed black granite is that it's much more prone to fingerprints and spillages, but it's a small price to pay for having a beautiful, matte countertop. 
Polished Black Granite
You'll probably see this one the most in homes, as it's one of the most popular types of finishes.
It's very low maintenance and you can typically have black granite for years without having to touch it up, but some people prefer to seal it once a year, but it's completely up to you. 
Leathered Black Granite
A leathered finish sort of sits in the middle of polished and honed finishes. A lot of people tend to think that leathered and honed are the same type of finish, but they are different.
Making leathered black granite consists of a process that runs a diamond-tipped brush over a honed stone.
This allows the stone to become much more stain-resistant than black granite that has been honed, but honed black granite is also much more matte. 
Final Thoughts
Black granite countertops are an excellent choice when deciding what material to use for your kitchen countertops.
They have a beautiful and modern appearance whilst remaining fairly low maintenance and cheap for the most part.
If you really want a low maintenance black granite countertop, then the best finish to go for is a leathered finish, as the rigorous process it goes through makes it highly resistant to stains, meaning less is needed to keep the countertop looking clean. 
But, if you love the look and feel of a matte finish countertop, a honed finish is also an excellent choice as it looks absolutely beautiful and timeless, but it is much harder to care for as it's prone to fingerprints and spillages.
But make sure to view your desired stone at a slab yard before you purchase the whole countertop!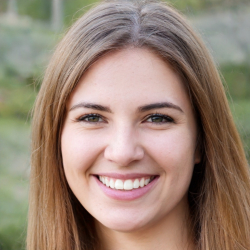 Latest posts by Maisie Park
(see all)