Bathrooms can get overlooked when you're designing your perfect home. More often than not, most of us have smaller bathrooms so coming up with quirky design options can be a bit more of a challenge.
One great way you can make the most out of your bathroom is by jazzing it up with some wallpaper! There are so many different wallpaper options out there, so you're sure to find something that will suit your tastes.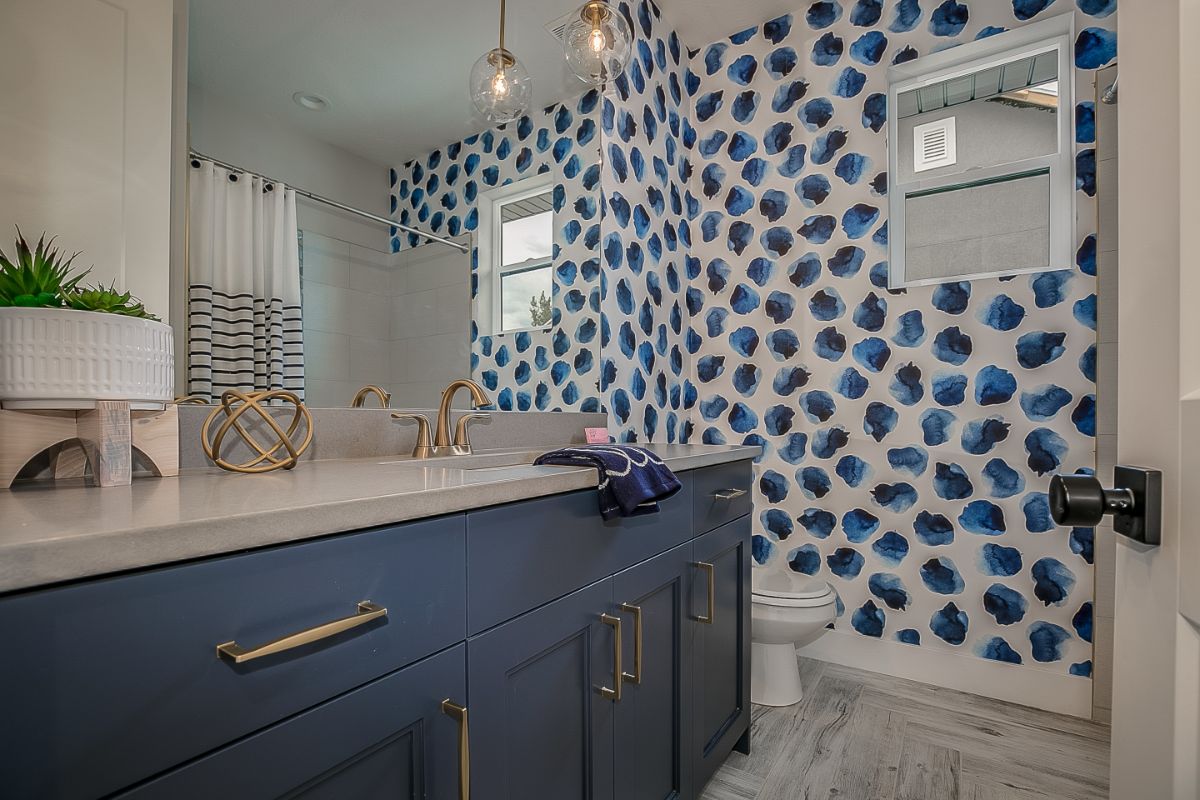 If you don't know where to start though, don't worry. We've put together a list of 15 bathroom wallpaper ideas that will suit your home perfectly. So let's get started.
1. Nature-Inspired Wallpaper
A great starting point is to look into some nature-inspired wallpaper. You can pick from different nature-themed wallpapers, including but not limited to floral patterns, jungle-themed, or even animals if that's your thing!
This themed wallpaper can really add a bit of depth and character to your bathroom without you having to go overboard. You can really express yourself and experiment with some nature-inspired wallpaper.
2. Loud Bright Colors Can Really Liven The Space Up
If you are willing to take a bit of a risk and make a bold statement, look for some wallpaper that has loud and bright colors!
It might seem like a bit of a risk at first, but once you find a wallpaper that you like, you'll be surprised by how well this statement wallpaper works.
You want to feel energized when you're in the bathroom so you can get ready without it being stressful, and loud and bright colors will definitely get you psyched. 
3. Try Some Wood-Styled Wallpaper
Wallpaper that looks like wood is a great choice if you can't really afford wood or you're worried about the wood getting ruined in a room that's going to have a lot of moisture.
Along with being a bit cheaper and very practical, wood-style wallpaper looks amazing! It will give your bathroom look a bit more modern and will take away the clinical feeling of the white walls.
This is a great choice if you want your bathroom to have a bit of character without breaking the bank. 
4. Don't Forget About Your Ceiling
People often ignore their bathroom ceilings but they definitely shouldn't. A great way to spice up the way your bathroom looks is to wallpaper the ceiling.
You might be shaking your head a bit at this idea, but once you try it for yourself, you will wish you thought of it sooner!
From fun patterns all the way to something a bit more simple like wooden tiled wallpaper, there really is a wallpaper design that will work for everyone. Sometimes, all you need is to change the way the ceiling looks to really change up the whole vibe of the room.
5. Think Pink
If you have a smaller bathroom, why not get a pink and black combination going on? Paint all the accents black and add in some lovely pink wallpaper to match.
You can play around with the different hues of pink to suit your needs. Whether it's hot pink, pastel pink, or even raspberry pink, pretty much every shade will go well with black and each hue or shade will make add a completely different vibe to your bathroom.
6. Play Around With Darker Wallpapers
Most people avoid using darker colors on their walls because they tend to make the space look smaller. But this doesn't mean you should avoid them completely!
There are plenty of dark-colored wallpapers that actually have a lot of color on them too, and they could be just what your bathroom is missing.
Black-based wallpaper is especially good because it can give your bathroom a dramatic and stylish vibe and can really give your bathroom an excellent mood. 
You can even take it a step further and paint your bath a brighter color to contrast the walls and add even more depth to the overall design.
7. You Can Never Go Wrong With Soft Floral Vibes
Floral wallpaper always works really well in any room, but when you add it to the bathroom, it gives the whole room a soft vibe, and in a lot of ways it is a great way to make your bathroom feel a bit more traditional.
The beauty of floral pattern wallpapers is you can get them in many shapes, shapes, and sizes so you will be able to find something that works well for you.
Floral patterns work especially well with white tones, which most bathrooms are never short of! This is a great way to add a bit of dimension to your bathroom without going too overboard.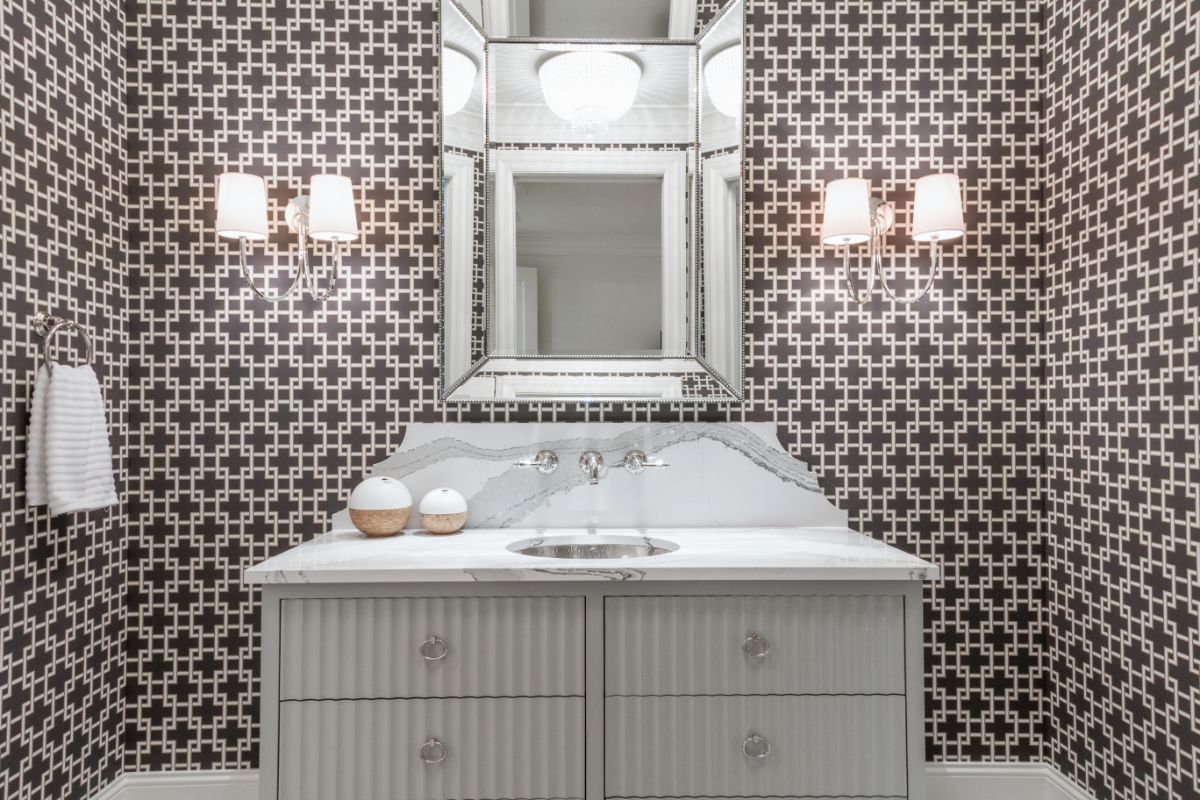 8. If You Want Tiles, Get Some Wallpaper
This is another great way for you to save money while also making sure your bathroom looks good. Tile-mimicing wallpaper works amazingly well in bathrooms and you can get a variety of styles, so you aren't limited if you choose to go for this idea.
Another reason this is a great choice for you to try is that its way easier to do yourself than getting actual tiles installed into your bathroom, and it's faster. Work smarter, not harder!
9. Real Tiles & Wallpaper Work Really Well Too
If you already have tiles in your bathroom, that doesn't mean you can't add wallpaper too! The right mix of tiles and wallpaper actually adds so much depth to your bathroom and it could be exactly what you're missing.
If you only use wallpaper on the higher half of your walls, you don't have to worry about practicality either. Keeping the tiles towards the bottom means the walls will still be protected from any splash-back from the water.
This means that you can keep your wallpaper for longer without the need to replace it. 
This is also a great idea for smaller bathrooms because it tricks you into thinking your bathroom has more space and height than it actually does!
10. Match Your Wallpaper With Your Bath
Some baths you can paint on, and if you have one of these baths, you should definitely use that to your advantage. Paint your bath a nice, bright color, and then pick a wallpaper that matches!
You will want to make sure that the wallpaper is slightly duller in color than the bath, but still in the same color scheme. The best types of bath this idea works for are roll-top baths, but if you have a bath with baths with panels too.
11. Have A Look At Bathroom Murals
A really unique and quirky idea that works in every bathroom is a mural. The beauty of murals is that you can design one yourself or you can commission a local artist to come and paint one for you.
With a mural decorated in your bathroom, you can be sure that there won't be another design like it anywhere, and you'll find any guests who use your bathroom will compliment the design whenever they see it.
This is a great way to make your bathroom look a bit more personal and reflect your personality.
12. Removable Wallpaper For Those Who Change Their Minds
If you are prone to changing your mind quite a bit, then the idea of putting wallpaper on your bathroom walls might seem like quite the ordeal. If you put it up and decide that you want to try something new a few weeks later, this can end up getting quite stressful.
However, there is something you can try in the form of removable, peel-and-stick wallpaper. There are loads of beautiful designs in this form and because it's so easily removable, you don't have to worry about committing to a design!
This is also a great choice for anyone who just wants to test out some designs before they fully commit to the idea. It lets you see exactly what your vision will look like without the stress of it being permanent.
13. Go For A More Retro Look
There are plenty of retro-themed wallpapers out there that perfectly capture the vibes of different eras and decades. Though lots of people tend to go more for modern themes now, that doesn't mean you can't go against the grain and go retro!
From psychedelic to art deco, there are plenty of options you can choose from.
14. Go Bird Crazy
This might seem like a strange idea, but you'd be surprised by how popular wallpaper that is covered in birds actually is for the bathroom!
There are loads of different designs you can choose from, ranging from bold and wacky, to minimalistic, so there's something for everyone if you go for this design.
15. Try Something More Abstract
If you really like the more minimal approach, why not try something abstract? This is a great choice for anyone who has a bit of an artistic flare and wants that to shine in their bathroom.
Conclusion
Try some of these wallpaper ideas out for yourself and see which one goes best in your bathroom!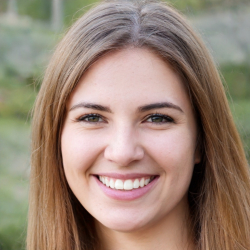 Latest posts by Maisie Park
(see all)