You'll get the best results and add some style to your bedroom if you have a neat, well-lit place to sit at while doing your makeup!
The 15 cosmetic vanity ideas below will take good care of all your lipstick, skincare, fragrance, and nail polish collections, whether you're looking for makeup storage options, ideas for small or inconvenient spaces, or even simply some style inspiration.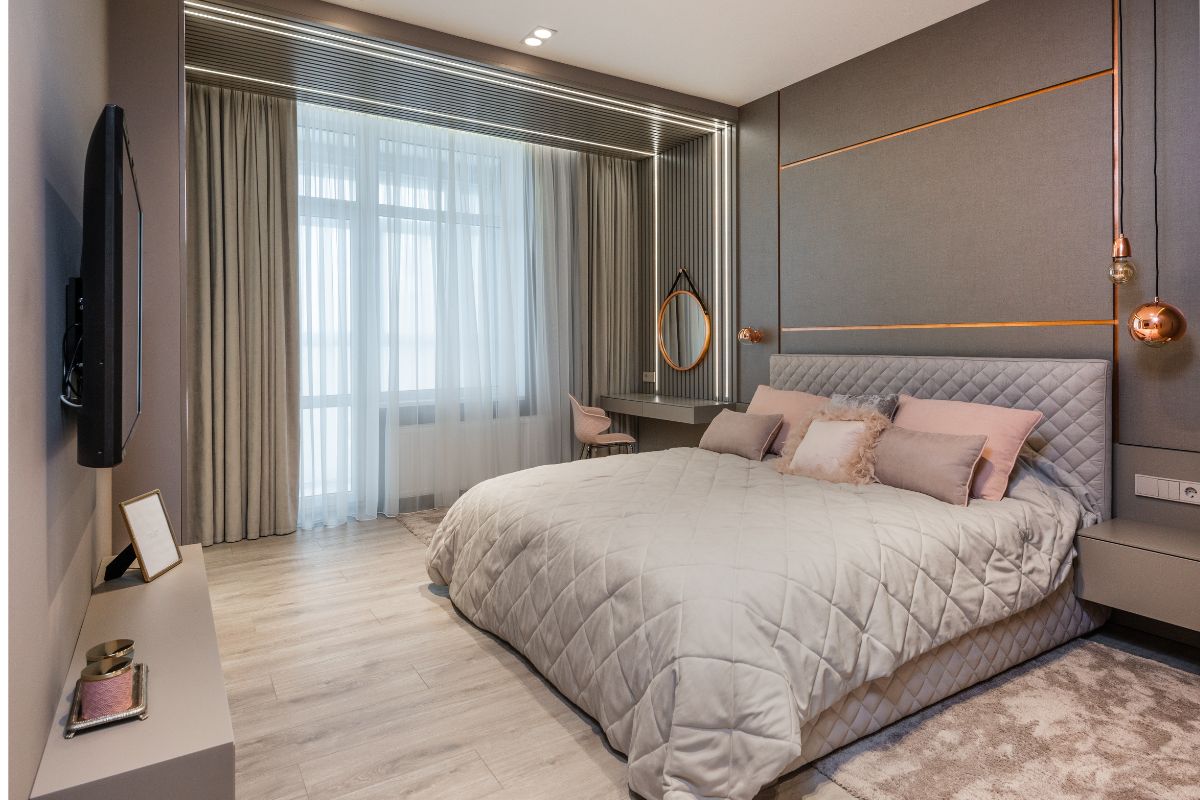 What To Consider First
If you want to make the most out of your makeup vanity, then there are a few things you should consider before you start setting it up.
You must first establish where the vanity can go in your bedroom and how much space you actually have. Make sure to measure your room before purchasing furniture.
When you measure, make sure there is enough room for a chair so you can sit comfortably and apply your makeup.
You should consider what shape you want your vanity to be when picking one out for your bedroom. You should also think about the mirror shape as well, as there are so many to choose from.
Think about whether or not you want lights incorporated into your makeup vanity. Depending on how well lit the space is, you might want to consider this when making a decision.
Finally, think about the style of vanity you want. As a new addition to your room, you're going to want it to match your other bedroom furniture and look amazing alongside it!
1. Add Accent Seating
A velvet pouf or an elevated stool quickly enhances the ambiance of a vanity by providing a comfy spot to sit while getting ready.
A great way to make a statement is to line up a set of asymmetrical mirrors with your accent seating, instead of just one.
2. Add Extra Light
If you want extra light around your vanity, you can frame a mirror with two sconces for an elegant touch. As long as you pay attention to the scale, you'll have an incredibly chic set up.
Try using bright light bulbs rather than warm lighting so you can see exactly how your makeup looks in even the harshest of light.
3. Add Hollywood Style Lighting
For a touch of Hollywood glamor, consider installing lights around your mirror! You'll be able to see yourself in perfect lighting when applying your makeup.
You'll feel like a movie star with a lighted mirror and create a space that is fun but still classy when getting red carpet ready.
4. Add Plenty Of Storage
A vanity with lots of storage is a must if you have a lot of hair and cosmetic products.
A vanity with many drawers is ideal for storing all of your favorite cosmetics. It's the best way to organize your surface and set up the ideal makeup station all in one place.
5. Add Secret Storage
To avoid clutter and keep your vanity desk sleek, you can wall mount a floating cubby or get a fold-out desk to keep your makeup and toiletries tucked away neatly.
It's a great way to keep your vanity space clean and tidy while still having easy access to anything you might need. And as a bonus, it takes up no floor space!
6. Add Some Statement Wallpaper
If you have a small vanity or desk, think about using wallpaper to create a focal point wall, placing a mirror on the surface, and adding a striking stool.
For added opulence, you can also hang pendants on either side of the mirror rather than choosing sconces.
7. Consider A Corner Vanity
A corner vanity is a great way to maximize your bedroom space while giving you extra space for everything you need when you're getting ready.
With this type of vanity you can keep it tucked away so not to take away from any other focal point of your bedroom.
8. Double It As A Desk
Choose a small desk that you can also use as a modest office in your bedroom if you love multifunctional furniture!
Additionally, instead of hanging a large mirror, you might add visual interest to the walls with striking artwork and maintain a decorative hand mirror on the desk for applying makeup.
9. Install A Floating Shelf
To create the best lighting for applying makeup, place a thin floating desk beside the window.
It gives your bedroom design a contemporary touch and can be used as a desk too.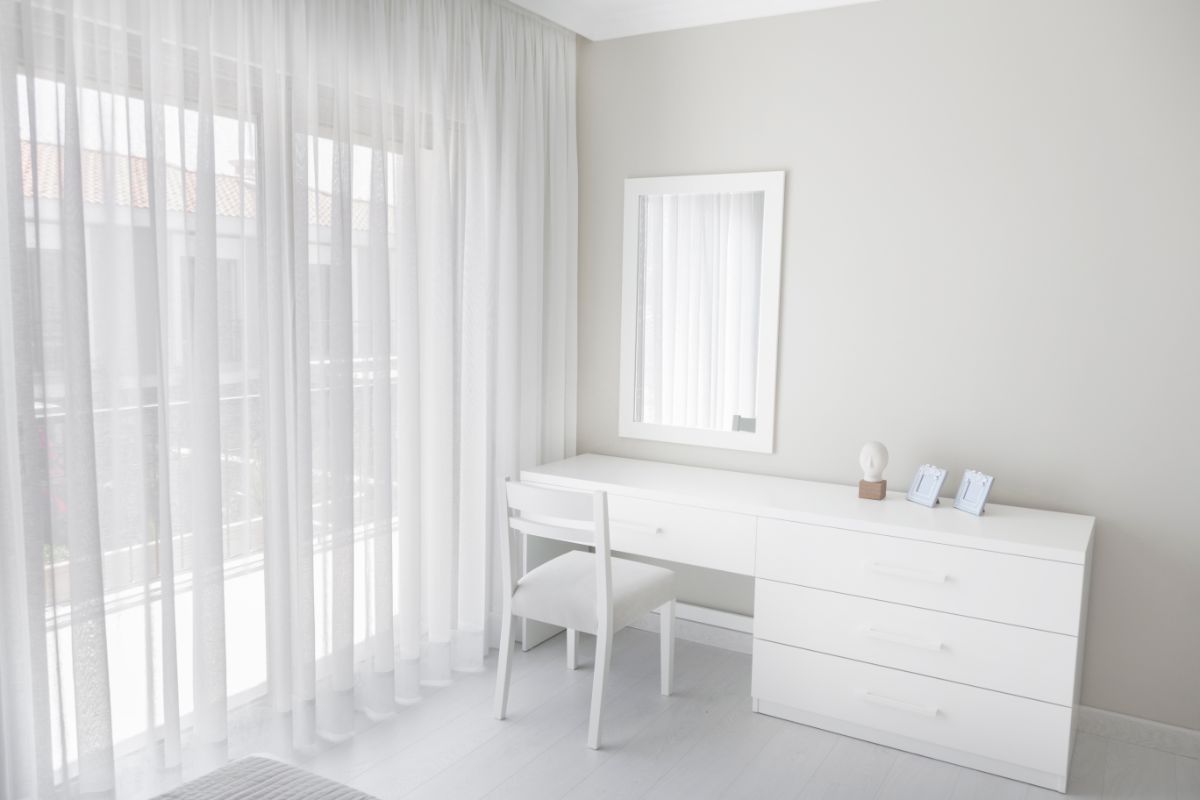 10. Use A Bar Cart For Extra Storage
If you're a fan of the 1920s art deco style, then using a classic bar cart as extra storage is a great way to make the most of your space and add an elegant touch to your bedroom.
Bar carts often have wheels, so you can move it around as much as you like so you can make the space as comfortable as possible and keep your products accessible.
11. Use A Countertop Vanity
Having trouble finding room for a full-sized vanity? A countertop vanity might be the answer.
It satisfies all of your cosmetic needs in a little container and has a mirror and lots of storage drawers. It really is perfect for tiny spaces.
12. Use A Folding Screen
In an empty area, transform an armoire or folding screen into a makeshift vanity table.
To give it a traditional appearance and as an exquisite method to store all of your vanity necessities, like makeup, skincare items, and perfume, it can be furnished with upholstered interiors and floating shelves.
13. Use A Mirrored Medicine Cabinet
You can make great use of a mirrored medicine cabinet by using it as a part of your makeup vanity. They're not just for bathrooms, and can provide you with extra storage so you can declutter your space.
If you don't have space in your bedroom for a vanity, you can always make use of the mirrored medicine cabinet that you already have! Create a vanity set-up at your bathroom sink where you'll have access to everything you need.
14. Use A Paneled Mirror
Consider a folding mirror if your makeup table faces a window but a small makeup mirror won't do.
You won't need to bother about anchoring anything to the wall because a three-paneled mirror can stand up on its own.
15. Use A Side Table
Do not let a limited budget or space stop you from getting your own makeup vanity!
If a desk or built-in are not practical, use a modestly sized side table as a substitute vanity table. Next, just hang a mirror and bring a side chair up.
You might wish to include a little table lamp if you are not near a window.
Frequently Asked Questions
What Is The Standard Size Of A Bedroom Vanity?
Typical vanity sizes range from 18 to 72 inches wide.
The most popular widths for a single vanity are 24″, 30″, 36″, 48″, and for double vanities, 60″ and 72″, however they all start at 48″.
A vanity normally has a depth of about 20″although there are variations that are more limited.
How Tall Is A Standard Bedroom Vanity?
An accessible and comfortable height from a seated position is necessary for a makeup vanity.
Depending on your height and the type of chair being used, the standard is 26′′ to 29′′ inches.
What Are The Benefits Of A Makeup Vanity?
Some consider a makeup vanity a game changer after they've purchased one. Some of the most common reasons why people decide to invest a makeup vanity are as follows:
They help encourage a better and more peaceful morning routine.
They offer extra seating without taking up too much space in your bedroom.
They can be used as a desk as well as a place for applying makeup.
They help you organize your makeup, beauty products, jewelry, and perfume and declutter your space.
They offer a handy storage solution for any other items you keep in your bedroom.
They help prioritize self-care by keeping all your products in one, easily accessible place.
What Can Use An Alternative To A Makeup Vanity?
If you don't have space for a makeup vanity or it's out of your budget then you can use one of these ideas to create your own makeshift vanity space:
Use your bathroom sink as a vanity space by placing a stool in your bathroom and adding some extra storage for beauty products.
Upcycle an old dresser and install a mirror on the wall above it.
If you're adept at DIY or know someone who is, you can make your own vanity with wood.
Final Thoughts
A makeup vanity makes a great addition to your bedroom, giving you your own space to relax and make yourself look absolutely stunning! Get some inspiration from our list of ideas and try them out yourself.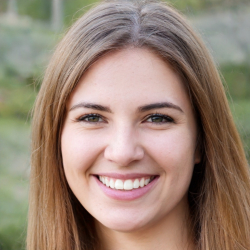 Latest posts by Maisie Park
(see all)