When you're planning on decorating your home, the bathroom might be the last room you're excited to decorate.
Bedrooms, living rooms, and kitchens are all fun to plan and renovate, but there's something about decorating bathrooms that people tend to avoid. Maybe it's because they don't know what theme to follow.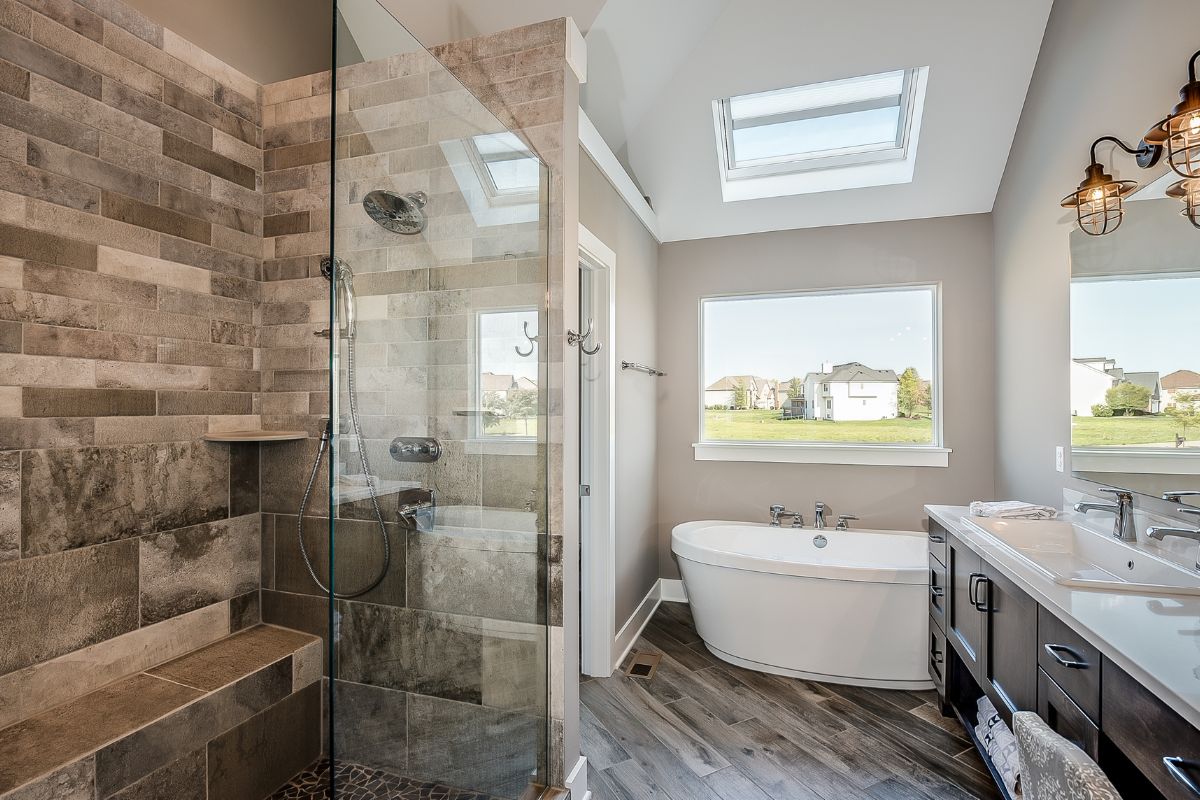 Setting a theme for a bathroom is a great way to start the decorating process. Whether you're sticking to a particular color scheme or a dedicated theme that goes along with the other rooms in your house, finding a theme is the first step to decorating a bathroom.
If you're not sure about what theme to decorate your bathroom, you've come to the right place. Here are 15 bathroom theme ideas for your perfect home.
You can't go wrong with a classic black and white bathroom. There are countless ways to design a modern bathroom, but the black and white color scheme is arguably the most popular. The contrast of dark to light provides a sleek and stylish look, and can be done in so many ways.
Black and white bathrooms are typically minimalistic and simple, but you can always make it look more interesting by blending various patterns – such as a tile wall against black and white checkered flooring.
Plus, any color goes with this scheme, so it doesn't matter what color your decorations are. 
On the other end of the spectrum, the Bohemian bathroom theme is designed for maximalist clutter. Bohemian-themed rooms are inspired by all things creative and unconventional, so a Bohemian bathroom is ideal for households that are slightly quirky and artistic.
This theme is characterized by lots of patterns, colors, plants, textures, and whatever you like!
The beauty of the Bohemian theme is that you can make the room as stylish or as crazy as you like. A black Bohemian bathroom with plants is sleek and rustic, while a pale Bohemian bathroom allows more freedom to use various colors and patterns.
Whether or not you're living in a farmhouse, a farmhouse bathroom is a simple, cozy, and effortlessly attractive theme. The farmhouse theme is characterized by practical simplicity with a rustic touch, focusing on natural materials such as wood, stone, and brick.
A farmhouse bathroom is simple yet effective. Virtually all the fixtures (such as the bathtub, shower, sink, and toilet) are typically white, with wooden cabinets, a tile or natural stone floor, or a rustic wooden floor.
Make sure to add other natural elements like a driftwood mirror, plants, and decor made of rope. 
You don't have to live by the ocean to have a coastal bathroom! A coastal bathroom is probably the only theme that makes actual sense for a bathroom, given the amount of water the room inhabits.
So, why not incorporate the water into the theme of the bathroom with a white and blue coastal theme?
You can be as experimental as you like with a coastal-themed bathroom. Some opt for a minimalist blue and white color scheme, while others will go overboard with sea-themed decorations and wall hangings.
Sometimes, the most simple bathrooms are the most beautiful. There's something about an all-white bathroom that is just inherently stylish and classy, and feels effortlessly cool regardless of the type of home you live in.
This is because an all-white bathroom is incredibly light and appears clean. 
The best part about an all-white bathroom is that you can add any color you like in terms of decorations and bathroom accessories, such as towels and bath mats. The only downside is that any dirt or grime in a white bathroom will be easily spotted!
There's something so interesting about a vintage bathroom. Vintage is a pretty vague theme that can be characterized in many ways, such as a specific era or a shabby chic vibe.
The best part about a shabby chic vintage bathroom is that you can basically put whatever colors and patterns you like together, as long as it all looks inherently rustic. 
A vintage bathroom can be characterized by brass fixtures, exposed brick or plaster walls, a weathered tile floor, rustic furniture and storage units, and a large thrifted mirror.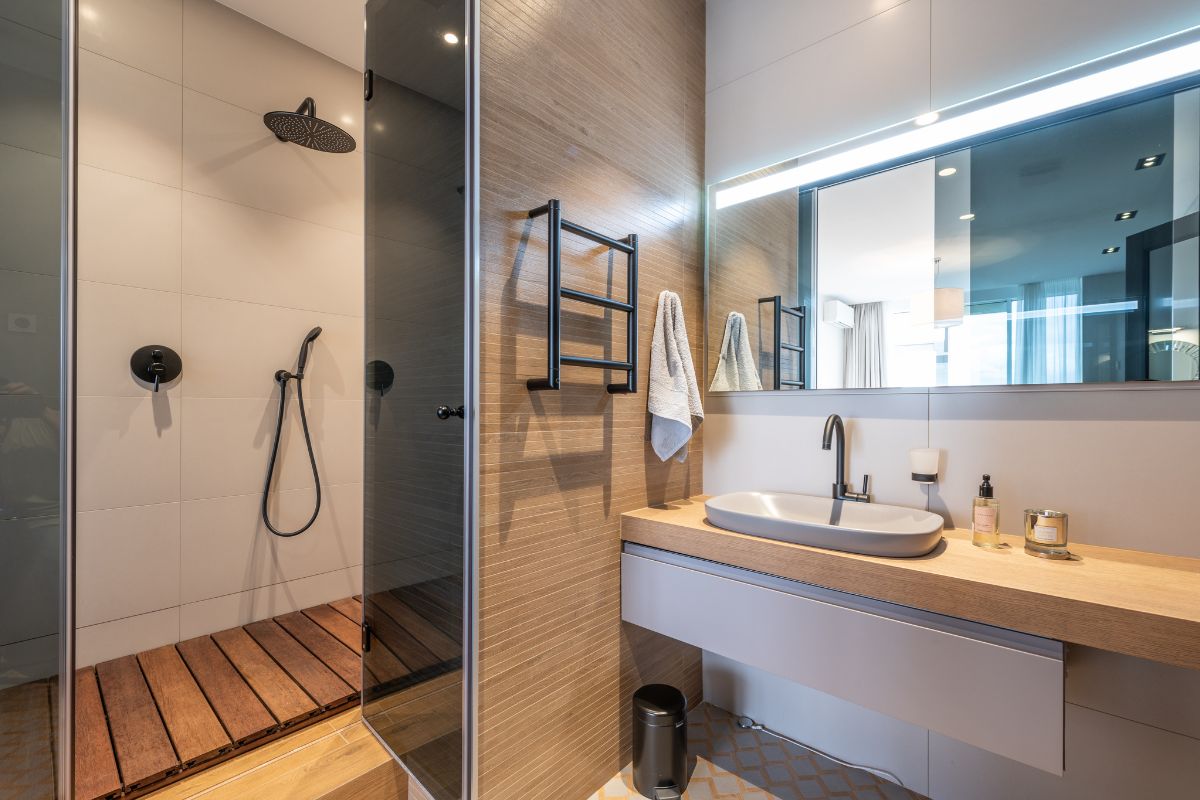 You can never go wrong with a wooden-themed room. Wood comes in a variety of colors, but a particularly stylish combination of colors for a bathroom is a light brown wood with white. It's simple yet effective, providing a balance between modern minimalism with a natural flair.
The only downside to a wooden bathroom is that you need to ensure the wood is properly and professionally sealed before using your bathroom. Bathrooms get very humid, which can result in the wood becoming moist and damp, often leading to mold issues.
Navy is becoming an increasingly popular color for interiors, whether it's painting the walls or just including navy furniture.
Navy bathrooms are particularly stylish, because they aren't as dark as a black bathroom, but still dark enough to create some dimension to the house. Not everyone has a navy bathroom, after all. 
The trick with a navy bathroom is to find a color that goes well with the navy walls. White and light brown are safe complimentary colors, but brass and yellow are also bold and will stand out against the dark blue.
For some, the bathroom is their true safe haven. A bathroom provides all the means to relax, so if you really treasure your relaxation time in the bath, why not opt for a luxurious bathroom theme? Luxurious bathrooms are basically your own spa in the comfort of your home, after all.
A luxurious bathroom can include white tiles, marble or sleek wooden countertops, golden or brass fixtures and accessories, and (of course) a beautifully large white bathtub.
Make sure to add a cabinet to hold candles, plants, bath bombs, bubble bath, and a speaker to play some ambient music! 
On the complete other end of the spectrum, a colorful bathroom is a fun way to express your personal aesthetics and personality to your family and guests.
If you have a favorite color, you can paint the walls (or just an accent wall) and choose decorative items that match or complement that color. 
For example, a dusty orange is a fun and bright color that isn't common in most bathrooms, so it'll definitely become a bathroom that people won't forget. You then have the freedom to add matching pictures, bath mats, towels, and more.
Not all bathrooms have to be light and white. A black and gold bathroom is a true statement room, and certainly one that is perfect for those who love a sense of luxury.
This is a dramatic color theme that is only really seen in fancy hotels and restaurants, so why not take some inspiration and have a posh black and gold bathroom?
Black goes well with any color, but it instantly turns into a luxury shade when matched with gold. The dramatic contrast turns any room instantly into a rich and magnificent room, especially when met with black and gold marble.
There's something wonderful about bringing the outdoors inside, especially if you live in an urban area with minimal access to greenery and scenery.
If you like raw and natural materials, then a natural stone bathroom is for you. Natural stone is incredibly classy in a bathroom, whether it's on the walls or floor, or even just stone decorations. 
The best part about a natural stone bathroom is that stone does not need to be sealed against damage from humidity and water, making it entirely suitable for a bathroom.
If you find white bathrooms slightly too bright and black bathrooms way too dark, why not go for a gray bathroom? Gray bathrooms are incredibly sleek and modern, but allow for interesting color combinations that aren't typically seen in bathrooms.
Gray and light brown, for example, is an unlikely color combo that works really well. 
Likewise, a beige bathroom is a great way to create a bright yet cozy bathroom. Beige comes in various shades and tones, with some paints appearing more pink than others.
Once painted to the walls and matched with towels and decor, the bathroom instantly turns into a light yet comforting room. 
Beige also works well with other light shades, such as white, light brown, and even green.
If in doubt, it's easy to follow the latest trends for interior aesthetics. Bright bathrooms with exposed brick painted white are popular at the moment, especially when matched with plants and wooden cabinets. Plus, exposed brick never goes out of style!
Trendy bathrooms also mean you can experiment with fun shapes and textures, such as geometric mirrors and colorful rugs.
Conclusion
So, there you have it! Hopefully, this guide has given you some inspiration for what theme to follow when you renovate your bathroom.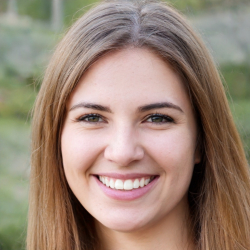 Latest posts by Maisie Park
(see all)