Whether you like to have a long relaxing soak in the tub or a brisk cold shower in the morning a bathroom is a sanctuary.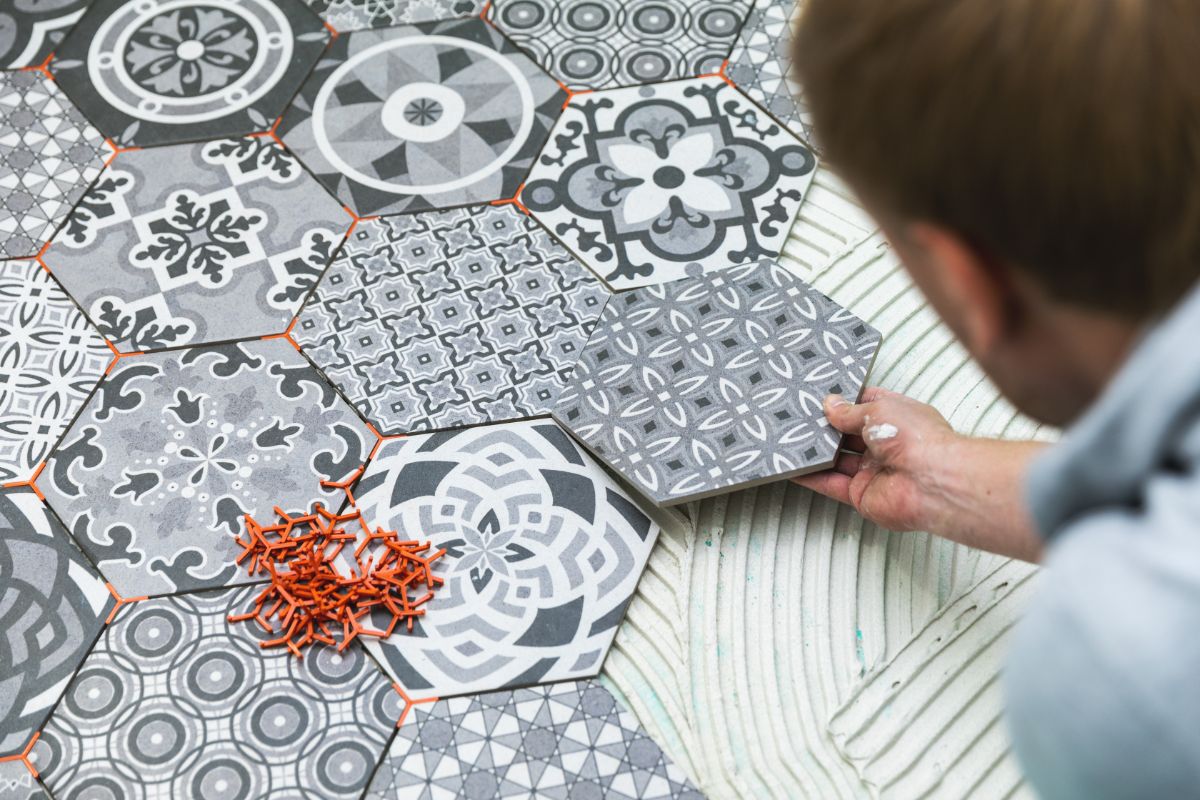 For some, a bathroom is the one place they can get some alone time and for others, it's a place to splash around with bubbles and toys. 
Creating the perfect bathroom needs thought and planning, especially when it comes to floor tiles.
As they take up so much of the surface area, we can make a bold splash of color or keep it neutral with earthy tones.
You can make the flooring the feature or blend it nicely with complementary paint colors. 
Here we have included a list of 15 different bathroom tiles to inspire your perfect bathroom, we hope you love them as much as we do.
To create a statement floor, you need to use some graphic 3D tiles.
Geometric shapes play with our vision to give the appearance of three dimensions which is highly effective, even in small spaces.
This contemporary design blends well with classic bathroom fixtures such as roll-top bathtubs and brass taps. 
They can be made from marble or porcelain depending on your preference and budget.
Porcelain is more hardwearing than marble and would be better suited to high-traffic areas. 
Classic Victorian geometric floor tiles are charming and very on-trend.
Although you probably won't be able to get your hands on the real thing, there are some very good replicas on the market.
Add style and grace to your new bathroom with a Victorian-style floor pattern such as the one featured here. 
Colors vary but are usually a combination of muted earthy tones and deeper hues of red, green, and brown.
These colors and styles work well in large spaces, especially if you own a period property and are looking to restore some character to the bathroom. 
Subway tiles have made a huge comeback recently, especially in bathrooms and kitchens.
With the vast range of colors that subway tiles can be made from, there is something suitable for everyone.
Choose from glossy or matte finishes to shape the style of your bathroom which can be continued on the walls for an extra dramatic effect. 
Terrazzo tile is a mixture of marble chippings set into cement for an overall speckled appearance.
These tiles can be a mixture of colors, but they usually incorporate gold and black.
The tiles featured here are made of the finest recycled marble chips for a luxurious look and feel. 
We recommend pairing them with beautiful white porcelain bathroom fixtures to create a classic and clean-looking bathroom.
To tie the room together, accents from colors in the tile such as towels and prints can make all the difference.  
Wood-style flooring tiles are a great way to create a country farmhouse vibe in your bathroom.
Some styles of houses really suit wood-style tiles such as these.
Other patterns are available online such as Parquet-style flooring tiles.
The soft wood shades work well in bathrooms as the porcelain tiles are hardwearing and less slippery than real wood. 
As well as a modern farmhouse feel, certain wooden tiles can create a sophisticated look that works well with large pieces of glass.
For example, wet rooms are a popular choice in bathrooms these days and wooden look tiles perfectly compliment large panes of glass. 
This Italian marble floor tile is the definition of class and elegance and makes a welcome addition to any bathroom.
The crisp white marble has hints of gold and grey running through the tile, available in a honed or polished style.
Tiles such as this can be used all over the bathroom to create a seamless look. 
Sometimes an all-white bathroom is just what you're after, giving you the feel of being in a luxurious hotel in the comfort of your own home.
For those that are after a sleek and modern bathroom, an all-white tiled floor can give you the impact you're looking for. 
The great thing about having an all-white tile is that it can be made from any material you like, giving you more room to play around with textures and materials until you find something perfect for you.
Small geometric patterns such as this black and white honeycomb mosaic pattern pair well with modern and classic bathroom designs.
This style has a timeless elegance that can always make a big impact on a bathroom floor.
For more or less of an impact, colored grout is a great way to finish off the look and make the floor the feature of the room. 
Herringbone is another classic tile design that has made a comeback over the past few years.
Paired with brushed brass or matte black taps and bathroom fixtures are paired with pastel hues of herringbone tiles for a modern and contemporary look. 
The great thing about herringbone is that you can add as much drama to your flooring as you wish with bold designs or something simple such as the one featured here.
Typically made from porcelain, the tiles are water resistant and highly durable. 
Fish Scale tile has become extremely popular over the past few years and is seen in many modern bathrooms.
They come in mosaic style sheets for easy installation along with many options for colors and sizes.
The surface of these tiles has a natural luster that makes them shimmer and stands out when laid on the floor. Cheaper options are also readily available. 
These porcelain mosaic tiles create a timeless look in any bathroom.
Pick from various sizes and shape variations for your perfect bathroom tiles.
Use contrasting colored grout to make a statement on your bathroom floor with these glazed tiles.
You can easily make a statement this way without having to choose bold colors, which is ideal for minimalists. 
Pair with natural wooden tones for a classic look or matte black taps and fixtures for a trendy industrial vibe.
Porcelain tiles are incredibly hard-wearing and resistant to water, so there's no need to worry about slipping. 
Stone effect tiles offer a more practical alternative to natural stone as they don't scratch or mark as easily and don't wear out quickly in high-traffic areas.
Stone effect tiles tend to come in larger tiles which make for a simple design, but there are patterned versions available depending on your preference. 
If you're hoping for a clean, classic design then using a neutral-colored stone effect tile can be very effective.
Busier designs or bold wallpapers may benefit from having a simple stone effect tile on the floor to contrast with the rest of the room. 
Glass tiles are low maintenance and offer beautiful and unique visual appeal.
As glass reflects light, it can often give the appearance that the room is bigger and brighter, which is ideal in a small bathroom.
With so many options in terms of color and size, there are essentially limitless possibilities when designing the perfect bathroom floor. 
This glass subway flooring tile establishes a sleek and modern look, ideal for any bathroom.
If you're looking for a durable flooring material that is low maintenance, then glass could be the ideal material for your bathroom. 
We love a classic checkerboard flooring tile. When you picture bathrooms in movies, they always seem to have the most beautiful checkered tile and deep clawfoot tubs that look so inviting.
There are multiple design options available, with larger or smaller patterns to suit the size of the room.
As there is a lot of white in a checkerboard tile, it can create the illusion of more space with larger patterns.
Using a checkerboard tile in a smaller space such as a half bath can be very effective if the design is small enough.  
We've covered geometric patterns, classic Victorian, and checkerboard tiles.
Many modern patterned tiles have taken their inspiration from these styles creating unique designs perfect for a contemporary bathroom.
These black and white porcelain tiles with sharp alternating linear patterns are a great example of this. 
A striking decorative appeal is created with these tiles, putting a fun twist on the many classic black and white designs we've seen throughout the decades.
Slightly faded and matte in finish, they create a sense of vintage elegance alongside their clearly contemporary vibe. 
Final Thoughts
When it comes to choosing bathroom tile, there needs to be a lot of thought and planning put into it.
As the floor covers such a large area, it can be the make or break of a bathroom renovation.
If you fall in love with a tile, then plan your design around the tile rather than trying to make the tile fit with another design. 
We hope you found some fresh new inspiration in this article, or perhaps even the perfect tile for your bathroom!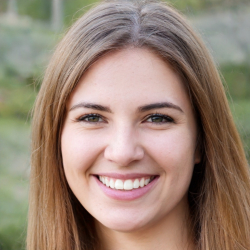 Latest posts by Maisie Park
(see all)