Having a small bathroom can present many challenges, especially when you are trying to renovate it. 
One of the main things that can be an issue with a small bathroom is where to fit a walk-in shower.  Although it is possible to save space by installing a shower over a bathtub, this isn't always an option.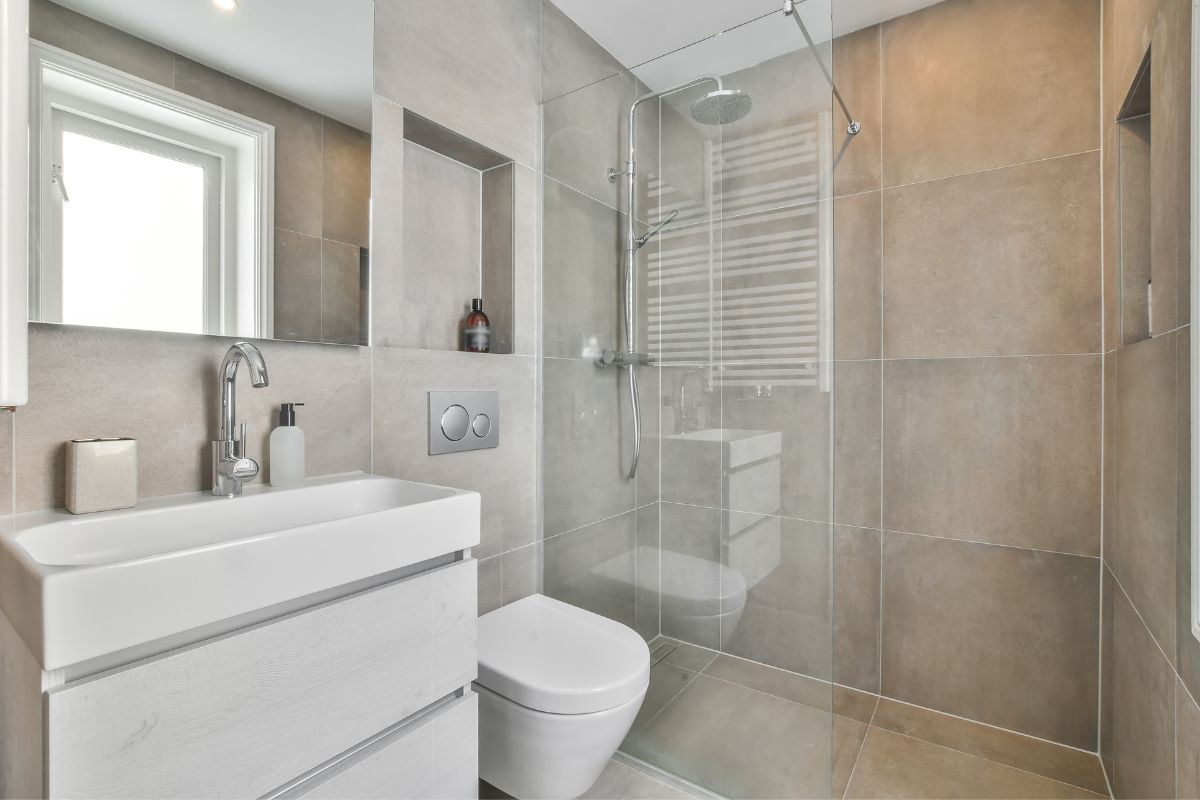 Some bathrooms are too small to have a tub in at all, and sometimes, a walk-in shower is required for accessibility reasons. 
Whatever your specific restrictions are in your small bathroom, there are a few things you can do to make the most of your limited space. 
In this article, we have compiled a list of 15 small bathroom, walk-in shower ideas to help you create your perfect home. 
One of the best design ideas you can adopt when you are creating a walk-in shower in a small bathroom is minimalism. 
You don't need fancy fixtures and fittings or bulky moldings to have a beautiful shower. 
Instead, you can focus on having clean lines and beautiful tiles to make the space feel inviting.  A small shelf in your limited room can be used to hold the products that you need. 
Although, you should be mindful that any shelving you add detracts from the space you have. 
For many small bathrooms, earmarking the space for the walk-in shower cubicle isn't the main hurdle. 
Instead, finding the best mechanism for the shower door presents a whole host of issues. 
If it opens outwards, is it going to be obstructed by anything else in the room? If it opens inwards, is there enough space for each user to fit while they shut the door? 
This problem can be resolved by installing a doorless shower.  There are different ways of creating a doorless shower that doesn't spray your entire bathroom with water every time you have a shower. 
In this case, the shower is walled off from the rest of the bathroom with a small walkway to the cubicle entrance.
Sometimes, your space may be limited by the imposing ceiling.  If you live in an attic apartment or simply have an ensuite in a top-floor bedroom, this can be an issue. 
However, there are some fun designs that can get around the limitations of a sloping ceiling.  
Instead of using a square shower cubicle, this shower has been designed to work with the slope.  The shape of the walk-in shower is longer, more of a rectangle than a square. 
This allows you space to move when you are in the shower without being too impacted by the slope.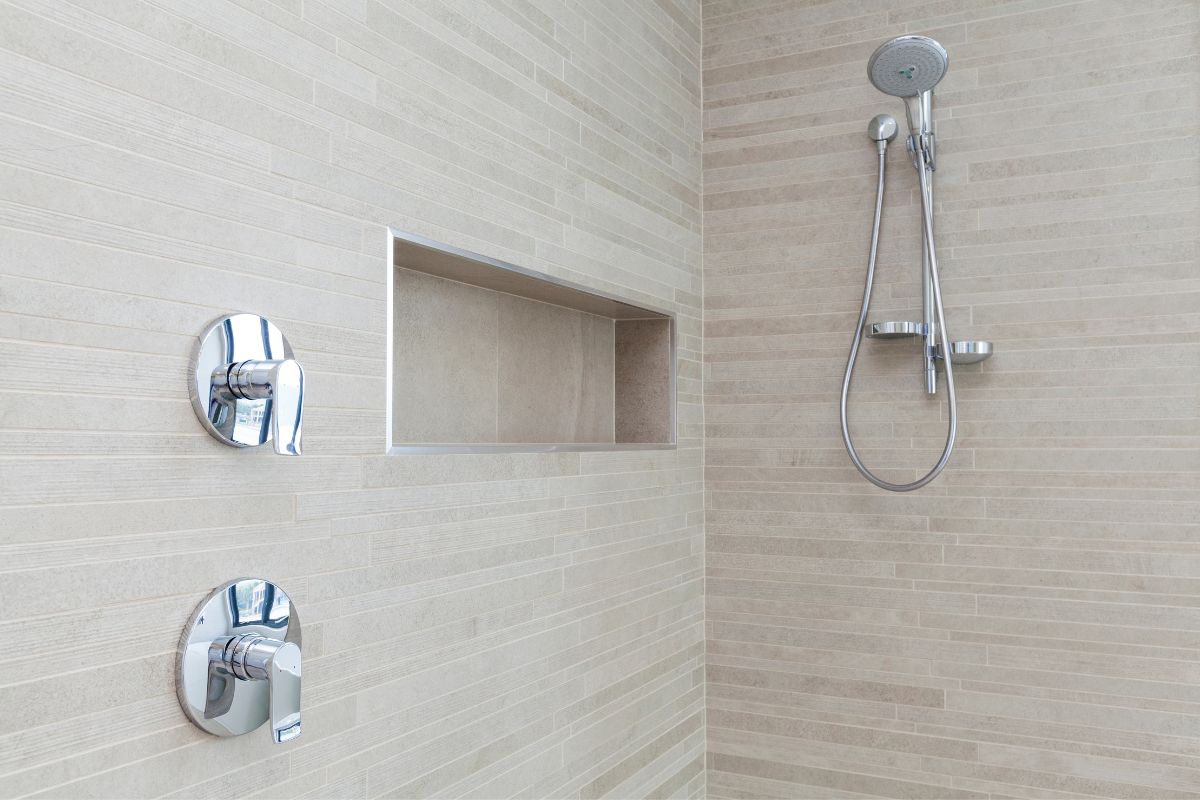 When you are limited on square footage, storage solutions within the cubicle are severely limited. 
Unlike a bigger shower cubicle where you can install shelves to hold the products that you use, each centimeter of a small walk-in shower is required to accommodate the person showering.  
To combat this, recessed or alcove-style shelves can be a great solution.  If you already have a wall that you can cut a recess into, the process is simple and does take away from your already limited space. 
If you don't already have a wall to use, you may need to sacrifice a few inches of cubicle space.  However, it will be worth it to avoid knocking your suction cup shelves down every time you shower.
If you are incredibly limited on space, a corner walk-in shower can be a great solution to save space. 
While there is an argument that most walk-in showers are located in the corner of a bathroom, this one is slightly different. 
Because the shower cubicle isn't square, it intrudes less on the rest of the room. Cutting off the outer corner of the shower can save a lot of space and make your small bathroom feel bigger.
For this small bathroom, walk-in shower idea, we are channeling European style, specifically Mediterranean style. 
Instead of building a glass or plastic shower cubicle in a small bathroom, you simply dedicate a portion of the room to it. 
By building a partial wall in the bathroom, the shower has privacy and is sectioned off to prevent the water from going everywhere. 
However, because there is no casing or flooring and the wall is in keeping with the rest of the bathroom, it doesn't overshadow the entire bathroom. 
It is the door of a walk-in shower that causes the most problems in a small bathroom. 
However, it is also one of the easiest problems to fix.  One way of dealing with the issue of a walk-in shower door is to install a sliding door. 
The sliding door eliminates the need to ensure that there is enough space for the door to open and close. 
The only downside of a sliding door is that it often means that the actual entrance size is reduced. 
As we touched on above, the amount of space in a small walk-in shower cubicle is limited and this can make storage solutions difficult to implement. 
If you are unable to install recessed shelving in your shower, the next best option is to install built-in corner shelves.  
Because the shelves are in the corner, they take up less space than if they were in the middle of the wall. 
Having them built-in rather than attached with suction cups means that you aren't likely to be knocking them down every time you shower. 
There are many small design alterations you can make to your walk-in shower that help improve the overall appearance of your small bathroom. 
One such alteration is the removal of the bulky, molded plastic frame that walk-in showers often have.  
Using a frameless glass shower that is built into the room can make the entire shower blend in with the rest of the room much better. 
By taking away the plastic framing, the glass doors look a lot sleeker too.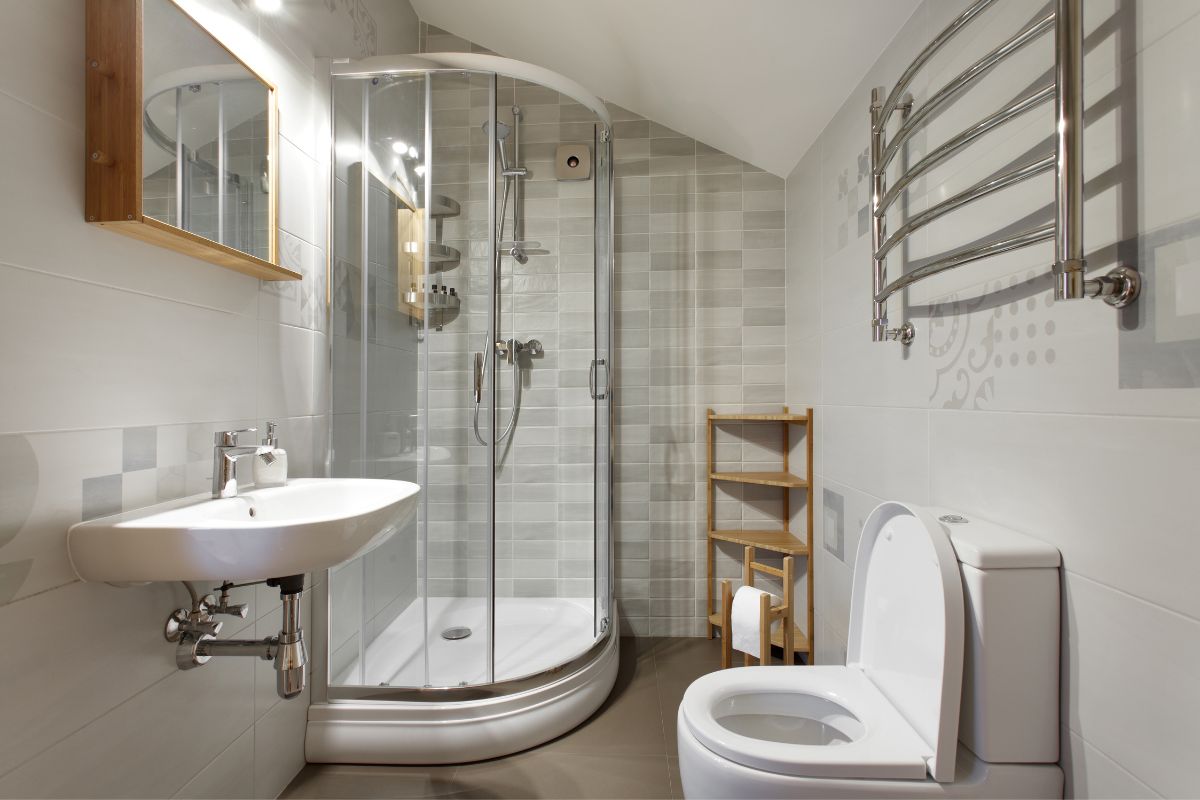 Another way to save space in your small bathroom while maintaining a stylish and functional walk-in shower is to swap a square cubicle with a curved one. 
The difference between square and curved showers in terms of bathroom space is incredible. 
The best thing about the differences between these two styles of cubicles is the fact that one can save space on the outside and make your bathroom look bigger, without sacrificing a lot of space on the inside. 
When you are showering in a square or curved shower, the amount of space you have will feel the same. 
One of the most stylish ways to fit a walk-in shower into your small bathroom is to transform the entire bathroom into a wet room. 
This can be done with beautiful tiling on the floor that slopes towards the shower drain.  
When the entire bathroom is a wet room, you can simply fit a showerhead in the corner and attach a glass partition and you have a sleek, modern shower.  
Because there is no need to create special flooring, the shower fits seamlessly into the bathroom.
Installing a wood slat floor into the walk-in shower in your small bathroom is a great way to make the most of your limited space. 
With this type of flooring in the bottom of your shower, the water will drain away below the slats.  
This allows you to remain in the shower as you dry off without having to stand in a puddle of water. 
Subsequently, you can take up a little more floor space with your shower as you don't have to leave as much room outside of the shower to dry off. 
This can allow you to install a shower in a room that may otherwise seem too small for it as you don't have to leave as much space unused. 
If you are working with a particularly small space that currently feels wasted in your small bathroom, it is possible to build a raised shower in the corner space that you have left. 
The best thing about these types of showers is that they tend to be fairly unique.  
For the purpose of this type of shower, the need for a square or rectangular shower goes out the window. 
You can make your shower fit whatever shape gap you have to get the most out of your space.  
If you are struggling with what to do with the door on your walk-in shower and don't want to make a doorless shower or a sliding door because you don't have space, there is one other option that can work.
There are no rules that suggest that a walk-in shower cannot be made with a shower curtain. 
Depending on the rod that you use and the quality of the curtain itself, you can make a stylish and modern-looking shower.
Another handy storage solution that can help you make the most of your walk-in shower in a small bathroom is using tension rods inside the shower cubicle.
You can use shower curtain hoops to attach your shower gel and other products to the rod instead of having to install bulky shelves that take up space.
Final Thoughts
There are many ways in which you can create a beautiful and stylish walk-in shower that can complete your small bathroom and make the most of your space perfectly.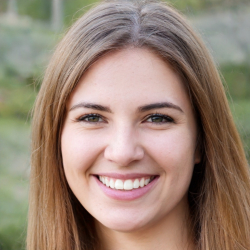 Latest posts by Maisie Park
(see all)