Lots of people opt to change up their white bathrooms because they find them a bit boring and even clinical. But when you know how to use the white space to your advantage, you'll be surprised to discover that white bathrooms can definitely look good.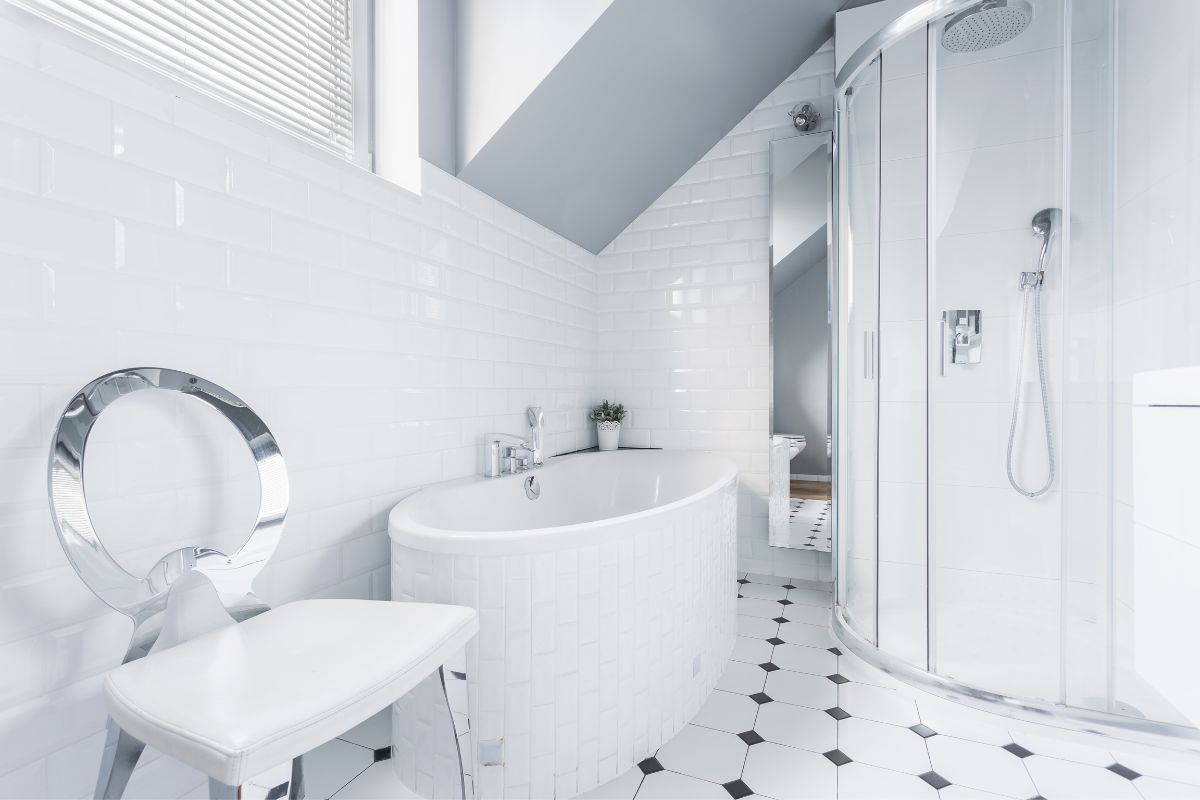 You just need to have a bit of vision and imagination when you're designing your white bathroom and we are here to help you! We have put together a list of 15 ideas for your white bathroom that will really transform the space and pair well with the rest of your beautiful home.
So let's get started!
1. Bring In Some Plants
Plants are a great way to liven up your bathroom space without adding too much wild color. The green of the plants will give your bathroom the pop of color that it needs.
Real plants of course work the best, but if you don't have time to look after them, there are plenty of fake plants out there that look just as good as the real thing.
Be mindful of how much natural light gets into your bathroom as well, because real plants will need lots of natural light!
2. Add A Black & White Floor
If you want to keep the majority of your bathroom white but you want something to break up the plain feeling, a great thing you can do is make the floor black and white.
From tiles to panels, to checkerboard patterns, there are plenty of design options out there that will really transform your bathroom space and give it an extra bit of dimension that it might have been missing.
Experiment with different black and white flooring options and see which one works best for your bathroom.
3. Keep It Simple & Get A Rug
You don't always need to make huge changes when you want to transform a space. If you'd rather not mess around with the walls or floors, a great option that is simple is getting a rug.
A nice rug that is a bit darker can really add a spot of warmth to your otherwise plain-colored bathroom and it's a great way to keep your feet warm during the colder months!
4. Go For A Black & White Theme
Black really is the perfect color to combine with white, so why not take advantage of this in your bathroom? Black will make for the perfect accent color in your white bathroom, so add it to everything!
From accessories to appliances, to shelves, this sporadic darkness will give the whole room a new dimension that will break up the lightness of the white.
Sometimes something as simple as adding in black is all you need to really transform the whole space.
5. Bring In Some Marble Patterns
White marble is one of the best ways to add something to your bathroom without taking too much risk. It's a very subtle change that will give your whole bathroom a bit more of an elegant and luxurious look.
You can wrap the marble around all your walls, your floor, or even just in a particular section. Whatever you choose to do, it will make the whole bathroom look even more beautiful and when the light catches on it, you will be starstruck by the beauty!
6. Blue & White Is Alright!
Another great color combination for your bathroom is actually blue & white. The blue will give the whole room a nice pop of color and when it's paired with the white, it will give your whole bathroom a bit more of a costal, sea vibe.
Costal vibes are especially perfect for the bathroom because that's the room in your house that is going to be most water themed.
You can play around with blue stencils, blue rugs, and blue walls… the only limit is your imagination!
7. Include Some Subway Tiles
Subway tiles are quite popular in a lot of rooms, but they work especially well in bathrooms.
They are simple in design so you don't have to worry about taking too much risk, and they add a lovely bit of texture to an otherwise smooth room.
Subway tiles are especially popular in the shower or bath area, so if you don't want the whole room to be filled with them, limit them to these areas to give your bathroom a bit more depth.
8. Go Rustic With Wood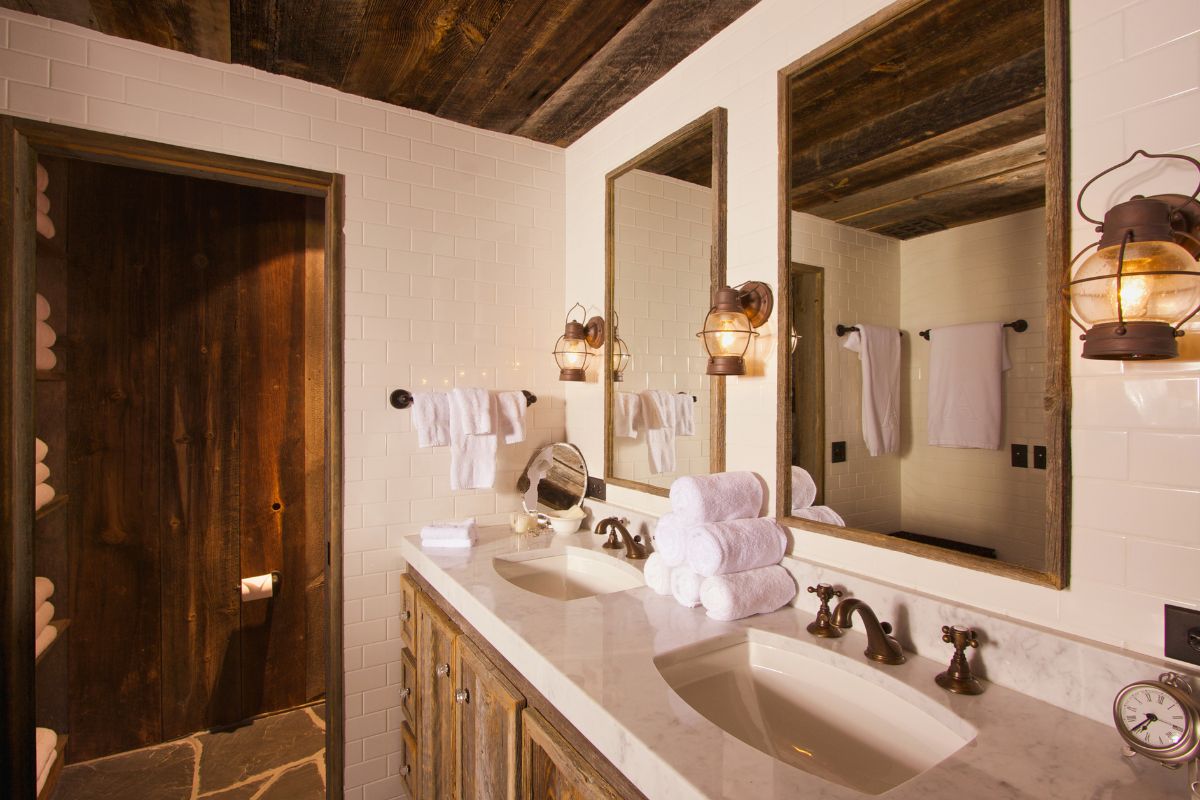 It can be a bit of a risk to incorporate wood into your bathroom, but when you get it right, it looks absolutely amazing.
If you want your bathroom to feel a bit more cozy and natural, wood is definitely the best avenue for you to go down.
There are loads of different wood options out there and there are even some that are designed to withstand the moist conditions of the bathroom, so do a bit of research and see whats available to you.
9. Bring A Mural Into Your Bathroom
Murals are a great choice for any room, but they can really give your white bathroom a whole new lease of life. The beauty of murals is that most of them are unique, so you won't find them anywhere else.
You can even design a mural yourself or commission a local artist to make one for you. Having a mural in your bathroom will give the whole bathroom a more unique look and is sure to break up the sheerness of the white.
10. Paint Your Bathtub White!
If you don't want the full room to be white, then a great thing you can do to bring white into the space is painting your bathtub white.
If you have a darker bathroom, this works especially well because it adds a bright focal point that looks absolutely beautiful.
The soft tones of the white on the bathtub can be all you need to give your room a whole new vibe.
The beauty of white is that it really goes with any color and any shade, so you won't be limited in whatever approach you take.
11. Regal Feels With White & Gold
If you want your bathroom to feel a bit more on the grander side, then another great combination is white and gold.
Gold accents will really give your white bathroom an almost regal vibe, and it will add so much depth to the whole room.
With the right material, right shade, and the right lighting, the gold will also have a bit of a sparkle to it that will make your whole bathroom feel incredibly magical!
This is a nice and simple change that will really transform your plain white bathroom into something more elegant and luxurious.
12. Update Your Shower Curtain
Another subtle change that can be very effective, have you updated your shower curtain lately?
Because the rest of your bathroom is white, you can really play around with whatever shower curtain you want! You can play around with black and white stripes, polka dots, and arty pieces… the only limit is your imagination!
This is a great low-maintenance way to really transform your whole bathroom. It's one small change that doesn't have any risk attached to it.
If you don't like the way the shower curtain looks when you get it, you can always take it down and try a new one.
13. Also Try White & Silver
If gold is too bold for you, then a great way you can work around this is by combining white with silver. It's not quite as regal as gold, but it's still incredibly luxurious.
If you want to keep the tones in your bathroom cool and crisp rather than warm, silver is the perfect way to go when it comes to your accents.
It's also quite hard to mess up the inclusion of silver, so even if it doesn't quite come out how you imagined, chances are it will still look good.
Silver also has a magical vibe to it that can be quite ethereal and reminiscent of snow, especially when it's paired with white.
14. Bring In Pastel Colors
If there's one type of color that really works well with white, then its pastel colors. You can mix and match a few different pastels together or you can focus on one particular color to really transform the way your whole bathroom looks.
Pastels are beautiful and soft and they blend in with the white perfectly without being an eyesore. If you want your bathroom to have a soft tone, this is a great idea to try.
15. Animal Prints For A Louder Approach
If you're feeling daring and bold, then bringing animal prints into your bathroom is a great way to make a statement!
From zebra print to white leopard print, there is no shortage of designs you can play around with in your white bathroom.
Conclusion
White doesn't always mean boring, and that couldn't be more true when you look at this list.
Try some of these ideas out for yourself and see which ones work best for your bathroom!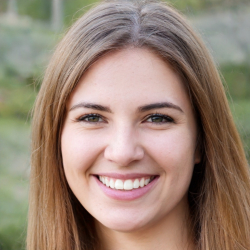 Latest posts by Maisie Park
(see all)