Farmhouse decor evokes feelings that are warm, traditional, and charming. The style combines the use of natural materials like wood, wool, cotton, leather, and stone with soft color palettes such as brown, taupe, gray, and cream.
In addition, it incorporates elements of rusticity like distressed finishes, reclaimed wood, and antique hardware.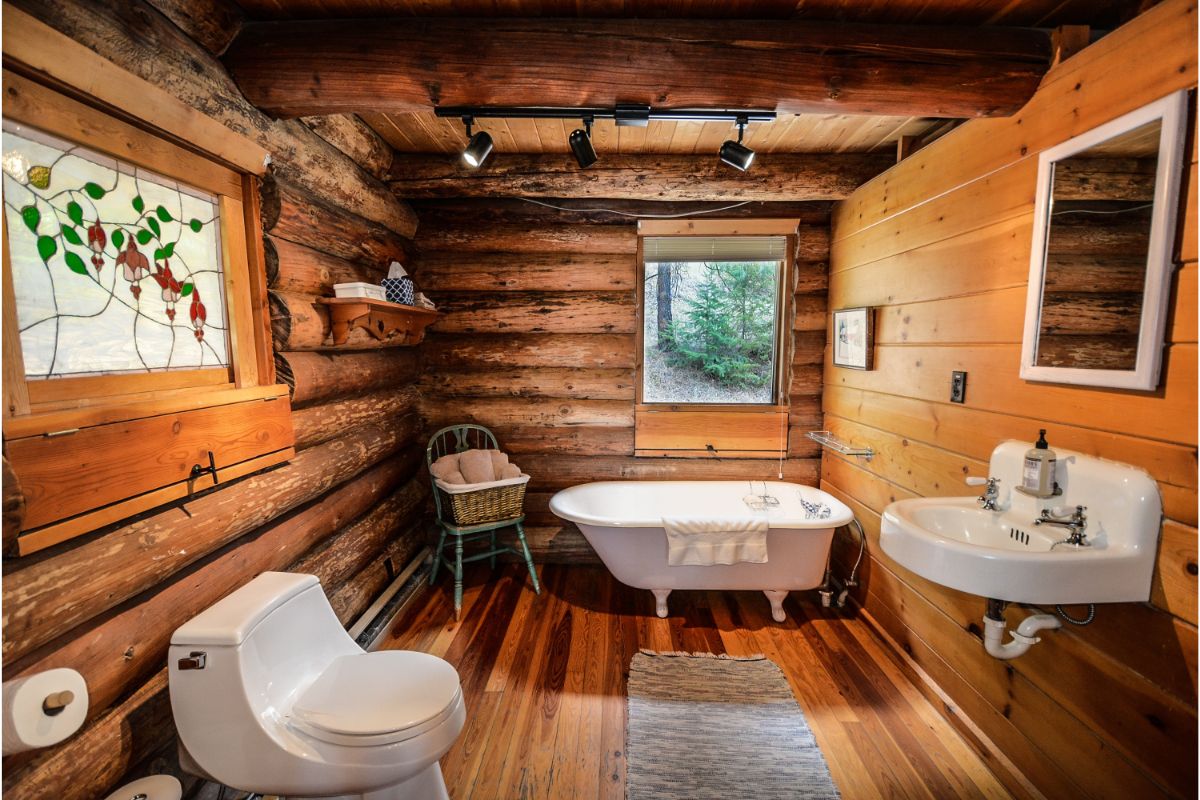 The balance of old and new in a space is key to achieving a true farmhouse feel.
Vintage items like wooden signs, old clocks, and even handcrafted furniture add character while modern appliances and fixtures bring the room up to date making it functional. Let's look more closely at ways to incorporate a farmhouse feel into the bathroom. 
1. Towel Bars 
The days of wet towels are over thanks to wall-mounted towel bars. They're a great way to store your bath towels out of sight whilst drying them at the same time. 
There are designs that offer sturdy metal bars hanging vertically from the ceiling and come complete with a convenient hook for easy access. 
Each bar features three tiers for storing up to six towels. Even though it's a modern convenience and not strictly a 'farmhouse feature, you'll love how much easier it makes your life.
2. Robe Hooks, Rustic Style 
The beauty of cast iron is that it ages beautifully over time. This is why it's perfect for kitchen and bath accessories. To keep things classy, you can use decorative wall hooks, crafted out of cast iron.
These hooks are great for hanging towels, robes, scarves, and more. They're designed to look beautiful against a white background, giving them a classic feel.
3. Wicker Baskets 
Wicker is a gorgeous staple to add to a farmhouse decor. This rustic material brings a simple, elegant touch to your home. There are many ways to incorporate it into your bathroom space. Here are some ideas:
Use a wicker basket for storing toiletries.
Create a wicker basket on the back of your bathroom sink to keep tissues handy.
A wicker laundry basket is perfect for keeping your dirty clothes organized.
4. Painted Vanity Cabinet 
If you're looking for a quick fix to make your bathroom have more of a farmhouse vibe  you might consider replacing some of the old hardware with new pieces.
A simple coat of paint using neutral colors remoinenct of farmhouses can transform the appearance of your vanity cabinet, and you'll save money too. You can even use leftover materials from another project to create a custom piece. 
5. Embrace Vintage Rugs 
Adding a vintage rug can transform a bathroom. Not only does the quality matter, but you'll want one that fits into your space.
If you're looking for a classic farmhouse vibe, you'll want to find a jute bath mat. Jute is a natural fiber that looks similar to sisal rope, but it feels much softer against your skin. Plus, since it's made of recycled material, it's environmentally friendly.
You might also consider a rustic rug for your vanity area. They tend to be a lot smaller, so you won't have to worry about tripping over it.
And if you really want to turn up the volume, you could even opt for a bolder design. A vintage style rug will instantly give your room a lived-in feel.
6. Add Plants 
If you want to make sure your bathroom feels like home, consider adding a few plants there. They're easy to care for and don't require much maintenance. And they look nice too. If you've got a small space, try hanging several plants from the ceiling or a wall.
Or, if you'd rather keep things simpler, just stick a bunch of eucalyptus under the showerhead. Plants are good for the air and create a countryside feel. 
7. Swap The Shower Curtain 
Glass shower doors are the first choices for the farmhouse style. They're practical and offer lots of light, but they're not always affordable. If budget allows sliding doors are great because they slide open and close easily and they're especially useful if you live in a small bathroom space.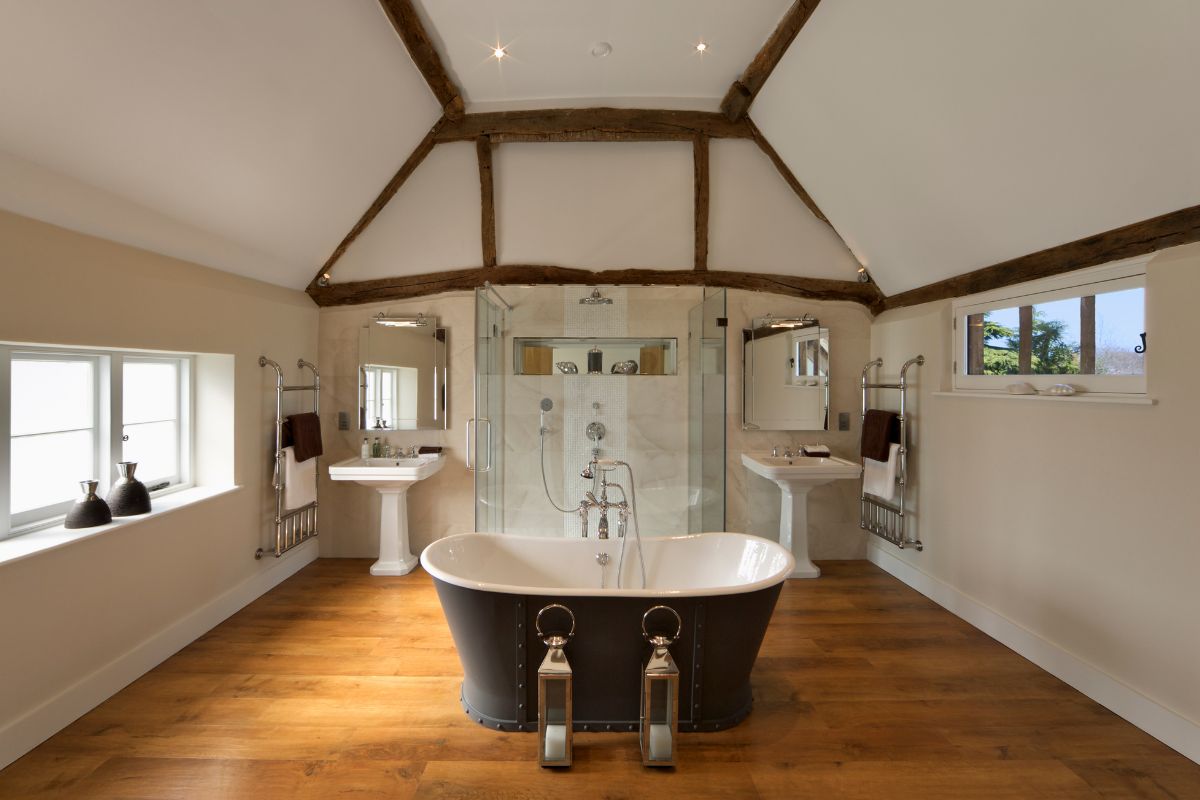 8. Use Crisp Towels 
One easy way to give everything a little boost is to invest in some crisp new white towels. Whether you want to add a pop of color, or simply make your bathroom feel cleaner and brighter, fresh clean towels will do the trick.
9. Changing Hardware 
This is another simple and inexpensive way to update your home without breaking the bank. A few hours of work and some basic tools will transform your kitchen into a modern farmhouse masterpiece.
If you're looking to replace your existing cabinet handles, there are plenty of choices. From classic brass pulls to sleek stainless steel, you'll find many styles to choose from. For a little extra money, you can even customize your handle with engraving.
As far as replacing your old shower knob goes, it's easy to change out your current one. Just unscrew the old one and screw in the new one.
To make the transition look seamless, try painting over the old hardware. Then, once the paint dries, apply a clear coat sealant to protect the finish.
The same process works for changing out your bathtub faucet too. Simply unscrew the old one, clean up the threads, and reattach the new one.
When searching for replacement hardware, don't forget about your doors. Old doorknobs can easily be swapped out for a new, unique piece. Thrifting a vintage doorknob is a great option because you can customize the design to match your style.
You can also change out your toilet paper holder. To save yourself some cash, consider buying a set of pre-made holders online. They come in different colors and designs, making it easier to coordinate with your decor.
10. Frame The Mirror 
Framing your vanity mirror is a great way to add some character to a room without spending a fortune. A simple wooden frame can easily transform your bathroom into something unique and stylish. If you want to go big, you can even use a reclaimed barn door – How innovative!
11. Address The Lighting 
Farmhouses typically feature small spaces and often include rustic fixtures like lanterns and sconces. A bathroom vanity might have a single light above the mirror, but there are plenty of options beyond that. Here are three ideas for lighting up your farmhouse bathroom.
Edison Bulb
Edison bulbs provide bright white light without consuming much electricity. They're great because they don't throw off too much heat, making them ideal for use in residential areas. They're also easy to install.
Mason Jars
Mason jars are inexpensive and versatile enough to work in many different styles. Use them as sconce covers or place them on shelves for decorative purposes.
Chandelier
Chandeliers are elegant and stylish additions to any room. Place one near the tub to add ambience while bathing or hang one from the ceiling to illuminate the entire space.
12. Rustic Seating 
The simple addition of rustic seating  will quickly give a bathroom a farmhouse ambience.  There are plenty of options out there to choose from. For example, you could find  some old barn stools at a local antique shop.
They're inexpensive and easy to move around the house. A couple of small chairs can really add character to a room.
Although stained wood looks great for a true farmhouse feel it looks best when left unfinished.
13. Add A Vanity 
A quintessential farmhouse-styled bathroom staple is a beautiful vanity that can be  refurbished off of old furniture such as an old dresser. There are loads of tutorials online about how to transform a vanity that will look perfect in your farmhouse bathroom.
Plus you can feed your creative side during the process. 
14. Subway Tile 
Subway tiles are another farmhouse-style option that's easy to install yourself. They're also pretty cheap, making them perfect for bathrooms where you want something durable without spending too much money.
You'll need to cut the tile into smaller pieces, depending on how large the area you plan to cover. Then, place each piece onto a cutting board and use a utility knife to trim off the excess. Next, use a sponge brush to apply grout over the entire surface of the tile.
Let dry completely before using the shower or bath. 
The DIY project takes about 2 hours total and costs around $100 depending on the type of tile used.
15. Shiplap Wall 
Shiplap is such a classic style of wood paneling that it seems like it should be everywhere. But if you're looking to add some shiplap to your home without breaking the bank, here are a few ways to do it.
Start With A Plan
Before you start installing shiplap, take into account how much space you have in your room. You'll want to choose something that fits well within the size constraints of your space. If you plan ahead, you won't have to worry about cutting off pieces of the wall later on.
Measure Your Walls First
The easiest way to install shiplap is to measure the walls where you'd like to put it, cut out the panels, and nail them directly to the wall. However, if you've got a larger area to cover, you can use pre-cut panels.
Once you have a plan and know what materials you need you can set about doing it and making a beautiful walled bathroom.
Conclusion
Farmhouse inspired bathrooms are all about simplicity and rusticity. The key to creating this look is by using natural materials like stone, brick, and wood.
It's important to remember that these elements should be used sparingly so that the overall effect remains clean and uncluttered.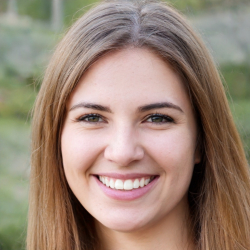 Latest posts by Maisie Park
(see all)