Gray shades are increasingly popular for homes, and they don't appear to be going anywhere soon! Modern and adaptable, gray has become popular as a neutral shade that is easy to style in many spaces. However, it can be a little cold in family rooms.
Greige, colors that combine gray and beige, are the perfect solution. Greige shades add a hint of warmth to gray, creating a classic neutral. But finding the right warm gray is hard, as the undertones can be variable.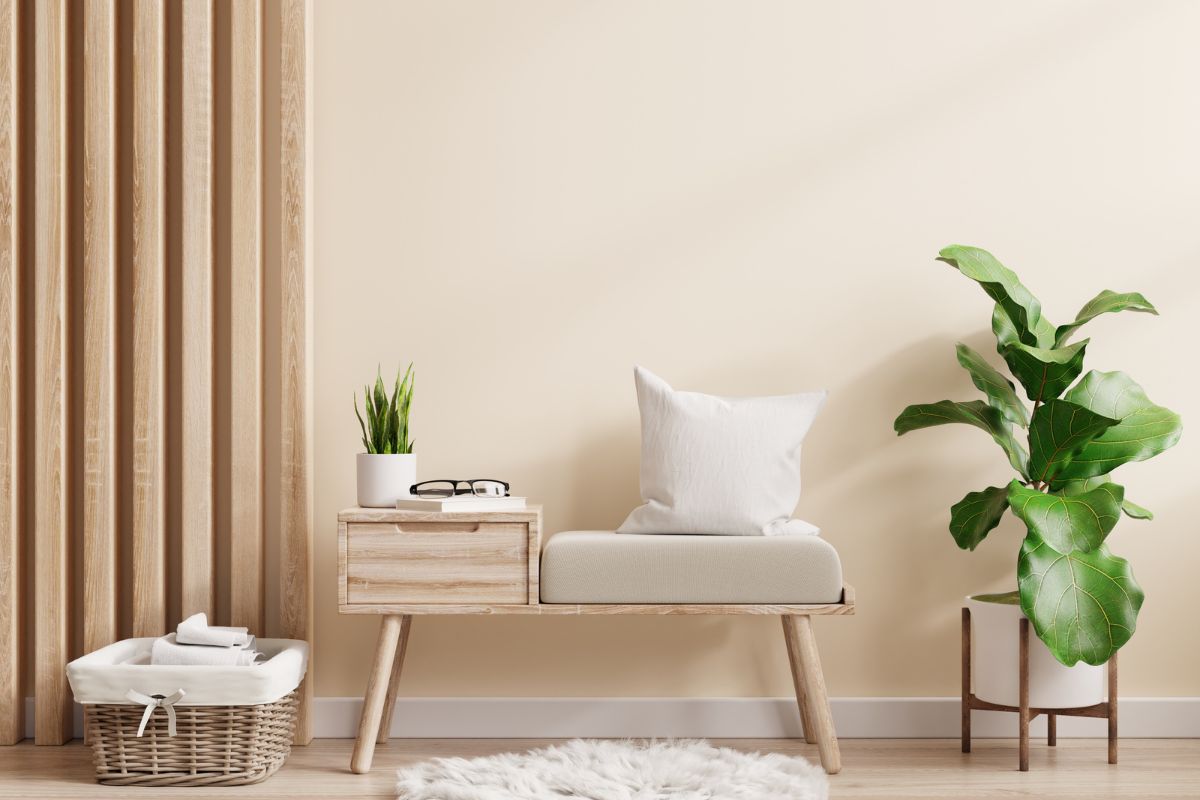 One of the most popular greige paints available is Balboa Mist from Benjamin Moore. A versatile shade with warm purple undertones, it works particularly well in open spaces and family rooms. Read this guide to learn if Balboa Mist is right for your home, and how to use it.
All About Benjamin Moore Balboa Mist
Balboa Mist by Benjamin Moore is a desirable neutral that combines gray and beige to create a subtle greige. Fantastic for open and airy spaces, Balboa Mist leans slightly heavier on the gray, but this understated shade has a timeless appeal that is incredibly usable.
Somehow both classic and modern, Balboa Mist is a neutral that can be used in many spaces and homes.
Understanding The Benjamin Moore Balboa Mist Undertones
Balboa Mist is a neutral shade that can be adapted for different spaces, but if you want to use it in your home, it's important to understand the undertones. As a greige, Balboa Mist offers a gray color with warmer undertones.
You'll notice subtle hints of purple to Balboa Mist, which are best seen in rooms with a north-facing light source. In this light, the gray of Balboa Mist seems more prominent, although these touches of purple can be seen in all lights.
Don't let the purple put you off! This is still an undertone that can work in many spaces, and the purple gives Balboa Mist a lovely warmth. Grays with blue or green undertones are typically cooler. 
When the light comes from the south, the warmer, beige tones of Balboa Mist are felt stronger. For this reason, it's excellent in south-facing family rooms, as the warmth will create a cozy space.
In rooms flooded with natural light, Balboa Mist becomes paler and brighter. In the height of sunshine, it seems closer to an off-white than a greige.
Is Benjamin Moore Balboa Mist Right For Your Home?
Balboa Mist is a neutral shade, which does make it highly adaptable. However, the purple undertones and stronger gray appearance aren't right for every space.
If you're interested in using Benjamin Moore Balboa Mist for your home, there are several aspects that must be considered. Consider these three factors, and you can feel confident in your color choice.
Complementing Undertones
Understanding undertones is essential to ensuring you make the right color choices for your space. The undertones of the paint can either tie the room together, or add an element of discord. As these undertones can be subtle, it's an area that needs to be given careful thought.
Balboa Mist has purple undertones, which are seen clearest in spaces that are north-facing. Look for the undertones in the objects and furniture that are already part of the room, such as the flooring, cabinets, chairs, and so on.
Do they have warmer purple undertones? Consider the items that will be remaining in the room once it's been painted. Do they have these hints of purple? 
It isn't essential that every item must match perfectly, but overall, the undertones should be similar.
Even if you haven't given this much thought previously, you're likely to find the undertones of the room follow a similar pattern, as a natural result of choosing complementary furniture pieces.
We discussed the undertones of Balboa Mist in more detail above, and noted how the changing light can alter the appearance of the pain. Which brings us to the next aspect that must be considered.
How Does It Look In The Light?
The amount of natural light in a room, and the direction that light comes from, can alter the appearance of Balboa Mist. Balboa Mist is at 67 on the Light Reflectance Value scale. This is light for a gray, but it is still a shade with some impact.
Something to consider when choosing any paint color is the direction of the light source in your chosen room.
North-facing rooms tend to bring out cooler shades, and the purple of Balboa Mist can be seen strongly. South-facing rooms are warmer, and the beige undertones will be clearer.
The amount of natural light in the room also has a noticeable effect on the intensity of Balboa Mist. In a room with plenty of natural light, Balboa Mist will seem brighter and paler.
In a darker room, the purple undertones of Balboa Mist will appear stronger. This can be offset with the addition of artificial lights, such as lamps. 
Try It And See
If you've considered the above and you think Balboa Mist is right for your space, then the last thing to do is to try it in the room. Use your paint samples on a plain white board, rather than painting over an existing color, so you can get a clearer idea of the final appearance.
Don't forget to compare Balboa Mist to a few similar shades. This can help you better understand the undertones and the play of light, so you can make the perfect choice for your room.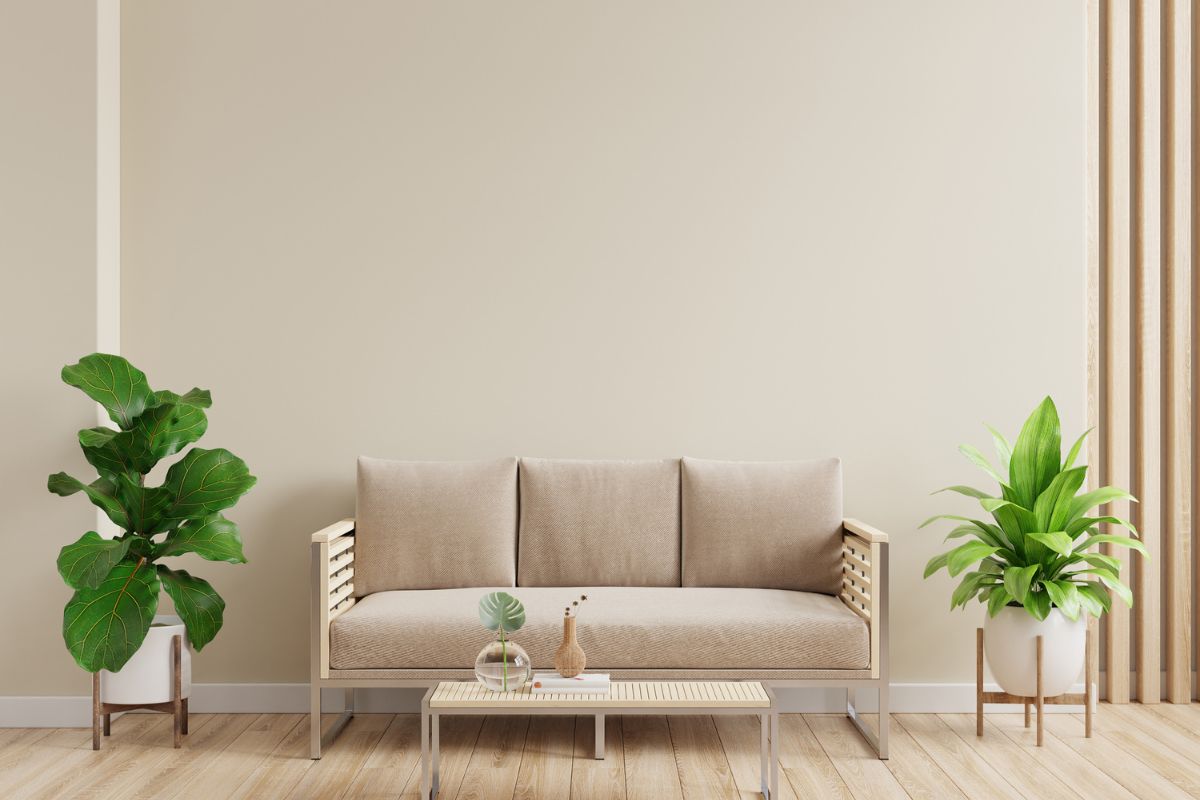 Choosing A Trim Color For Benjamin Moore Balboa Mist
Balboa Mist pairs best with clean and crisp white trims. This will allow the natural undertones of the shade to shine through, and it avoids an unpleasant contrast. If you're looking for an uncomplicated trim choice, it's hard to go wrong with Chantilly Lace.
For south-facing rooms with plenty of light, you might want to consider a warmer, creamy trim, such as White Dove. This can be used to emphasize the warm undertones of Balboa Mist. However, be careful with this trim.
If there isn't enough light in the room, it can potentially lead to both colors looking dull and murky.
Coordinating Paints With Benjamin Moore Balboa Mist
The purple greige of Balboa Mist is an exceptional color, and it can be used in many spaces thanks to the timeless and understated appeal.
The soft shade is perfect for open spaces, as it adds a cozy touch to a large room. For an open-plan house, the subtle and warm purple of Balboa Mist draws the space together, without overwhelming.
Unlike other greige and gray shades, Balboa Mist is an attractive complement to dark woods. The dark shades won't wash out or dull Balboa Mist, and the purple undertones are a perfect pair for the warmth of dark wood.
Balboa Mist can be used as an accent wall against crisp whites, such as Chantilly Lace, or as an overall color. In rooms with plenty of light, Balboa Mist can be paired with bold accent colors.
Pull out the purple tones with a color such as Vintage Wine, or Fresco Urbain, which are both available from Benjamin Moore. Purple undertones look fantastic in soft furnishings such as rugs and curtains. This combination is attractive in nurseries.
Alternatively, play with the warmth of Balboa Mist by introducing a red shade. Deep Poinsettia is an earth-toned red, and when paired with Balboa Mist, the two create a warm yet welcoming environment. Use alongside rustic decorations and natural materials.
Balboa Mist Or Light Pewter?
Balboa Mist and Light Pewter are two very similar shades from Benjamin Moore. They both rate similarly on the LRV scale, with Balboa Mist just a touch darker at 67, compared to Light Pewters 68.
Light Pewter is a cooler gray compared to the warmth beige that is present in Balboa Mist. Both are excellent neutral shades, but the pale gray of Light Pewter is good if you want a truer neutral that is subtle in an open space. 
Balboa Mist Or Pale Oak?
While Balboa Mist is a greige, Pale Oak is closer to a taupe. Like Balboa Mist, Pale Oak has pink and purple undertones, and a light appearance. It's a neutral that goes well in warm spaces, and has a LRV close to 70.
In a room with plenty of natural light, Pale Oak will have a warm glow. In comparison, Balboa Mist is cooler, and the gray shades are clearer. 
Balboa Mist Or Edgecomb Gray?
Edgecomb Gray and Balboa Mist are both incredibly popular paint colors by Benjamin Moore. Both greige shades, Edgecomb Gray has noticeably green undertones, which bring this color close to a taupe.
In a room, Edgecomb Gray will look brown in comparison to Balboa Mist. Edgecomb Gray is also a darker shade than Balboa Mist, but not by much. It has a LRV of 63.88.
Balboa Mist is an incredibly popular shade from Benjamin Moore, with a timeless appeal that's both modern and classic. It works well in many homes and spaces, but be careful to consider the undertones when making your choice.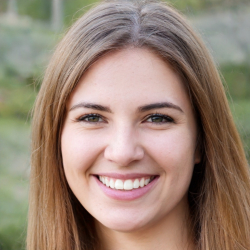 Latest posts by Maisie Park
(see all)