I don't know about you, but I love decorating bedrooms! It's so much fun. When you're decorating communal rooms, you do have to think about everyone in the home.
You have to consider how everyone will feel about the colors and decor and it can slightly restrict your creative control.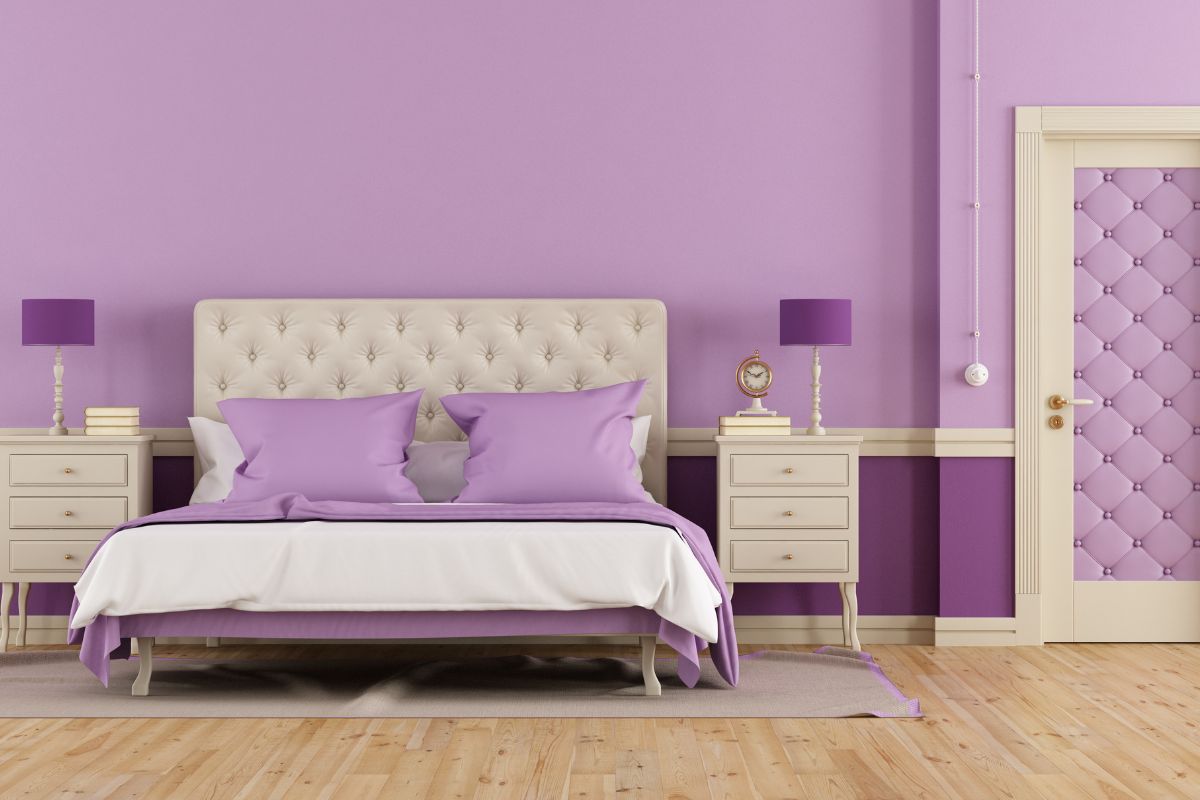 But a  bedroom? That's your personal space – it's your room. And that means total creative control. You want a certain color? A certain look? You've got it. And you're here today because you love purple.
And I don't blame you, it's such a decadent color with such rich depth. And there's so much you can do with purple, you can go romantic, sophisticated, or modern. 
If you've got your heart set on a purple bedroom but aren't totally sure about how exactly to go about it, don't stress. In this article, I'll show my 15 favorite purple room ideas. So what are we waiting for? Let's get straight to it!
My 15 Favorite Purple Rooms
This purple room is simple, and yet so effective. As you can see a gorgeous shade has been selected for the walls of the room and this is further complimented by the purple closet doors.
This will certainly be a fan with our purple-lovers as the whole room is engulfed in the beautiful color. This is then complimented with a gray pair of curtains and a gray bedspread. Then, of course, to tie it all together you have some fluffy purple decorative pillows and a purple throw.
This is the perfect room for those who want a small and cozy space to nestle in and watch a movie or read a book.
This is any purple-lovers dream room. It's so sophisticated and elegant, and honestly, I'm just in love. The use of white in the room keeps it big, open, and light.
Then you have the purple feature wall with the two white stripes that act as a headboard feature, and this design then inverts seamlessly on the remaining walls. 
You'll want to add a large purple rug to white floors and add a whole lot of white furniture too. Pair that with a purple bedspread and curtains too. However, I think it is the four-poster art on the wall and the chandelier that gives it that really sophisticated and elegant look.
Do you notice that there are many different shades of purple in this room but they all come together cohesively? That is exactly what you want to do in your new purple room. How do you do that? You neutralize to emphasize.
Use neutral decor such as the white lamp, light fixture,  and bed. And then also pick a fairly neutral, dark, and slighly dusky purple for the wall.
You can use this purple to blend those brighter and bolder colors without overpowering the room. Get yourself a bold purple rug and some bright-colored cushions too. 
Then never overlook the importance of good artwork. Do you see how the picture on the wall in this bedroom incorporates all the colors of the room and brings them together?
Purple and gold are a regal match made in heaven, and you really can't go wrong. I'd suggest going for a deep and rich purple such as plum and then pairing it with metallic gold accents to give a broodier yet lighter feel to your room.
If it's still a bit too shadowy for you, you can add artwork and a lighter rug to give the room a boost.
If you're looking for a more modern take on your bedroom then you should definitely consider a purple pinstripe back wall. It's a great way to add some purple without overpowering the room too.
Pair with gray and white neutral colors and lots of light. Then add a purple throw to the bed to ensure the room coordinates.
For those in rental properties where you can't decorate as much, or for those who can't afford a whole bedroom makeover, purple textiles are definitely the way to go. These to-die-for tapestries or textiles can be found for relatively cheap but oh my, they are beautiful.
Pop a few purple heavy-print textiles across the walls and ceilings to give a real cozy, cute vibe to the bedroom. And you can't forget the fairy lights! The more the better. Pair this with an enticing comfy white bedspread.
And just like that, you've got the perfect sleepover room.
If you have the right room structure to do so, you have to give this dual-room effect a go. Use a deep and dark purple in the bed area to aid sleeping.
Then with the larger space keep to a lighter color to make it seem more open and bright. Add purple accents such as pillows and a rug to keep the whole area matching.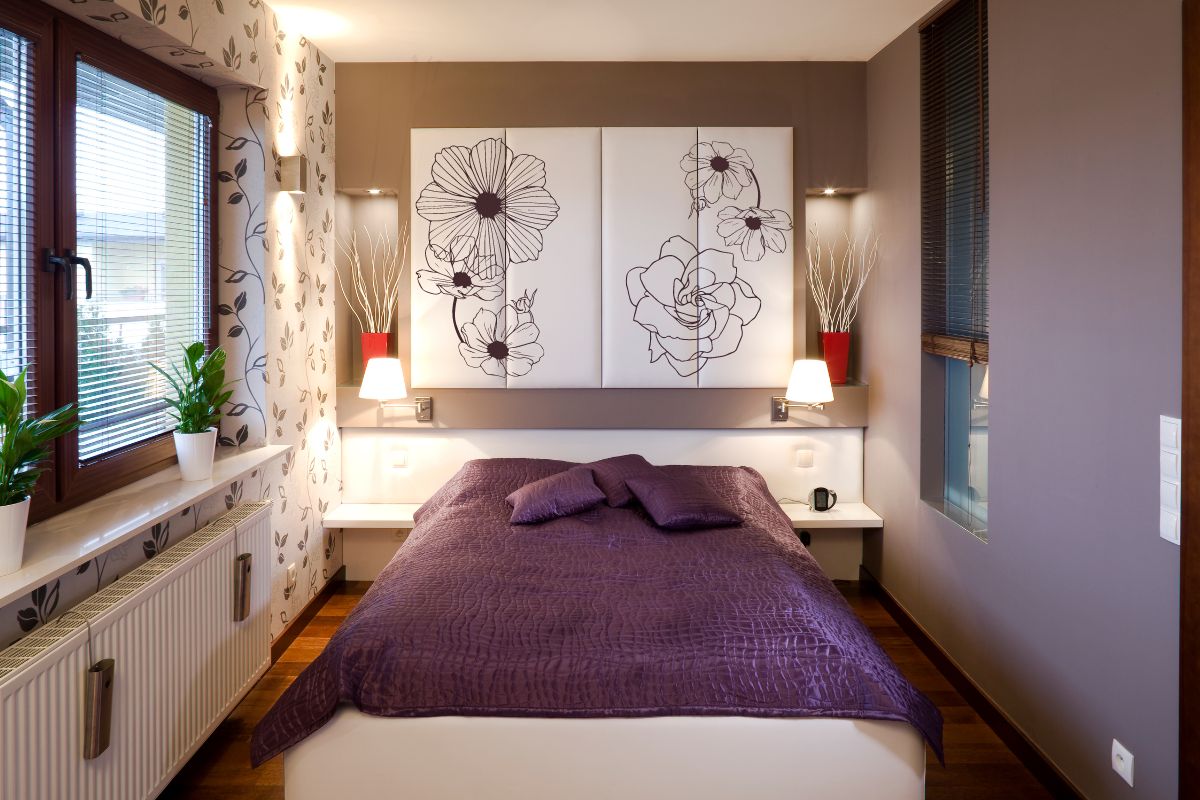 This room is so elegant and sophisticated. The matching deep purple drapes and closets make enough of a statement, but when paired with this stunning purple flower mural, you really can't ask for much more.
Because of the statement the room is making, I would opt for neutral colors to compliment it so as not to pull the gaze away from the main show stopper. But don't forget that bright and colorful chandelier!
The whole room doesn't need to be purple for you to have a purple room. This bedroom is evidence of that. The majority of the room is a white or cream color but those striking purple features are what hit you first. And this room just looks so regal.
And that is thanks to the vivid purple ottoman and armchair, as well as the headboard. Sometimes the furniture that you put in your room can have a larger impact than the walls.
I feel like a lot of these bedrooms have been very bright and bold and in your face, but it doesn't always have to be. And much of that comes down to the shade that you pick. Look at the gorgeous pale purple that is used here to give the room a fresh and simple aesthetic.
Opt for a simple pale purple bedspread and matching curtains, and hang a similarly colored piece of artwork on the walls.
Black and purple will always look great together. And I love the idea of this bedroom. In a way, it is massively minimalist. There's not much going on in the room really besides a low bed with a black bedspread.
But once you turn on those neon purple lights, the whole room transforms. The room is drenched in bright purple light in a way that is so sleek, so effortless, and so modern.
Are you a little chaotic as a person and want to reflect that in your room? Why not choose a room filled with all different purple patterns? If you look at this room it's a real mishmash of purple patterns.
The wallpaper, the rug, and the curtains all have different purple patterns but it still looks so good. 
Lavender is one of my favorite shades of purple, you just can't go wrong with it. It has such a restful and romantic feel and it has such a calming effect which is perfect for bedtime.
Opt for lavender walls, with a gray feature wall, and mix the two colors together. They work a dream.
This option works great for children's rooms. If they love purple, why bother matching it to another complementary color? No, I say go all out. From the rug to the cabinets, to the chair, to the blind, to the bedspread, to the pillows. Soak them all in a gorgeous purple color.
Just be careful of your shade here. You'll want a fairly light purple as a dark one will create a gloomy effect in the room and make it appear much smaller.
I don't think I'd ever have left my room if I'd had this purple beauty as a child. It looks so stylish, bright, and happy. I love the use of several different purple shades in this room.
And they all fit together perfectly thanks to the solid frames of white around them. The neutral color really allows the colors to take the focal point. 
And don't even get me started on the cute moon scene by the bed!
Final Thoughts
As you can see, there is so much that you can do with purple! Who knew that one simple color could create so many strikingly beautiful but completely different looks? Which one was your favorite?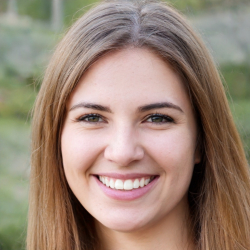 Latest posts by Maisie Park
(see all)