For many, the bathroom is a sacred place – the room in our home where we are at our most vulnerable, intimate, and relaxed.
It is a room for cleanliness and pampering, and for getting ourselves ready for the day ahead (or easing ourselves after a long one).
This is why creating a relaxing, inviting bathroom is of the utmost importance when making the perfect home. Luckily, there are many different ways and means that you can enhance your bathroom to make it your favorite room in the house.
One of these ways is through artwork and decorations, which is why we have put together some of our favorite ideas to help you find your way. So, without further ado, let's get started!
1. Minimalist Artwork
Minimalism is a popular choice for bathroom artwork, as it tends to feature clean, simple lines and colors, which lend themselves quite well to the calm, neutral aesthetic a lot of people opt for when decorating their bathroom.
There are many different styles you can choose from, but all of them generally create a stylish, modern feel that is perfect for those seeking a fashionable, sleek room in which to unwind and pamper themselves after a long day.
2. Seaside Themes
Seaside themed artwork is incredibly popular within bathrooms, due in part to the relationship between water, relaxation, and the feeling of calm many people get when they are beside the sea.
These could consist of seashells, jars of sand, or seaside inspired paintings and sculptures – each of them offering that little slice of summer vacation without having to leave the comfort of your own home.
3. Nautical Trinkets
Along the same vein, nautical trinkets are incredibly popular as well, taking inspiration from the sense of adventure, sun, and freedom that many associate with seafaring folk.
These can include nautical rope, buoys, fish nets, model lighthouses, busts of galleons and ships, or nautical tools like compasses, model telescopes, and barometers.
This is the perfect style for a bathroom, and there are many different routes you can go down – ranging from the casual and laid back nature of sea fisherman, to the classy and stylish imagery of the Royal Navy. The world is your oyster!
4. Floral
For those wanting a splash of color and patterns, then floral might be the one you.
There are numerous ways you can go with this – be it a floral accent wall, a portrait of something vibrant and colorful, or indeed floral wall murals.
These can be made out of various materials, and can be a great way to break up a bare wall and add a little comfort, color, and coziness to any bathroom. 
5. Bijou Style
Meaning 'small' or 'delicate' (usually referring to a piece of intricate craftsmanship, bijou style is a great way to accentuate the style and class of your bathroom, and there are numerous ways you can approach it.
Be them intricate pieces of artwork, or delicately crafted wall displays, these can be a great way to add a little style, class, and intrigue to any bare wall, and can help turn your bathroom into the shrine to relaxation that it was always destined to be.
6. Bright & Vibrant
However, if you are looking for something bright, brilliant, and vibrant, then inject a little color into your bathroom.
Of course, there are countless colorful pieces of art on the market, ranging from paintings, wall pieces, and trinkets, and this can really be a great way to revitalize a previously boring, lifeless space. 
What's more, creating a sense of color in your bathroom will help to make it inviting and reinvigorating, making those dark winter mornings that little bit easier, and giving you the tools you need to tackle the day ahead.
7. Art Deco Pieces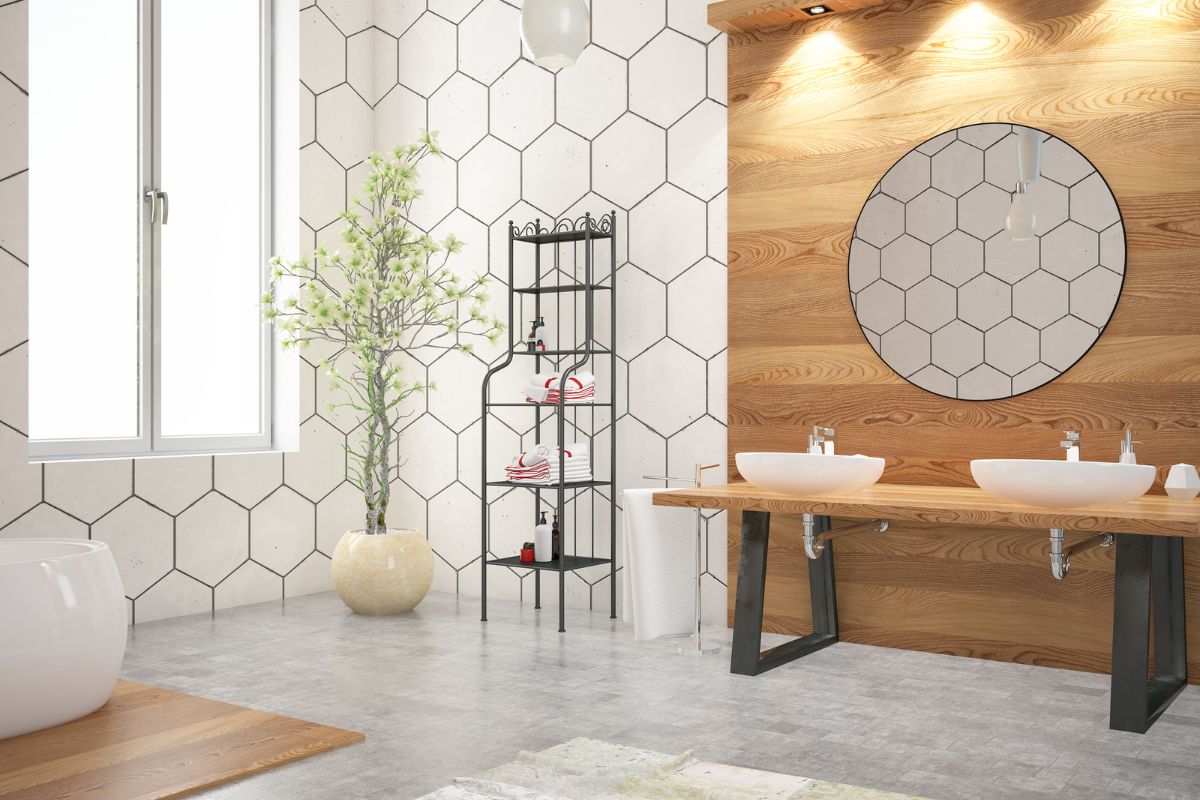 Those looking for a little timeless class and style could opt for art deco accessories for their bathroom space.
These can consist of striking paintings, visually complex and symmetrical pieces of wall art, or stylish statues, and can be paired well with art deco fittings and fixtures to create your own glamorous, indulgent space that feels right out of the roaring 20s. 
Think Baz Luhrman's The Great Gatsby, where everything was sleek, designed, and well thought out.
With this style you not only create a sense of elegance and class, but you also create an exclusive club, where the lights never dim, and you are always the guest of honor. 
8. Abstract Artwork
Those looking to inject a little eccentricity into their bathroom could opt for abstract art.
This can be embodied by portraits, paintings, statues, and wall pieces, and can be a great way of injecting some color and life essence back into a bland and neutral room. 
Abstract art represents passion, and all the complexities of the human condition – and this is what you will bring to your bathroom, that sense of fun, romance, love, passion, and vibrancy, which will help to turn any bathroom visit into a cozy, inviting atmosphere for you to sit, relax, and contemplate the day's events.
9. Vintage Flair
Of course, for fans of vintage fashion and decor, there are countless pieces of artwork online – both original and reproduced – that pay homage to times long since gone.
This doesn't have to be a running theme throughout the room, and could simply consist of quirky, stylized lighting, pictures, and trinkets scattered around the shelves.
But whichever way you go with this, you can rest assured in the knowledge that yours is the coolest bathroom in all the land. 
10. Tongue In Cheek
For those seeking something more lighthearted and humorous to adorn their bathroom walls, then there are countless prints available – all of them featuring witty slogans and phrases, and most of them affordably priced.
These could be pithy statements about our bathroom habits, or it could be something that refers to your particular family dynamic.
But whatever you choose, this can be a great way to make you smile every time you enter the room. And who doesn't need a laugh now and then? 
11. Mid-Century Modern
Mid-century modern characterized the 1940s and 1950s, offering a design style that was both stylish, striking, functional, and attractive.
Somewhat similar to minimalism in principle, mid-century modern relies on simple lines, bold color schemes, and a combination of symmetrical and asymmetrical design features.
This extends to art and accessories too, and is a great way of creating a timeless, attractive look for any bathroom. 
12. Industrial Pieces
The industrial trend is one that seems to be here to stay, and is characterized by the inclusion of seemingly harsh industrial materials – such as metal pipes, rivets, and wooden pieces – alongside neutral color schemes and a variety of textures.
For a great focal point to your bathroom, why not introduce a little industrialism into the room, either in the way of some physical artwork, a statue or bust, or striking wall pieces (like shelves and displays) that add a little edge and character to the standard bathroom space.
13. Black And White Photography
For something timeless and classy, why not opt for black and white photography? These go great with other minimalist styles, not to mention both neutral color schemes and more vivid colors.
These could be photographs of maritime scenes, images of nature, or pastoral scenes of innocence and calm, and can really add some character to a previously empty space – not to mention a focal point that every visitor to your bathroom won't be able to help but examine.
14. Boho Focal Pieces
The bohemian style really lends itself to bathrooms, due in part to the light, airy color schemes, the relaxed, hippie mentality behind it, and the inclusions of pastels, earth tones, and other calming design elements.
Boho art could be a great way to transform a blank canvas of a bathroom into a shrine to relaxation and tranquility, taking you from the confines of modernity, and reintroducing you to the calm, culture, and stillness of a time we used to know.
15. Art Nouveau Designs
Art nouveau remains incredibly popular for a reason – the fact that it injects pastel colors, attractiveness, elegance, and intrigue to any space it is introduced to.
Much of art nouveau was concerned with painting and portraits, but there are countless other artworks, pieces, and accessories that can be introduced to a bathroom to create the perfect place to lay back, unwind, and forget about the world for a little while.
Final Thoughts
And there we have it, everything you need to turn your bathroom into a relaxing sanctuary with little effort and expense.
There are many different ways you can enhance your bathroom, but choosing some wholesome, striking visual pieces are one of the best.
So if you are looking to change your bathroom, then why not give some of these a try?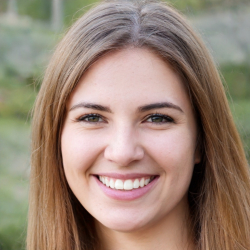 Latest posts by Maisie Park
(see all)