Creating harmony when two people are sharing a small bedroom can be hard. Here we have listed 15 different shared bedroom ideas perfect for small rooms.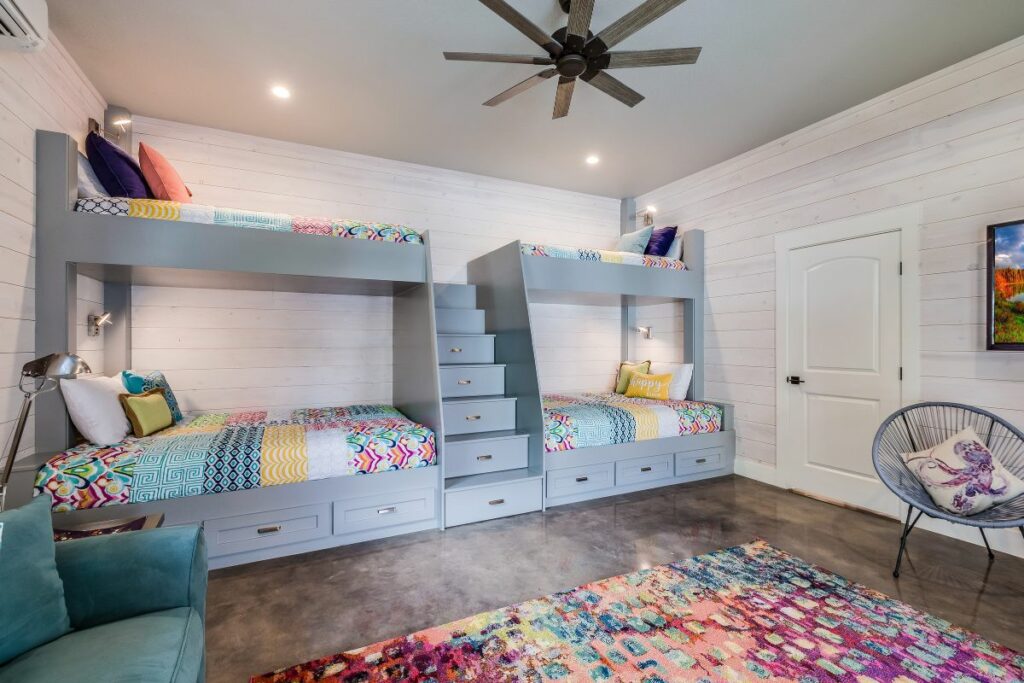 Bunk Beds are a lifesaver when it comes to kids sharing a small bedroom as they create much-needed extra floor space. You can create individual spaces for each kid using these separate bunk spaces.
Many bunk beds today even have a third pull-out trundle bed which is perfect for when friends and guests come to stay. 
In tight quarters, you can better use this space for storage purposes or to create desk space for homework and activities. The only issue with bunk beds is that they may cause an argument on who gets to sleep on the top.
Designing a symmetrical layout in a small bedroom can help to make the most out of the space. Symmetry creates a cohesive look that can trick the eye into thinking the room looks larger.
This symmetry can be created with the layout of the furniture such as having twin beds with identical bedding against an accent wall. 
This style works well in a small shared guest room as well as a kid's bedroom, but you might have a better chance of guests cooperating with having the exact same furnishings than the kids.
Making the most of the natural lighting that comes into the bedroom is important if the room is on the small side. Light and bright bedroom give the appearance of it being much bigger and creates a nicer atmosphere in the room.
Depending on your budget, you can add a skylight into a bedroom to maximize the amount of light let in. 
Reflective room features such as light fixtures, glossy surfaces, and mirrors also help to bounce light around the room making it appear larger and brighter. When two people are sharing a small space, you want to make the room as calming and comfortable as possible.
If you aren't familiar with a back-to-back bedroom, this essentially refers to the room's layout. Using a piece of furniture or a short wall, you can place beds back-to-back to create a sense of division in the room.
This is a great idea for bigger kids sharing a room that values their privacy and personal space more.  
Arranging a room like this can also help create some extra floor space, depending on the size and shape of the room. Another way to use the placing of beds to divide the room is to place the headboards in the corner of the room.  
The space under the bed is usually for stuffing clutter you don't want mom to see, or for playing hide-and-seek. Utilizing this space with a storage bed is an excellent way to keep things organized in a small shared bedroom.
This also helps to give kids a sense of their own space and helps them keep track of their belongings. 
There are so many varieties of storage beds on the market, no matter your budget. For a budget-friendly solution to bedroom clutter, invest in some storage boxes that can be labeled and neatly tucked away. Many of these come on wheels for easy access. 
Privacy is an important thing for kids as they grow up, which can be difficult for those sharing a small space. If your kids have bunk beds, you can install curtains around their bunks to help give them that extra bit of privacy for a simple and inexpensive solution.
For rooms without bunk beds, curtains can also be installed around single beds or in the middle of the room for privacy.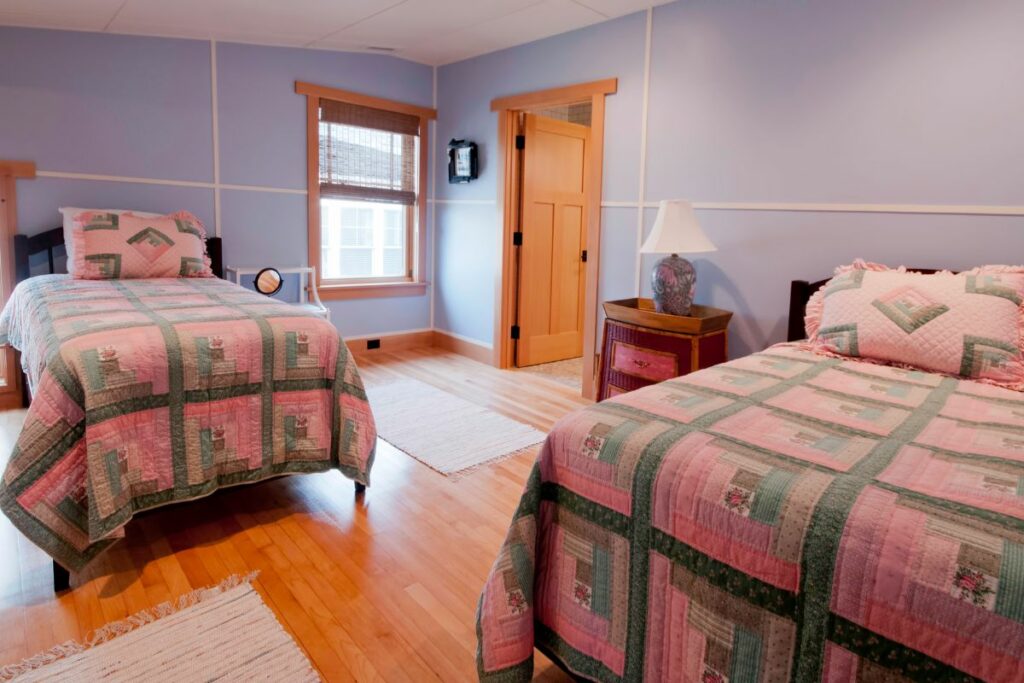 When sharing a room, kids often want to express their individuality and some siblings can't think of anything worse than having the same thing as the other.
Unfortunately for them, matching bed frames can be a real space-saver and in a small room, space is key. The less bulky the bed, the better. 
Beds without a footboard also help the room to look bigger, unbroken lines of fabric such as throws can help to create an elongated space. When a room looks uniform, this also helps to create the illusion of more space as it looks less cluttered.
Loft bedrooms or period properties tend to have a lot more quirks and unusual spaces in the rooms. These alcoves aren't wasted space, they can be the perfect solution to many problems.
Built-in beds are a great way to use these small spaces as you don't need to be able to stand up in them and beds usually take up a lot of valuable room. 
Whether it's behind a door, on either side of a chimney breast, or the slope of the ceiling there are so many ways to use these nooks. Installing shelving into these nooks is a great way to increase the storage space in a small shared bedroom.
With little room to play with it can be hard to give your kids the chance to decorate and make their space their own when they share a room. You want things to look organized and remain functional, which isn't always an option with little ones.
Letting kids choose their bed sheets that match the theme or style of the bedroom is a great way of differentiating the space without it looking messy or unsightly. It's also a great cost-effective way to alter their rooms and keep them happy.
Vertical space is key when it comes to saving space in a small room. A lot of space can get easily wasted. Installing one long shelf over a window or doorway can be a great way to add more storage space in a shared bedroom without things looking too cluttered.
This space is perfect for holding books or baskets. 
Cube storage is everywhere at the moment, it's not hard to see why. You can make the most of the space with tall cabinets and the cube compartments are great places to store belongings.
Inserts are cheap and readily available, perfect for hiding all the kid's clutter and may even encourage them to tidy up after they're done playing!
Minimalist bedrooms mean there's less clutter and more space for playing and activities. Clean lines and neutral tones create a calm and relaxing place to sleep.
With smaller children, this may not be possible as they tend to accumulate a lot more clutter and toys seem to come out of nowhere. 
If you have pre-teens sharing a bedroom, minimalism may be the answer to sharing a small space. Letting the kids pick a few nice items to decorate the room allows them to get involved and express their personalities in the room.
We know that built-ins are within everyone's budget, but if you can afford to build a few simple items then it can save you a ton of space.
One of the most simple and cost-effective ways to maximize space in a shared bedroom is to build a dividing bookshelf. Not only does this provide each person with storage, but it also separates the room nicely. 
Wardrobes and other cabinetry are always going to utilize the space better and provide you with plenty of storage as it can be fully customizable.
Painting the room to match the style and personalities of the people sharing the room is a great way to make it unique and fun. Recently, painting a 'headboard' onto the wall behind the bed has become very on-trend.
These rectangular features don't have to be the same color and give the kids a chance to get creative and define their own space in the room. 
For an easier option which means you don't even need to lift a paintbrush, you can purchase removable headboard stickers that are great for renters! They come in a range of colors and can be removed when they no longer work for the style of the room.
15. Keeping It Neutral
Painting the bedroom a light neutral color helps to create the illusion of more space and light. White ceilings and pale walls can give a clean, fresh look to a small space.
When sharing, neutral colors can help to avoid any clashes of opinion and allows kids to decorate with pretty much any accessory. 
When their tastes and styles change as they grow, you don't have to worry about constantly redecorating the room with paint or wallpaper. Simply revamp the bedding and other soft furnishings to give the room a makeover.
Final Thoughts
Sharing a small bedroom isn't always ideal, but with these great ideas, you can make it work for your family. We hope you found these ideas interesting and useful!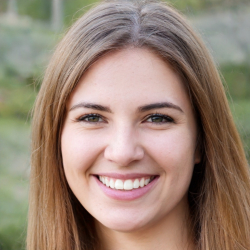 Latest posts by Maisie Park
(see all)