IT'S CHRISTMAS – yes I'm shouting, I'm very excited. I absolutely adore Christmas time.
Festive menus at your favorite restaurants, those tasty hot chocolate festive flavors at your local coffee shops, stepping through fresh snow first thing in the morning when the streets are a blank white canvas, wrapping up toasty warm, and shopping around the Christmas markets.
What's not to love?
But my absolute favorite festive activity has to be getting into some Christmas PJs (that match with the rest of the family – including the cats and dogs) and snuggling under a thick blanket on Christmas eve while watching The Grinch.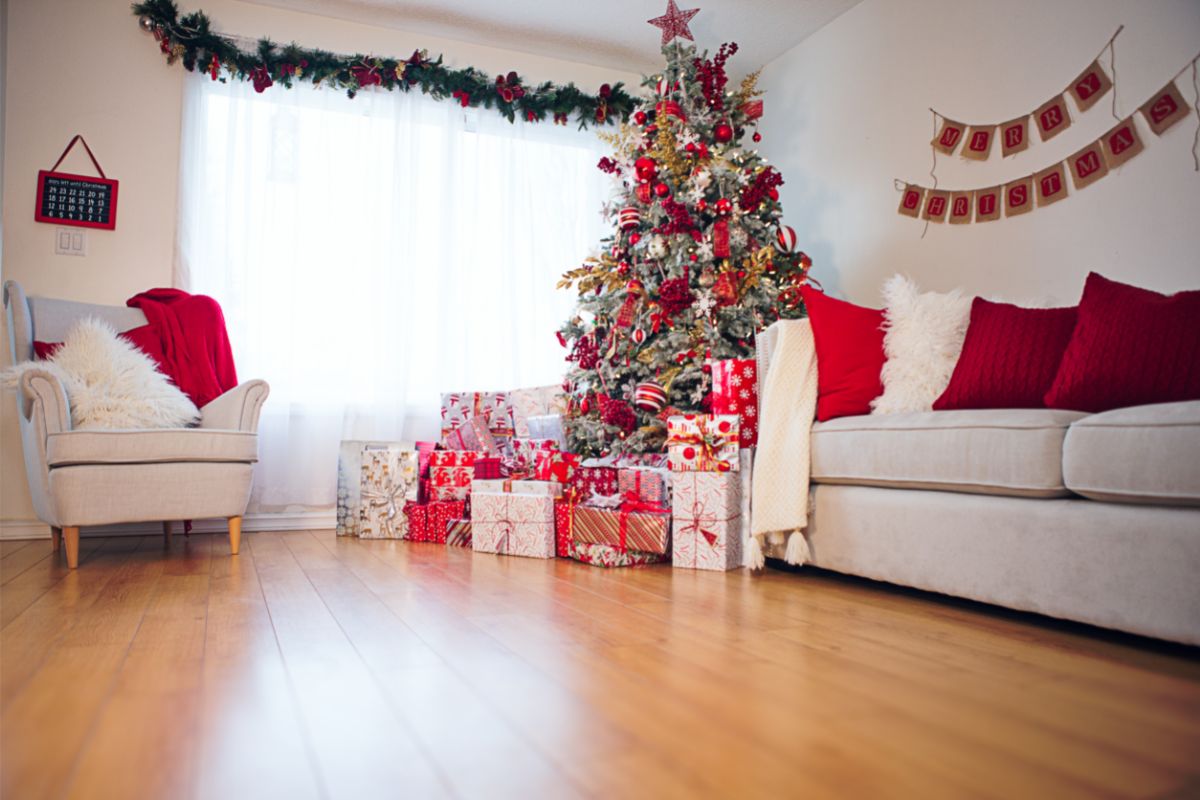 And then, of course, you have the big day itself where Santa leaves an abundance of presents under the tree to reward you for your year's worth of good behavior!
But how can you enjoy any of that if you don't have the perfect Christmasy living room? You can't. This is the room where all the really exciting stuff happens and it must be decorated appropriately.
Whether you go for sleek and elegant, or the ultimate Christmas Grotto is up to you – but living room decor is a need not a want.
So let's take a look at some of the best ways that you can decorate your living room for the most magical month of the year!
Living Room Decor Inspiration
If you want a classic and elegant design for your living room this Christmas, then you'll want to go with the red and white theme.
We're sticking with traditional Christmas colors here, and my opinion on this is if it isn't broken, why fix it? Opt for a frosted white Christmas tree, and stick with red and white baubles and ribbons.
You can also throw in some silver too to add a little sparkle. Hang white stockings by the fireplace and complement them with red accents.
I'd also opt for some red and white snowflake-themed Christmas cushions and a few other white and red decorations.
If you want to go all out for Christmas why not try a Santa's Grotto-themed living room? And what I mean by that is all things Christmassy.
Everywhere you look you'll want something Christmas related in your living room – and lights plenty of them.
A big Christmas tree with lots of lights, and pictures and accessories dotted on the walls, and you can't forget tons of decorative Christmas pillows…obviously!
The festive favorite naughty elf has been taking over most homes during the festive season so if you're looking for a playful and fun Christmas decor this year then I'd embrace this very naughty Elf.
The Farmhouse Christmas design is simple, elegant, and rustic. And I love it. For this, you'll want to stick to greens, muted reds, white, and browns.
Pick a tree that will need minimal decoration, add a few lights and a couple of baubles to add a little color. Then ensure that you've got pine and wreaths around the fireplace.
And pop a couple of presents wrapped in brown paper and tied with string to really complete the look.
If you prefer showstopper to simplistic, then you'll want to opt for a bold Christmas color palette.
Pick a big and bold topper for the tree and leave no branch of it untouched with baubles, lights, ribbons, and tinsel. Use bright and sparkly colors. Red, gold, and silver always work best.
Then you'll want to overwhelm your mantlepiece with Christmas decorations too – and don't forget to hang your stockings for Santa!
If you have kids, DIY Christmas living room decorations are a really great way to create a personalized Christmas space while also enjoying spending time together.
When I was little, my favorite thing about Christmas was spending time with my parents making decorations. It's the perfect way to bond, keep on theme with Christmas, and also decorate your home.
Silver and gold ornaments and decorations are a great way to set up your living area for a classy Christmas. It looks so elegant and sleek.
Fill your tree full of silver and gold big baubles and add some frosted flowers for a really elegant touch. Add silver and gold wreaths to the doors and adorn the fireplace with silver and gold stockings.
For the ultimate touch, you can also coordinate all your wrapping paper, boxes, and ribbons in silver and gold too.
Using plaid print – red and white, in particular, can give a real traditional look to your living room this Christmas.
And you'll even be able to get cute Christmas PJs to match. Just imagine how cute those Christmas Day photographs will be!
Add a plaid pillow to your sofa and plaid stockings above your fireplace. Keep with red and white themes on your tree and make sure you've got those warm gold twinkling lights and some ribbons.
Fluffy cozy blankets are a must for this design.
While a Christmas-colored theme can look elegant and beautiful, there's something about the chaos of a bright and multicolored room that I absolutely adore.
And if you have children it's the perfect option. It allows them to throw any bauble they love, unrestricted, onto the tree in this happy and exciting explosion of color. And isn't Christmas all about happiness and excitement?
There are no rules to follow with a multicolored Christmas! If you like the ornament – you get it and display it proudly. No more oh that won't go. Don't forget tons of bright twinkling lights either!
Blue, white, and silver are beautiful color palettes for Christmas. It reminds me of the icicle lights that often hang outside homes during the festive period. They are so stunning and just give that icy snowy vibe.
You'll want to pick a beautiful white tree for this option and then use silver lights and blue and silver ornaments for the tree. I'd pick a blue, white, and silver bauble wreath to hang on the wall too.
Another great and inventive way to make your living room more Christmassy is to wrap up your books in Christmas paper.
Use red and white festive prints and dot a couple of Christmassy decorations on your bookcase, and finally place tinsel or fairy lights around the bookcase. It's a simple and fairly cheap way of giving your living room a festive look.
A winter wonderland theme can never go wrong at Christmas time. And what do you need for a winter wonderland theme? Lots and lots of fairy lights.
Try not to think too much about your electricity bill as you cover your home from head to toe in cute fairy lights. Cover your home in blue (Also check out Van Deusen Blue) and silver baubles and make sure you have plenty of sparkling Christmas greenery.
If you're a lover of plain and simple, this is the perfect option for you. Get yourself a small to medium-sized tree and adorn it with simple large blue gold and silver baubles.
Add a wreath to the wall and just pop a few muted Christmas-themed ornaments on the mantle.
Another great way to get your living room looking festive without having to put in too much effort or money, is to replace your usual art on the walls with Christmas themed wall art.
And once you've purchased them you can use them every year and all you'll need to do is swap over your decor and voila, as simple as that you are done. This is a great low-maintenance option that still looks really festive.
For those who celebrate Christmas for its religious origins, why not make a navity scene the focal point of your living room.
Get yourself a large nativity scene to take pride and place across a large table. Theme your tree with religious ornaments such as angels, and stick to an orange, browns, and deep red color theme.
Final Thoughts
I absolutely adore Christmas, and I could have kept that list going forever and ever. There are so many fun ways to turn your living room into a festive wonderland.
You can go big and bold and opt for lots of bright colors and twinkling lights, or you can stick to a color theme and go for a more sleek and elegant approach, or you can go for child-friendly and super fun Christmas DIY decorations.
You can go all out and spend hundred to turn your living room into a winter wonderland or grotto, or you could save yourself some cash by going for a more minimalist choice.
But whatever you do this Christmas, just don't leave it plain and boring. Really immerse yourself into the wonder and magic of Christmas and enjoy the festive period with those that you love most.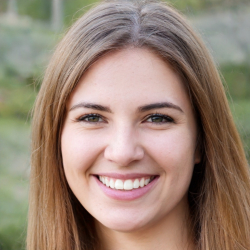 Latest posts by Maisie Park
(see all)