Who doesn't love the color pink? There are tons of different shades of pink that are perfect for your bedroom. It's just such a pretty color that it can make any room totally chic.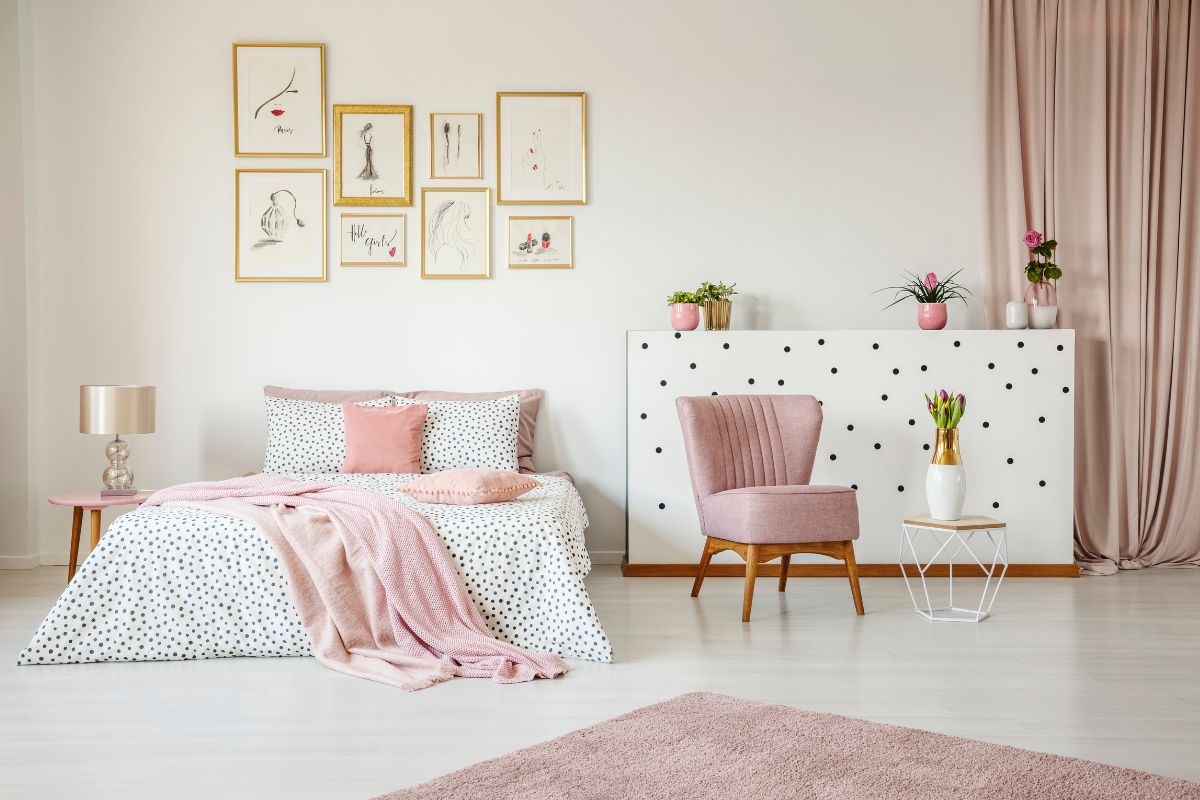 No matter what your style is, I am certain that I'll have some pink bedroom inspiration that is sure to have you desperate to run to the store and grab all those essentials you'll need to create that perfect room. 
So, let's not waste any time – let's jump straight in!
My Favorite Pink Bedroom Ideas
This bedroom is just perfection. It has that beautiful pink blush color that you'll desire, but the added elements to the room make it much more striking that just any plain old pink room.
Because the pink is light and subtle, it pairs really well with print colors as you can see. Adding this black and white print to the rug, as well as adding additional black furnishings, plenty of wall art and lampshades and the like makes this room so exotic and fancy.
Who says pink can't be made mature for an adult bedroom? Of course, you can't forget to add a touch like the leafy chandelier to give the room that real Old-Hollywood feel.
When I tell you I audibly gasped when I saw this room, I genuinely mean it. This is such a gorgeous shade of pink that creates such a bright and happy vibe in the room. I just couldn't imagine being sad in it ever.
And while that salmon pink is obviously a standout, it's the 1970s color combination of adding that small amount of green to the room that makes it so visually interesting.
The rest of the room is then made up of fairly neutral colors such as the dark nightstands and the white bedding to bring it all together cohesively.  
Red carpet who? I'm sorry there's a new color on the block ready to take your place. And that is pink. This is a great way to have a pink focal point in your room when you don't want to paint the walls that color.
Keep the rest of your room light and bright. I'd suggest picking white for your bedding and walls. Then I'd add wooden furniture. This allows the vintage-looking carpet to take pride and center in the room without other elements catching your eye.
If your room still looks a little empty then you can also add a pink chair to the corner of the room. This looks amazing if you can find one in a shade that matches the rug!
Pink colors and floral prints go pretty hand-in-hand right? Well, why not drench your room entirely in pink while having a flowery feature wall?
I love this idea. You wanted pink? Well, you got it. I find that when you completely pinkify a room when the bed, the walls, the wardrobes, and everything else it can be a little overwhelming for the senses.
To combat this you need texture and you need shades so really feel free to play along with it. 
Then of course you need a little bit of balance. Do you see what the greenery and the wooden elements do for this room? These colors will always work well with pink.
On the other end of the scale, if you only want a hint of pink in your room, you can always choose an option like this bedroom. Keep your bedroom a neutral color for the most part. White always works well.
Then add some bright and striking pink artwork like the Fuschia painting used in this room to really add that pop of color. This is a much more simplistic option and it is great for those who want a subtle nod to their favorite color.
I love the boho vibe that this subtly pink room gives off. The whicker wall art and beside table heavily contribute to this vibe. But I adore the idea of ditching those common neutral lampshades and swapping them out for something bold and striking.
And the color of this lamp – oh wow. You can't draw your eyes away from it. 
But when you finally do, you'll notice that the floral bedding's pattern matches the lamp and yet has neutral colors too to keep the space open and bright.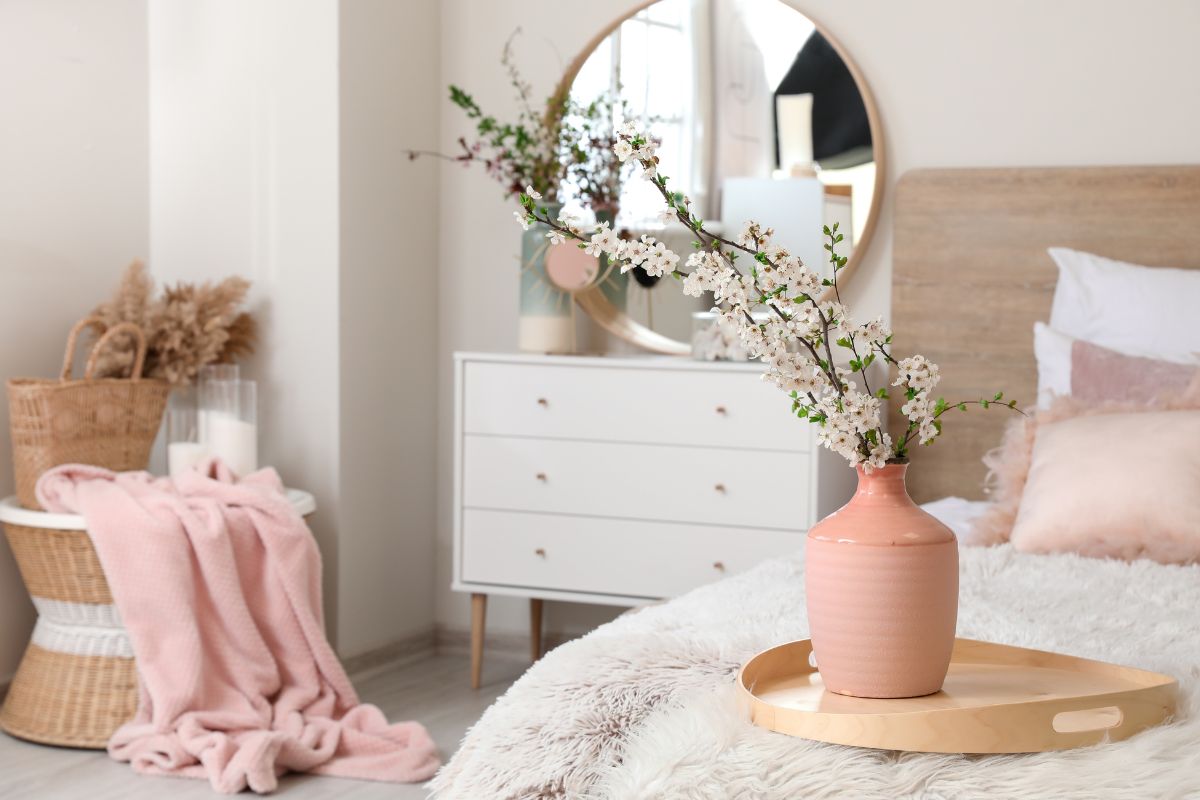 If you are looking for a soft pink look for your bedroom that is sleepy and dreamy, then you'll want to recreate this gorgeous room. The pale pink accent wall adds that pretty feminine touch without overpowering the room.
It blends in seamlessly with the white walls and bedding and is the perfect set-up for adults that still want that homage to their old childhood pink bedrooms. Don't forget to add some natural touches such as the plants too!
Pink bedding can seem a little too youthful for an adult bedroom, but who's following a rule book here? Certainly not me. I'm a firm believer in decorating your own room however you want to. And if you want pink bedding, pink bedding you shall receive.
If you do want to 'adult' things up, you can pair a soft pink bedding with some beautiful shades of gray and taupe. The colors go together very gracefully, and it does create this really calming cohesiveness.
I think opting for pink patterned wallpaper can be a really pretty and playful way to add pink to your bedroom. Especially floral patterned wallpaper. The wallpaper used in this bedroom is perfect.
It has a majoritively pink base but those big white flowers help to add some extra light into the room. 
It's a statement without being massively bold and I think the subtle hint of mint green in the stems really helps keep the room in balance. I love it.
I don't think you often think of a baby pink shade and black going together all that well, but here we stand corrected. The contrast of such a sweet and pretty color against the dark, sleek and contrasting black color looks amazingly chic.
I think a fully baby pink room can look a little sickly sweet and innocent, especially for an adult bedroom. The addition of the black furnishings in this room adds that bit of attitude and drama and it's absolutely stunning.
As much as I love vibrant pink or baby pink, I feel like a good old peachy pink is so overlooked and underrated. And it's such a shame because as you can see, it looks fantastic.
It can give your room a much fresher look especially when it's combined with warm wood furniture and some blue-ish gray accents.
Ditch that tired and traditional headboard for some fresh and funky pink wall art to really make a statement. I love this bedroom. It incorporates the pink color in the art and the decorative pillows but is otherwise pretty minimalistic.
This room looks so open and so light, it's like a breath of fresh air. And then that striking pink wall art definitely catches the eye.
How striking is this super saturated pink bedroom? Ah, I love it so much. I think this has to be my personal favorite pink bedroom. It's so eye-catching and visually pleasing.
Everything is plastered in a variety of different shades of pink. But what I love is that this design is bravely bold. 
Each shade of pink is in your face, bright, and just so vivid. However, do not overlook the importance of that big artwork poster over the bed that adds a bit of green for balance.
We all love a good pastel pink right? Well, pastels always look perfect when paired together. Opt for a pretty pink patterned wallpaper to keep pink as your focal point and then add a few other pastel colors to the room like in this bedroom.
I adore what the pastel orange and blue in the bedding do for this room. It's pink, for sure, but it's like the orange has sun-kissed the room while the pastel blue gives ocean vibes. It's so cute, and I'm totally here for it.
Adding a nice pink hue to the back wall and combining it with lots of natural wood tones and house plants is a very simplistic look. But you know what they say – simple and effective.
This creates such a pretty and serene atmosphere in the room that I feel like you visibly relax as soon as you enter it.
Final Thoughts
I hope this list has given you the inspiration to start decorating your bedroom in pink! As you can see there are so many different ways that you can play around with the color to make a truly beautiful bedroom.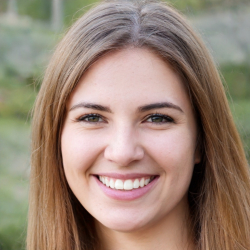 Latest posts by Maisie Park
(see all)