The bedroom is one of the most important rooms in our house, because we spend so much time there.
We spend about 33% of our life asleep, not to mention all the other time we spend relaxing and changing clothes in the bedroom too.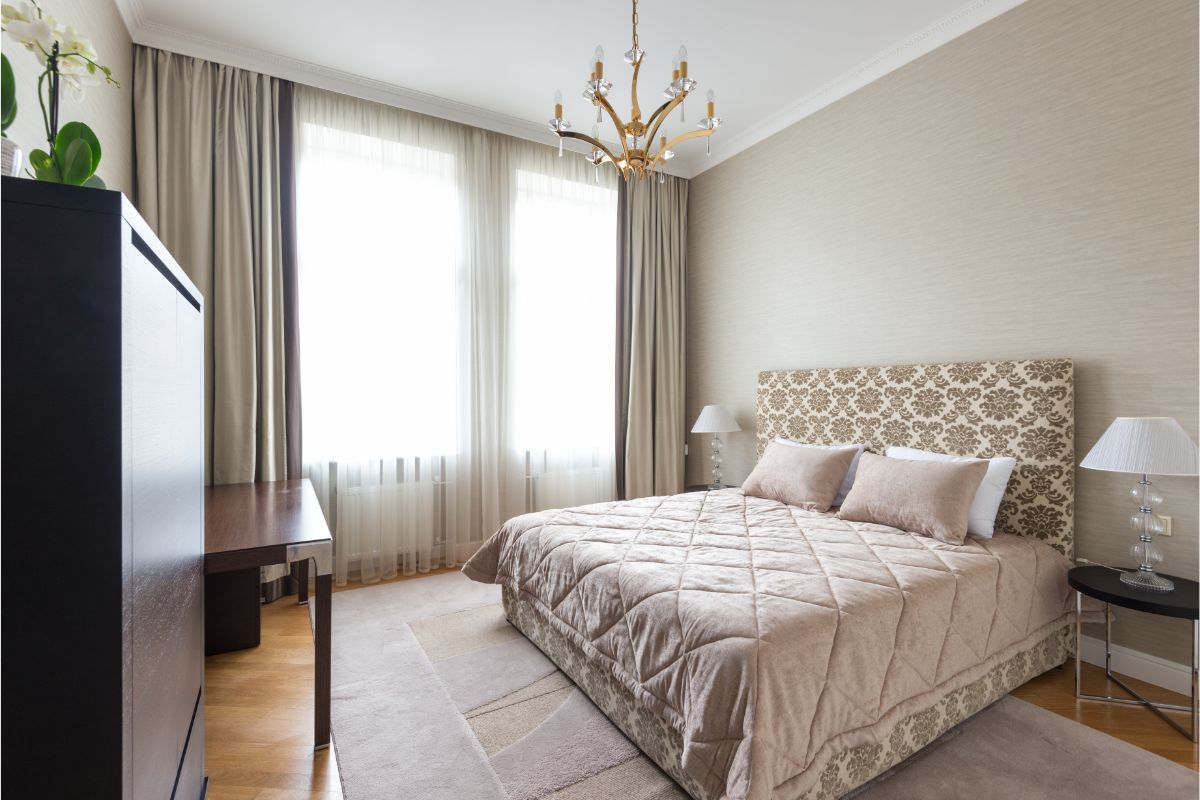 As a result, it's essential that you have a stylish and lovely bedroom that you just love spending time in.
You can liven up your bedroom in a number of different ways, from changing the wallpaper to throwing in a few new pieces of furniture.
One of the most exciting ways to rejuvenate a bedroom, though, is by adding a bedroom chandelier.
However, there are so many different designs and styles to choose from that it can be hard to find the one that's right for you.
Thankfully, we've done the work for you! In our handy guide below, we've collected together 15 bedroom chandelier ideas you'll fall in love with.
You'll find your new favorite bedroom chandelier in no time, and your bedroom will be brought to life. Read on!
15 Bedroom Chandelier Ideas You'll Fall In Love With
We're starting our list off with a very beautiful and elegant drum chandelier, with quite a typical look for these kinds of light fixtures.
"Palazzo" refers to things that you would find in a palace, and this is certainly fancy enough to fit that description!
The chandelier uses 3 lights, providing your room with plenty of illumination.
These lights are shrouded by beautiful dangling strings of crystal-like objects.
These hang down from the chandelier at different lengths, which gives the fixture a stylish cone-shape.
Additionally, there is a translucent shade running around the top of the light.
This has a very modern feel to it thanks to the fact that it's made out of string, all very carefully weaved together to make a fuzzy shade.
This is a very funky looking bedroom chandelier, thanks to its use of countless circular shapes.
It has a very retro, chic charm to it as a result!
The chandelier has a few lights which are shrouded by a series of cascading white disc shapes, which hang down in columns of different lengths.
However, these aren't just any discs! These are actually capiz shells, which are made from the inside lining of oysters.
If your bedroom has a seaside theme, then this chandelier is especially perfect!
To match the circle theme, there are three flat cascading circles at the top of the chandelier too, to which all the capiz shells are attached.
Circles are known to be a very pleasing shape, and your bedroom is sure to be a more calming place with this stylish light fixture.
This is a very sleek bedroom chandelier, with a jet black top that straps to the ceiling.
From that black circle hang dozens of little glass bulbs, which the main light bulbs then shine through, giving off a sophisticated and shimmering glow.
These are downrod bulbs, all hanging downwards. They look almost like scientific measuring interests, with their thin stems and their big round bottoms.
It all comes together to create a bedroom chandelier that looks very sophisticated, with its elegant mixture of black and glass.
This is for bedrooms that have a wintery feel to them, dressed in lots of whites and blacks.
Of course, it works best for the winter time, but it is also perfectly stylish all year round too.
This chandelier has an incredibly fancy gold body, which then has a series of crystal-like parts dangling from it, letting the light of the bulbs pass through them.
These dangling crystal-like bits like ice hanging from a tree or a roof, making the bedroom chandelier look very cozy and Christmassy.
This ultra-modern pop–style bedroom chandelier is sure to make your bedroom look cool, with its minimalist, striking take on a traditional chandelier.
It has a jet black ball which hangs from the ceiling.
A series of spindly black arms then come off the ball, each with an opaque bulb on the end.
It almost looks like a cartoon of a spider, or an explosion of paint!
The minimalist, streamlined look of it really stands out. On top of that, the fact that the bulbs aren't clear makes their light a lot softer and warmer.
With such a modern take on the chandelier being our previous pick, we're now going to look at a bedroom chandelier that has a much more classical look.
In fact, this wouldn't look out of place in an old castle!
This bedroom bronze chandelier has a very elegant shape to it, with lots of curved arms going around it in a bulb-like shape.
Around the center of the chandeliers are six candle bulbs, which are light bulbs sitting on fake candle stalks.
The candle appearance makes this look like an old fashioned chandelier, as does the bronze.
This one is a little different! Rather than having a strict chandelier on its own, this is actually a mini chandelier attached to the bottom of a ceiling fan. That way, you get two bedroom fixtures in one!
An extremely unique and stylish bedroom chandelier, this has an arabesque design with lots of sharp edges and smooth curves.
Four candle-like light bulbs are arranged inside the chandelier, surrounded by the exciting structure of lines and curves.
It's a very eye-catching bedroom chandelier with a design that you won't find anywhere else!
This is one of the most luxurious chandeliers we've seen, and it will make any bedroom look fancier in seconds.
It has a gorgeous blend of gold and shimmering crystal-like glass, the two combining to make something very refined.
The gold is mainly used on the part that attaches to the wall, but is also used for the edges of the drum chandelier shade, along with little diamond shapes on the borders.
The rest of it is dreamy, shimmering crystal-like glass. Beautiful!
The wagon wheel is one of the classic design styles for chandeliers, and it would be a perfect addition to your bedroom.
It gets its name because it uses a large wheel which hangs face-down from the ceiling.
Then, on top of the wheel, there are a handful of lights going all around it.
They will typically look like candles, with their angular bodies contrasting nicely with the circle of the wheel.
This is a very elegantly designed chandelier to have in your bedroom, especially if your bedroom has an all-white color scheme.
The chandelier has plenty of stylish curves and curls going all over it, which contrast with the tiny strings of dangling crystals at the bottom. On top of the curves are a few candle-like lights.
The use of just one color makes it a very neat and tidy chandelier, keeping it minimalist and stylish.
Quite the opposite to the curvy chandelier we just looked at, this one has a very spiky feel to it, which really makes it stand out!
It has a golden circle that hangs down from the wall. From that, tiny golden arms jut out from it, with long slivers of thin glass hanging down from each.
As you can tell, this design is all about sharp lines, and it makes it very visually effective.
If you love having lampshades around the house, you can get a bedroom chandelier that's got plenty of them too!
This is a simple but very effective design. The chandelier hangs down from the ceiling, and a series of arms branch away from it, each with a warm-looking lampshade light on them.
Seeing the cluster of lampshades looks really quite cozy!
This is a very creative twist to a classic chandelier, using long curves of beads around the lights.
It has an oddly coastal feel to it, because the beads are shaded white.
However, it also brings to mind fine jewelry and necklaces, giving it a fancy feeling too!
We're finishing the list with this thoroughly modern angular bedroom chandelier!
It has six lights and three arms, with a pair on each arm.
The arms are pointed in all different directions, giving the chandelier an angular and spiky feeling – which seems very modern and artistic!
Final Thoughts
Adding a chandelier is a great way to make your bedroom more interesting.
Get inspiration from our list of 15 bedroom chandelier ideas that you're sure to love!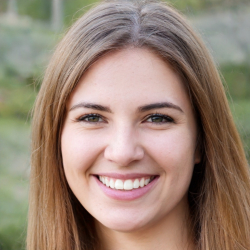 Latest posts by Maisie Park
(see all)