Are you looking to renovate your master bedroom? If you've always dreamed of a beautiful, elegant master bedroom to relax and unwind in after a long day, we have the perfect ideas for you. Here are 15 elegant master bedroom ideas that you'll absolutely love.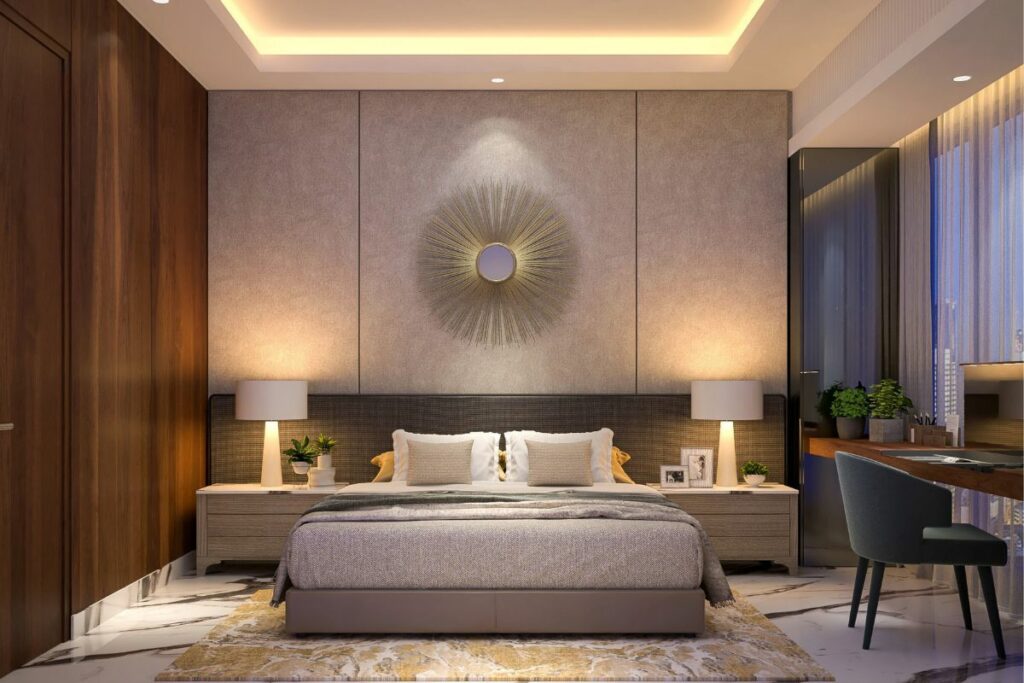 Headboards can take center stage in a master bedroom (Also check out Small Master Bedroom Ideas). Current trends feature floor-to-ceiling headboards which are the main feature of the room.
Upholstered paneling that spans the wall is a common way to use a headboard to make a statement. These create clean lines establishing elegance and minimalism.
For those that want to go bolder and make a maximalist statement, darker colors and patterned prints can be used to draw the eye to the bed. Taller headboards generally draw the eye up, alluding to the idea of more space and higher ceilings.
Leaning mirrors make you think of boutique stores and cool loft studios. A large and elegant mirror can be the perfect way to accessorize your bedroom as well as provide you with a necessary piece of furniture.
Not only will it bounce light around the room, but sleek lines will also help to create balance in the room. 
Whether you're going for a classic minimalist look or rustic shabby chic, there will be a leaning mirror perfect for your master bedroom.
A chandelier or statement light fixture can really enhance the look of your bedroom. Vaulted ceilings are the perfect place to hang a pendant light or chandelier as the height will accentuate the room.
For standard ceiling heights, you can choose an unusual shape or design to make a stunning visual impact in the room. 
Antique light fixtures offer a unique elegance to a bedroom. Second-hand stores and online marketplaces are the perfect places to find these types of fixtures and usually for a fraction of the cost.
Dressing the bed may sound obvious, but there is an art to getting it just right. Selecting the right materials is imperative when creating a luxurious bed display. Is there anything more elegant than Egyptian cotton or linen bed sheets?
Layering throw pillows and comforters help to finish off the look and design of a high-end hotel bed. Blend soft cotton sheets with fluffy throws and tasseled cushions to add depth in texture for the most inviting scene you could ever imagine. 
Texture is key to keeping the design of the room visually interesting. To keep things simple and elegant, you should only ever use between two to three textures in a room. Larger rooms are able to handle more dramatic feature walls, such as a shiplap cladding wall.
Shiplap can create a modern farmhouse vibe matched with industrial fixtures and fittings that puts a twist on a timeless classic bedroom design. Hang the panels horizontally if they stretch across the whole wall and vertically if they are installed on a smaller accent wall.
Modern finishes such as pendant bedside lights or industrial looking nightstands are a great way to add some elegant touches to a master bedroom.
No matter the style of your bedroom, certain modern features can help tie the design together. Vases are an inexpensive way to dress the room for some modern elegance.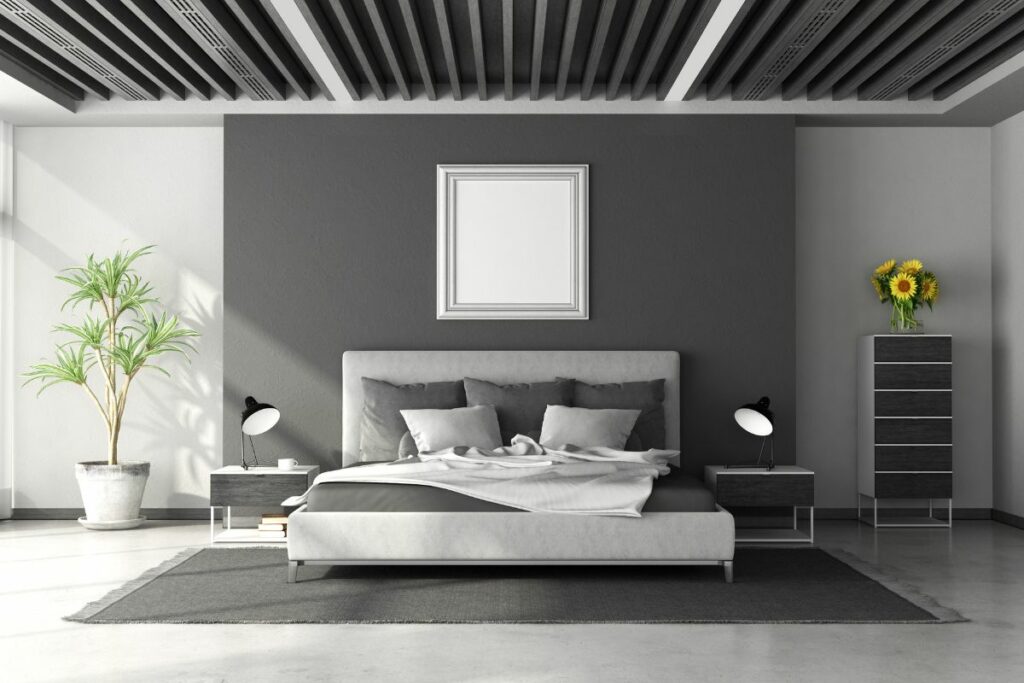 How can you make a feature of a ceiling? An easy way to add some modern flair to your master suite is to paint the ceiling, and we don't mean paint it white. Whether you decide to go dark or keep it light and neutral, you can make an elegant statement with this trend.
Darker colors tend to work better for higher ceilings as they can handle the slightly reduced appearance of height and neutral tones can be used anywhere.
Glass furniture with brushed brass metal edging or beautiful glass pendant lighting blends both old and new for a timeless design that looks elegant in a master bedroom. When it comes to glass features, we don't mean mirrored, just a simple nightstand with a few key pieces displayed on it.
When paired with soft linens and woolen throws you'll feel like you're staying in a boutique hotel in the middle of the country.
Do you have a piece of furniture that you just can't place? It could be a beautiful antique or a statement chair. When renovating the master bedroom, this is the perfect opportunity to design the room to incorporate this piece.
A minimalist room with a wonderfully handcrafted chair or great wooden antique dresser exudes modern elegance.
With this idea, you can be as bold as you like or use it as an excuse to upcycle a fabulous find. The possibilities are endless.
Have you ever seen a fabulously decorated bedroom and noticed that the curtains don't match? Although they may seem like rather small parts of the design, they are still important.
Curtains (Also check out The Perfect Mid-Century Modern Curtains) are a fabulous way to tie a room together and dress the window. For a minimalist vibe, you may want a plain linen curtain that drops to the floor. If you're adopting an industrial style in the bedroom you may want to soften things up with some warm earthy tones. 
To make them pretty and functional you may have to add some blackout backing to certain curtains to ensure you aren't rudely awoken at the crack of dawn.
There is nothing elegant about clutter. A master bedroom should be an oasis to come and relax for grownups away from the hustle and bustle of the house. Coming into a cluttered bedroom doesn't really give off that ambiance.
Before you start any renovation projects in your bedroom, have a thorough clear out. Renovating can be stressful enough, let alone when you have to fight through mountains of displaced bedroom junk all over the house.
Invest in some storage solutions that can work in your closet or in your drawers to keep things organized and clutter-free. 
Hanging pieces of bespoke artwork around your room can create an interesting statement and create a sense of culture. If you already have some favorite pieces, use them to frame the bed or dresser to create small focal points around the room.
Larger pieces can help you to break up any extensive blank spaces in the room, adding texture and warmth. If you don't have anything in mind, use this opportunity to research some local artists and buy pieces that are inspired by the area you live or grew up in.
Opening your bedroom door and seeing a luxurious-looking bed, surrounded by warm tones and textured furnishings leads to the perfect cozy scene.
If you can't picture yourself snuggling up in your bedroom with a good book on a rainy day, then you're doing something wrong. 
To create a warm and elegant bedroom, make use of table lamps and candles for different levels of lighting. This will promote feelings of coziness. Soft furnishings are also crucial for the right atmosphere, texture and pops of color can help to do this.
Wooden elements and features are another way to warm a room. If you have exposed beams, leave them exposed rather than covering them. Utilize any wooden furniture you have too, this can help add warmth to white expanses.
An elegant master bedroom should follow a color scheme to base the design around. Sophisticated color palettes ooze high-quality and promote feelings of tranquility. These tend to include neutral shades, muted tones, and high contrasts.
It's important to decide on a color scheme before you start any remodeling to ensure that all your pieces and design elements will work together.
A trend that has recently made a huge comeback is wood paneling. This design feature is common in period properties and often makes us think of old English houses or country farms.
However, many modern houses have utilized this design to add some luxury to their rooms using a few cheap materials. 
This style works perfectly in a bedroom as the wood paneling can either come halfway up the wall for a modern twist or cover the entirety of one wall for an interesting statement.
Paneling looks wonderful when painted in dark muted tones. Incorporating it into the master bedroom creates a sense of grandeur fit for a queen. 
Final Thoughts
There are so many ways to make a master bedroom more elegant, we've just included our favorites. We hope you found this article useful and inspiring, giving you some fresh ideas on how to make the elegant master bedroom look you've been dreaming of.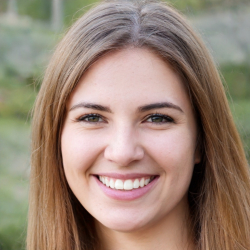 Latest posts by Maisie Park
(see all)