Your bedroom is meant to be your safe haven, the place you feel most comfortable, and the coziest room in the house. What better way to enhance your comfort levels than to redecorate your bedroom in a farmhouse theme?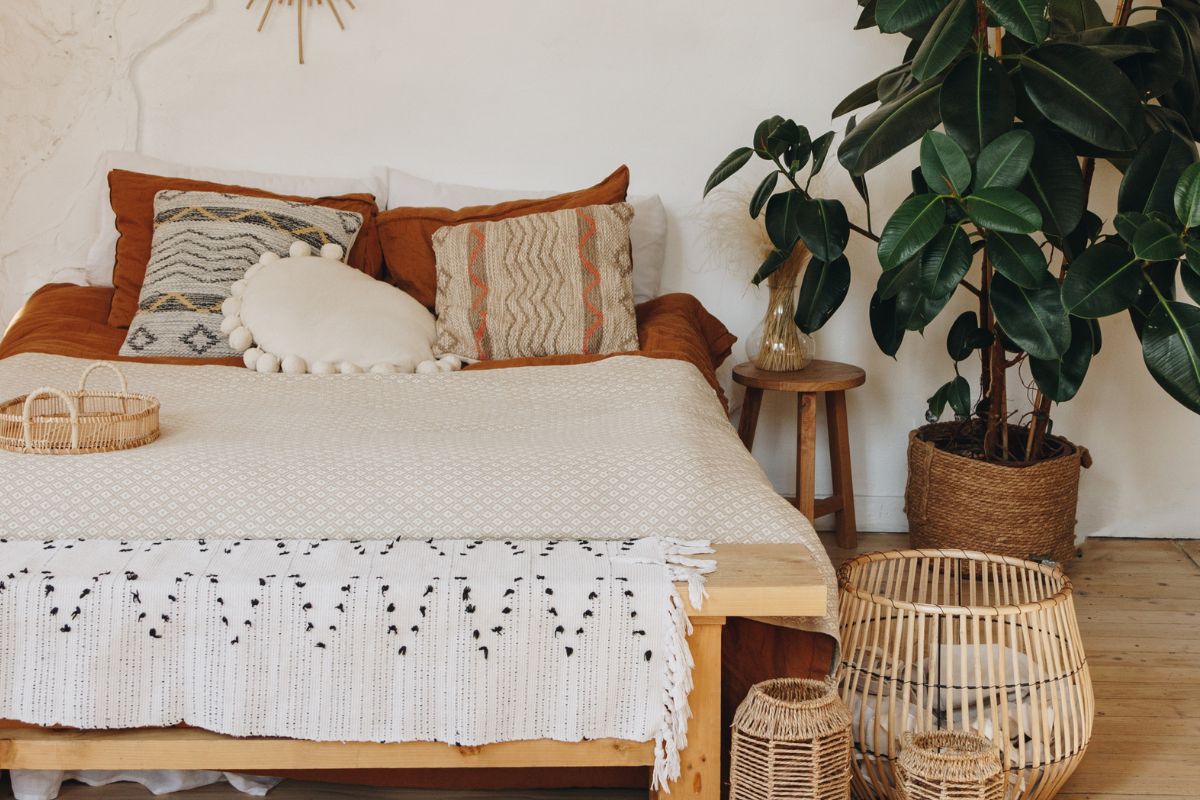 The farmhouse theme is characterized by warm neutrals, a range of textures, natural elements, and a general welcoming vibe. It's a perfect theme for a bedroom, because it's designed to make the room's inhabitants feel cozy and safe.
The best part is that it's easy to add farmhouse elements to your bedroom, even if you don't live in an actual farmhouse!
Here are 15 farmhouse bedroom ideas you'll fall in love with.
The farmhouse style is basically defined by shiplap walls. Shiplap walls provide a cozy, natural, minimalist and rustic feel to a bedroom, providing a classic and simplistic background to set the theme of the room easily.
This wall type comes in various colors, but to stick to the farmhouse theme, opt for white or muted neutral tones. 
The best part about shiplap walls is that they provide a bit more texture than a regular white wall, but they're still simplistic enough to decorate with picture frames and wall hangings. If you can't get real shiplap, you can easily buy wallpaper that looks like that real thing.
A four-poster bed is a traditional piece of furniture in classic farmhouses, so if you're looking to renovate your entire room, then a four-poster bed is a great way to stick to the farmhouse theme.
It's a pretty authentic and old-fashioned bed design, but there's something effortlessly cozy about a four-poster bed. 
Most four-poster beds come with dark brown posters, and some with built-in canopies. Make sure to consider the general color theme of your bedroom, and how much room you've got.
In our not-so-humble opinion, a house isn't a home without a reading corner.
Whether or not you're an avid reader, creating a designated reading corner in your bedroom is a great way to make your room feel cozy and homey – exactly how a farmhouse bedroom should make you feel. 
A reading corner can be as simple as an armchair next to a bookshelf, or even just cushions on a windowsill. Try to opt for natural tones such as wicker and driftwood for the furniture, or a weathered leather armchair if the room has dark brown tones.
Wicker baskets have been used as means for storage and transportation for centuries, so it makes sense to add them to your farmhouse-inspired bedroom!
Not only do wicker baskets fit in with the farmhouse theme thanks to the natural material and appearance, but they also serve a good storage purpose. 
Wicker baskets are great for holding large houseplants, cushions, throws, knitting materials, laundry, and virtually anything that needs a temporary home in your bedroom. The more, the merrier with wicker baskets, so put several in your bedroom to make tasteful clutter.
Vintage rugs look deliberately weathered and well-loved, creating a patterned rug with a distinctive muted overall tone. These rugs are popular in farmhouse interiors, because they work to fill the empty space on the floor without making the area appear overly cluttered.
Instead, vintage rugs work to literally and figuratively warm up a room, which is especially useful if you've got exposed wooden or natural stone floors. Try to stick to a general color theme with the rug, so it matches the other decor in your room.
Wall sconces are often seen as a thing of the past, but they are surprisingly common in traditional farmhouse homes.
Not only do they work to provide light by the bed, but they also serve as great decor for the walls. Plus, it means you won't necessarily need to buy lamps for a side table!
Wall sconces come in a variety of designs, with some appearing more modern than others, which are far more traditional. The traditional sconces look particularly good in farmhouse bedrooms because they simply never go out of style.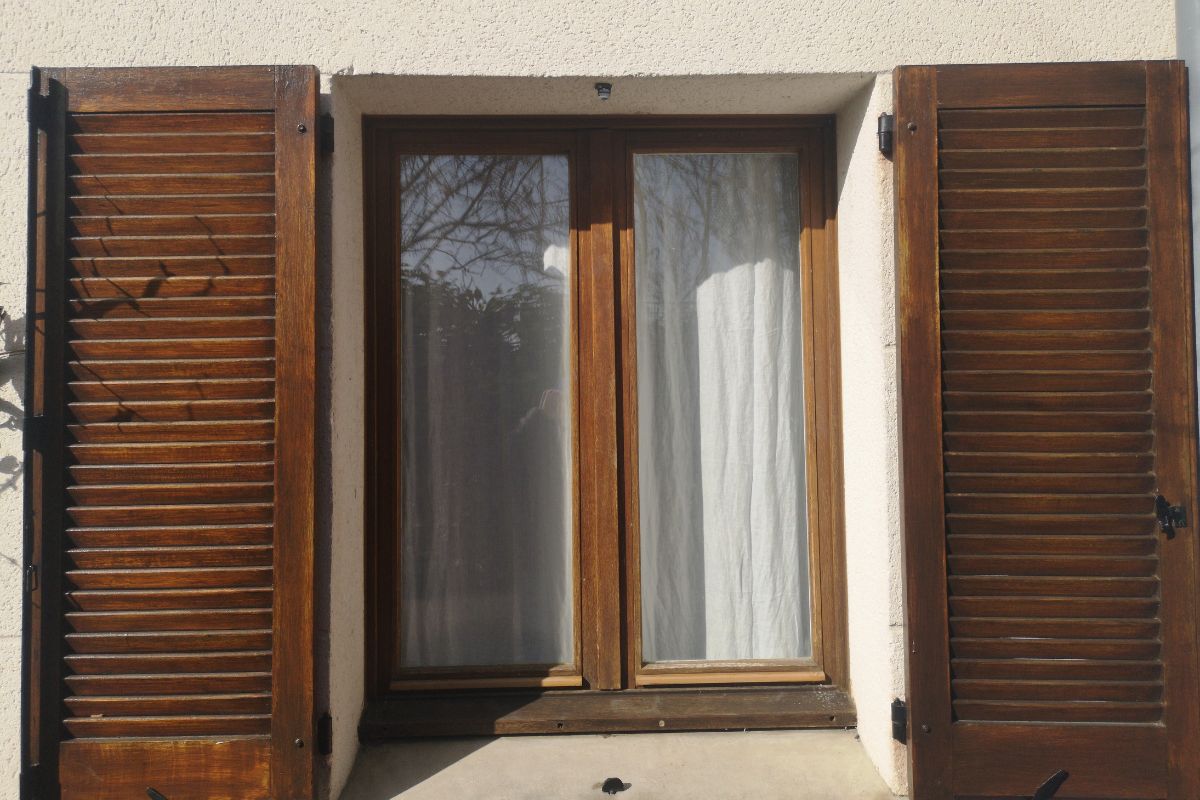 While curtains are probably the most popular way to cover the light coming in from windows, there's something unique about wooden shutters.
It's fairly common to find wooden shutters in a traditional farmhouse, so if you want to implement the classic farmhouse vibe into your bedroom, wooden shutters are the way to go. 
Pale wood is the best way to go with wooden shutters, so look for shutters made of a material such as driftwood. The more weathered the wood appears, the better, as it'll look more rustic.
If you're sticking to dark neutral tones in your farmhouse bedroom, then an antique trunk is a great way to continue this color scheme. Not only this, but an antique trunk also provides brilliant storage for blankets, cushions, books, and hiding Christmas presents!
An antique trunk can be found in any antique or thrift store, and will range from wooden to leather materials. They work particularly well as an ottoman at the end of the bed, but they can also be used as an alternative to a nightstand.
Decorate with a lampshade and plant and place next to the bed. 
There's something so comforting about a proper quilt. Everyone has fond memories of their grandparents when they see a classic quilt, so what better way to feel cozy and safe in your bedroom than with a gorgeous quilt over your bed?
Quilts notoriously fit into the farmhouse theme thanks to the mixture of patterns and colors. When the general color scheme of the quilt is fairly muted, it works beautifully for those who like the appearance of organized clutter. Plus, they work to keep you warm in winter!
If you've got enough surface space to decorate your bedroom, what better way to stick to the farmhouse theme than with farmhouse decor?
Farmhouse decor is typically a relaxed theme that uses a lot of common items as decoration, such as jugs, plant pots, wicker baskets, bowls, and statues of farm animals like chickens. 
The aim with farmhouse decor is to find items that are mostly made of natural materials. Alternatively, items that provide a pop of color are also great for a farmhouse bedroom, such as sage green, pale pink, and creamy yellow.
A sawhorse is typically a wooden frame designed to support materials during a DIY project. They are most typically associated with farmhouses, especially when they are made of weathered wood.
So, adding a vintage wooden sawhorse to your bedroom is a unique feature that fits in well with the farmhouse theme. 
You can keep the wooden sawhorse in the corner of the room completely bare, or hang a tasteful throw or quilt over it to create a stylish feature in the room. It can also work as a handy side table in replacement of a regular nightstand.
There's something about wooden beams that screams farmhouse aesthetic. Unless you live in a countryside cottage that comes with built-in wooden beams, adding wooden beams to your bedroom is a great way to immediately give off farmhouse vibes.
Wooden beams come in a variety of colors, but there's something classic about the traditional dark brown wooden beams. They make the room look deliberately smaller and more cozy, which is suitable for both small and large bedrooms.
When you hire a professional, wooden beams are fairly easy to install, too. 
If you don't want to buy a new bed, you can easily spruce up your bed with a wooden headboard. A wooden headboard works well to tie in the natural textures of the farmhouse theme, and also makes you feel like you've brought an entirely new bed.
You can get wooden headboards in a variety of styles, including polished dark wood and reclaimed driftwood. Either works well for a farmhouse bedroom, but try to stick to one type or color of wood throughout the room to make the bedroom look cohesive.
There's something really classic about traditional candlesticks. Sure, you can provide ambient lighting with regular candles, but candlesticks come in such a variety of designs that it's easy to add them into a farmhouse-themed bedroom.
You can buy vintage candlesticks online, a thrift store, or any homeware store. They might not be exactly vintage, but they will look distressed enough to fit the overall farmhouse theme. Plus, this is a good replacement to having a full fireplace in your room.
Speaking of fireplaces, if you have the room in your bedroom, a fireplace is the perfect addition to a farmhouse bedroom. Not only do fireplaces provide light and warmth, but they also represent the cozy vibes of a classic farmhouse beautifully.
Plus, if you get a log burning fireplace, you can keep wooden logs in your room for fuel purposes and aesthetics!
Conclusion
So, there you have it! Hopefully, this guide has given you some inspiration for your farmhouse-inspired bedroom.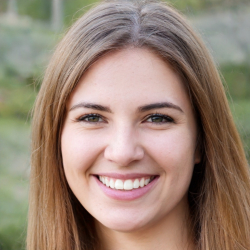 Latest posts by Maisie Park
(see all)