When it comes to decorating your bedroom, a number of things hold weight. These include dressers, the bed, mirrors, and nightstands. These items play a key role in dictating the overall layout of your bedroom. However, bedroom curtains should not be overlooked.
While bedroom curtains do not take up the same amount of space as other forms of furniture, you will still need to find the right pair in order to elevate the aesthetic appeal of your bedroom.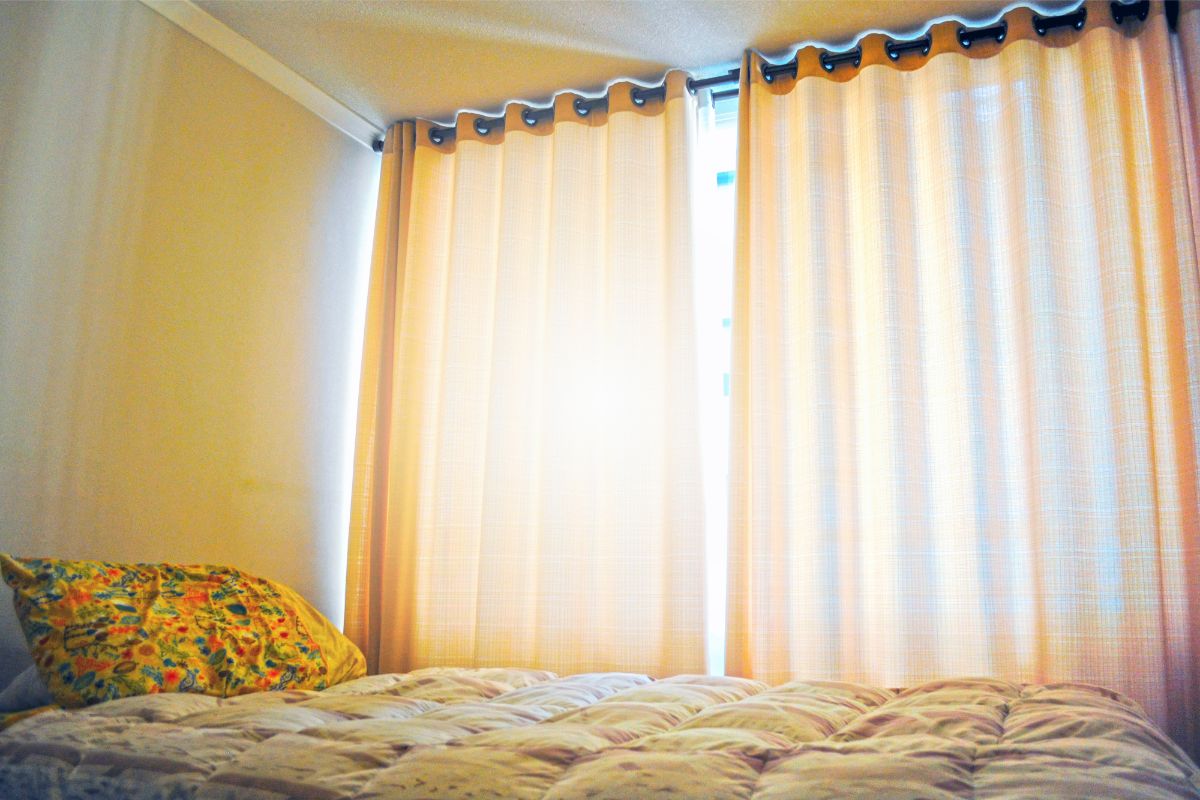 Most people will not know the difference that good bedroom curtains can make until they purchase the right pair! In this article, I will outline 15 of the best bedroom curtain ideas that you are guaranteed to fall in love with!
1. Blackout Curtains
If you enjoy sleeping in and do not want the sunlight to deliver a rude awakening, then these blackout curtains are the perfect option for you. What's even better is that they are not frumpy at all.
You should choose curtains in dark grey as opposed to black to ensure that your room does not become overwhelmed by them. This adds an elevated aspect to the classic blackout look.
Using a more textured form of material like tweed is another means of adding warmth to your bedroom.
2. White Curtains
While the aforementioned blackout curtains are the best option for those night owls reading this, morning people should definitely opt for sheer white curtains.
This curtain style is undoubtedly beautiful and is made from silk, lace, and chiffon alongside a number of lighter materials. These curtains enable you to let the sunlight in and you will not regret choosing these airy curtains.
3. Best of Both
If you are undecided between blackout curtains and sheer curtains, then do not stress. You can easily install a double curtain rod that allows you to have heavier curtains over a lighter variety, thus, you will not have to choose between privacy and sunshine.
4. Long Neutral Drapes
If you are looking to achieve a more refined look for your bedroom, then this classic style of curtain will complement your vision perfectly. Buying a long set of drapes in a natural color is definitely a winning move.
Drapes are thicker than curtains and are typically linked, which provides enhanced protection from sunlight. You should opt for pleated or folded drapes for a more unique touch. 
5. Pinstripe Roman Shades
Roman shades are the perfect option from someone who does not want to install curtains and blinds. These are also incredibly easy to put into place and to pull up and down accordingly. White pinstripe shades and navy blue shades look perfect in a little boy's bedroom.
6. Long Floral Curtains
If you want to add a more feminine touch to your bedroom, then you should consider installing long, formal curtains.
These curtains flow beautifully and you can opt for curtains that are printed with your favorite flower, or that draw on other colors contained within your bedroom for an enhanced aesthetic. 
7. Accent Color Curtains
Curtains are a brilliant way to add bursts of color into a room that is painted a neutral color. Soft pink or lilac curtains bring the essence of springtime, or alternatively, you can choose a brighter primary shade.
If you are feeling bold, do not be afraid to opt for your favorite color as doing so will ensure that you smile every time you enter your bedroom. 
8. Oversized Curtains Pulled To One Side
In order to achieve your Parisian fantasies, you should opt for oversized pocket curtains that can be pulled to one side using a simple knot or a curtain hook. This is a very fashionable and luxurious choice.
9. Tier Curtains
This style of curtain can usually be found in bathrooms or kitchens. However, tier curtains are the epitome of cute. Adding these to your bedroom will provide it with a vintage flair that is to die for!
You should try to choose curtains that have subtler patterns on more decadent and delicate material. This will ensure that the look is not overpowering.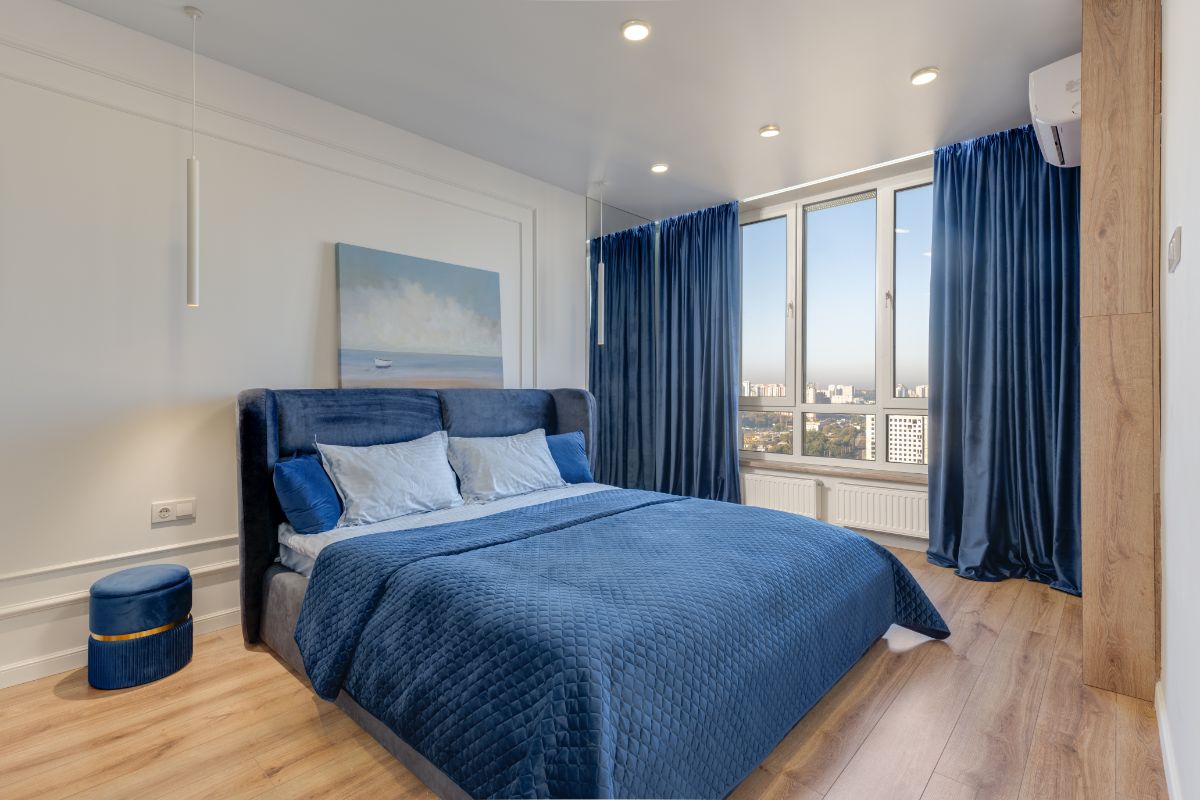 10. Valance Curtains
A valance curtain is defined as a short curtain that hangs down from the top of a window. It is approximately a foot in length .These can be used alongside longer curtains also in order to create a more textured and layered aesthetic.
Using sheer white valance curtains alongside full-length curtains is a wonderful choice for your child's bedroom.
11. Velvet Curtains
Similarly to blackout curtains, velvet curtains are great for blocking out early-morning light. The soft fabric adds more depth and definition to your bedroom.
However, you should bear in mind that these curtains are notoriously difficult to wash. Thus, you will need to take them to the dry cleaners if they become dirty. They also tend to gather dust more readily.
12. Lace Curtains
Lace curtains have numerous benefits, similarly to using sheer white curtains. This is because they are lightweight, delicate, and add an interesting vintage look to your bedroom. Lace curtains derive in a variety of differing designs and patterns.
Thus, you are guaranteed to fall in love with this design. Some lace curtains also come with scalloped edges that add a unique touch to your overall aesthetic.
13. Yellow Curtains
For those of you who reside in rainier climates, then you can brighten your bedroom using some sunny yellow curtains! Irrespective of whether you opt for pastel or bright yellow, this color is renowned for energizing bedrooms and promoting happiness.
You should provide yourself with an abundance of artificial vitamin D by using thees vibrant curtains!
14. Curtains With Graphics
In order to add a more eclectic nuance to your bedroom, you should search for curtains that have fun and interesting graphics printed on them. Using off white curtains with natural-prints is a bold approach that does not overwhelm your overall aesthetic.
Common patterns include animals, landscapes, and plants. See what tickles your fancy and be brave! 
15. Two Toned Curtain Sets
If you have a large window or glass door to cover, then you should opt for two or three tone curtains in differing shades that complement each other. This is a uniquely stylish option in contrast to using monochromatic curtains.
Try to achieve a jewel-toned look without mixing darker colors with lighter colors. Opting for mossy shades is always a winning move.
Conclusion
To conclude, irrespective of whether you want to purchase feminine curtains for your room, or you want to go for a more classic look, you are guaranteed to find the best pair of curtains for you in the list that I have outlined above.
It is important to not limit yourself to safe options. If you are a lover of a certain color, then you should purchase curtains in this shade. This is because the time spent in your bedroom is a key part of your overall lifestyle.
If you have a place that makes you happy when retreating to it, then you are far less likely to become stressed or overwhelmed in your working life.
This is also true for children, if you can choose curtains that complement the overall aesthetic of their bedroom while being designed in a fun and adventurous way, they are more likely to want to spend time in their bedroom, and will feel safe in doing so.
This will inherently reduce their stress levels and help them to get a better night's sleep.
It is also important to note that you should opt for blackout curtains or blinds if you are someone who does not want to be rudely awoken by sunlight in the early hours of the morning.
Choosing blackout curtains in a lighter shade of gray is a great option, as these will not detract from the overall aesthetic of your bedroom.
You can also choose curtains that can be pinned to one side if you are seeking to capture a Parisian aesthetic within your bedroom. These are slender, chic, and undoubtedly beautiful.
It is crucial to note that the heavier your curtains are, the harder they are to wash. Thus, if you opt for a lighter shade, you may need to wash them more often.
However, lighter shades of curtain also tend to be lightweight, and you may not experience as much hassle when washing these curtains.
Two and three toned curtains are also a great option if you are looking to cover a large window or glass door in your bedroom. Choosing darker tones that complement one another is the best option in this instance.
Overall, you are guaranteed to find the right curtains for you from the list above, irrespective of what your aesthetic outlook is. I hope that you have found this article to be helpful, insightful, and informative. Thank you for reading.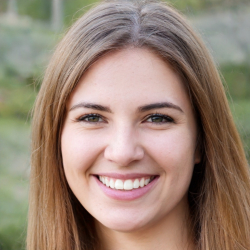 Latest posts by Maisie Park
(see all)