If you want your space to be as relaxing as possible, and not too overwhelming, you can go for a neutral palette and design philosophy to give your room a refreshing feel.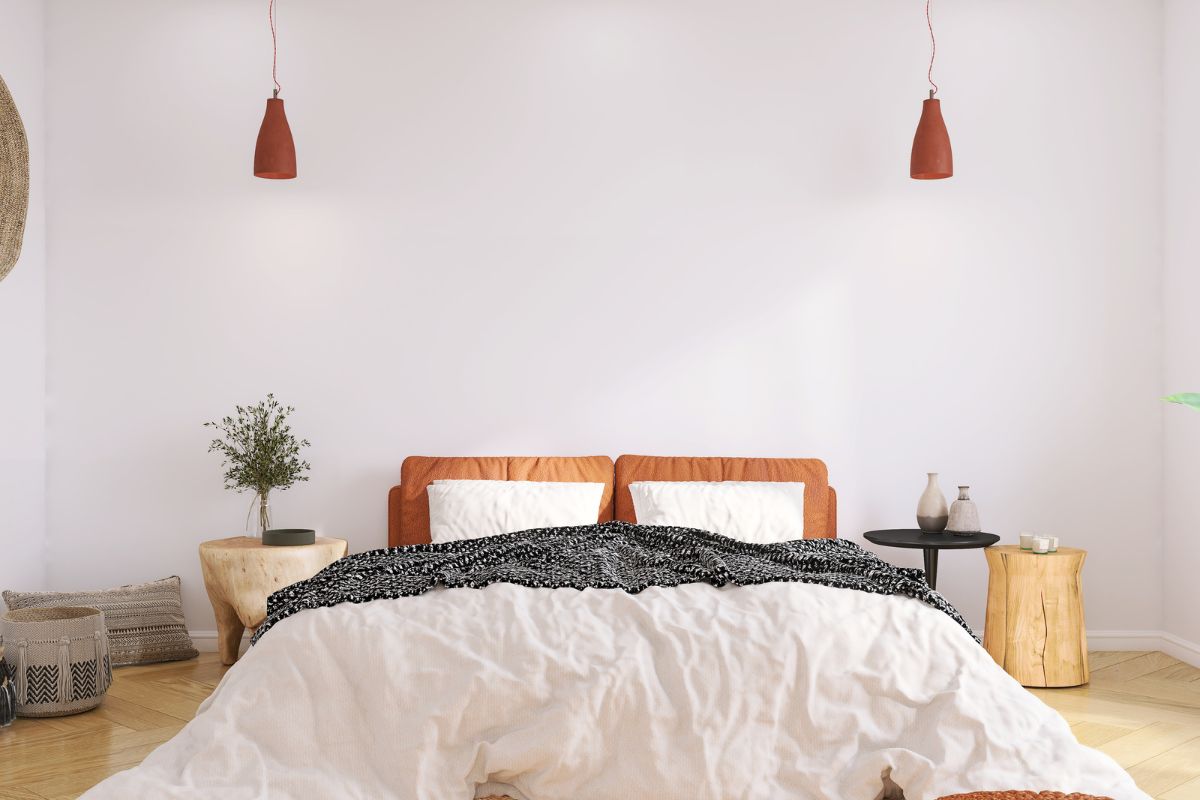 There is a common misconception when it comes to designs which use neutral colors is that they are boring, flat and uninteresting, but this could be no further from the truth.
There is a massive variety of neutral shades meaning you can make your space as unique as you want, while still having the simplicity of the neutral motif to bring it all together.
Also, if you want to avoid following trends and instead want your space to be as timeless as possible (especially if you want to avoid redecorating too often) then investing in a neutral palette is a great idea to try.
Having a neutral color scheme is also perfect for a sanctuary as well as a place to sleep as it will naturally be relaxing and a great welcoming room to come back to after a tiring day.
You can manipulate neutral color schemes to have whatever effect you want, whether that be warmth, or to create a rustic feel, or maybe to give the room a more crisp and fresh feel.
Knowing which hues you want to go with is essential and is a great thing to start considering before you take any massive steps.
But with this out of the way, what are the best ideas to follow if you want to make a neutral themed bedroom?
The Best Ideas For Neutral Bedrooms
With these ideas, we will be trying lots of different approaches, whether this is considering different elements to pair with a neutral room, using different shades and textures, or different particular pieces of furniture to try incorporating.
Whatever your style and budget, you should find something in this list which matches what you are looking for!
Use Soft Curves For A Neutral Look
Using curved elements and furniture in a neutral room is a great way to create a subtly more calming atmosphere. This makes sense when you consider the connotations with sharp edges and corners.
One of the most impactful ways you can embrace this step is to have a curved headboard as this is quite prominent and will help tie your whole room together with a neutral color scheme.
Have A Statement Shade
Using a statement shade to focus on and use for accents is a great idea to make your room unique and include colors which you enjoy.
A common example of this is a shade of gray to tie everything together. Gray is a popular choice for this with how easy it is to pair with other colors and means it will not stand out against other colors.
Of course gray is not the only option, but it is a great idea to follow.
Include Rustic Elements
Rustic elements and a neutral palette fit together very well. Rustic furniture and design motifs are very popular at the moment and are very easy to get your hands on, so finding some beautiful rustic pieces to match your design elements should not be too hard!
These pieces can look amazing when styled in the right way, so keep your eyes open for them!
Layer Textured Materials Like Linens And Wool
Layering different materials is a great way to add depth to your room and make a neutral palette much more engaging to live with.
The extra depth these will give your living space will definitely be appreciated and if styled correctly will make your whole space look classier and much more luxurious. Investing in linens is also something which will be practical as well.
Have A Cocoon Feel With Putty Colored Walls
If you want to give your room a cozy feeling, going for a putty colored wall is a great idea and will make your room feel warmer without being oppressive.
This neutral shade is easy to break up with other colors without making them clash. A great way to style this color is with metallic colors, especially gold looking very tasteful when paired with this color.
Used More Pared Back Nudes
When incorporating nudes into rooms with a neutral color scheme, you will not want them to steal too much focus as they can be overpowering and overwhelming if you give them too much focus.
But they can also be very effective if you use them as accents instead and can really tie your room together. Being a bit more conservative with your use of nude shades will make your neutral room a lot more calming.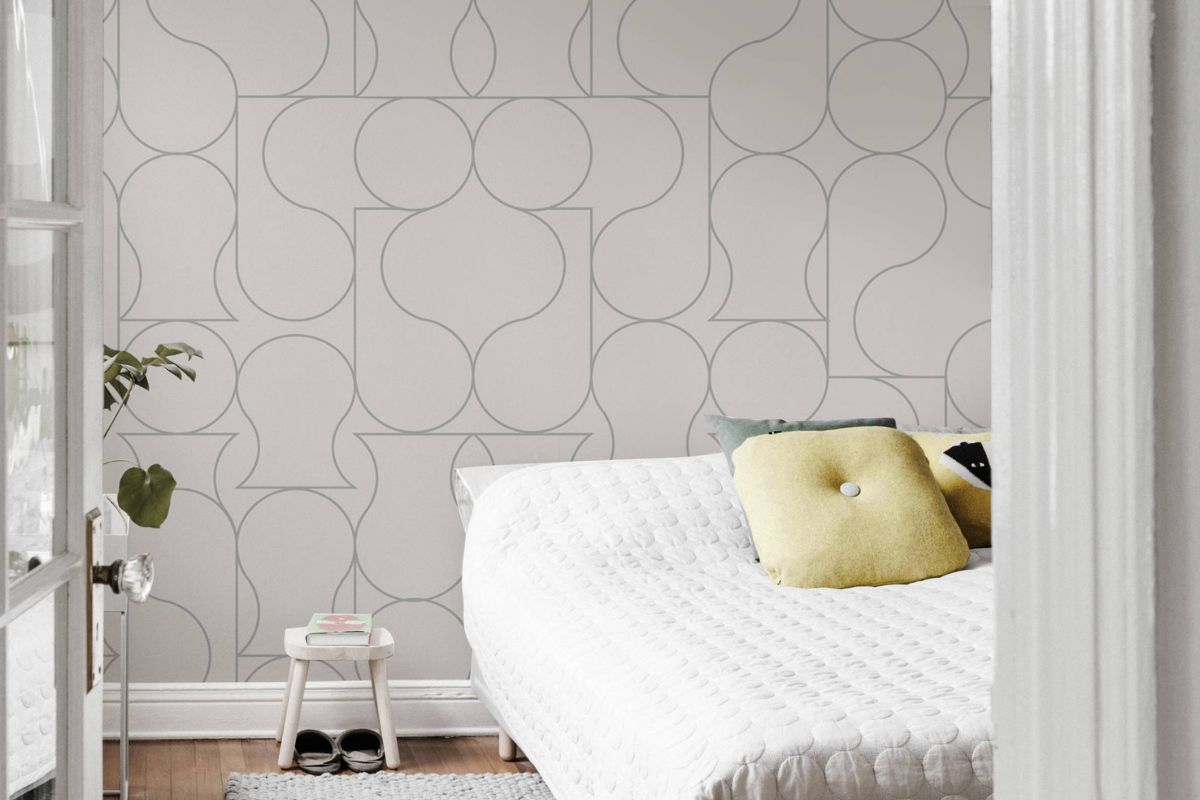 Use A More Simple Geometric Wallpaper
Using a much more simple but still bold geometric wallpaper can tie the whole room together and fix the room more of a focus. Patterns can be incredibly versatile and fun to experiment with when it comes to decorating.
Look around for different patterns once you know a few of the pieces you want to include in the room and you should be able to find one which compliments but does not clash.
Embrace Some Color With A Blush Of Pink
One color which people often overlook when it comes to decorating with a neutral palette is pink, but by using this color you can get an incredibly affective shade to give the room more depth.
We are not recommending an intense pink, but instead a more relaxed and soft blush pink. This shade compliments lots of other shades so try to find one which it matches.
Cover Your Headboard For Some More Texture
If you want to have a less flat a more textured feel in your room, an easy way to add more texture is to cover your headboard with some different materials.
You can use the headboard to hang wools or linen and this serves to give the room a more natural and deep feel without being overwhelming. Since this is more a case of styling, it is easy to experiment with this and see what sticks.
Have A More Luxurious Feel With Silk Sheets
If you like the look of your room but you feel it looks a little too basic and lacks any sense of luxury, one of the best ways to remedy this is to invest in silk sheets.
Of course before making this investment you will want to ensure that you find the sheets comfortable, but once this is done, the sheets will give your room a more refined look without being overpowering.
Elevate Through Strategic Use Of Mirrors
With how simple the color palette of neutral rooms can end up being, mirrors will often end up acting as the centerpiece for these rooms with how interesting they can be.
A neutral designed room is a perfect excuse to invest in a more interesting mirror in terms of design, and these rooms can often suit having a larger mirror than others would.
Perk Up Your Nude Shades With Metallics
A great way to make your nude shades more interesting is to incorporate metallic shades as well.
Of course with this being a neutral room, you will not want the metallic shades to be overwhelming, but by incorporating them in small details and accents, they are a very effective way of tying the look of the room together, as well as a good aesthetic detail.
Incorporate More Patterns And Textures
Like we mentioned in the patterned wallpaper, one of the best ways to make your neutral room more interesting as well as comforting, is to take full advantage of patterns as well as textures.
These are the best ways to add depth to your room and make it a more visually appealing place to be without becoming overwhelming.
Choose A Dark And Prominent Base Shade
This may seem like something which would go against the design philosophy of neutral design, but by using a more dark and more obvious base shade to work off for your room, the room can end up having a lot more of a classy feel as well as having something to tie everything together.
Using a dark base will also make your neutral room more unique and make it stand out from other similar rooms.
Embrace The New Neutrals
Finally, we suggest that you try embracing the new neutrals, this mainly is in reference to warmer shades that are now included under the umbrella of neutral.
These spice shades can be incredibly comforting and cozy and are worth exploring when you are decorating.
Takeaway
Hopefully this guide has given you all the inspiration you need to embrace neutrals and make a unique and comforting space to have as your sanctuary.
You will struggle to incorporate all of the advice in this list, and what will be best is to choose a couple of points on this list to focus on which you most resonate with, and then use these as your focal point when moving on with your project!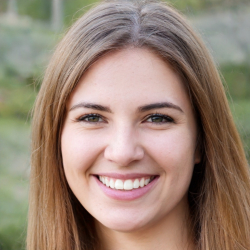 Latest posts by Maisie Park
(see all)