Your home should always reflect you and your style. And you especially want to ensure that you love the decor of your living room. After all, it is the place where you are most likely to spend the majority of your time.
And your paint choices are super important because they can completely influence the overall feel of the room. Some colors are bold and bright while others are cool and calming, and you'll want to use your color choices to set the overall vibe of the room.
But what do you do when you're just not sure? There are so many color combinations and options to choose from, it can all get a little overwhelming.
Well, take a deep breath and settle down because I'm about to offer you 15 different paint inspiration options to help you decide exactly what you'd like.
Living Room Paint Ideas
There are so many different ways to use paint in your living room that I found it really hard to whittle it down to my top 15 favorites. But after much research and deliberation, I finally got there. Here are my top 15 favorite ideas for using paint in your living room.
If you are hoping to add a splash of color to your living room without making the entire room really bright, then you should consider an accent color. As you can see from this living room, the bright yellow of the entrance creates a really welcoming and enticing space.
The contrast between the bright accent color and the more neutral-colored walls helps to really highlight the focal point of the room while also almost separating the room into two.
The neutral walls also allow for some patterned and bold-colored accessories that tie the accent wall in with the more muted room.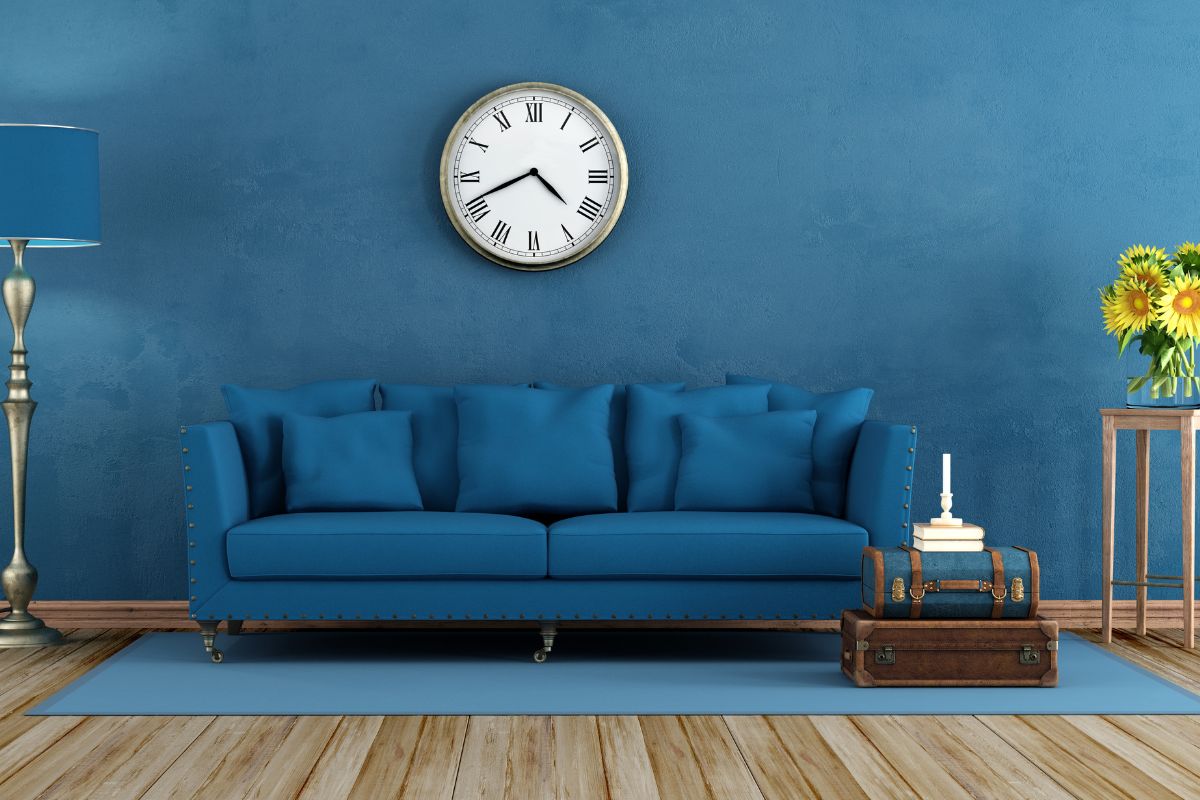 I am the biggest fan of monochrome and doing so in a bold and vivid color is one way to ensure a unique and stunning living room. It is definitely a spirited and brave look, but I think it comes off really well.
The azure blue used in this room combined with the matching walls looks amazing. It really celebrates color and mixed with the wooden tones and metallics is just to die for.
Interior designers love playing around with contrasting colors, so why not take a note out of the professional's book? Pick your favorite contrasting color combinations from the color wheel and kit your living room out with these colors for some fun and vibrancy.
As you can see from this living room they've gone for a deep green shade and a baby pink which contrast but come together beautifully.
Did you know that after white, gray is the most commonly purchased paint color? It doesn't really surprise me. It's a neutral color that has been becoming increasingly popular for its sleek and modern appearance.
When it comes to picking the right gray though, you'll want to get yourself quite a few testers to see which one goes well in your home.
But isn't gray just…gray? Absolutely not. You'll find that there are hundreds of different shades of gray with tons of different undertones. You'll want to play around with these undertones to see which compliment your living room best.
If you want a living room with a real cozy factor, then you should opt for an earthy tone, such as the deep and dark green pictured in this living room.
This darker appearance can make the living room feel smaller than it is which can make it feel much snugglier – perfect for those winter months on the sofa, cup of cocoa in hand, with a movie on the TV.
Pair this with grays and wooden tones for the best effect.
I think painting a living room yellow can seem like a fairly scary idea, but with the right shade, it can really add some sophistication to your living area.
This color works great for smaller living rooms that need opening up a little. It makes the space look bigger and brighter, and it's just such a happy color. You can then add earthy tones to the room to balance the brightness a little.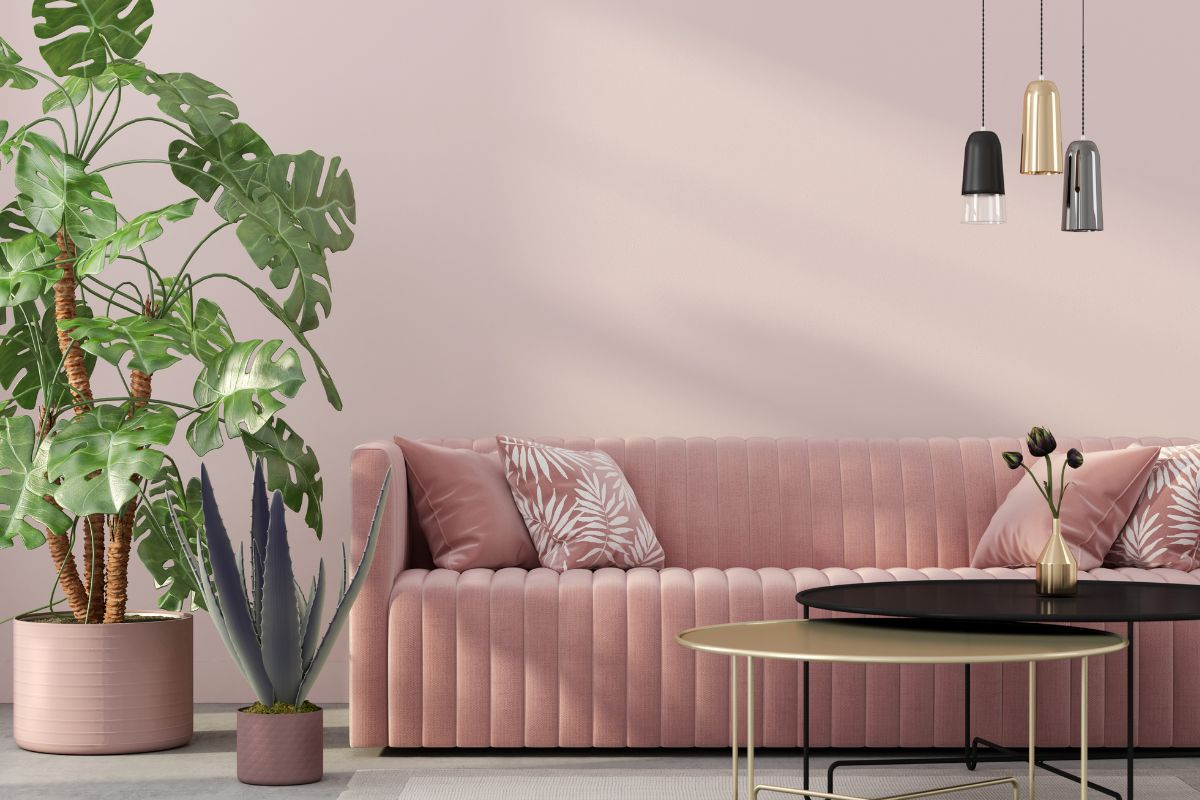 If you have quite a dark living room with little natural light, then adding a pale pink to the walls may help. Pale pinks have a tendency to bring a lightness to the room that keeps it inviting and warm.
It's also been a popular trend for quite some time now. I think it's the versatility of the color that has helped it grow in popularity. You can compliment the color with white or contrast it with deep greens but either way, it's sure to look great.
If you want an old-fashioned classic look, then consider opting for a heritage red shade for your walls. I love this look so much because it really makes me feel like I'm inside a castle, and I am royalty. Every girl's dream right?
No doubt about it, I'd stick with this vibe and enhance it more with bold patterned rugs, wooden accents, and tapestry-style wall art.
If you have an open-planned or broken-planned living room, using contrasting paint and wallpaper for each area is such a unique and interesting idea. And I think this living room speaks for itself.
The lighter, more open wallpapered area is great for day-to-day life while the block-color dark painted wall of the other section creates the perfect ambiance for cozy nights in watching movies or curling up and reading a book.
Color drenching is a great option if you want to make a particularly small living room seem much bigger.
I know that you would initially believe that painting the room in a dark color would make it seem smaller, but when you paint the room from the skirting board to the ceiling it actually creates a massively open and large space.
It also looks so elegant, sophisticated, and cozy.
For those who have high ceilings, it can really make a statement when you paint the ceiling in a contrasting color to your walls. I'd always advise picking a darker or brighter color for the walls and keeping the ceiling fairly light.
Doing this does two things. Firstly it creates the illusion of height and so makes your living room seem much larger and spacious. Secondly, it's a great way to highlight architectural features in your home.
If you're a bright, bubbly, and adventurous person by nature, why not reflect that in your home? We don't always have to play it safe and stick to the 'rule book.' If you like a bold and bright color -then go for it.
A shade such as red is really warm and vibrant and acts as the perfect backdrop for bold patterns and fabrics too. If you're looking for a statement, you should certainly consider opting for a living room such as this one.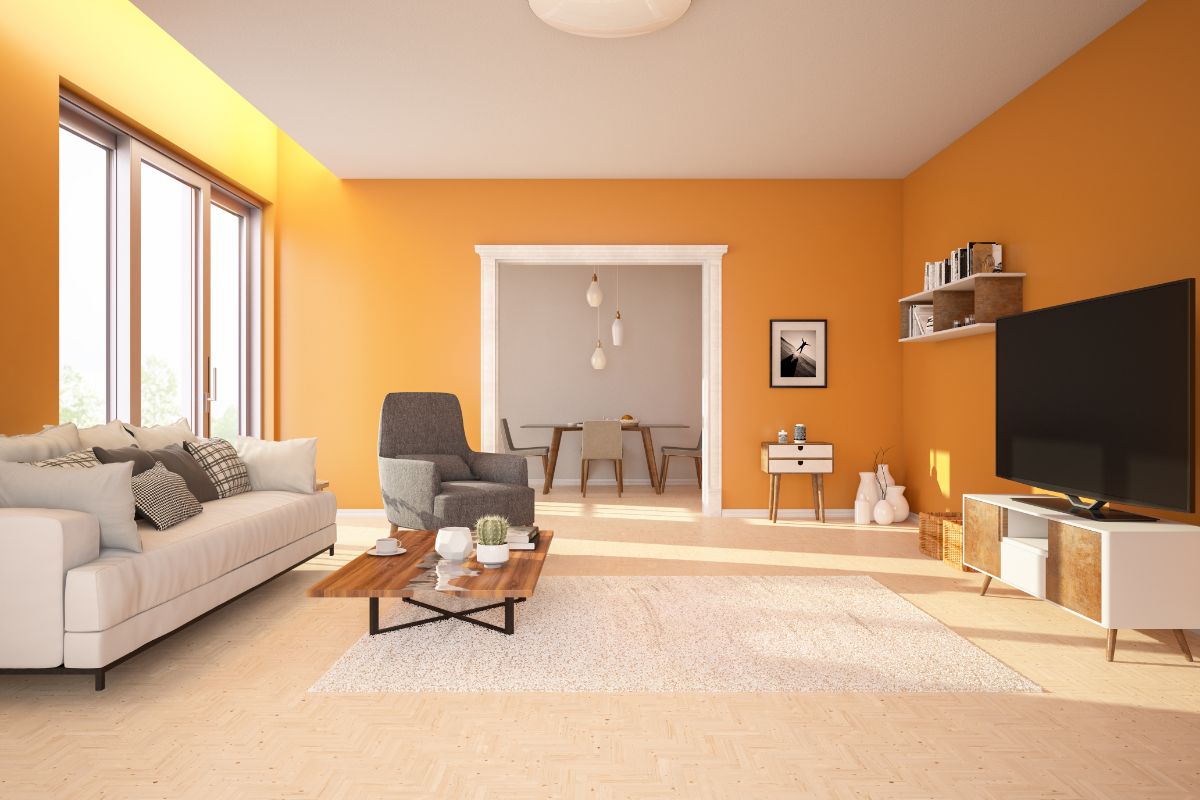 Living rooms are happy places where memories are made, and I love the idea of using color to reflect that. It's hard to not be happy in such a warm and welcoming environment such as this living room.
The one thing I will say is that if you plan on opting for all-orange make sure you add some texture or the room will be very overpowering.
The finish of your paint can be just as important to consider as the color should be. Adding a metallic finish to your home can creathe both light and luxury. I think it gives the room a real regal feel.
Adding a metallic finish to your ceiling will completely transform your room into a much taller and grander spectacle that is sure to have guests basking in its beauty.
Autumnal colors may trick you with their name, but believe it or not they're not just for the autumn. Oh no, these can be used at any time to make a cooler looking room seem as if it has been bathing in the sun for hours.
This burnt orange color evokes such holiday feels that it has be ready to redecorate my living room again! Pairing this color with vivid shades such as the blue of the sofa create a contrasting look that is absolutely gorgeous.
Final Thoughts
As you can see, there are so many options to choose from when it comes to painting your living room. And there's so much more than just choosing a color. The way you use the color can also impact the room. Which idea did you like best? Let us know in the comments below!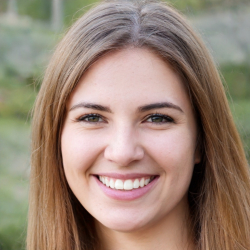 Latest posts by Maisie Park
(see all)