So, you need to decorate the walls of your bedroom.
You don't want to leave it as it is, for whatever reason. Maybe you have just moved into the room, or perhaps it is finally time to try something new.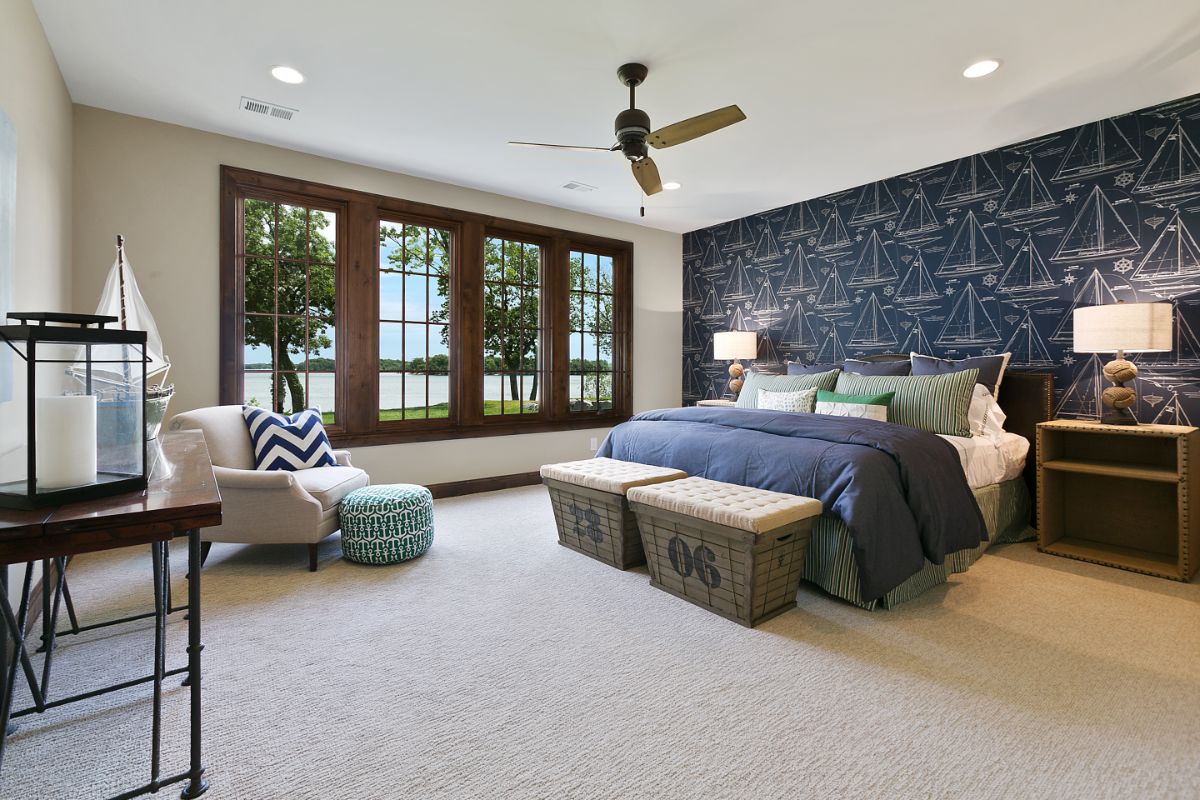 However, you also don't want to start using paint, either. Perhaps you don't want to have to go over that wall or walls more than once, or you feel that it would be too much work for not a lot of reward.
If this is the case, then there is one more option available to you. It's time to bring out the wallpaper rolls.
Now, many people, when renovating a room, may shudder at the thought of using wallpaper instead of paint.
After all, many people still have strong memories of benign stuck in a house with out-of-date wallpaper design that just looked old and too worn down to be appealing.
However, wallpaper is making a big resurgence in the world of interior home renovation, thanks in part to a massive wave of new designers bringing fresh and interesting designs and patterns to this old method of decorating.
That, coupled with the blandness that simply having a wall of paint often brings, or the sheer amount of time otherwise needed to make it look interesting, and suddenly wallpaper is starting to look like a very tempting option for many homeowners.
Here, we show you some of our favorite wallpaper ideas that we have seen in the last few years, as well as how you can use them in your renovations for your bedroom!
Starting us off with a classy design that is sure to grab anyone's attention, we have this gorgeous navy and white floral pattern wallpaper.
What helps a room, or rather wall, in this case, is how the color of the decoration pops off the surface.
And with a deep navy blue flower design against a white background, there isn't much else that it even can do!
The floral imagery almost evokes images of a photo-negative picture that has been taken, although the choice of navy stops that color decision from appearing too harsh against the background.
This is the perfect update to a classic wallpaper design idea!
However, a good wallpaper does not a good bedroom design make.
… Okay, it certainly helps, a lot.
But if you're looking to make full use of a wallpaper pattern or design, then you also need to take into account the design of the room itself, as well as where many objects will be placed.
Take this wallpaper and room design from New York, for example.
The deep orange color of the wallpaper background, combined with the stark white and light pink floral design that falls from above, is already a gorgeous design, in itself.
However, when you pair it with being placed behind your bed's backboard, you have a design that makes it almost look like the flowers are popping from the wall and hanging over your bed!
The positioning between the two room windows only amplifies this effect, beautifully we might add!
Perhaps it is a strong color to have to cover an entire wall, but we are suckers for great orange wallpaper designs.
So, you'd better believe that we adore this citrus grove-esque idea that this room utilizes
While it is used masterfully here, creating the image of a grove surrounding the main table of this room, it would create a very warm and cozy atmosphere for your bedroom too.
The palm beach-inspired citrus farm pattern also creates a sense of shelter, surrounding you from the wall that it is placed on.
Palm leaves have been a staple of wallpaper design for decades at this point. They're practically synonymous with homes that find themselves along the coastline, or by a beachfront, evoking that warm, tropical feeling in the comfort of your own home.
So, why not try and emulate that feeling in your bedroom
The palm leaves and bright pink floral patterns pop against the white background of the wallpaper, creating the illusion of being hidden behind a palm grove or natural tropical shelter.
So, we've mentioned how, for many people, one of the things that have often put people off using wallpaper, at least until very recently, is how the designs on them often felt outdated and tacky.
However, one of the funny facts about fashion is that sometimes, things come back into fashion!
This wallpaper used by Наталья Коалл is a perfect example of that concept.
It takes something, in this case, a light green and pink floral and plant style, that would have been outdated 10 to 20 years ago, and turns it into a retro-esque style that feels homely just to look at.
If you want your bedroom to feel like a quaint little European apartment, this is some great inspiration for you!
This wallpaper design has layers to it!
Rather than simply having a tan wallpaper color (a lovely tan, we might add), the designer here uses a trellis to create an amazing effect that accentuates the base wall color, coupled with the ever-moving shadow of the trellis used.
It's certainly unlike any other wall design that we have seen, for sure!
There's a texture to this room that will unlike anything else that you've ever had in your home.
While it could certainly be considered a bold choice to have this kind of design in your bedroom, it might just be the thing that sets your room apart from anyone else!
Well, asides from this one.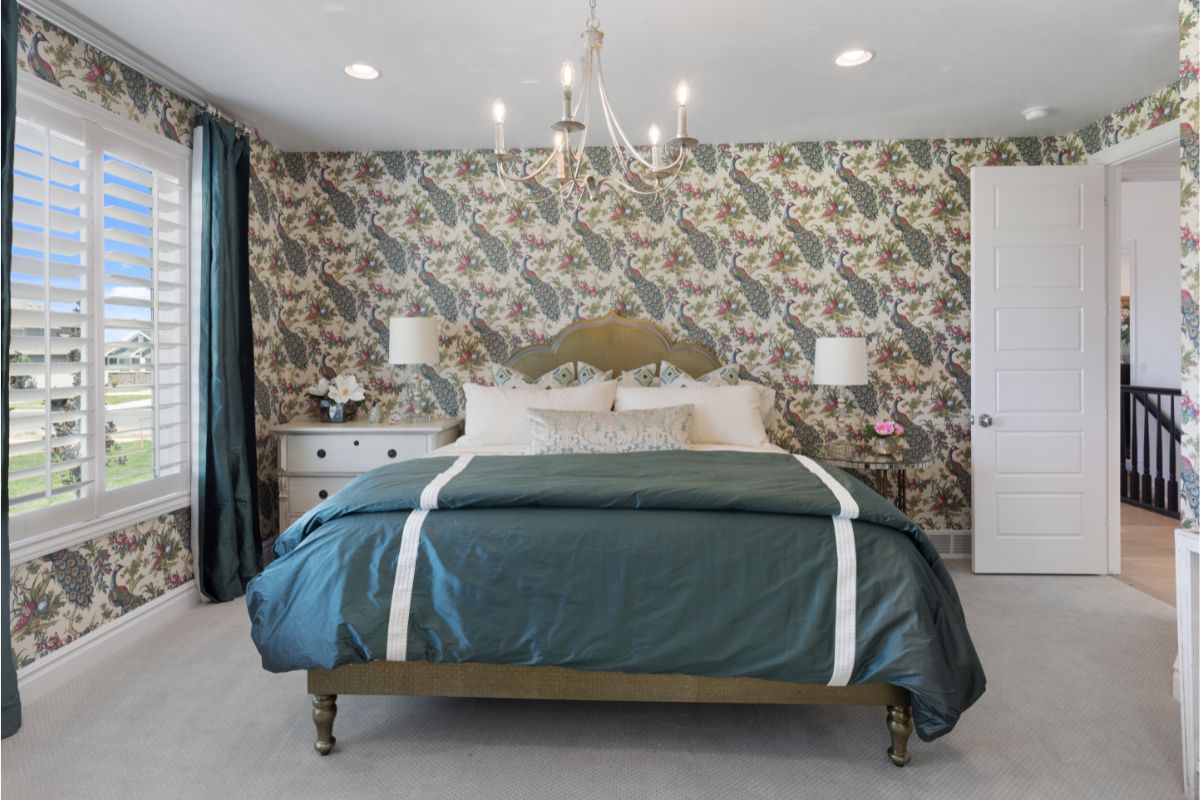 This is the perfect pattern to use for a room that is ready to have twins, or for a guest room with two beds in it.
The climbing purple stripes and flowers give the room a uniform appearance that would make it perfect for guests to stay in.
The woven pattern that runs alongside the floral design almost gives the effect of pillars from a distance, or a beautifully woven basket, stretching across a wall or room.
Plus, the light green bed headboards go very nicely with this shade of deep purple, we think!
As you can probably tell by this point, we just love a good palm tree wallpaper pattern here!
So, why not help bring that tropical aesthetic into your home, too?
One of the things that can often put people off irregular or object/item designs in their wallpaper is the lack of symmetry, or how it often makes one part of the room feel more crowded than it is.
Well, fortunately, this wallpaper manages to have its cake and eat it, by having a uniform navy pattern on the lower half of the wall, and the palm tree pattern on the upper half.
The best of both worlds!
Now, time for something a little more subtle with this entry.
The fret-like pattern that this wallpaper has might seem a little drab at first. After all, with a colder brown color (albeit with a little variety) being the main focus, how do you keep it from looking like an industrial wall?
The answer is simple: It's the perfect color to allow any paintings you may have to pop right off it!
This is the perfect design if you love the imagery in your wallpaper to blend into the background of a room, while also still being easily viewable upon closer inspection.
As we have implied, this is a wallpaper that appears like a uniform color scheme from a distance, with lighter grays mixing with a white background.
However, the moment you take a closer look at it, you realize those colored highlights are in fact objects!
It makes for a fun moment when you see a guest connect the dots for themselves, and allow themselves to appreciate it just a little bit more.
This one is a pretty wallpaper design that is warm and comforting as it is intricate and detailed.
Like the last entry, the wall appears as a solid blue color at a first glance.
However, take a little time to look closer, and you'll find that the pattern almost appears to be cross-stitched with the white background of the paper.
What can we say? Navy blue and white just mix well!
Finally, we have the perfect wallpaper for those folk that is looking to make their young child's room as warm and inviting as possible.
Whereas a pattern like this may not feel balanced in a parent's bedroom, it brings charm and whimsy into virtually any child's nursery or bedroom.
Final Thoughts
So, there you have it!
Hopefully, at least one of these wallpaper concepts has given you plenty of inspiration for your bedroom!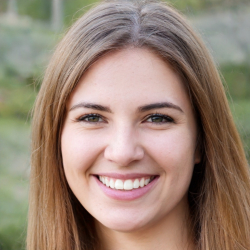 Latest posts by Maisie Park
(see all)