With the weather cooling off and the leaves beginning to fall, it's time to start thinking about adding some creative and beautiful fall decor ideas to your living room.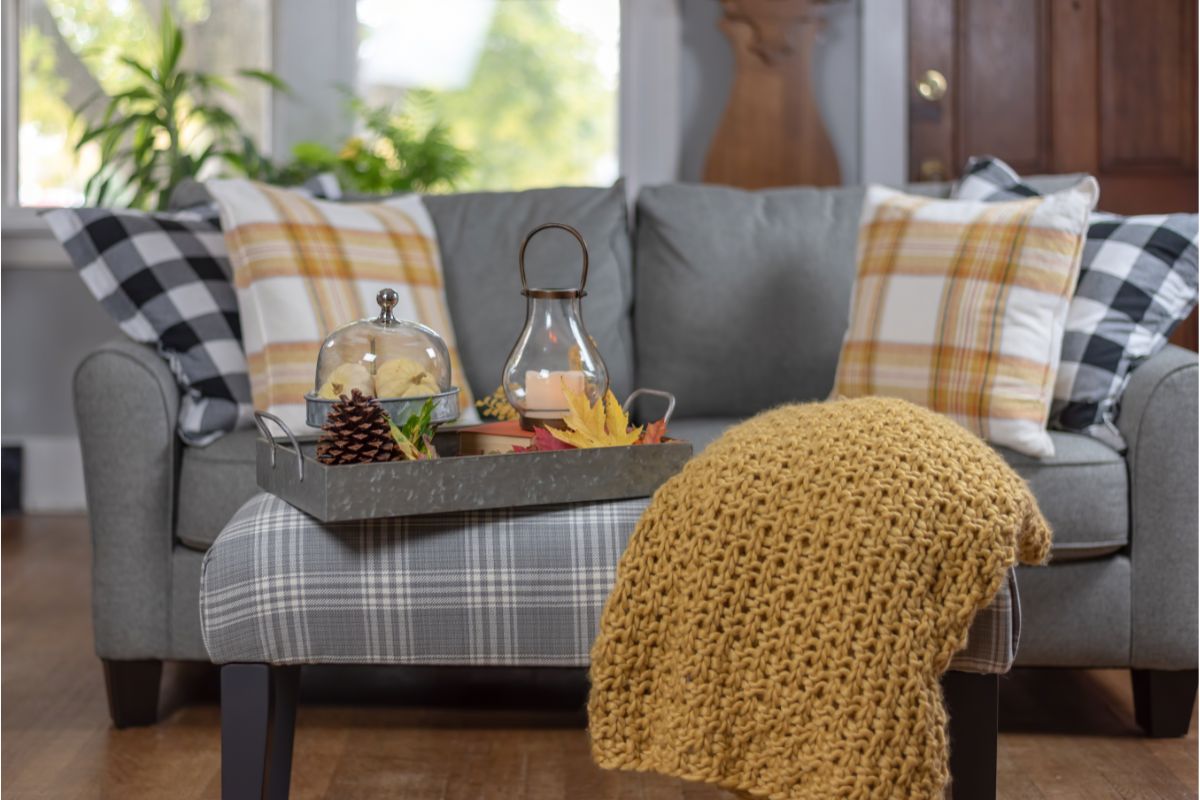 Fall has many distinct colors and themes that make it an ideal base for decor ideas.
You can look to make your living room cozy and a refuge against the cooler nights, or add in some spooky Halloween decor to reflect the season.
Using seasonal decorations is a great way to keep things fresh without necessarily needing to completely redecorate the room.
However, ideas aren't always as easy to come by. That's why we've constructed this list of 15 living room fall decor ideas that you are sure to love.
1. Accent Wall
Having an accent wall in your living room is a great idea as it's an easy way to completely refresh the look of your entire room.
Paint three walls in a neutral color such as beige or cream, and then let your accent wall draw the eye by using a strong color.
Fall is the perfect time of the year for accent walls. The most commonly associated colors with fall include shades of orange, red, and yellow, and an accent wall painted in these colors will add some warmth to your living room and will help it feel cozy and warm.
2. Fairy Lights
Fairy lights have become a very popular decorating item in recent years.
They're a versatile item of decor that can be used in several places around the home and one of the best places is in your living room.
Turn your main lights down and add some atmosphere with a string of fairy lights!
There are many different fairy lights you can consider for fall. Leaves and pumpkins are obvious choices, but even generic shapes in fall colors will work, as well.
3. Fall Colors
When people think of fall colors, they think of the colors of the changing leaves.
If you add any decor that is red, yellow, or orange to your living room, it will instantly look more like fall.
However, these aren't the only colors that will add a hint of fall. You should also consider decor that is colored with berry colors, such as deep purples, pinks, and reds.
You can also add some deep green and this will look especially great when mixed in with the more traditional colors.
4. Fall Foliage Vases
There are a couple of ways you can bring fall foliage into your home.
The first is to opt for fall-themed flower arrangements. You can use dried flowers or even artificial flowers and leaves in fall colors to create beautiful arrangements to last through fall.
Another option is to look for fall-themed indoor plants, such as the Madagascar dragon tree, Snake plants, and Philodendron.
These will need some care throughout the season of course, but they will add some fall nature to your living room.
5. Fall Murals
If you like the idea of an accent wall but want to take it one step further, then fall murals might be what you're looking for.
If you're artistic you can design your own murals but if art isn't your strong point, you can rely on stencils instead.
You don't need to get complicated to make a stunning fall mural. Consider painting single-color and bold outlines of trees and leaves instead of complicated designs.
6. Garlands
There are many different types of garlands you can use in your living room and almost as many different places that they can be placed.
If you want to bring some Halloween flavor to your living room, look at garlands with pumpkins and other spooky motifs. More general fall garlands are usually made from leaves.
Garlands can be used to dress up fireplace mantels as well as sideboards, windows, and tables.
You can use garlands to decorate almost any space in your living room.
7. Make Your Fireplace A Focus
If you have a fireplace in your living room, then fall and winter is when you will really feel the benefit of not only its heat but also its aesthetics.
Fireplaces give you plenty of decorating space from the mantel above it, to the surround and hearth around it.
Many of the ideas in the list are tailor-made for decorating a fireplace. You can also use your fireplace as a theme and consider decorating with wooden logs.
As well as stacks by the fireplace itself, you can use them to decorate sideboards and any convenient spaces you have.
8. Pinecone And Leaves Bowl
This is one of the cheapest options on this list but also one of the most effective.
All you need is an empty bowl, such as a glass or ceramic fruit bowl, and some items to place inside it. 
You can either use natural items or artificial ones. Why not head outside to pick up some pinecones, acorns, and fallen leaves to fill a fall bowl?
Artificial pinecones and leaves are also very cheap to pick up and you can often find them at stores such as the Dollar Store.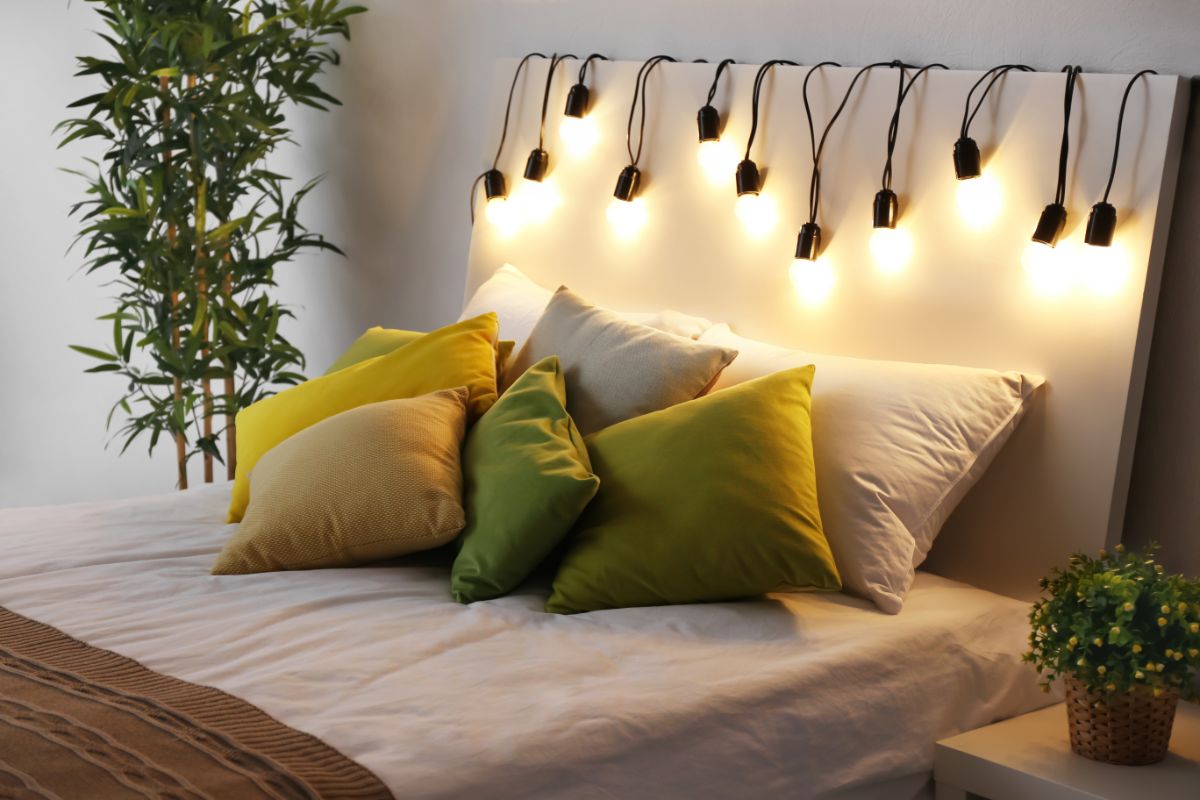 9. Plaid Blankets
Fall brings cooler weather and rainier days and is a season where so many of us want to stay at home in our comfortable and cozy living room.
Nothing says warm and cozy more than some plaid blankets!
Look for blankets that have red and orange included in their plaid to add some of those fall colors to your living room.
You can use the blankets for their intended use and huddle under them for warmth, or you can use them as throw blankets to decorate your couch and chairs.
10. Pumpkin Decor
Pumpkins are an iconic image of both fall and Halloween. Visiting pumpkin patches is a popular fall pastime and pumpkin pies are common desserts.
Plus, who hasn't created a Jack o'lantern for their Halloween decorations?
You can use real pumpkins or artificial pumpkins when decorating.
You don't have to stick to natural colors either as you can easily paint the pumpkins to match the color scheme of your living room.
White and cream pumpkins in particular look great in a living room.
11. Scented Candles
You can add some fall color, decor, and scents to your room with some scented candles.
Decorative candles are popular items for home decoration and there are plenty of fall options available.
Candles look great on mantlepieces, sideboards, and tables.
You can decorate windowsills and any surface in your living room with them, regardless of whether you intend on lighting them or not.
12. Seasonal Lighting
We talked about fairy lights earlier, but you can also consider making larger lighting changes.
Low lighting is excellent during the fall seasons and can help bring that cozy feeling into your living room.
You can consider bringing in table lamps and fall lamps with fall-colored shades.
Swapping out your lampshades is a great way to update the look of your room.
13. Sideboard Displays
If you have some sideboards in your living room, you can use these as a great base for your fall decorations.
There are many different options that you can consider using many of the ideas on this list such as fairy lights and garlands.
You can also consider doing layered displays using a display stand. Fill each layer with a mix of artificial leaves, pumpkins, and pinecones for a wonderful fall decoration.
14. Throw Pillows
Changing up the pillows that decorate your couch and chairs is one of the easiest ways to add some fall flair to your living room.
You can opt for pillows in fall colors or ones with fall motifs, such as leaves or even pumpkins and apples. 
No matter what your aesthetic is, you can find something that will work in your room.
Bold colors, stripes, or patterns can all add something special to your room.
The texture of the pillows can add some extra depth to your room, too.
15. Wreaths
Although wreaths are commonly associated with Christmas and the winter months, there's no reason why you can't start earlier with fall wreaths.
They're relatively easy to make and also pretty cheap, as most of the materials used can be sourced in nature.
We love making the base of a wreath from a collection of twigs and then adding some extra items for decoration and accent.
You can use leaves and pinecones, but also consider using fall-themed items such as cranberries.
These look great when attached to a wreath and are a popular fall item of food.
Final Thoughts
Fall has many exciting themes and colors that you can play around with when it comes to decorating your living room.
No matter what your aesthetic tastes are, you're sure to find something fall-themed that will suit both you and your home.
We hope that the ideas in this article will help you decorate your living room with some wonderful fall decor ideas.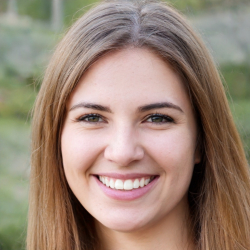 Latest posts by Maisie Park
(see all)