As the world's population grows, so does the need for housing.  However, because there isn't an infinite amount of space, the homes that are being built are getting smaller.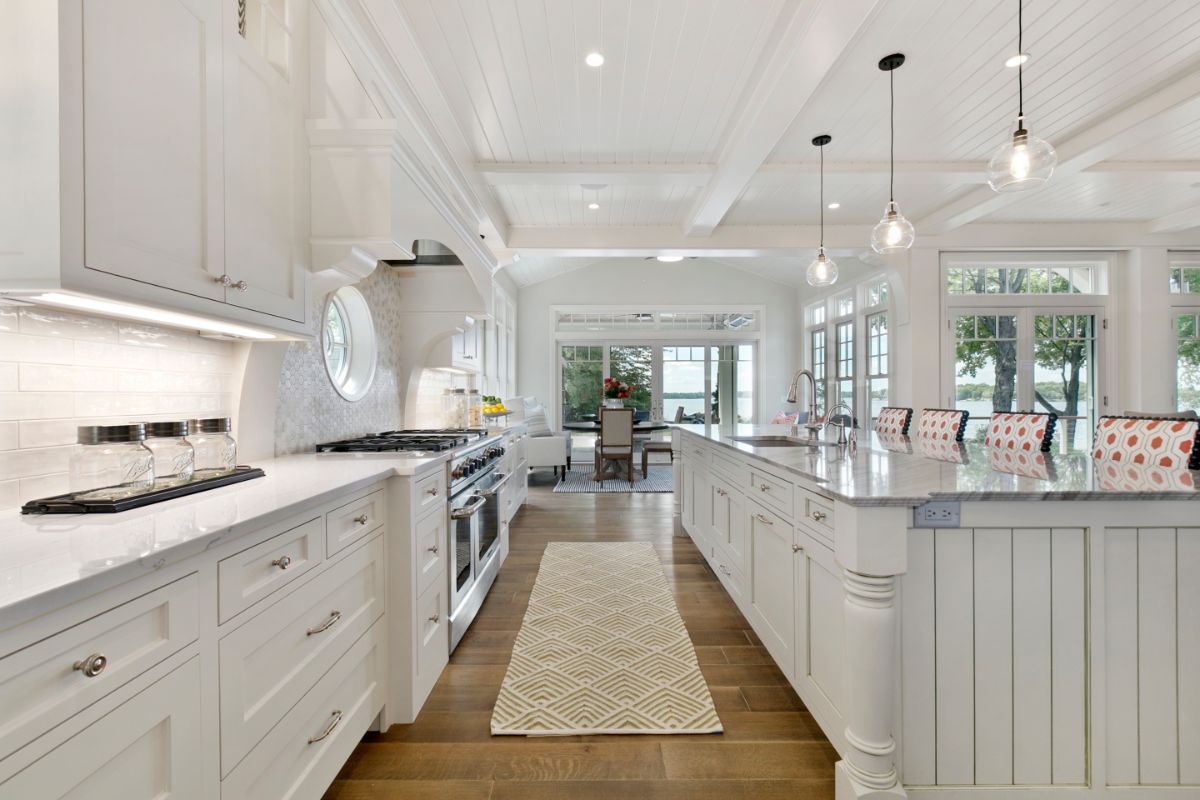 This means that smaller kitchens such as galley kitchens are becoming more and more common.  A galley kitchen can often feel small, suffocating, and dark but this doesn't have to be the case. 
There are many things that you can do to help breathe more life and light into your galley kitchen and most of them won't break the bank.  In this article, we have compiled a list of 15 galley kitchen ideas for a beautiful home. 
One of the main things you can do to improve your galley kitchen is focus on your lighting.  Many galley kitchens can feel very dark because of the amount of cabinets and appliances that are squeezed into the limited space. 
Choosing the right lighting for your kitchen can help counteract this. 
There are many options for lighting your galley kitchen that extend beyond a boring strip light. For example, using multiple pendant lights can create a welcoming atmosphere and bathe your kitchen in light.
One of the main things that can be lacking in a galley kitchen is storage.  Because the square footage is smaller than a regular kitchen, there is less space for extra cabinets. 
However, this doesn't mean that you have to forgo the storage altogether. It just means that you have to be a bit more clever with it. 
Ideas such as this pantry that has been fitted with different draws to maximize the space inside. There are many other types of clever storage solutions for small kitchens that can be found online.
It can be tempting to make everything white in your galley kitchen in an attempt to make the space look bigger and reflect light rather than absorb it. 
However, adding some bright or light colors to your kitchen can help to bring life and personality to the space, making it a more inviting place to be. 
Color can be added by painting shelving, cabinet doors, adding wallpaper or even creating a colorful tiled backsplash. You can even invest in colored utensils and pots and pans.
There is something special about having a kitchen table where you can have breakfast with your loved ones, chat with your friends, or even do some work in close proximity to the coffee machine. 
However, this can feel like something of a pipe dream when you have a galley kitchen.   
Thankfully, with a bit of creativity, you can build in appropriate furniture that allows you to have a small kitchen table and make your dreams come true. If you use built-in bench seating, you can use it to double up the storage space that you have available too.
There are many things that we need to store in a kitchen, from pots and pans to pantry ingredients.  This often means that we need lots of cabinets, but that can become overwhelming in a small space such as a galley kitchen. 
Shelving on the other hand can provide just as much, if not more storage space without feeling like it is closing in on your kitchen. 
If you own your home and have a big enough budget you can remove some of your cabinets and install shelving instead. 
If you are renting or have a very limited budget, simply removing the doors from a couple of your cupboards can open up your kitchen.
As we mentioned above, galley kitchens have a tendency to be darker than regular kitchens. 
While decent and well thought out main lighting can help alleviate this problem, when you are cooking at night, you are likely to create shadows where you are trying to prepare food.  This can be annoying and inconvenient. 
An easy, stylish, and affordable solution to this problem is to install task lighting.  The easiest way to do this is to install touch controlled spotlights beneath your cabinets to create light that is focused on your countertops. 
You can also install LED strip lighting as an affordable solution. 
Because galley kitchens tend to be smaller and darker than regular kitchens, it can sometimes feel like you are being boxed in, especially if there is more than one person in the room or when you have lots of pots and pans out on the side.
A fun and beautiful way to counteract this is to replace some cabinet doors with fabric coverings. Having some small, curtain-like coverings instead of wooden doors can soften the whole kitchen and make it feel less box-like.
Aside from installing adequate lighting to brighten your galley kitchen, windows are a great way to brighten the room. 
Of course, changing your windows in any way can be costly and time consuming, but is a good option if it is within your means.  
However, simply keeping your windows clean and clear from clutter and other obstructions can help to significantly brighten your kitchen. Replacing curtains with a roller blind or venetian blinds can also help allow more light in.
Sticking with the theme of doing what you can to allow more light into your galley kitchen to make it more beautiful and inviting, glass doors are your friend. 
Whether they are glass doors that lead to an outside space or simply glass doors that lead to the next room, they can help. 
Instead of making you feel boxed in when you are cooking like a wooden door, the glass allows you to maintain the illusion of space and extra light whether they are open or closed. 
The perfect middle ground between removing the door altogether and keeping cooking odors contained to the kitchen.
As anyone with a galley kitchen can attest to, counter space is at a premium in these kitchens.  Therefore, it makes sense to invest in as many integrated appliances as possible. 
While appliances such as a cooker and refrigerator don't take up any countertop space, things such as microwave ovens do. 
If you can invest in a built-in microwave oven you can free up a significant amount of counter space. You can even purchase integrated coffee machines that can free up even more space.
We all know that mirrors are a great way to make a small space look bigger and brighter.  This also applies to galley kitchens. 
You may not have the wall space to install a giant mirror that can help make your kitchen look twice as big, but there is some usable space. 
Backsplashes are standard in a kitchen, but they are often made of tile or stone. 
You can replace your backsplash with a mirror to help create the illusion of more space and more light.  If you make the mirror stretch the length of the countertop, it can be incredibly effective. 
We'll say it again, counter space is like gold dust in most galley kitchens. However, you can combat this issue while adding to the style and beauty of your kitchen by investing in functional decor.
Installing things such as hanging fruit baskets and other suspended items, you can clear space on your countertops and add some fun details to your kitchen at the same time.
In the same vein as the hanging storage solutions, draining racks can take up a lot of unnecessary space in your kitchen, not to mention that they can often be unappealing to look at.
However, you can purchase draining racks that have been built to go up and over your basin instead of taking up precious real estate next to the basin. These products often also include storage for your sponges, dish soap, and even hand soap.
Another space saving idea that helps add to the decor of your galley kitchen is to utilize the empty wall space that you have. 
Even if you only have a small area of wall space that isn't taken up by cupboards, you can still do something amazing with it. 
Attaching strips of wood to your wall and installing hooks can create a fun and interesting way to store and display your pots and pans. Not only does this look modern and stylish, but it also makes a great storage solution.
A statement hood doesn't directly help with the small size of your galley kitchen or fix your storage issues.  It does, however, bring style and beauty to the room. 
Finding the right statement hood for your cooker can finish off your kitchen perfectly.
Aside from adding to the overall look of your kitchen, a hood that grabs attention can distract from the small size of the kitchen.
Final Thoughts
There are many great ways to make your small galley kitchen into a beautiful room full of style and clever tricks.  No matter what size your kitchen is, you can make it into somewhere you want to be.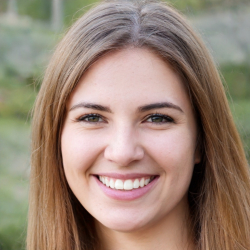 Latest posts by Maisie Park
(see all)