One of the parts of a kitchen that really stands out is the backsplash that is placed most commonly behind the hob.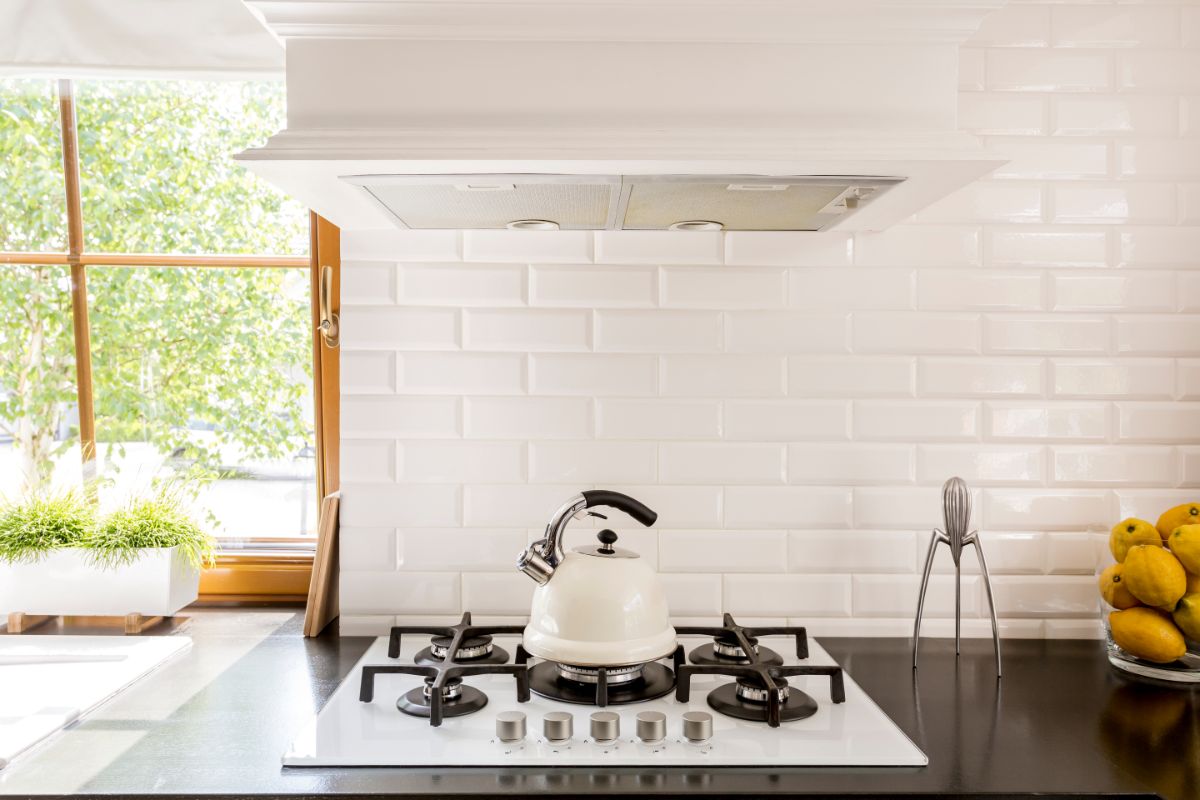 There are many cases in which a backsplash is one of the most overlooked parts of designing a kitchen and functionality is often prioritized over style.
However, it is possible to have a functional and stylish backsplash that really adds to the beauty of your kitchen. In this article, we have compiled a list of 15 of the most beautiful and functional backsplash ideas for a white kitchen.
If your kitchen is predominantly white, having a bright color suddenly added via a backsplash can be very jarring. Instead, you can add a backsplash that is predominantly white with small details of color to break up the monotony.
One idea for such a backsplash is using white tiles with dark grouting.
The dark grouting provides a beautiful definition between the tiles which makes them pop, especially in an all-white kitchen. This type of backsplash works really well with both glossy and matte finish tiles.
If you want to break up the white of your kitchen a little more than just with grouting and bring some nature into your kitchen, natural stone can be a great choice.
Because of the coolness of white kitchen cabinets and countertops, a warm natural stone can look a little bit off but there are alternatives.
Using small, textured tiles made of naturally gray stone can create a beautiful effect that brings a touch of nature into your kitchen while maintaining the sleek and cool color scheme of your kitchen.
If you are looking for a more impactful or statement backsplash, monochrome, patterned tiles are a great way to do that. There are varying degrees of patterns that create vastly different effects in your kitchen.
If you want a more subtle look, you can opt for tiles that have less black on them.
However, for a more striking and attention-grabbing look, you can opt for tiles that feature bold black patterns on them. This is a particularly effective technique in a kitchen that is decorated with all-white fixtures and fittings.
It can also help to counteract the glare of the white kitchen fittings.
If you are looking to add a little bit of glitz and glamor to your kitchen backsplash, white quartz can be a great option. There are a couple of different ways that this stone can be used to create a stunning backsplash.
To create a sleek but glamorous backsplash, a single, large piece of white quartz can be used to create the entire backsplash. This is a more expensive option but the effect is stunning. You can also use white quartz tiles to create a dynamic backsplash.
White kitchens often feature marble, granite, or marble effect countertops. These provide more dimension to the kitchen than a simple, plain white material.
The dimension offered by the patterns in the marble break up the monotony of an all-white kitchen. This is something that can be extended to the backsplash.
Having wisps of gray swirled through a polished marble backsplash can create a beautiful effect. If you cannot afford a large piece of granite for your backsplash, there are plenty of marble effect backsplashes available.
If you know that you want a tile backsplash but also want to make it a bit more special than a standard backsplash, the placement of the tiles can make a huge difference.
Placing the tiles on the wall in a Herringbone style can make the backsplash seem more dynamic and interesting.
The zig-zag effect that is created by this style of tile placement makes a refreshing change from common horizontal placement. This can be an easy way to change up your backsplash using the existing tiles that you have.
If you want to add a bit of gentle and natural color to your all-white kitchen, a masonry backsplash can be really effective. There are a few ways to achieve this effect that can be adjusted based on your budget and structural limitations.
While it is possible for full-sized masonry bricks to be used, this can be disruptive and require significant construction.
An alternative option is to create a masonry backsplash using veneer masonry tiles which are much thinner but produce the same aesthetic effect.
If you want to add a modern, classy, and lavish backsplash, a mirrored backsplash is a great option. While a mirrored backsplash might not be difficult or expensive to purchase or install, the effect that is created.
A mirrored backsplash can create a beautiful effect that can also help make your kitchen look bigger and more open. Keeping the backsplash clean is important to maintain the mirrored effect.
Geometric tiles can be a great option to add dimension, depth, and a funky effect to your backsplash. Similarly to the tiles with dark grouting, the contrast of the white tiles and black lines on the tiles is very effective.
If you are concerned about your white kitchen lacking depth and dimension, this can be a beautiful way of providing a bit of balance and color in a subtle way. It can also add some pattern to your kitchen without adding too much color.
Adding white tiles to an all-white kitchen might seem like it wouldn't be very effective in adding to the beauty of your kitchen. However, with glazed porcelain tiles, the shine and the reflectiveness can add a striking and clean effect.
The use of arabesque-shaped tiles adds a shape to your kitchen that differs significantly from the shapes commonly present in a kitchen which also adds to the effect.
A white backsplash in an all-white kitchen can be somewhat overwhelming or make the overall appearance of the room seem too bland. However, you can add a backsplash that breaks up the white without adding too much color to the room.
small, triangle-shaped tiles in varying shades of gray can help to break up the white of your kitchen without bringing in colors that clash or affect the aesthetic of the kitchen.
Random placement of the different shades can create a beautiful effect.
Creating a mosaic backsplash out of small hexagon-shaped tiles produces a similar effect to the shades of gray triangular tiles. Because the hexagonal tiles used to create this backsplash are so small, it almost created a pixelation type of effect.
Again, using different shades of gray and white help to add dimension to the backsplash and break up the monotony that can result in an all-white kitchen. Specific effects can be created with the different shades by changing the placement of the shades.
For example, the shades can be organized to create a scale from dark gray to light. Similarly, random placement of the different shades can be extremely effective.
Instead of using one large piece of marble to create a backsplash, smaller marble tiles can be used. This creates a very different effect than one large piece of marble.
The pattern of the marble that is swirled through the different tiles is different. This creates a beautiful and varied effect on the backsplash.
Marble effect tiles can also be used for this backsplash at a significantly reduced cost while providing the same effect.
If you do want to keep your backsplash completely white to keep in line with the rest of your kitchen, there are ways that you can add depth and dimension without using colors or shades of gray and white.
Molded ceramic tiles can be purchased in a solid white color, but because of the shape that is molded into the tile, natural shadows are created.
It is these shadows that are created by the mold of the tiles that provide depth, dimension, and even movement as the light changes throughout the day.
Instead of having one large piece of mirrored material to create a backsplash, you can use small pieces of mirrored material to create a mosaic backsplash. With this type of mirrored backsplash, you don't have to look at your own reflection while you cook.
However, you still benefit from the mirror effect that helps to reflect light around your kitchen and create an illusion of more space.
The mirrored tiles that make up the mosaic can also help to reflect the beauty of your white countertops and cabinets.
Final Thoughts
There are many ways that you can create a backsplash that complements your all-white or majority-white kitchen. It is not necessary to change the color scheme of your kitchen in order to create dimension in your kitchen.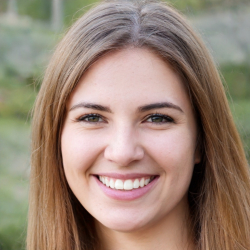 Latest posts by Maisie Park
(see all)