If you have a decent-sized kitchen, then chances are you have a kitchen hood. The big issue with kitchen hoods is that they can be quite the eyesore no matter how nice you make the rest of the kitchen.
However, there are actually plenty of things you can do to spruce up your kitchen hood and transform them into stylish decorative pieces that perfectly match the rest of your beautiful kitchen.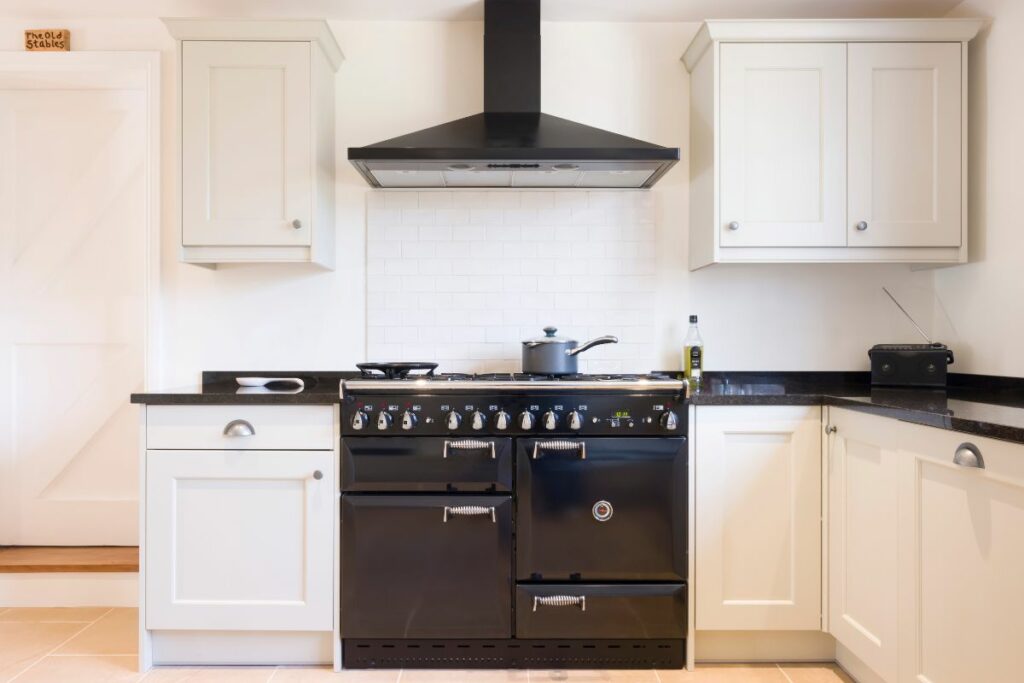 We've put together a list of 15 kitchen hood ideas that will make will make it an asset to your entire kitchen!
1. Be Bold With A Copper
If you are a bit more adventurous with your design choices and you really want a kitchen hood that makes a statement, then a copper kitchen hood could be just what you need.
This is a great design choice for anyone who wants their kitchen hood to be a focal point. Usually, this is a bad thing, but not when it's made of copper!
The bassy tones really stand out and give your whole kitchen a robust look.
2. Go For Something Cuter In The Form Of A Scalloped Hood
If you have quite a cute and soft-themed kitchen that is filled with beautiful decorative pieces and pastel colors, then your kitchen hood is going to stick out like a sore thumb.
One of the best ways to get around this is by incorporating a scalloped range hood into the room so it fits into the rest of the kitchen's vibe.
The scalloped range hood has adorable almost frills on the end of them and this can make the sharpness of the hood a whole lot softer. Your kitchen hood wont be an eyesore anymore if you try this idea out for yourself.
3. Tile Up Your Kitchen Hood
If you have tiles on the walls of your kitchen, then this is a fantastic idea for you to fix the way your kitchen hood looks.
All you have to do is get some extra tiles for your hood and match them up with the ones that already exist on your wall.
This will seamlessly blend your kitchen hood into the wall and it will no longer be a focal point in your perfectly designed kitchen. 
In fact, the raised-out kitchen hood will give the whole kitchen a whole new dimension and it will look absolutely stunning.
4. Incorporate Faux Storage
A great way to mask your kitchen hood is by turning it into "storage". You won't really be able to store anything in your kitchen hood, but if you make the outside appear to look like high-rise kitchen cabinets, it will give the illusion that you have loads of beautiful storage.
You won't have to worry about the sight of your kitchen hood again when you use this imaginative idea.
You may need to spend a little bit of money to get this professionally done, but if you feel confident enough, you can definitely try doing it yourself!
5. Get Rustic With Wood
Keeping your kitchen hood exposed definitely works when you know the right ways to do it! A great way you can transform your kitchen hood is by making it wooden.
You can choose from many different shades of wood, each of which will give your kitchen a more rustic and natural look. Your kitchen hood will look much better when you give it a new lease of life.
6. Be Elegant With White & Gold
If you want your kitchen to look a bit more high-end and elegant, then you can transform your kitchen hood by making it white and gold.
This color combination will give your whole kitchen a more regal vibe, and when the rest of the kitchen matches, the hood will blend seamlessly into the surrounding walls.
Sleek and compact, the white & gold approach never really fails. 
7. Hide Your Vents
Faux kitchen cabinets are one way to hide your kitchen hood, but you'll be pleasantly surprised to know there are plenty of other imaginative ways you can hide this annoying focal point.
You can build a wall extension that completely hides the kitchen vent and all that will remain is an actual wall. This can get a little bit expensive, but if you have the spare cash, it's definitely worth it in order to have a more seamless-looking kitchen.
8. Industrial Hoods Create A Lasting Impression
If you cant beat them, make them better! Kitchen hoods are quite essential, so you cant really strip it out and take it away fully.
If some of the other ideas aren't quite clicking, then do the exact opposite and just embrace the hood! 
One of the best ways you can do this is by going for a more industrial look. The metallic finish will give your whole kitchen a bold and almost futuristic look, and it will become a focal point that you are actually proud of!
9. Paint It Black
You can very rarely go wrong with painting accessories or accents black, and that's definitely true when it comes to your kitchen hood.
If your kitchen is on the lighter side, a beautiful black kitchen hood can add a whole new dimension to the whole room. It's bold, it's daring, and it's extremely sleek!
If you don't want to actually paint it though, you can use black stainless steel. In a lot of situations, the stainless steel option is actually better.
10. Go in The Opposite Direction & Use White
If black doesn't quite suit your vibe or you don't want darker colors, then you can do the exact same thing and use white instead!
White hoods will keep the whole kitchen looking bigger and brighter, and if your walls are already white, it will help blend your kitchen hood in so it's not the only thing you notice when you step through the door.
Just like the black option, white stainless steel is one of the best options you can use!
11. Keep It Simple With Marble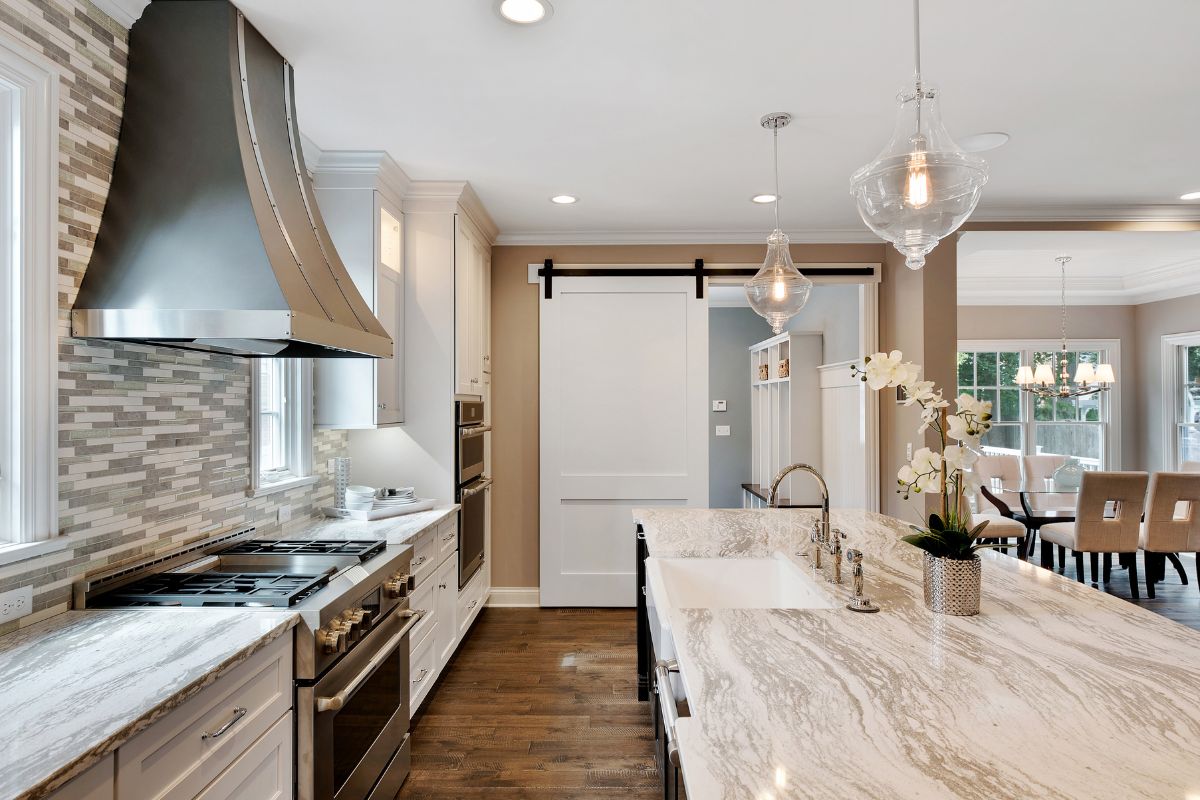 This isn't an option that is as popular, but it definitely should be! Giving your kitchen hood a marble finish is a simple change that really makes a lot of difference.
The beauty of marble is that you can get it in lots of different colors, so you're sure to find a design and shade that matches, or contrasts, the rest of your kitchen.
This is a great idea for anyone who is tired of their kitchen hood ruining the rest of their kitchen's design, but it doesn't require that you spend a lot of money, or take a huge risk!
12. Use Stainless Steel To Contrast
Going back to stainless steel, this is a great material to use for your kitchen hood, especially if the rest of your kitchen is following a wooden theme.
While the rest of your kitchen will look rustic and natural, the inclusion of stainless steel will make your kitchen hood stand out, but in the right way.
It might take a bit of getting used to at first, but if you're more daring in your design approach, this idea will suit you perfectly! 
13. Make Your Hood Out Of Bricks
The rustic brick style is a popular choice for a lot of kitchen designs because it looks so good! The same can definitely be said for your kitchen hood.
By adding a rustic brick pattern to your kitchen hood, you will be able to transform it into a wonderful focal point that is sure to turn heads in the right way.
Any guests you have in your kitchen will be in awe at just how good the bricked hood looks, and when it's done the right way, they will definitely ask you how you did it.
14. Add Lighting Near The Hood
Sometimes, all you need to do to make your kitchen hood look better is take the focus away from it!
Lighting is the perfect way for you to change the focal points in your kitchen. Whether you want modern lighting, rustic, or even just simple, when the lighting is the perfect brightness and it's pretty, your eyes won't be able to stop looking at it.
This is a great way for you to add something new to the kitchen which doesn't always cost a lot of money, and you don't really have to do anything to the hood in order to make it better.
15. Take Advantage of Mosaics
Another great way you can take the focal point away from the hood is by adding a beautiful mosaic pattern to the walls directly underneath.
Mosaics are so eye-catching and busy that your eyes will be drawn to them, and this will really add a whole new dimension to the entire room.
Conclusion
Whether you want to hide your kitchen hood, make it look better, or just take the focal point away from it, there are plenty of ideas you can use to make it look better in your kitchen.
Try some of these ideas out for yourself and see what works best for you!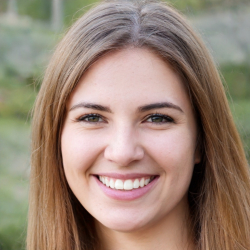 Latest posts by Maisie Park
(see all)