If you love all things natural, aged, rough and casual, you'll love rustic interiors. When we consider redesigning our living spaces, we often overlook our bathrooms.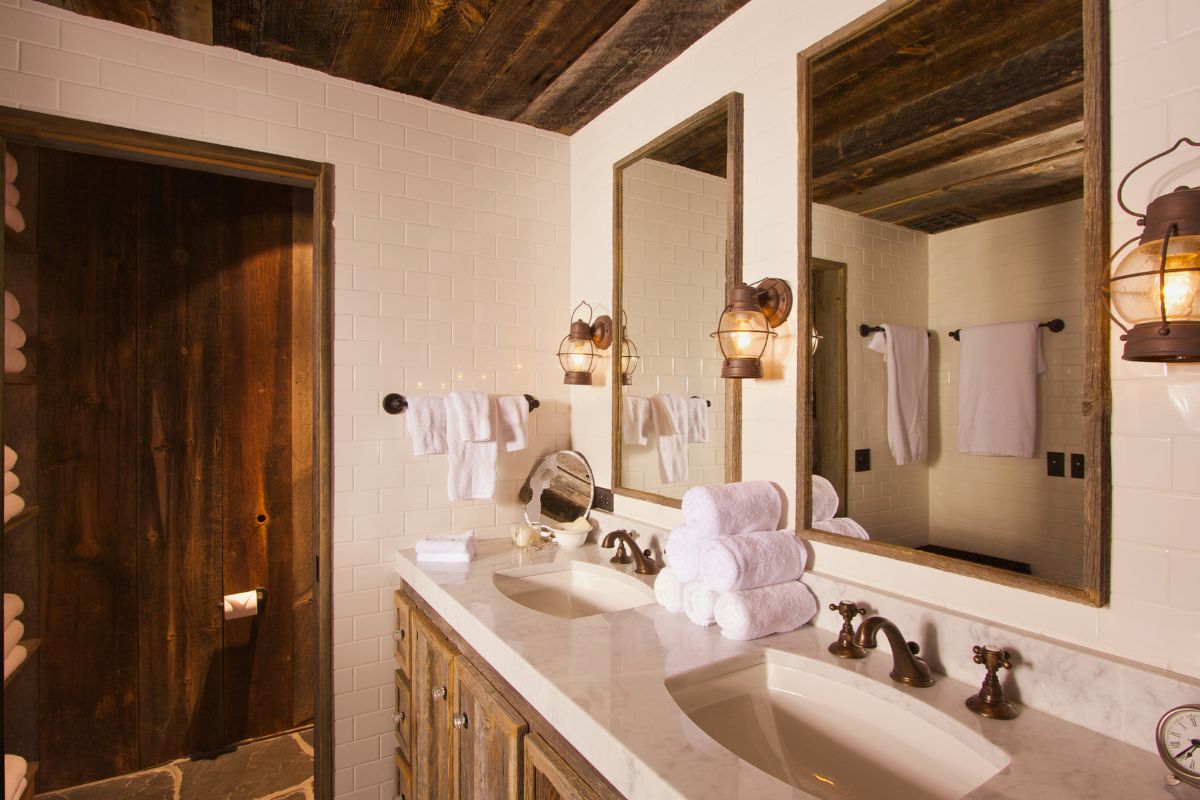 To continue that organic and earthy feel throughout your home, we're here to show you how to bring this traditional design straight into your bathroom with 15 rustic bathroom ideas. 
1. Use Hanging Mirrors
Mirrors are a focal point of any bathroom, but to give yours a real rustic edge, opt for some hanging, weathered mirrors.
Remember: rustic interiors are all about edgy and unfinished looks, so head down to your local antique store and find yourself some wooden framed, hanging mirrors. If you want to go the extra mile, you could suspend these on an iron pulley for a real statement effect. 
If you have a darker color scheme going on, we'd recommend light wood, and for a neutral scheme, mahogany or dark wood should do it. Don't be afraid to show any imperfections – if it's scuffed up, don't cover it up!
2. Wooden Detailing 
Next up, we're talking all things wooden detailing. Wood will bring a natural, lived-in feel to your bathroom, and there are many ways to incorporate it.
If you're using a wooden mirror, don't stop there – you could add in wooden boxes or crates or a vintage wooden storage cabinet and contrast them with your wooden floors (if you have them).
To make things look even more vintage, don't use the same type of wood throughout. Contrast different types of wood, such as pine and mahogany, for a more appealing and warmer look. 
3. Vintage Artworks 
Wondering what to hang on your walls? When it comes to empty wall space, you'd be surprised how many people choose to hang a mirror and call it a day. Try taking things up a notch to create your dream rustic bathroom and throw some artwork into the mix.
Vintage or antique art is a simple way to accentuate your rustic theme and instantly make your bathroom feel more homely. If you want to add a true display of character, use lots of art (if you have the space), and create an arrangement of different sizes to really make it pop. 
4. House Plants
Although we're talking all things bathroom related,  there's one thing all rustic rooms have in common: greenery. Rustic designs are linked inherently with nature, so bring a touch of the outdoors into your bathroom with a few simple houseplants.
If you have a large enough bathtub, simply place one on a corner next to the taps, or display a selection of plants on a hanging shelf or your windowsill. When contrasted with plenty of natural light, your space will feel instantly more rejuvenating and airy.
If you want to push the boat out, attach some fresh eucalyptus to your shower head – it smells delicious, is great for your skin, and is a fun way to bring more greenery into your space! 
5. Plenty Of Natural Light 
Natural light is SO important for creating a rustic space. You'll also want to showcase all of the hard work you've put into redesigning your bathroom, so roll up those blinds and let the light in!
If you're using fabric roller blinds, we'd recommend swapping them out for wooden or bamboo blinds – these often let a little more light in than fabric alternatives, so even if you need them closed, you'll still get a glimmer of the outside world shining through. 
If you have small windows, you can accentuate your natural light by placing a mirror directly in front of your window. This will bounce more natural light around your bathroom, and it will make it feel bigger.
6. Use Hooks And Hangers 
One key theme of all vintage or rustic interiors is a love for displaying things. Whether it's ornaments on a shelf, pots, and pans in a kitchen, or bathroom accessories on display, don't be afraid to showcase all of your nick nacks and practical items.
We'd recommend buying some hooks and hangers and organizing them in a row. Hang your towels, drying clothes, or even some scented lavender bags to create a more homely space. If you have any hanging collectibles you want to showcase, this is also the perfect opportunity. 
7. Repurpose Items 
If there's one thing we love about rustic interiors, it's how versatile and creative they can be. You'll have plenty of creative freedom to repurpose old items and make your bathroom truly unique.
Some rustic bathrooms have repurposed old troughs and turned them into basins, and even used old barrels as towel storage.
If you're a creative thinker, get your cap on and think outside the box – a rustic bathroom is a perfect chance to showcase your talents and put your own mark on your home. 
8. White And Gray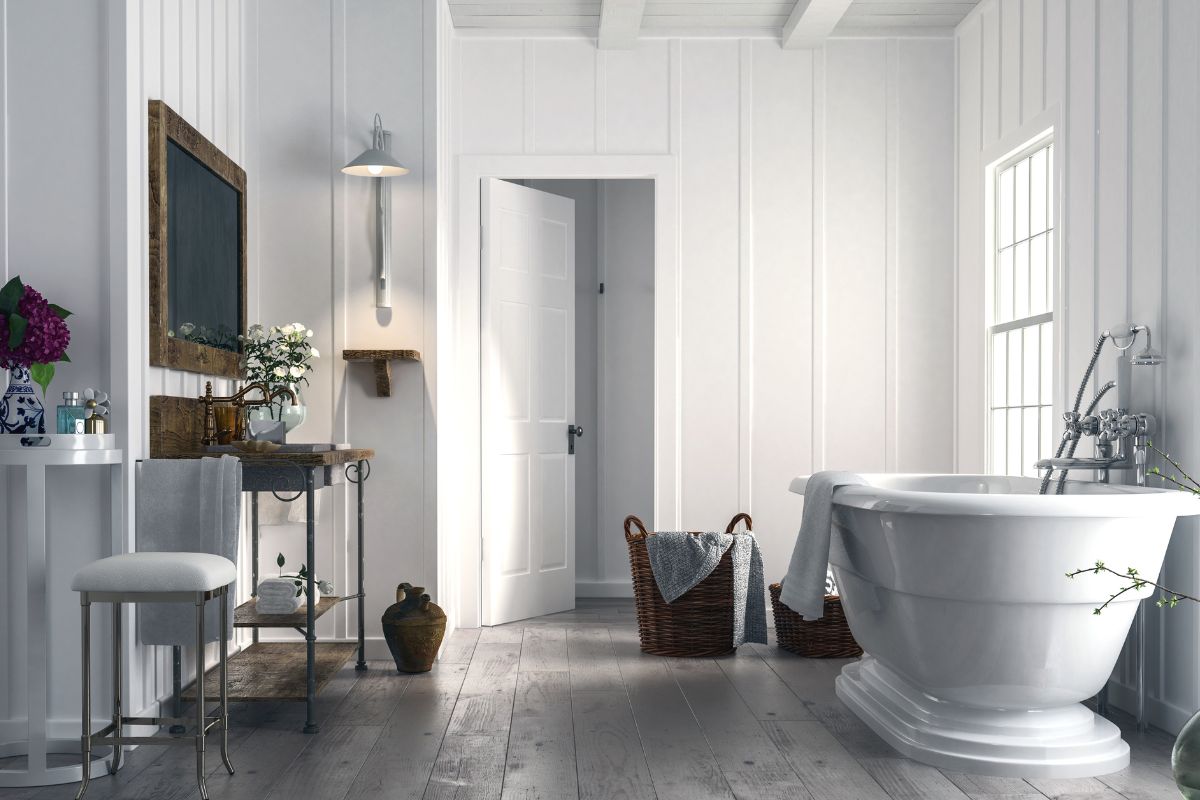 Your color scheme is one of the first things you should consider when designing your rustic bathroom. If you're unsure where to start, take some inspiration from white and gray rustic interiors.
White and gray is a popular two-tone combination for rustic bathrooms and living spaces, and it offers a neutral, warming feel – especially when combined with different textures. If you have paneled walls, for example, your neutrals will really pop, even if they're not bold!
So go for a classic porcelain sink, plenty of white toweling, and contrast with vintage mirrors, light gray counters, or walls for a truly vintage-inspired look. 
9. Exposed Brick 
Rustic designs are made for period properties. If you have traditional features in your home, such as beams or exposed brick, don't be afraid to show them in all their glory.
If your brick is painted white, strip it off and leave it bare – remember, it doesn't matter if it's chipped or weathered; it all adds to the character!
Even just one exposed brick pillar can make you feel like you're stepping back in time when you enter your bathroom, and it'll add an unparalleled sense of character and charm to your rustic room. 
10. Wooden Walls 
If there's one thing we're head over heels for, it's wooden walls. Especially paneled wooden walls. Take a look through some rustic bathroom inspo, and you'll rarely find smooth, perfectly painted walls.
Wooden walls can make a real statement in your bathroom, and if they're textured, even better!
Feel free to leave your wooden walls completely bare for a more natural look. If not, you could give them a lick of paint or simply just fill them with artwork and mirrors so they don't dominate your space. Don't be shy – let your wooden walls bring your rustic bathroom to life! 
11. Statement Radiator 
When you're thinking of ways to redecorate your bathroom, we appreciate that your radiator may NOT be at the top of your list. However, installing a statement radiator can accentuate your rustic interiors.
You may not even need to install a new one – simply adding some extra features or giving it a paint job can be all that's required.
Don't think of your radiator as just a functional object – think about using contrasting colors, add on a towel rack, and don't be afraid to use copper or brass – you'll be surprised how quickly a change to your radiator can transform your bathroom.
12. Add A Wooden Bath Tray 
If you want a simple, cost-effective way to add some rustic charm to your bathroom, add a wooden bath tray. This is such a simple touch, and it'll only cost you a few bucks to source!
We've already touched on the importance of wooden detailing, so if you're lacking in wooden features, you won't want to pass this up.
Add some traditional soap bars or a house plant onto your tray to complete the look, and if you want to carry on the theme, add a wooden soap tray by your sink to bring it together. 
13. Choose A Colorful Tub 
If you have a larger budget to play with, consider treating yourself to a new tub. When you walk in a bathroom, a tub is one of the first things to catch your attention. If you want to make a statement in your bathroom, why not opt for a colorful tub rather than a generic white one?
Light green and white is a great color combination, and if your tub has ornate detailing on the legs, even better. It's a great way to add some vibrant personality to your space while complementing that rustic charm. 
14. Galvanized Storage 
When you're focusing on the aesthetics, it's easy to overlook the practicalities of your bathroom. Don't forget how important it is to have functional storage solutions!
However, we know you'll want to stick to the theme, so if you're looking for some inspiration, why not opt for some timeless galvanized storage? 
Galvanized metal and steel are popular choices, and it's a great way to inject some vintage, country vibe into your bathroom. Whether it's floor standing storage, galvanized bowls, or even a lazy susan, add some galvanized objects for a quick and effective injection of rustic charm.
15. Vintage Wallpaper 
Last but not least, please, please, PLEASE don't neglect your walls. If you're feeling deflated at your lack of wooden walls, all hope is not lost. Some quality vintage wallpaper can still complement your theme and bring your bathroom to life.
So, what do we mean by vintage wallpaper? Well, you could opt for a patterned or floral theme which are the most popular. You'll usually find these in a combination of shades, including blue, white, and red, green and red, or browns and oranges.
If you still can't get over the lack of wooden walls, get some wooden effect wallpaper! This could feature wooden slats, wooden blocks, or even logs. If you are concerned about traditional vintage wallpaper being a bit too 'busy,' this is a great option.
Final Thoughts
If you're ready to feel like you're starting a new life in the country, take a few tips and tricks from these 15 rustic bathroom ideas to bring your space to life and create a bathroom to remember.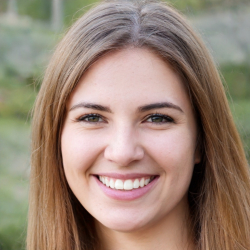 Latest posts by Maisie Park
(see all)