If you're thinking of ways to spice up your kitchen, you're probably not paying much attention to your windows. After all, hanging some new artwork, installing new furnishings, or playing with your light fittings are more important, right?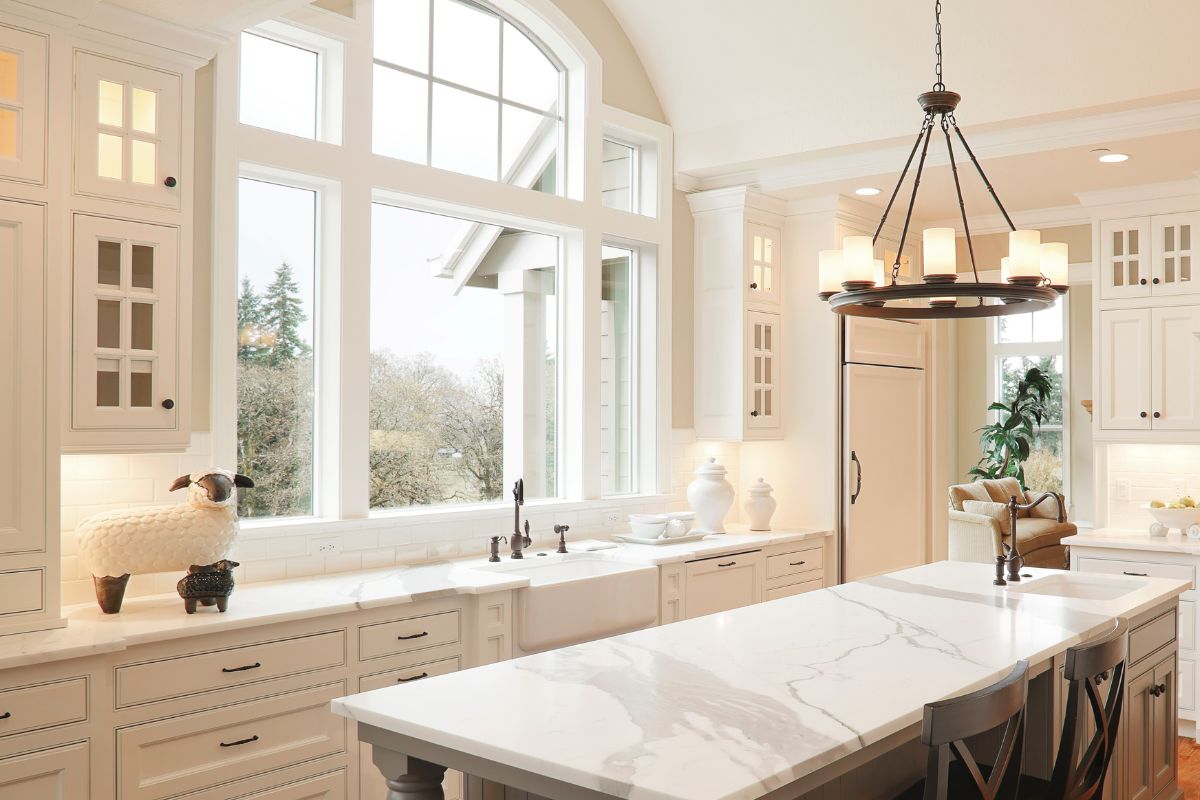 Well, when you put your mind to it, you'll be surprised at just how many things you can do with your windows and how much a new set of blinds, new glass, or a statement feature can transform your space.
If you're ready to be inspired, keep reading to explore our 15 kitchen window ideas for a beautiful home. 
1. Use Tinted Glass 
Blinds and curtains take up space. If you want to preserve the space surrounding small windows but you still want some privacy and style, why not opt for tinted glass? The best thing about tint is it can be as muted or as vivid as you like.
If you want your space to be painted with rainbows every time the sun comes round, you can tint your windows with bold colors. If you want a little more style (and privacy), opt for a darker tint. 
What's more, dark tints can be used in place of blinds, shutters, or curtains, so you'll be saving space with a practical and attractive solution. There's a tint to suit almost any theme, too, making it a great solution for any home.
2. Greenery 
If you're looking for ways to make your kitchen feel more homely, why not install some artificial greenery around your windows? Artificial greenery can be hung around your window frame and can transform your space from functional to whimsical in just a few moments.
If the view from your window is luscious green, you'll feel even closer to nature, too. Because it's artificial, you'll also avoid attracting any unwanted bugs and won't have to deal with maintenance. 
3. Hanging Features 
If you really want to put your own stamp on your kitchen, you might be feeling constrained by traditional solutions like blinds and curtains. So, why not get creative and add a dash of boho-chic with a cute, ropey hanging feature?
If you're not bothered about privacy, these features are an attractive way to breathe new life into your old windows while complimenting any vintage or rustic features in your home.
You could even pair these with the artificial greenery above to transport yourself to a country manor every time you set foot in your kitchen. 
4. Shutters 
If you're not a fan of curtains and drapes, shutters may be just what you need. Shutters are elegant and versatile and offer complete privacy when closed.
However, if you still want to let some light through, you can choose a thinner material, so your kitchen will never be in complete darkness. 
Shutters come in many materials, but wood and plastic are the most common. Shutters can compliment your vibe, whether you've got a dark, industrial kitchen or an airy, cottage-vibe scheme.
If you really want to make a statement, choose bold colored shutters to draw the eye away from other features in your space. 
5. Treat Your Rooflights 
If you're lucky enough to have roof lights, why not consider treating them? Rooflights are attractive, safe, and secure, making them a safe way to let in plenty of natural light, without risking your own security.
If you want to make the most of your kitchen roof lights, you could treat them to help mute that sometimes intense sun glare and give your kitchen a more shady feel.
If your roof lights make your kitchen hot in the summer, this is also a great way to keep some of the heat out. 
6. Fit Some Overhead Storage 
Now, let's turn our attention away from blinds, shutters, curtains, and tint for a moment. If you're looking for more attractive features to add to your windows, consider fitting some overhead storage.
If you have plenty of free space above your windows, you're one of many people that's not taking advantage of it. So, install some overhead storage to maximize space in other areas of your kitchen while making your window more of a statement area. 
This storage could be functional or decorative, and by adding a few lights and some greenery to your shelving, you'll create a warmer and more inviting kitchen in just a few steps.
7. Awnings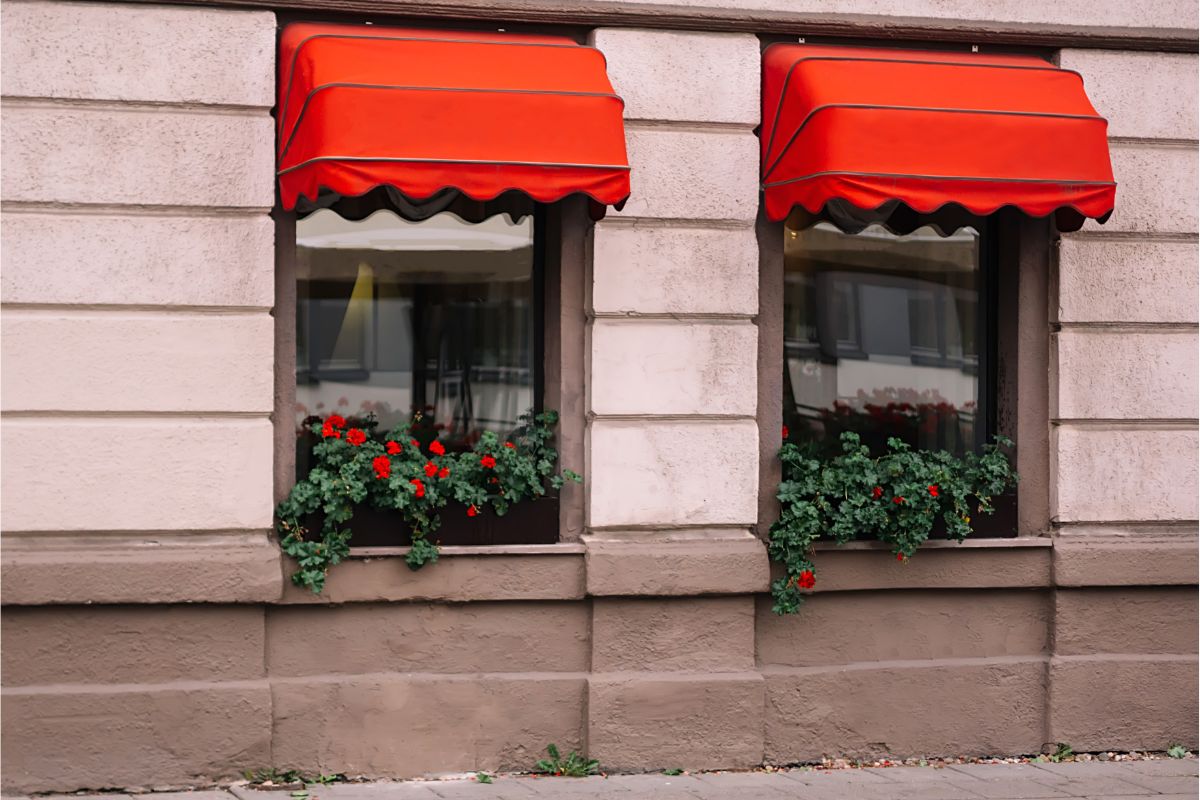 Here's an option we often forget about – awnings. You'll often see awnings in storefronts and restaurants, but they're designed to protect your property against damage from the elements.
However, the awnings you'll see outside your home are different to the ones you'll see inside, so don't expect any stripy, overhead features in your kitchen. 
Internal awnings are much more subtle, but they can still protect against heat, sunlight, rain and snow. Think of them as a sort of box to store your window in! These can even be used in place of drapes and curtains, and they're easy to blend into existing aesthetics.
8. Plant Shelves 
If you want to do something a little different, why not install some plant shelves on your windows? And yes, we do mean ON your windows.
These plant shelves are usually made of clear plastic, and they're attached directly to your window, instantly transforming it into a mini greenhouse.
It'll give your plants access to plenty of direct sunlight and give your kitchen a real burst of nature. Although you could still use blinds or curtains, if you have enough plants, their height may be enough to provide all the privacy you need. 
9. Add Height With Vertical Blinds 
If your kitchen is a little on the small side and you want a quick way to add some more height, install some vertical blinds. Vertical blinds are one of the most popular styles of blinds out there, and they're also simple to install.
Like any vertical feature, these blinds draw your eyes upwards, which instantly gives your small windows a few extra feet. This is a must-have addition to your kitchen if you have a small ceiling. 
10. Window Film 
Next up, we have window film. This film is simple to install, and it can be as subtle or as bold as you like.
If you want to free up space around your windows or ditch the curtains or shutters you've come to hate, window film is an excellent dressing that can give you complete privacy if you need it.
If you want it to compliment your scheme, you can choose patterned or even colored window film to bring your space to life. 
12. Use A Fun Motif 
Sure, kitchens are functional spaces, but this doesn't mean they have to be boring. If you've already got a colorful kitchen, or you simply want to spice up your neutral palette with a burst of color, opt for a fun motif.
This could be on your curtains, shutters, or tint (whatever you prefer), but it can help make your kitchen window feel cheerful and fun. We'd recommend using a fun motif on roller blinds, which are attractive and save plenty of space.
Plus, when you roll them up, they can make your windows feel instantly taller, which is great for small spaces. 
13. Funky Fabrics 
Talking of quirky additions, why not incorporate some funky fabrics into your kitchen window space? Curtains or drapes may not be your first choice for your kitchen window, but the right fabric can give your kitchen a complete overhaul.
If you want to create a country kitchen, a cheesecloth-style fabric can make your space feel elegant and charming, especially if your curtains or drapes roll up and sit fairly tightly at the top of your windows.
If your kitchen gets cold in the winter, this is also a great way to keep the heat in! 
14. Iron Features 
Here's something most people don't consider – iron features. Iron or cast iron features for your windows can offer an unparalleled vintage feel that can transport you back in time and complement those more rustic-style kitchens.
Iron features also work with modern industrial kitchens, so if you're already boasting plenty of task lighting and darker tones, this may work for you.
Iron rods, in particular, can add plenty of character; some can even be custom ordered to make them more unique. We just love them! 
15. Hoods
Last but not least, let's talk about hoods. Whether your kitchen is a vision of modernity or an 1800s cottage, a hood can really give your window a completely different dynamic. This being said, hoods only work if your stove is right in front of your window.
If this is you, keep on trend with a hanging hood to add a different layer of intrigue to your space.
If you have large windows that you want to break up a bit, adding a hood can also divert your eyes away from the length. 
Final Thoughts
Even the smallest of windows have the potential to transform our kitchens – but only if we let them. We hope you can take inspiration from this selection of kitchen window ideas, and with just a few tweaks, you'll be on your way to creating your dream home!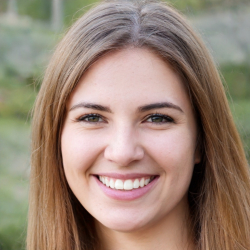 Latest posts by Maisie Park
(see all)