Ahhh, the country kitchen. Most often associated with British culture, this quaint and charming decor combines practicality and tradition to create a scheme that's reminiscent of an old farmhouse nestled in the moors.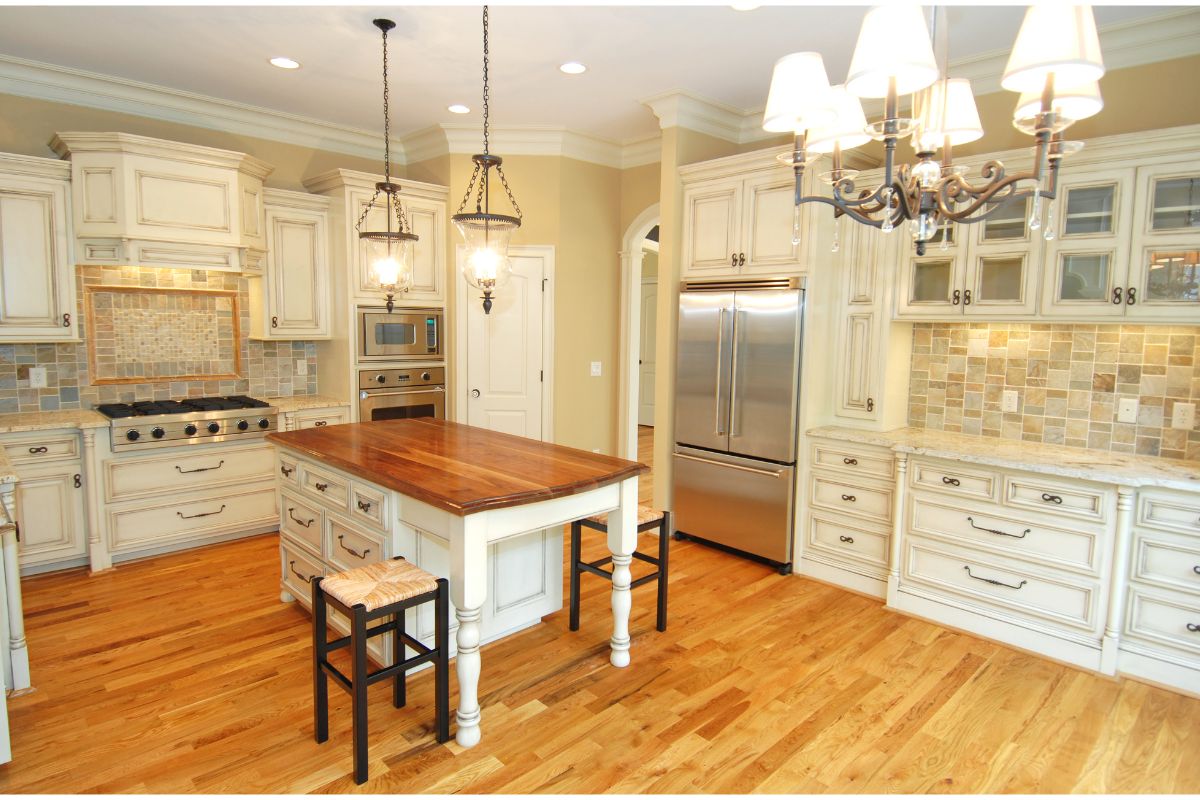 If you want to bring the country kitchen to life in your own home, take a look through these 15 beautiful country kitchen ideas to see just how simple it can be.
1. Install A Pot Filler 
Although there are numerous ways to bring the country feel to your own kitchen, most country kitchens share a few commonalities. You'll usually find that most utensils and crockery are on display to create a more 'lived-in' feel, so why not install your own pot filler?
Pot fillers look great when they're installed above a stove. Not only are they practical (all of your pots and pans will be to hand whenever you need them), but you'll be incorporating one of the most standout features of a country kitchen.
If you style it with copper cookware, you'll be adding an element of warmth that contrasts well with darker colors in your space. 
2. Wooden Beams 
If we're using British homes as our inspiration, you'll notice that most British period properties boast some stunning, exposed wooden beams.
Wooden beams are one of the most sought-after original features in any period home, and if you're lucky enough to have them in your kitchen, you're already on your way to creating a country kitchen! 
Although these might need a little renovation, don't be afraid to show them off.
If you have original wooden floorboards, it's also a great time to repair and replace them too – if they're just a little worn (without significant structural damage), you can leave your beams as they are to bring that rustic statement feel to life. 
3. Neutral Color Palette 
Colors are another important consideration for your country kitchen. If you want to keep things traditional, your best option is to choose a neutral color palette.
Country kitchens have a distinctively fresh and inviting feel to them, so to make your space feel bright and light, opt for timeless neutral colors like white, beige, and brown. This could also involve playing around with natural materials such as wood and wicker for decorative items. 
While it's certainly possible to use darker colors in your country kitchen, we'd always recommend balancing them out with neutrals. Olive green, black, and navy are popular additions.
However, these can dominate your kitchen. So, if you want to use them, see if you can add them to your furnishings rather than your walls and ceilings. 
4. Add In A Dining Table 
Country kitchens are homely and inviting, so if you don't already have one, it's time to add in a dining table. You'll want to create a space where you can bring people together (in keeping with your country theme), so this is a great time to go vintage furniture shopping.
Wooden dining tables are a staple of many country kitchens (the more weathered, the better), and wooden benches are a popular addition for larger families. Your dining table should sit center stage in the kitchen and be minimally decorated for that true rustic feel.
If you want to be a little extra, opt for armorial chairs, which are reminiscent of 18th-19th century period properties. 
5. Expose Traditional Structures 
When we're renovating and creating new themes, it's a perfect time to explore and expose any traditional structures that have remained hidden in your property.
If you have lots of brick and timber flooring and even traditional cabinetry, it's time to let it see the light of day and expose it in all its glory.
Country kitchens are renowned for their traditional structures, so incorporating these into your theme will automatically give your kitchen an unparalleled country edge. 
6. Storage Baskets 
Yes, storage baskets. This might sound a little basic, but think about the theme we're trying to achieve here: period, practical, and rustic. Storage baskets, especially those made from wicker or even wood (think wooden crates), can be a showstopping addition to your kitchen.
They'll automatically inject a bit of that aged, lived-in feel and add some instant texture and character to your space. Pair these against a neutral backdrop, and you'll have a timeless feature that you won't have to break the bank to incorporate. 
7. Texture 
Talking of texture, this point deserves its own character. Any rustic-themed interior, including a country kitchen, will never be all smooth and perfect.
One of the key features of a rustic theme is a weathered interior, so don't be afraid to show off any imperfections in your interior – they all contribute to the character! 
If you can take your mind to an image of barn conversions and 1900's properties, you'll be thinking of plenty of original materials.
Incorporate these into your theme, include stone flooring and timber tops, and don't be afraid of it being too 'busy' – the right materials in neutral tones balance out perfectly in any country kitchen. 
8. Statement Stove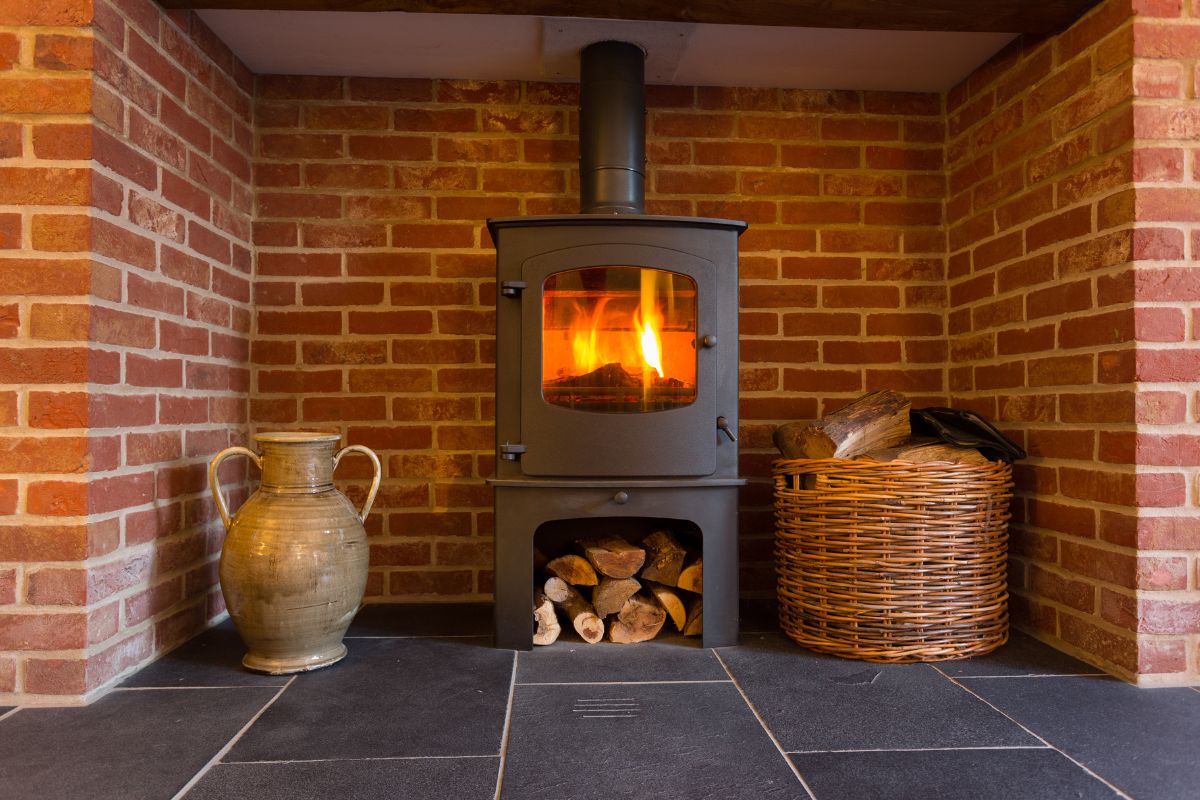 If you think about the key features of a country kitchen, the stove is one of them. Although you can use a traditional, modern stove, it doesn't have quite the same appeal as cozier, more period-inspired stoves.
If you're not sure which sort of stove you should go for, there are two popular options – the aga stove and any wood-burning stove. 
Wood burning stoves are an instant statement focal point in your kitchen, and they'll contribute to that warming (literally) and inviting feel you're striving for. Aga stoves are often hailed as the 'classic English country stove,' and they rely on heat storage.
These ovens feature four compartments (one for the burner and three small ovens) – if you really want to make a statement, this is the way to do it. 
9. Use Open Shelving 
As we mentioned earlier, country kitchens have a very distinct, 'lived in' feel. Nothing is too neatly put together, and one great way to achieve this feel is to use simple, open shelving (the more wooden and rustic, the better).
With open shelving, you can showcase anything from your teas, coffees, herbs, and spices to your favorite mug collection. If you have patterned crockery – even better! Whatever your style is, don't be afraid to show it off in your country kitchen. 
10. Pick The Right Cabinets 
On the topic of storage solutions, let's talk about cabinets. You might be wondering why you need to think about this, but every small detail in your kitchen is going to help build the right interior, so don't overlook them!
Cabinets can be used with open shelving (so you don't have to sacrifice the thrill of exposing your favorite china), but ideally, your cabinets should be wood with in-frame doors.
As for color, these cabinets look great painted and unpainted. We'd recommend keeping it wooden, white, or light sea green.
Choose a cabinet with a glass window so you can display even more of your whimsical kitchen essentials. 
11. Blend Period And Modern Features 
Just because this theme is steeped in history and period features, it doesn't mean you have to throw all traces of modernity out the window. It's possible to blend a mix of both period and modern features together, to give your country kitchen a real edge.
For example, if you already have plenty of period features in your property (such as beams or brick), you could choose more modern furnishings, such as a modern central island or sink and a splash of marble tiling to showcase your style.
You could even add plenty of task lighting around your kitchen to merge the country kitchen and the modern industrial feel together. Whatever it is, don't feel restricted – your kitchen is your playground! 
12. Light Colors For Low Ceilings 
Beams are an undeniable statement feature of any country kitchen, but if you don't have them and your ceiling is a little low, you might be unsure what your next step is. Ultimately, your priority should be on increasing the height of your low ceiling.
The easiest way to do this is to paint it a light, neutral color – if you have any ceiling lighting, ditch those big, bulky lampshades for exposed pendant lights to make your space feel bigger instantly.  
A lighter ceiling will also make your kitchen feel brighter, which is great if you're running low on natural light sources.
13. Tea Sets 
If there's one thing you expect to see in any country kitchen, it's an elaborate tea set. Even if you don't drink tea yourself, having a statement tea set to hand can be a great way to round off the theme of your kitchen and make your guests feel even more at home when they come to visit.
If you're using the English country kitchen as your inspiration, this is even more important – we all know how much the English love their tea, and having a stylish tea set to hand is a great way to round off your look and pay homage to the tradition.
14. Patterned Upholstery 
Although there's been a big emphasis on neutrals so far, let's not overlook the power of patterned upholstery. Traditional country kitchens often have a few eye-catching patterns somewhere, and adding them to your rugs or seat covers is a great way to go.
Patterned elements help break up the neutral streak and add some extra depth, texture, and character to your kitchen.
If you have an island or dining table that you want to be the main feature, adding some upholstered stools is a great way to make it the instant statement piece of your kitchen. 
15. Chandeliers 
Last but not least – chandeliers. If you want to contrast your rustic kitchen with some modern luxury, adding a chandelier to your kitchen is a real power move.
These elegant fixtures add instant beauty and charm to any space, and even when your kitchen is at its most messy, it'll always feel put together and luxurious with a chandelier. 
For a country kitchen, we'd recommend choosing a chandelier with some ornate decorative detailing, such as silver flowers, and using warm-toned lighting to still bring a homely touch to your interior.
Final Thoughts
Country kitchen lovers, there are no excuses now – get those open shelves, tea sets, and wooden features at the ready; it's time to bring your dream kitchen to life!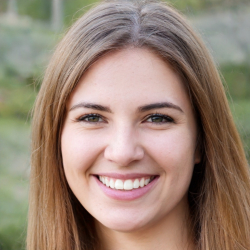 Latest posts by Maisie Park
(see all)