If you are decorating your home in the much-loved country style, then you can't forget about the bathroom!
The finest concepts for a country bathroom make use of components and patterns that allude to both the architectural style of the structure and the landscape that can be seen through the windows.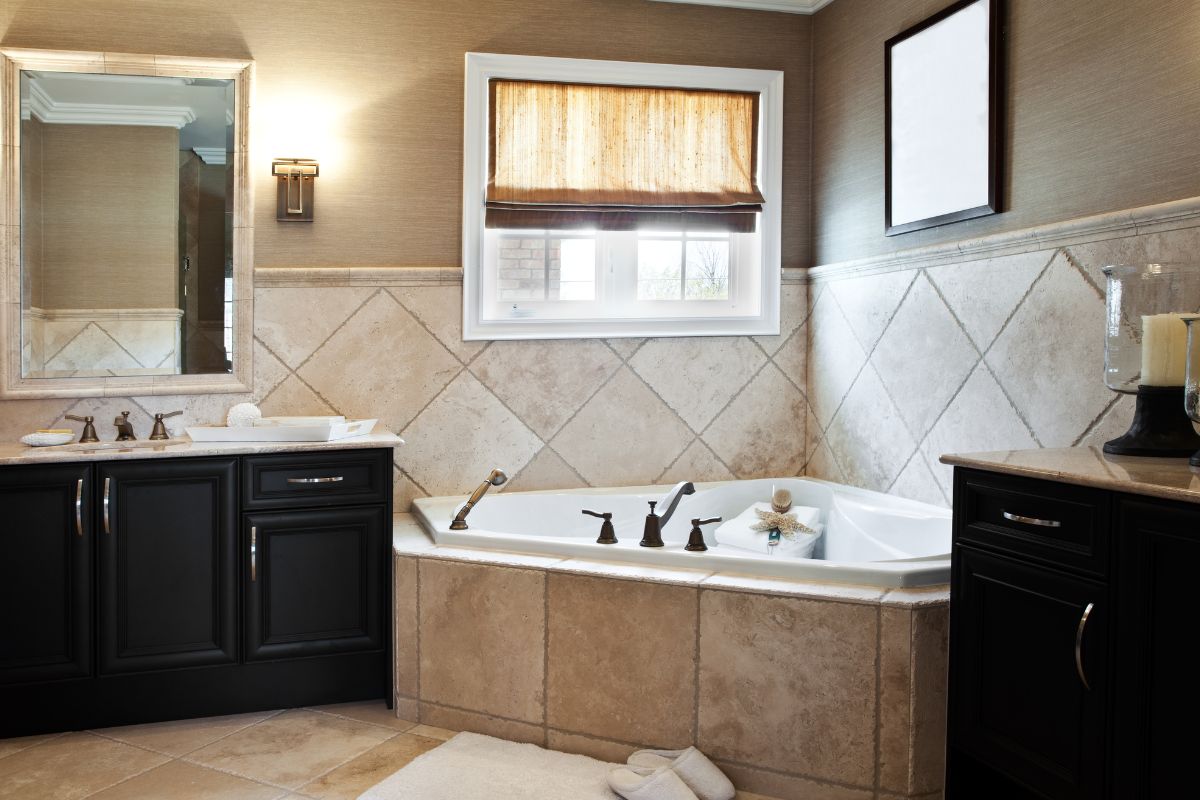 But even if you live in a busy city or town, you can still bring a bit of that country lifestyle into your home through your interior design.
Wood, stone, plaster, and paneling are all essential components of a country bathroom, even though a country bathroom can still include luxurious finishes and fittings reminiscent of a hotel.
The charm of the country style is that it can be applied to a variety of different-sized bathrooms, from little powder rooms and guest bathrooms to huge family bathrooms and master bathrooms.
The design of the bathroom and the faucets that you choose, together with the colors and patterns that you bring in with the blinds, wallpaper, and accessories, are what ultimately determine the appearance of the space.
To assist you in zeroing in on the ideal design and organization for your country bathroom, we have made this list of pointers and pieces of fashion advice covering all bathroom ideas, from showers to basins, tiles and tubs, and vanity units.
Keep reading to find some country bathroom inspo!
1. Don't Be Scared Of Patterns
Your country bathroom design will feel more like a room in a traditional country home as soon as you add a lovely flowery cloth.
It is a look that works particularly well in a bathroom that is attached to the bedroom since this allows you to continue the décor from one room to another, which gives the impression that the two rooms are connected.
Curtains and blinds may be a fantastic way to incorporate color, pattern, and texture into your bathroom. Not only are they capable of adding drama, personality, and aesthetic appeal to interiors, but they are also capable of bringing warmth and a sense of comfort.
2. Be Bold
The bathroom is the ideal place to test out some of your more daring decorating concepts. You may even find that they are so effective that you should bring this style to other rooms!
If you're afraid about bringing color into the restroom, don't be. Even though bathrooms are often the smallest space in the house, they lend themselves well to more daring decorating.
To provide one example, bringing a genuine sense of style into these useful areas can be accomplished by the use of dark walls, ornate wallpaper, and bright or dramatically colored bathtubs or basins.
Bathrooms that are dimly lit might be the ideal combination of light and shadow, sheen and matte, to lend personality to your country decorating scheme.
3. Use Blinds
A lovely cloth blind serves as much than just a barrier from nosy onlookers. The light may be diffused by it, it can provide pattern and color, and it can make the bathroom's hard surfaces seem more comfortable.
Because it is usually surprising how much space windows take up in a room, one of the most important components of your ideas for a country bathroom should be the selection of textiles. Keep in mind that your blind will be on display most of the time.
Blinds can offer an exciting new splash of color and pattern in your bathroom, making them a great accessory if there is not much color elsewhere in the room.
4. A Pop Of Color
Although white bathrooms will never be out of style, there has been a recent trend for the installation of colored suites in bathrooms, especially by those who are decorating in a country theme.
There are many different methods to add color to a bathroom, regardless of the amount of space you have or how confident you are in your design skills.
If you tend to be more reserved, you might want to explore incorporating strategic pops of color into your space through the use of decorations, linens, or feature walls. This will allow you to try out the color of your choice before committing to an expensive renovation project.
Jewel-toned tiles, bright flooring, or colorful bathroom fixtures are great options for those who aren't afraid to take decorating risks. These components will produce a place that is unique and memorable in your master bathroom.
5. The Right Sink
A stylish basin is an excellent way to give your country bathroom ideas a one-of-a-kind look. This is especially true when combined with sophisticated faucets and metalwork made of brushed brass.
6. Wood Paneling 
Wood paneling, rather than tiles, can be used to protect walls from splashes while also providing a cozier appearance. Additionally, it offers a chance to inject some color into the space.
Paint the paneling in a darker hue and the walls above it, or hang wallpaper in a room that is on the smaller side or has an unusual form. This will have the effect of "lifting" the ceiling and giving the impression that the space has been expanded.
A more refined and finished look may be achieved by matching the color of the flooring and the paneling.
7. Wallpaper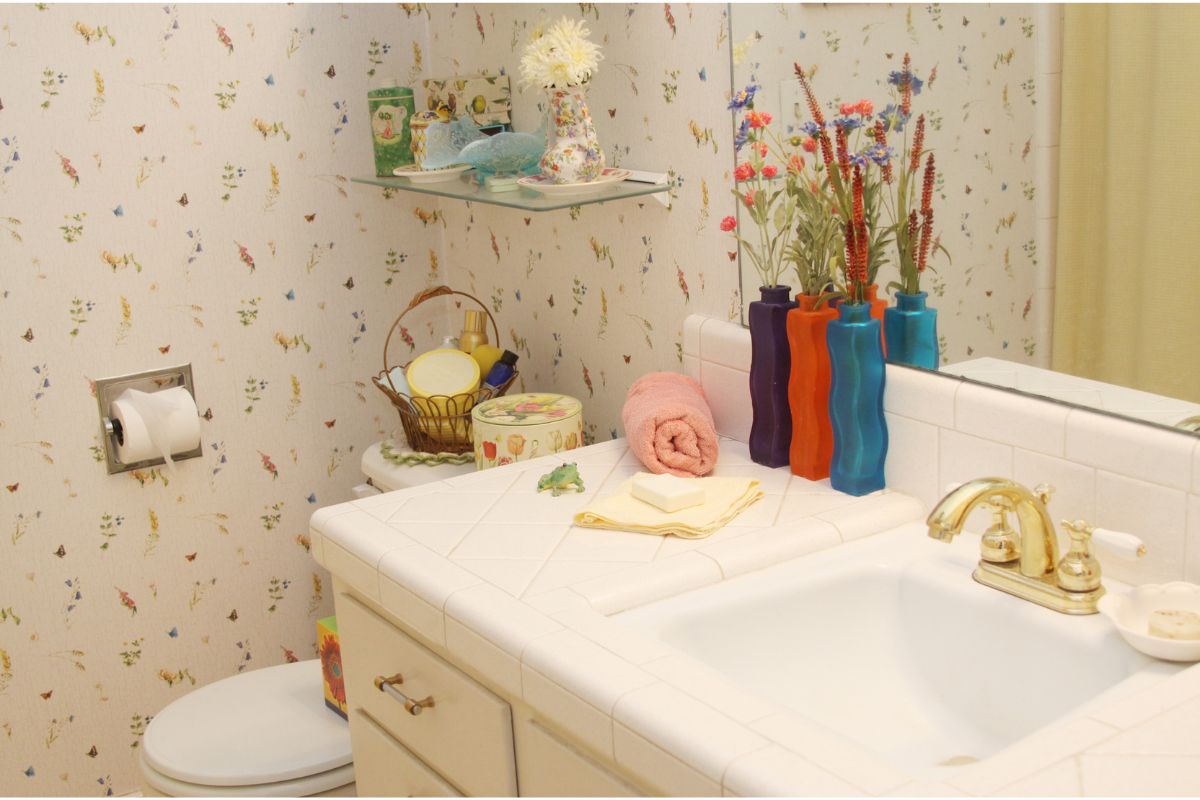 Wallpapers with oversized flower patterns are not only delightfully nostalgic but also visually soften the bathroom's harsh surfaces.
Because of improvements in ventilation regulations and paper quality, the risk of peeling has significantly decreased in recent times as well, which is one less worry when decorating.
If you are still a bit nervous about using wallpaper in your bathroom though, you can use paneling to elevate the location of the wallpaper over the area that could be damaged by water.
8. The Right Bathtub
One of the most iconic elements of country bathrooms is the freestanding tub, which is equally at home in intimate en suites as it is in expansive family baths.
Even in bathrooms with limited space, a freestanding tub may be accommodated with the right arrangement.
The bath will look as lovely when placed against a wall as it is when placed in the middle of the room. Combining this with an overhead shower system will make it more practical for day-to-day use.
9. Brass Fittings
With the help of aged brass fittings, you can give your country bathroom an instant vintage look without having to wait for it.
The patina that has been built up through time is replicated in the finish, which will lend a feeling of natural warmth even to the iciest of baths.
Choose a lacquered finish if you want to keep the aged look. Taps that have not been lacquered will continue to burnish as they are used, becoming darker in the areas where they are touched the most because the metal will react to the natural oils that are produced by your skin.
Antique brassware looks excellent against a soft white background, which allows it to shine out stunningly. It's best if the white has a touch of gray to it.
This works nicely in rural cottages since it is less harsh than pure white and a little bit more genuine.
10. The Right Lighting 
It's possible that a rural bathroom in an older home will have small windows or may be covered by trees on the exterior, both of which will make the room darker than you may want.
It is essential to make accurate placement decisions early on in the design process, particularly about the locations of light sources.
The most ignored component of building a bathroom is all of the many forms of lighting that are needed. Make sure that you have illumination above the mirror, in addition to lighting surrounding the mirror.
Think about how natural light enters the area, and design your bathroom lighting around this.
11. Spruce Up The Walls
A mural that reminds you of nature, a gorgeous wallpaper, or a large mirror in a small space are all examples of elements that can elevate a country bathroom.
This is especially true for a small space like a powder room, which can otherwise seem like an afterthought when it comes to design.
Cloakroom rooms provide an amazing potential for interior design, they may be a genuine departure from the tale of the house.
You want the area to be comfortable while still being thoughtful and lovely to the eye, so adding nice wall elements that invoke nature like murals or an art collage is an excellent addition. 
12. The Industrial Look With Paneling 
White wooden paneling and industrial-looking black metalwork can lend a bit of character to your plan.
A classic monochromatic scheme may be more associated with a metropolitan design yet you can easily incorporate it within a more rural style."
It has a more rustic appearance thanks to several key elements. Adding an antique mirror, a wooden vanity, eccentric accessories, plants, and greenery transport it from the city to the country.
This kind of paneling works well when you're planning a beach bathroom, which should be influenced by seaside living and include nautical design accents. It's the ideal complement for an aesthetic that combines the shore and the country.
Summary
If you love the country aesthetic, then any one of the above ideas will bring this interior style into your home and your bathroom. Give a few a try and see what you think!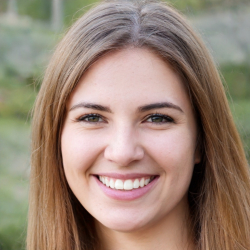 Latest posts by Maisie Park
(see all)