Green is one of those timeless colors that just never goes out of style. It works well in just about any room located in the home, but it's most well placed in the living area.
It's also one of those colors that's really effective for separating the living room from the rest of the house, drawing attention to your magnificent living space.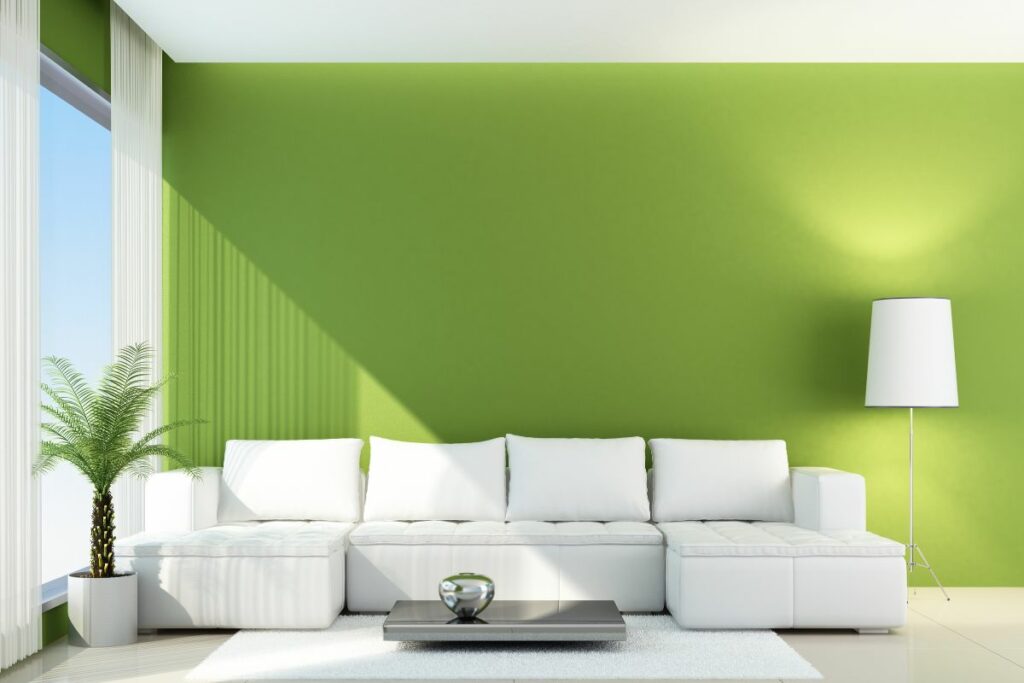 It can however, sometimes be difficult to think of ways that you can incorporate the color green into your living room. Don't worry, because that's where we come in.
If you want to find out some stylish ways you can incorporate green into your space, simply keep reading as we take a look. 
1. Choose A Bold Wallpaper
Why not go all out and choose a super bold green wallpaper for your living room? There are so many out there, with super fun and stylish patterns to choose from.
Whether you want something super tropical looking, or more of an art deco style wallpaper, there's a green one out there for you. 
You can use the wallpaper to fit in with your overall look, be that vintage, or modern in appearance.
2. Use A Green Color Block
If you don't want to paint the entirety of your room green, don't worry, because you don't need to. There are far more subtle ways that you can get your favorite shade of paint into your living area.
If you've not heard of color blocking before, it's a super stylish method of pairing together two well suited colors. You can introduce more shades of color into your home, without feeling like you're surrounded by a certain color.
One of the very best colors for pairing with green is a simple white color, which makes it look super crisp. If you want slightly warmer tones, green will also work very well with cream and beige tones.
Be sure to test all paint colors out first by purchasing a sample pot to make sure. 
3. Pair Olive With White
Moving on from our last pointer, if we're talking about specific color pairings, then olive green and pure white are a match made in heaven.
No really, we're not kidding. If you want to go for an incredibly chic and stylish look for your living space, try pairing olive colored walls with white paneling. 
Paint all of the panels, including those near any centerpiece areas such as the fireplace, a pure white color. It works so well with the olive color, and gives the room an incredibly elegant and refined feel.
4. Incorporate Some Wood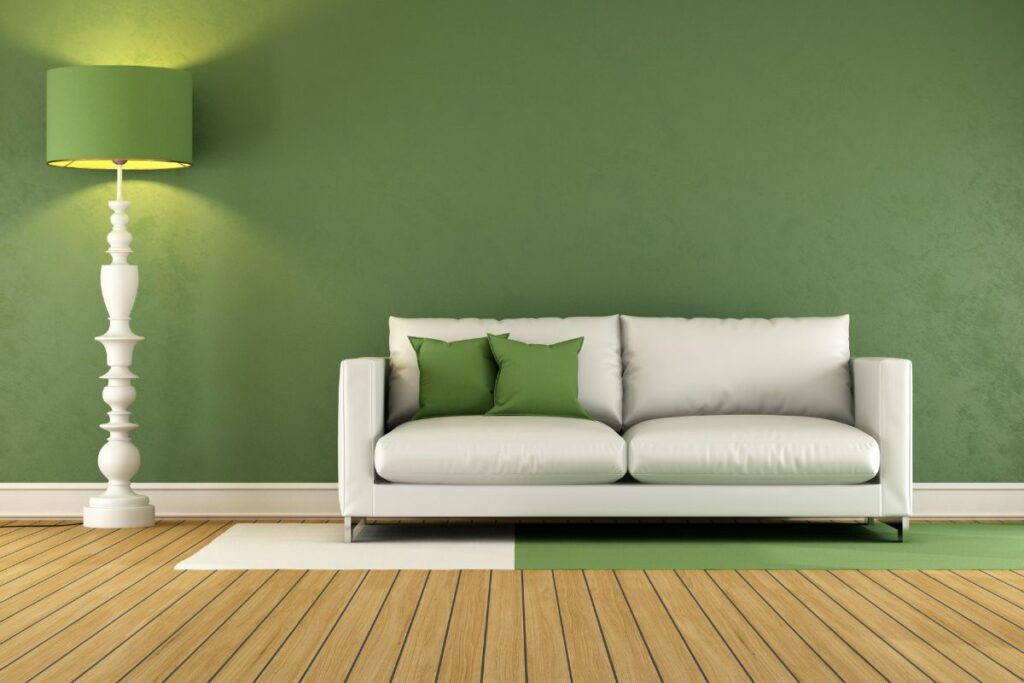 If you're struggling to think of what furniture pieces will work well with your green living space, you don't need to worry. Green is one of those neutral colors that works well with just about any style of wood. It's all just about choosing your favorite.
Whether you want some boho style lighter wood options, to go along with the art deco theme, or you're more into dark wood to create an academic style, both of these will work well.
In addition, if you're into white furniture, go for it! This will work really well with the color block that we mentioned earlier. 
5. Mix Green With Pink
If we're talking about some other colors which work incredibly well with green, we can't avoid mentioning pink. Pink is one of those colors that can be difficult to pair with others, but when it comes to green, it works beautifully.
We suggest that when pairing you go for a very dark green color, and then select some pink elements that are blush colored.
You don't necessarily need to use both of these colors on your walls, just paint them the color green of your choice, then add some blush elements to the room through your furnishings. 
If you find a pink and green wallpaper that you like though, go for it! This will make it even easier to coordinate the furnishings in the room.
6. Choose One Shade
Perhaps you've found the absolute perfect shade of green, and you can't stand the thought of incorporating any other colors on to the wall. Well, you don't need to! If you're really stuck on that one color, then go for it.
Most green paints on the market aren't overly gregarious, so you'll likely be able to find one that will blend nicely into the room without drawing too much attention.
It can actually make the room feel super cozy when you stick to a certain color, especially a calming one like green. 
If you've decided to go for it and make it all green, don't hold back. Make sure that you paint the radiators too to create the overall look. For the best results, choose furniture that's composed of a contrasting color.
7. Use Beige And Green
Like we mentioned previously, green works well with a whole host of different colors, some of those being warm colors like beige.
If you want to create an incredibly serene and peaceful look, we suggest that you paint your living room a very neutral beige color. 
After you've done this, you can use olive green elements in the room to contrast it beautifully. You can do this through paintings and furnishings such as pillows. Super simple yet effective.
8. Choose Some Dark Green Furnishings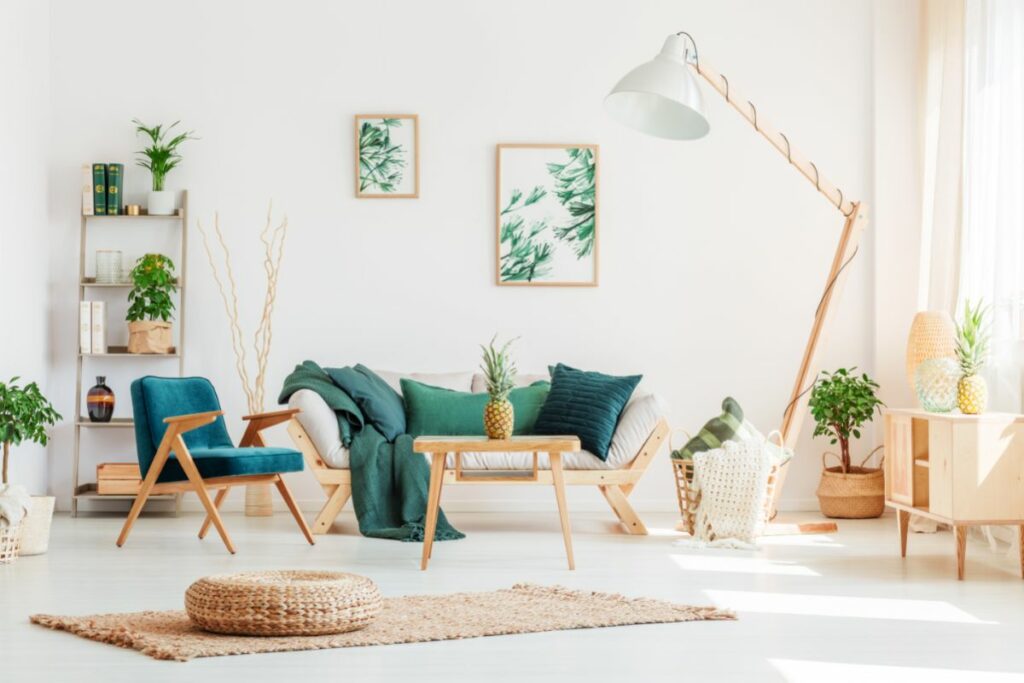 One of the most beautiful pieces of green furniture that we've ever seen is the velvet emerald sofa. There's something about green and velvet mixed together that creates that magical timeless look.
If you love these kinds of furnishings too, you'll most definitely want them to be the centerpiece of your living space. In order to do so, pair them with a dark gray paint on your walls. This will contrast perfectly with the couch.
9. Choose A Neutral Green
If you want to incorporate some green into your living room but don't want it to be too overpowering, don't worry, because there are lots of neutral green paints out there.
That's right, even though when we think of green, we imagine a super bold color, there are actually tons of neutral options out there too.
Choosing a neutral color paint for your walls will make it really easy to find furnishings to pair with too. 
10. Choose Bright Furniture
If you want to make your living space stand out, but not necessarily via the wallpaper, there are many ways that you can liven it up through your furniture.
Green goes with a lot of lively color palettes, including burnt orange, mustard, and bright pink. Incorporate these colors into your fixtures, and simply paint your walls a neutral olive green to go with them.
11. Incorporate Green Shutters
A great way to make your living room look more airy and open, is by choosing green blinds or shutters into the space. This is a great way to bring a bit of color into the space, and make it look more inviting too.
12. Use Natural Green Elements
If you want to incorporate green naturally into your home, one of the easiest ways you can do so is simply by picking up some plants. These can also help to add texture to your living space.
This is great if you're somebody who's naturally good at gardening too.
13. Choose A Gray Green
If you want to create a super cool regency style look for your living space, then we recommend that you go for a paint color that's a combination of gray and green.
Because it's such a neutral color, you won't have to worry about using it as an accent color and finding others to pair it with. 
If you want to find some furnishings that will go with the overall look, we recommend that you choose some dark wood furniture. You can buy this in the form of coffee tables, book shelves, and fireplaces.
14. Use Green With White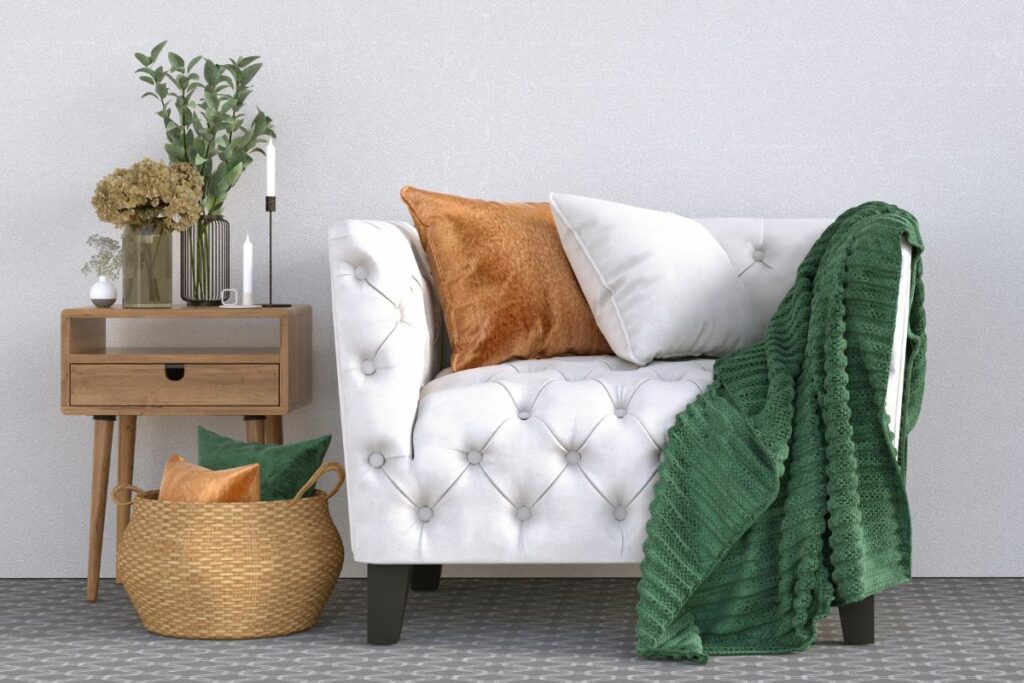 If you want to make your room look super airy and spacious, you can pair a light green with some white furniture.
White furniture can look bland when it's paired with other neutral colors such as beige, but pairing it with a fun green color can really liven up a room. 
15. Mix Green And Blue
Green and blue are another pairing that work really well together, and are great if you're trying to create a cooler tone. You can either paint the walls green and pair it with blue furnishings, or vice versa.
Final Thoughts
There are so many great ways that you can incorporate green into your living space. Many people don't realize that it can work incredibly well as a neutral color, which makes it perfect for pairing with brighter furnishings and panels.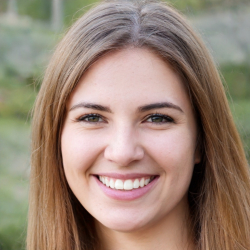 Latest posts by Maisie Park
(see all)