Don't let your small bathroom limit your storage. Make the most of your bathroom sink storage with these innovative and practical solutions, and expand your storage capabilities in an instant.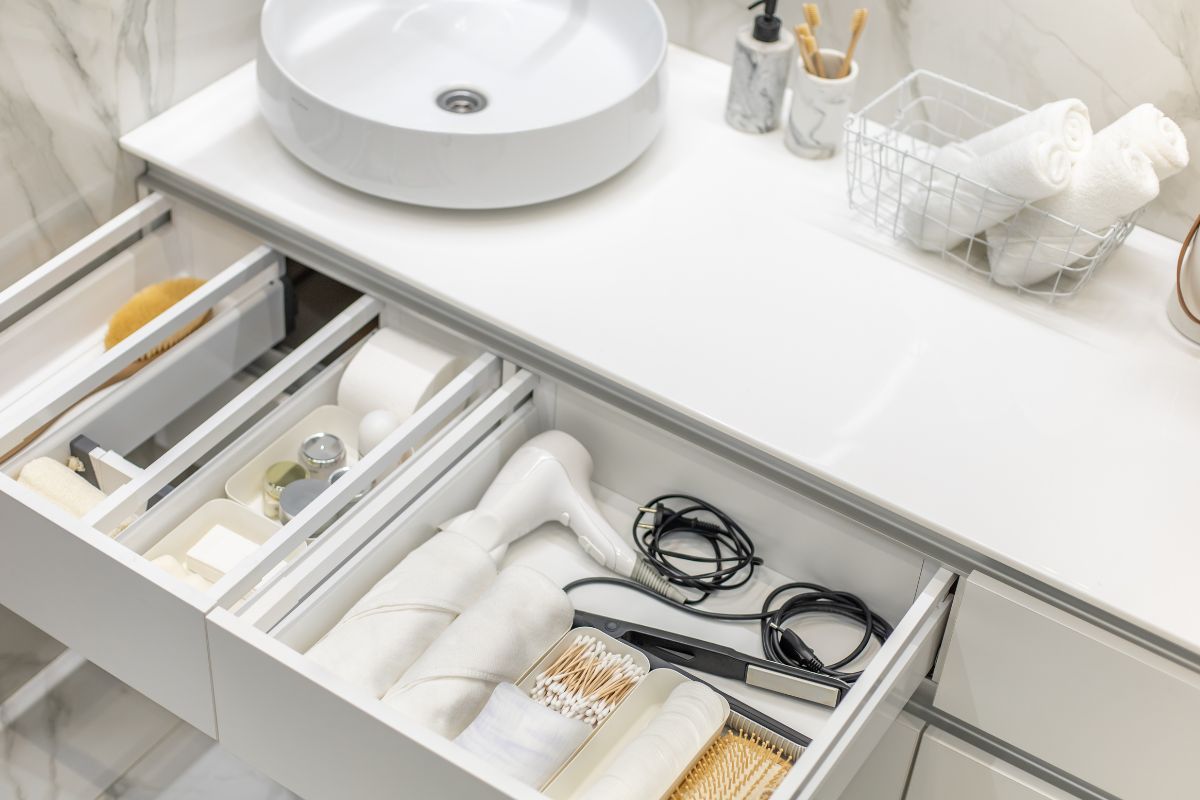 Whether you need a space to store your toiletries, cleaning supplies, or hair-care products, our clever solutions have got you covered!
1. Shower Caddie
Shower caddies are SO convenient. They may not be the most stylish storage solutions on the market, but they're undeniably practical. Most shower caddies come with at least three divided sections and a handle on top, so you can pull out your storage basket whenever you need it.
If you need a convenient and discreet way to access your feminine hygiene products, try using a shower caddie to separate pads and tampons.
You'll never have to rummage through a messy drawer again! You could even use a shower caddie to separate different small items, such as perfumes, lip balms, moisturizing creams, and skincare items.  
2. Fitted Wire Baskets 
Wire baskets are one of the most popular storage solutions out there. If you have a minimalist or industrial theme that you want to keep following, why not install a fitted wire basket on the inside of your cupboard?
These baskets are more convenient than floor baskets because when you open up your cupboard, they're right there! 
You can use your fitted wire basket for anything, but we find them particularly useful for storing either smaller cosmetic items or even cleaning essentials, such as sponges and anti-bacterial cleaners.
This is a great solution if you're working with limited space, too – you can leave more room directly under your sink for towels and other cosmetics. 
3. Tension Rods 
If you want to put your creative skills to the test, why not install some tension rods underneath your sink? Tension rods can be fitted at either end of your sink to cover the width and provide a creative alternative to traditional hanging storage.
If you have lots of spray bottles that you want to keep out of the way (but still have easy access to), this is a great solution. It'll also free up plenty of that all-important floor space for other bathroom essentials. 
4. On A Roll 
Talking of creative solutions, why not take a few minutes to install some rollers inside your bathroom sink? If you're using your sink to store trash bags for your bathroom cans, these rollers can be used to store your bags in a convenient and accessible location.
Simply pull a bag from the roll, and you're ready to go! This isn't just attractive, it's far more organized than keeping your bags lying around on the floor. 
5. Pull Out Wire Basket 
We love wire baskets. Whether you have an industrial interior or a shabby coastal theme, there's no design that a wire basket won't compliment. If you love wire baskets but you want something a little bigger than our fitted model, why not try a pull-out storage solution?
Pull-out organizers usually come with three tiers, giving you plenty of room to store spare towels, cosmetics, and even cleaning supplies.
If your space below your sink is looking a little too busy, this is a cheap and simple way to pull it all together and make your space look more organized. 
6. Wicker Baskets 
Wire baskets aren't your only option. If you want a more natural, environmentally conscious storage solution for your sink, why not invest in some wicker baskets? These solutions are relatively cheap, and when they're not overfilled, they can last for years.
Wicker baskets also tend to suit more shabby chic or coastal-themed bathrooms, so if you want to keep on brand, this is a great way to do it.
Use your wicker baskets to store toilet rolls, fresh towels, or other large and compact items, and you'll never feel overwhelmed when you open your cupboard again! 
7. Pocket Organizers 
If you prioritize the practical over the aesthetic, let us introduce you to the humble pocket organizers. These convenient hanging organizers are usually plastic and can be stuck to the inside of your sink door.
Your hanging organizer will be divided into several sections, and they're almost always see-through, so you won't have to spend an eternity rummaging through to find your smaller items.
Use pocket organizers to store small cosmetics, hair care products, makeup wipes, feminine hygiene products, and much more. 
8. Towel Rack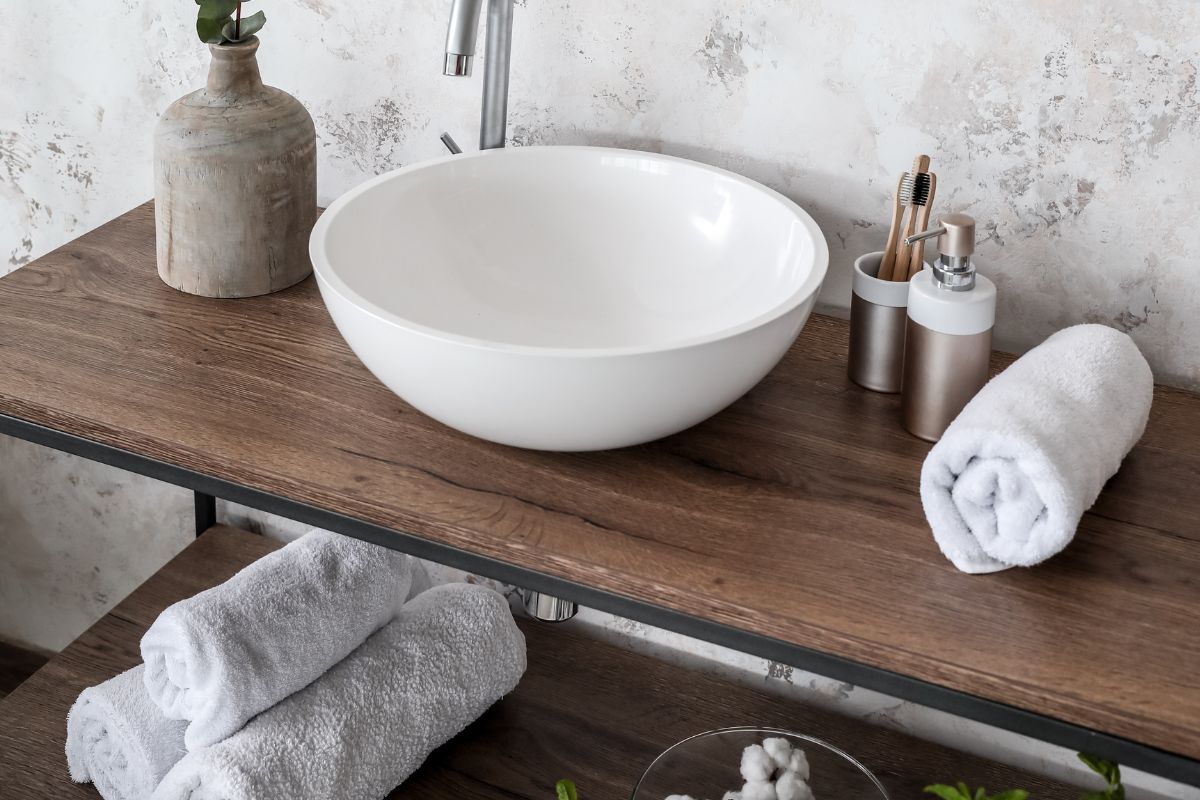 If your towels are usually found hanging at the back of your door, why not make your hand towel more accessible by storing it underneath your sink?
Steel towel bar racks can either be drilled into your door or simply hung over the top. Some are even installed using command hooks, so there's a solution for everyone!
You can keep your towel out of sight and easy to access while still keeping plenty of storage space free under your sink. It's a win-win. 
9. PVC Pipes 
Yes, we know what you're thinking – "what on earth would I use PVC pipes for?". Stick with us.
If you often keep your hair styling products, such as straighteners, curling tongs, and a blow dryer underneath your sink, it's time to give them a new home and keep them more organized. With
PVC pipes, you can create convenient hanging solutions for your hair stylers by simply allowing them to sit on the inside of your door! 
You'll need a few other bits and pieces to pull this off, including hook and loop tape and 2 or 3-inch PVC and 11/2" PVC pipes. Simply trim your pipes, use your tape to attach them, and hang up your products!
This is also a much safer way to store your electronic items, as they won't be sitting directly beneath your sink, where they're more susceptible to water damage. 
10. Use A File Folder 
If you're enjoying these creative solutions, we have another one for you – why not attach a file folder to the inside of your door for easy storage? If you want a quirkier alternative to traditional basket storage, this is one for you.
File folders are also pretty cheap, and you can use them to organize your hair styling tools, hair care, or skin care products on a budget. We recommend this solution for electronic products, as it's great to keep messy cords out of the way while storing your items conveniently.
Simply stick your file folder to the inside of your door, and you're good to go! 
11. Revolving Storage 
Next up, we have one of the greatest inventions ever made – revolving storage, AKA 'Lazy Susan'. What's not to love about lazy susan storage?
These solutions can be used in almost any room of the house, and the whole revolving concept is a lifesaver – simply move each tier around with your hands, and you'll have access to all of your items in an instant.
If you want to add a bit of glitz and glamour to your lazy susan, try storing your items in glass mason jars. We'd recommend using this solution to store smaller cosmetics such as cotton buds, face masks, pore strips, and feminine hygiene products. 
12. Use Command Hooks 
If you're looking for another budget-friendly way to maximize your storage, simply install a few command hooks. Command hooks have been a lifesaver for decades; simply stick them up, hang up your items, and you're sorted.
We'd recommend sticking a few command hooks on the inside of your cabinet and using them to store your cleaning supplies.
You can hang up your cleaning brushes, cloths, and sponges so they're always ready to grab in a hurry and never cluttering your space. Simple, quick, and inexpensive – what's not to love!? 
13. Use Clear Plastic Storage 
What's the one thing we all need from our storage solutions? Convenience. There are many factors that make a storage solution convenient, but if there's one thing we could all benefit from, it's seeing exactly what's in our storage and where.
The best way to do this is to use clear plastic containers.
If you have lots of small cosmetic items, these are a real lifesaver – we all know how easily those lip balms, little moisturizers, and lipsticks can get lost in large, cluttered boxes, so save yourself the headache and keep them in clear boxes.
You can see everything the second you open your door, but it'll still be all stored neatly away, so no clutter! 
14. Leather Boxes 
However, you might not like clear plastic storage if you're a bit of a clean freak like us. Although it's incredibly convenient, the fact that you can see EVERYTHING you're storing is a bit of a double-edged sword.
It can leave things looking a little messy, even when it's well organized.
If you're more of an out-of-sight, out-of-mind person, opt for some sleek leather boxes instead. These are great for darker, more modern industrial bathrooms, and you'll be able to store all sorts of items in them.
These boxes work best for cleaning supplies and corded electronics, but we wouldn't recommend them for smaller cosmetics, which can get lost pretty easily – especially if you're using big boxes! 
15. Expandable Sink Organizers 
Last up, we have the humble expandable sink organizer. If you don't want a DIY option and traditional boxes and baskets aren't tickling your fancy, this may be exactly what you need.
Expandable sink organizers often come with two tiers, and they're easy to assemble and install.
Their separate baskets and platforms are installed on a wire rack, which can be moved and pulled out whenever needed. These organizers are ideal for storing your cleaning supplies, including cloths, sprays, sponges, and more. 
Final Thoughts
Your bathroom sink storage is a sacred place – don't be afraid to make the most of it! We hope you've found the inspiration you need to turn your cluttered sink storage into a perfectly positioned haven of cosmetics, cleaning supplies, and more.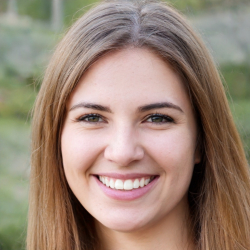 Latest posts by Maisie Park
(see all)