No matter how large or small your bathroom is, it can always do with some organization.
We might not spend as much time in the bathroom compared to some other rooms of the home, but they're usually full of important things that we need to find as we get ready for our day.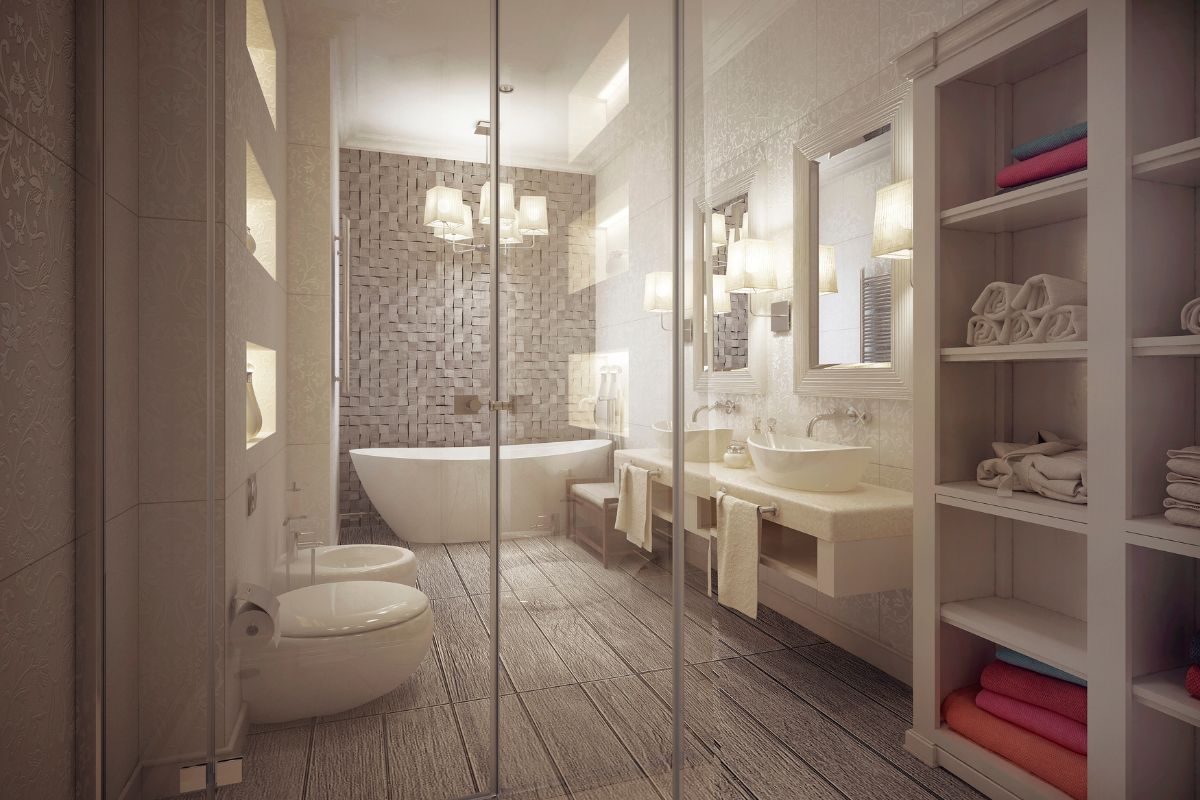 If you've ever found yourself searching through drawers and cupboards for a toothbrush or wondering where you placed your hair dryer, then you could do with some more organization in your bathroom.
Organization can not only make your life easier and your mornings more structured, but can also add some beautiful decor to your room.
In this article, we have 15 bathroom organization ideas for your perfect home. No matter the size of your bathroom or your budget, there is bound to be an organization idea for you.
The vast majority of bathrooms have some sort of cabinets in them, usually underneath the sink. These cabinets are great for storage, however, they're not always the most organized.
These DIY storage bins can be fixed to the inside of your cabinet doors to allow you to organize the contents of your cabinets.
If you have the type of shower that has a shower curtain around it, then you can use the shower curtain rod for some storage, also.
You won't be able to store much there, but it's a convenient place to keep your shampoo, conditioner, or body wash.
All you'll need are some rings and clips to attach your bottles to. You can also use this for bath toys.
We're all for DIY organization ideas that also reuse materials that would otherwise be thrown away.
These fabric storage boxes are easy to make and will also make use of any sweaters that you were considering disposing of, as well as repurposing empty cardboard boxes.
These lovely storage boxes can be used to keep small items together and you can choose colors that will suit your bathroom decor.
All you need is some fabric, cardboard boxes, glue, and ribbon to create some wonderful storage boxes.
We're big fans of taking items that are intended for use in other parts of the home and then repurposing them as bathroom organizers.
This idea takes a wire file box organizer that is usually seen in the office and instead turns it into a safe place to store bathroom electronics.
The organizer can be drilled to the wall so that the open section is at the top and this will give you plenty of space to hold hair dryers, straighteners, or razors.
As the organizer is made from metal, so you don't have to worry about it catching fire if the appliances are still too warm.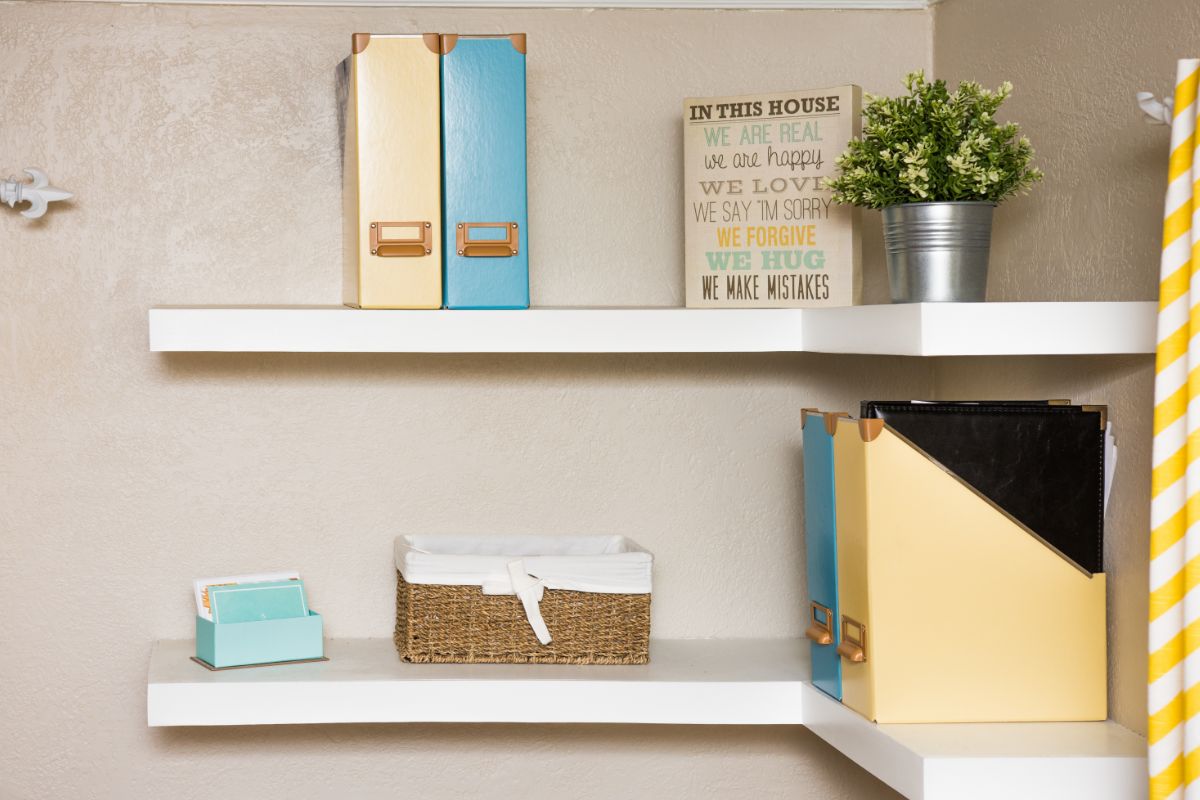 We love floating shelves. They're not only great for helping you organize your home, but they're also decorative and look amazing in any room of the house.
Floating shelves are very versatile as they can take up as much or as little space as you need.
You can choose your own cuts of wood and slice them to the size that you need as well as arrange the space between them to fit your needs. Their width, number, and height are entirely up to you.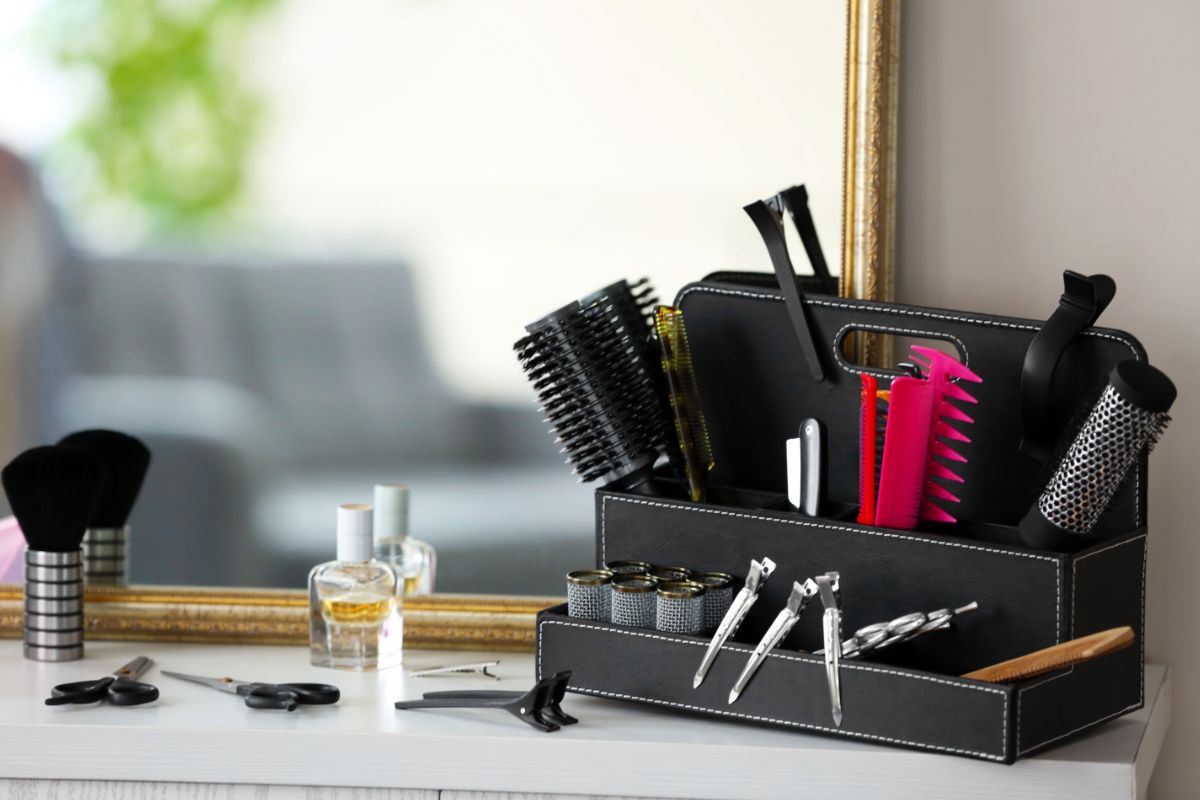 This DIY hair tool organizer can keep together everything you need to keep your hair looking its best. It's large enough for brushes and bottles, and even a hairdryer should be able to fit.
The box is pretty easy to make and you'll only need some wood, dowels, and glue. You can finish the organizer with any colored paint that you want and add additional details such as stencils or other designs.
The organizer can also be used for items other than hair tools, of course!
This hanging basket organizer is very cute and can be easily adapted to suit your bathroom's color scheme and available space.
It uses hanging cutlery caddies linked together with a clothesline to make a vertical line of storage spaces.
Once made, you can hang the organizer on the back of a door or a wall. The baskets are the perfect size for smaller bathroom items such as make-up brushes and toothbrushes.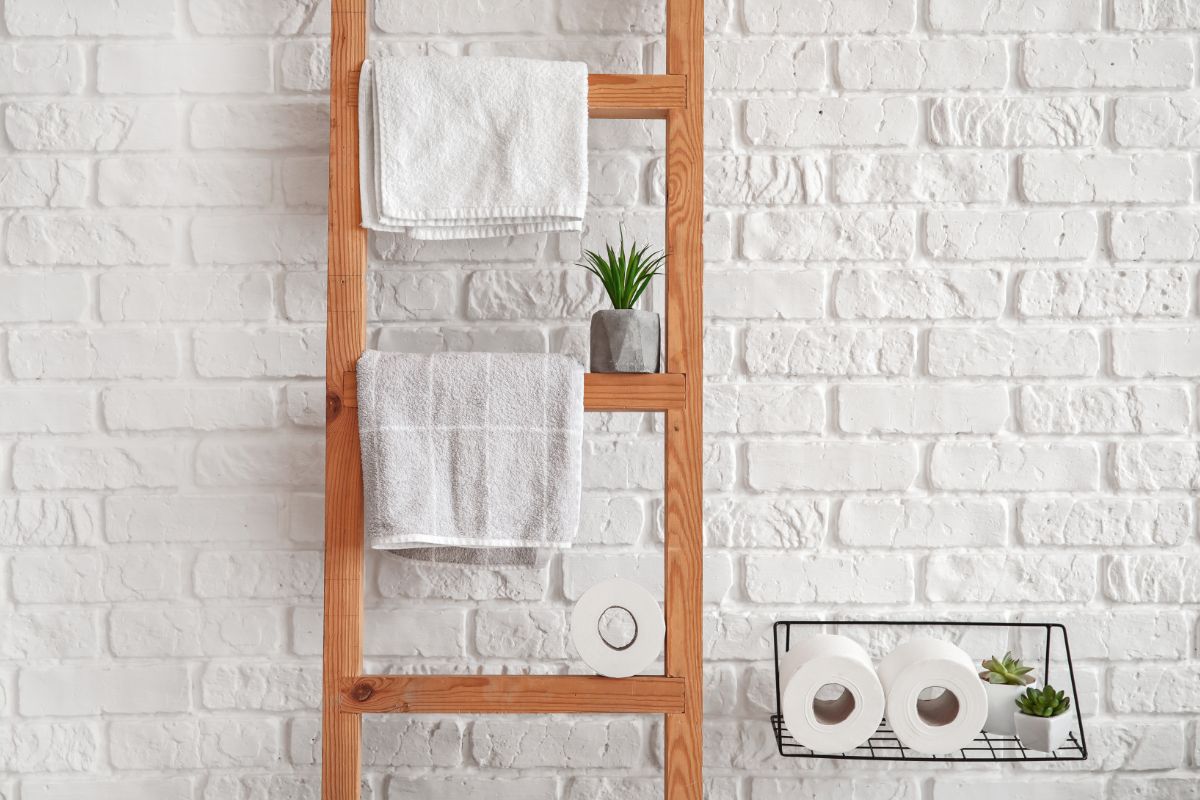 Ladder-style shelving units have become a popular and common sight in living rooms across the country and this idea brings them into the bathroom.
In this case, the leaning ladder is placed over your toilet so that the lowest rung is above the tank. This then gives you the ideal place to hold toilet paper or towels and you don't even need to drill it to the wall.
The tutorial has all of the details you need to make your own bathroom ladder from scratch, but you can also buy or modify one from a store.
We love this idea as it makes use of the space above your toilet that is often left bare.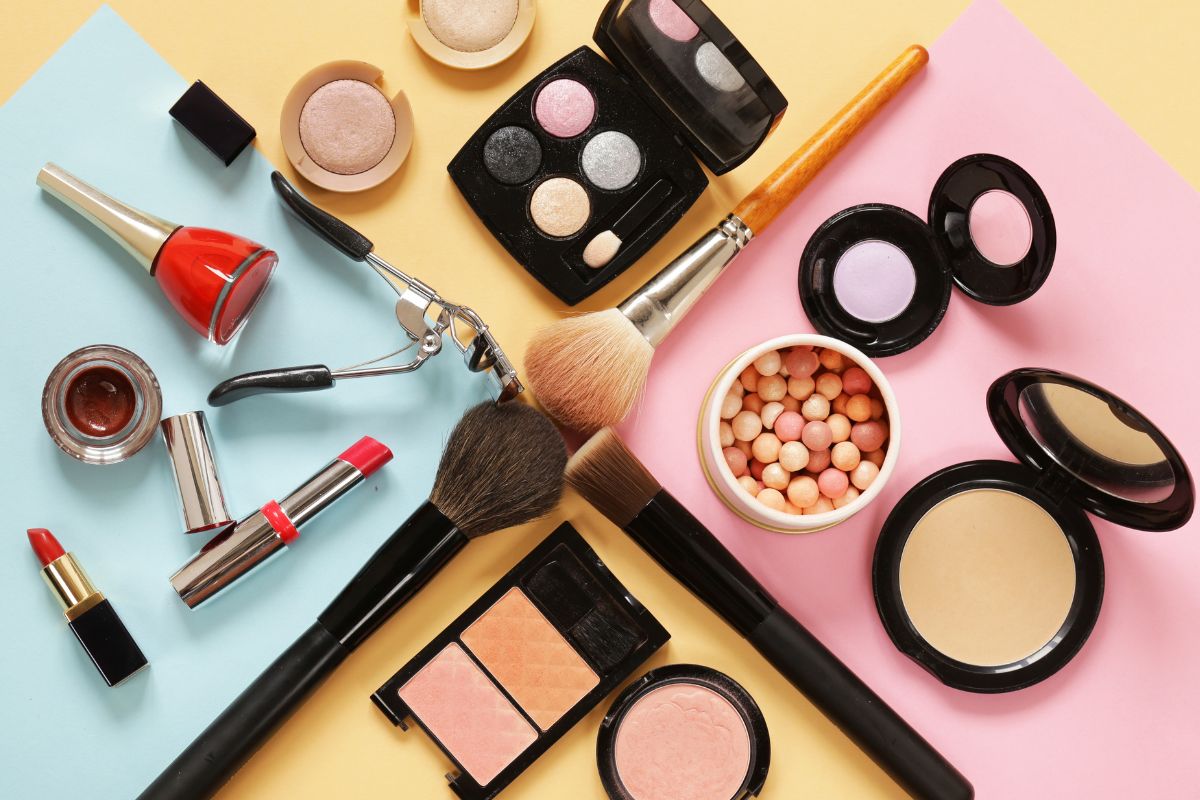 If you have a lot of makeup that you need to organize, then this make-up magnet board will be the perfect organizer.
All you need is a metal base and some magnets. Stick the magnets to the back of your eyeshadows, lip balms, and other makeup items and then you can put them on your board.
Mason jars are wonderful. They can be used in the kitchen for your overnight oats or preserves and they're also very convenient for storage throughout the home.
This mason jar organizer attaches several jars to a plank of wood to make a rack of jars.
You can lean the organizer against a wall and place it on a counter, or you can fix it onto a wall. The mason jars are the perfect size for various items such as toothbrushes, razors, or make-up brushes.
You can also use them for scents or flowers to freshen up your bathroom as well.
Mirrors are an important part of any bathroom and they're present in almost every bathroom across the country. If you have the room for a mirror, then you have the room to put some extra storage behind the mirror!
This DIY tutorial uses an almost full-length mirror as the base for the case, but you can downsize this tutorial to work with a mirror of any size.
Once finished, you'll have several shelves and storage space large enough to hold bottles, makeup, and many other different cosmetic products that usually clutter your bathroom.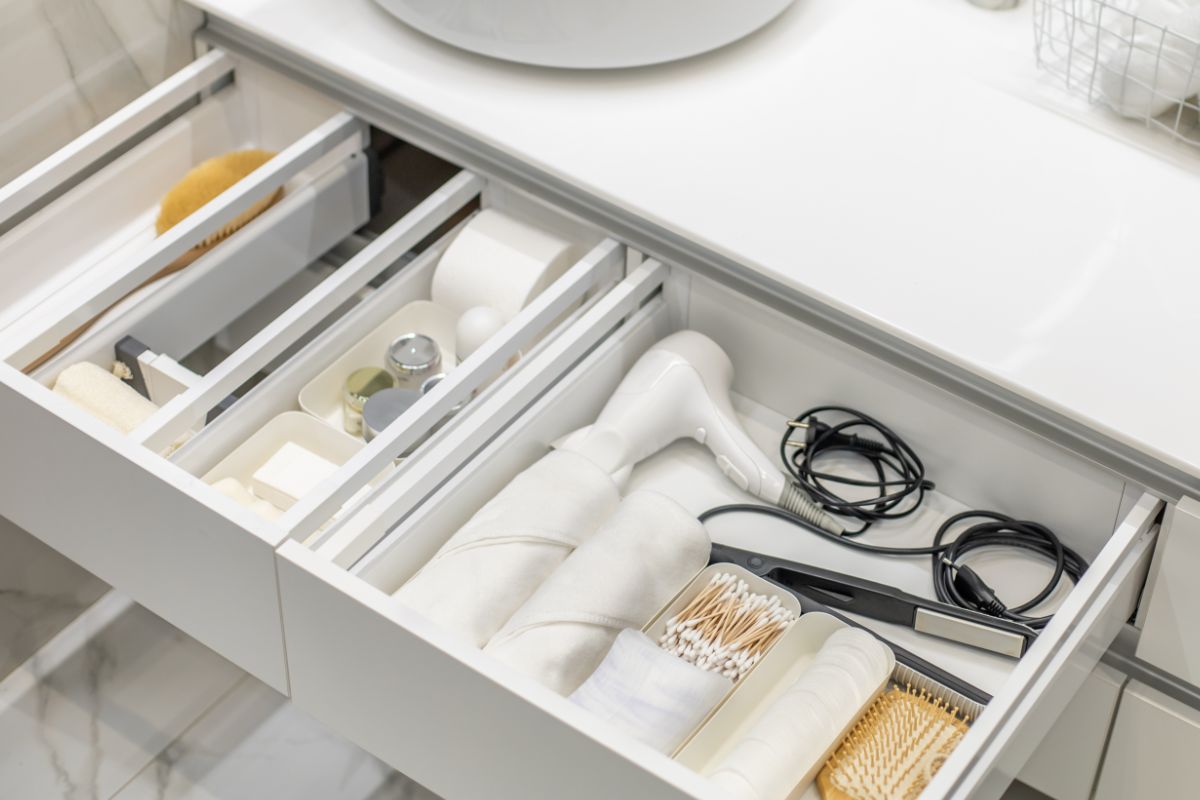 Plastic baskets are the ideal way to organize your cabinets and drawers. Instead of putting all of your bathroom items in there loosely so that they can get mixed up, you can use baskets to keep everything neat and organized.
You can use a basket for each member of the family or to keep similar items together.
Spice racks are a common sight in kitchens, but their use and versatility make them suitable for much more than just holding your spices.
They're also perfect organizers for the bathroom too and can hold a variety of your smaller bathroom items.
You can leave your spice racks on a countertop or fix them on the wall.
There are so many different styles of spice racks available so you're sure to find something that will suit your bathroom and you can easily paint or modify them to match your bathroom color scheme.
If you have more towel rods than you need or have the space to add some more to your wall, then you can use them to hang baskets to hold other items.
The wicker baskets will hang at an angle that makes it easy to take items in and out, without them falling out.
The baskets can be hung onto the rod using either ribbons or S hooks. By using S hooks, it's easier to take the baskets off but the ribbons will keep them more secure.
This idea takes regular wire storage baskets and instead of placing them on a counter, instead fixes them to the wall. If you're short on counter space but have some wall space, this is a great idea for you.
Once fixed to the wall, you can use the baskets in a variety of ways. They can organize necessary items such as toilet paper or towels, but you can also use them for decoration.
The baskets are the perfect size for photos or smaller pieces of artwork and are also a great place to hold decorative bottles.
Final Thoughts
In this article, we listed 15 bathroom organization ideas for your perfect home. The ideas are suited for every bathroom and every budget so you're sure to find something for you.
We hope these ideas will help you organize your bathroom.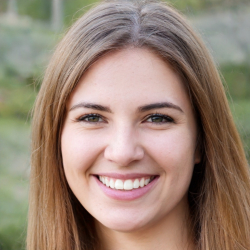 Latest posts by Maisie Park
(see all)