Our bedrooms are our sanctuaries. Like any other room in the house, you'll also want it to showcase some of your unique style.
If you're a lover of all things bold, glam, and a little 'out there,' it's time to bring a few touches of the high life to your bedroom with these 15 glam bedroom ideas you'll fall in love with.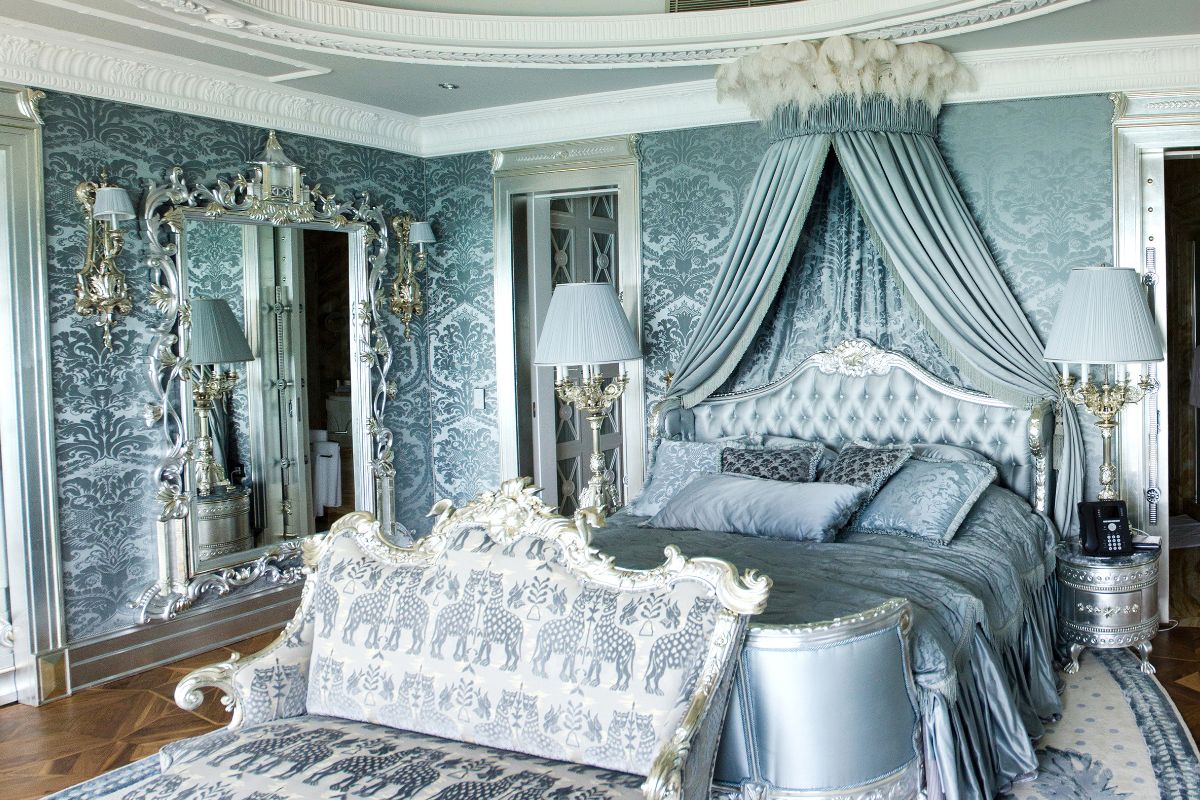 1. Gold Or Brass Furniture 
Your first port of call should be to add plenty of gold or brass furniture. Gold and brass have instant connotations with wealth and luxury, and choosing a few gold or brass furnishings is a simple way to bring that feel straight to your bedroom.
You could choose a gold framed mirror, a brass lamp, or even a glass table with a gold finish. Whatever the addition, when it's contrasted with the right colors, you'll be giving yourself a taste of the good life. 
2. Faux Fur 
Is there anything more glam than faux fur? Look through any luxury bedroom, and you'll see at least one element of faux fur detailing. It's cozy and inviting and always looks high-end, even when the price tag isn't!
There are plenty of ways to add some faux fur to your bedroom, whether it be a faux fur rug or even a faux fur throw for your bed. Just this one simple touch is enough to make your room feel fit for a king. 
3. Add Glass 
Here's another important detail you won't want to overlook – glass. There's just something about glass furnishings that bring an instant injection of luxury into any space.
Glass is minimalist and sleek, but somehow, it always looks a little expensive. So, how can you add more glass to your bedroom?
We'd recommend a tall glass lamp, glass ornaments, or even a few glass bottles filled with boldly colored flowers. It doesn't matter how you do it; just do it! 
4. Hang Decorative Lighting 
Okay, let's take a moment to picture a large, stately home. Aside from all the statement furniture, what other features do you see? If you pictured decorative lighting, we're on the same page.
Any grand, opulent space has at least one piece of statement decorative lighting to pull it all together, so what are you waiting for? If you have a large bedroom, don't be afraid to be bold and add a beautiful chandelier to your ceiling.
If you'd rather have a lamp, just make sure it's large and boasts plenty of detailing. Glass or steel detailing is a surefire way to make it a statement. 
5. Use Big Mirrors 
Here's another trick you won't want to miss – big mirrors. There's nothing quite like a big mirror to make your space feel larger and undoubtedly more affluent, too.
If you have plenty of bare wall space, using a big mirror is a simple way to use it all up, and if you're going to decorate your space with plenty of funky motifs or bold colors, it's a great way to bounce your flamboyant, showy decor around the room.
If you want your big mirror to take center stage, choose one with some striking detailing around the frame for a more vivid addition. 
6. Long, Statement Curtains 
Curtains, curtains, curtains – if you want your room to be as flashy as possible, ditch the blinds and swap them out for some long, statement curtains. For a more lavish feel, make them floor length.
This will also add a bit more height to your windows; if you already have long ones, it's a great way to show them off. Adding some trim to your curtains will also make for a more glamorous look. 
7. Marble Surfaces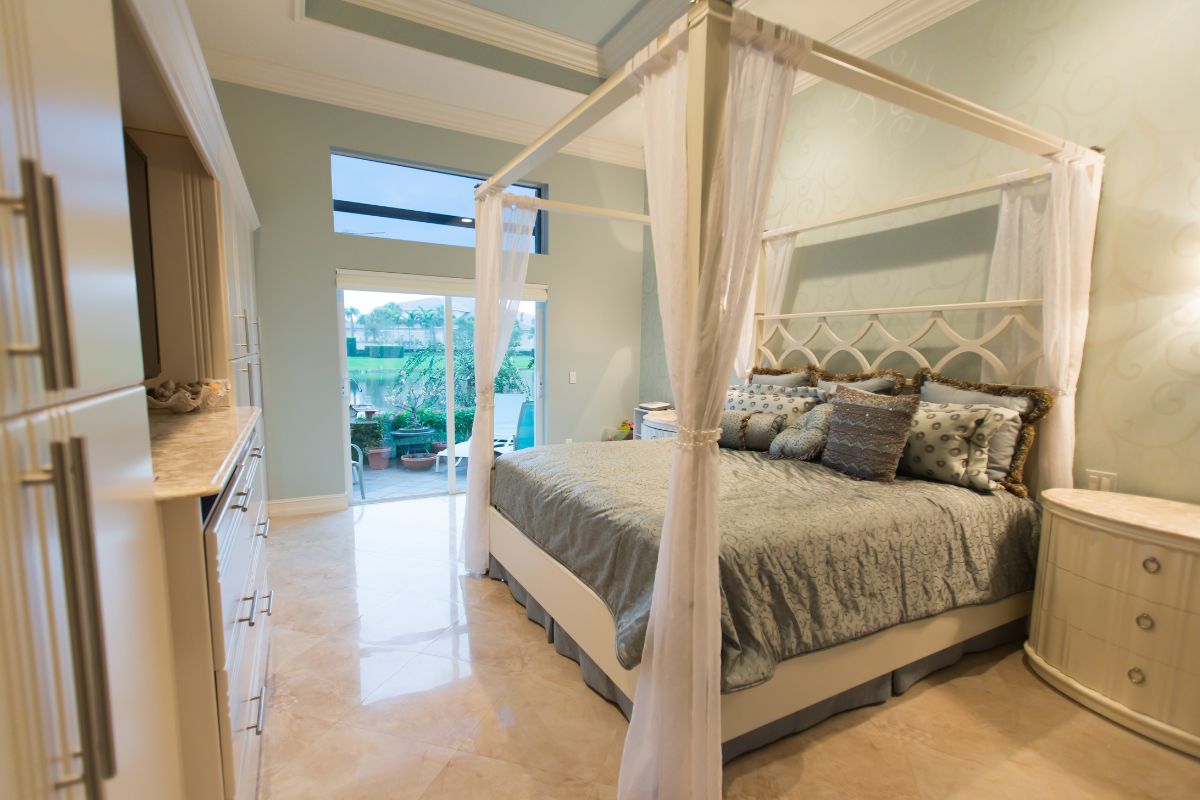 If there's one thing we love the most about glamorous interiors, it's marble surfaces. Marble is timeless and stylish, and it can be used all over your home. Although you'll most often see it used on countertops, it can also be added to your bedroom.
Marble drawers or cabinets are popular additions, and you could even go one step further by installing a luxurious marble headboard for your bed!
The marble effect has stood the test of time, and there's no reason why you can't make the most of it in your bedroom. 
8. Animal Print Cushions Or Pillows 
Okay, is there anything more statement than animal print? To us, animal print throws up vivid images of glamorous women, designer clothing, and fiery personalities. If this sounds like you, bring a few touches of animal print into your bedroom.
If you're not a fan of the traditional leopard print (it's not for everything), you can make your prints feel a little sleeker with a grey and silver animal print.
Use it in your cushions, pillows, or bedding for a showy and exciting look. 
9. Canopy Bed 
If you have a large budget to create your glam bedroom, consider giving your bed a complete overhaul by switching it out for a canopy bed. Canopy beds are those glorious, sumptuous beds with their own roof and side curtains.
They were designed to offer privacy, and noble medieval families often slept in these beds in their castles. So, if you think you're deserving of the royal treatment, make your status known with a canopy bed. 
10. Moody Palette
If you want to inject some glitz and glamour into your room, you don't have to decorate everything with sparkles and bold colors to achieve it. If you want a more grown-up and toned-down approach to glamor, opt for a moody palette.
Lean into darker colors, such as deep purples, and contrast them with lighter shades for a grandiose, statement look. Make your walls and bedding darker than your furnishings for a stunning contrast. 
11. Upgrade Your Knobs
Glamour may be all about wealth and luxury, but you don't have to break the bank to get the look. If you want a simple, quick addition, simply upgrade the knobs and handles on your existing furniture with some more exciting designs.
This could be a funky motif or a diamond-style handle: whatever it is, making your knobs and handles more interesting adds an element of personalization and luxury to your space, and it'll only cost you a few bucks!  
12. Use A Vintage Rug 
If you want to break up your floor space with something more appealing, why not go shopping for a vintage rug? If you really want to make your room pop, make it large and dominating, and go for an oriental pattern.
If you're not keen on a patterned rug, choose luxury material such as velvet, or even the good old faux fur, to make your room pop.
A bold rug will also make your room feel more inviting, and if you have wooden floors, it's a great way to make your space warmer and lock in some of the heat. 
13. Flowy Window Decor 
Okay, now let's turn our attention to our windows. If you don't fancy installing some floor-length curtains, you can still add some glam to your bedroom with a more airy touch and opt for some flowy curtains or decor.
When paired with a canopy bed or boldly colored walls, flowy decor contributes to that vibrant, stately home feel that's fit for royalty.
Moreover, you can keep it simple with some crisp white curtains to make your space feel brighter and lighter. 
14. Have A Statement Wall 
If you're here for some wall inspo, there's one foolproof way to make your room feel instantly more luxurious – making a statement wall. Although this could be a bold, bright color, it doesn't have to be. If you want to be a little more creative, shop around for some patterned wallpaper.
You could even skip the wallpaper and decorate your wall with plenty of vintage art and a statement clock to showcase your lavish taste.
There are many ways to make a statement wall, and it's easy to find a look that ties into your theme, so get your thinking cap on and get ready to make a statement! 
15. Flowers 
We don't know about you, but when we think of lavish, high-end homes, we think of flowers. There's just something about a beautiful display of dazzling colors (especially in flower form) that screams luxury from the rooftops.
But, of course, refreshing your vase with a fresh bouquet every day probably isn't feasible, so try and source some realistic but artificial flowers to paint your space with.
You could place these on a cabinet, a vanity, or even by your window.
Wherever you place them, ensure they're brightly colored and not too spaced out – opt for big bunches! It's one of the simplest ways to revitalize your room, but it makes a world of difference. 
Final Thoughts
After a hard day, you deserve nothing more than to jump into bed feeling like a rockstar. Bring the celeb-inspired, glam look to your own bedroom with just a few simple tricks, and you'll feel famous in no time.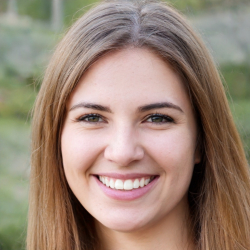 Latest posts by Maisie Park
(see all)