When it comes to decorating, sometimes, less can be more. The modern world can leave our brains scattered and full of stress-making emotions.
Therefore, the last thing you want is to get home at the end of a hard, long day, and find a living space that is also jumbled and somewhat chaotic looking.
This is where minimalist ideas come into play. The less is more approach means you can return, not only to your home, but to your blissful sanctuary.
With less clutter and more space to enjoy, you can switch off and unwind quicker in a minimalist living room.
You may wonder what minimalism actually means. Well, to sum up, it is about simplicity. Minimalist designs mean decluttering spaces to make them cleaner and more sustainable.
The physical appearance of your home's style is hugely important, but the emotions garnered by your living space are just as crucial.
You want a space to feel like a home, to feel like a place where you can relax and forget about the outside world for a while.
A cleaner space can equal a cleaner mind.
If you are looking for minimalist design ideas for your living room, we have you covered. In today's guide, we will be showing you some of our favorite and most simple minimalistic living room designs to transform your space into a clutter-free, peaceful zone.
Minimalist Living Room Ideas
Use Dark Tones
Although bright colors can make a space feel more welcoming and airy, you shouldn't be afraid of adding some deep, dark shades into your living room's design.
Going for black, brown, or charcoal gray with your neutral palette can add depth and structure to the whole room.
Its impact can be felt deeply and recreate your living space into something blissful. 
In the image below, you can see the charcoal-colored wall dominating the whole room. But, the light gray chairs give it a wonderful, relaxing contrast, whilst adding a hint of drama into the mix.
There is a perfect balance of dark and light with this design to maintain a fresh feel. It's not just about the color of the walls. The type of living room furniture can help a room look especially sleek.
Subtle Warm Elements With Restricted Furniture
For minimalist, simple design ideas, one of the first steps is to mix and match certain elements.
By only using a few wooden structures, such as tables and chairs, and using neutral ones instead, you can create a cozy space.
By using minimalistic furniture on a wooden floor, you can enjoy added warmth in the room. As this picture shows, the gray sofa, wooden flooring, and white walls blend perfectly to create a serene living space.
Moreover, the sheer blinds, that reach from the floor to the ceiling, diffuse the room's light, helping it appear warmer.
It's All About Scale
If you have a small space, going for a minimalistic approach is always a good idea.
You just swap some items for simpler ones, or just declutter altogether. Therefore, you can use every inch of room that is available to you.
An example would be opting for a settee, rather than a sofa (Also check out How To Build Your Own Sofa Pit).
Or, you can use stack nesting or sectional tables instead of larger coffee tables. It's surprising how little you need once you try a minimalistic design. 
Remain Grounded
By highlighting organic, simple forms in a room, you can get the most out of it. But, sometimes, keeping your designs grounded can help a room stand out, although it is simply put together.
For instance, place a coffee table on the floor. You don't get much more grounded than this!
In this example below, warm leather is combined with natural wooden stools and a truly minimalist bookcase that seems to be floating. Unconventional can sometimes be the best method for your living room. 
Play With Texture
You don't have to mix and match different colors for the perfect design. Sometimes, you can stick with one color, such as this example which shows a stylish, all-white design.
Sticking with one color scheme makes the whole design process easier, as you won't have to worry about what goes with what. You can still incorporate different details, however.
It all comes down to texture and shape. Instead of going for a traditional seating layout, change things up, as Leanne Ford Interiors have below.
With the addition of a rope light and a brush-painted IKEA rug, the whole room is fresh, simple, and still inviting.
Choose Items Carefully
When you have a minimalist living space, every item needs to contribute strongly.
And, as you can see below, the number of items in the room is small. But, each stands out wonderfully. In other words, there are no weak links present.
Just two seats and a small, simple coffee table are enough to make a strong impression. And, you can choose what you want to give the room a personal touch.
Notice the retro fireplace and modern light fixture, too. These contrasting designs are strong and contribute to the room's all-round appeal.  
Go For A Tonal Palette
Minimalistic doesn't mean you can't use a dash of color here and there. The main point, though, is to stick with a single tone, such as this example below with Robson Rak's blue-colored living space.
This blue is welcoming and soothing, and with the bulbous light fixture, round-shaped sofa, and marble side table, the whole room is soothing and warm.
Go Natural With Nature-Inspired Ideas
You can't get much more minimalist than stripping everything back to nature.
But, instead of bringing the physical outside world into your home, you can recreate a natural environment with an intricate wallpaper mural (as seen below).
Rather than sporting a natural green tone, this wallpaper is gray, which means the wallpaper is not overpowering in terms of its visuals. This type of wallpaper is relaxed and sophisticated.
Somewhat formal, we love the furniture included, such as the rattan hoop chair, the slip-covered sofa, and the tree stump table base. A wonderful space to lose yourself in tranquility.
Recessed Shelving
Remember, less is more. A minimalist living room should focus on maximizing how much space is available or felt.
By using recessed shelving, rather than freestanding types of storage, you can keep the walls and floor space clearer, resulting in a more streamlined, open room. 
Minimizing furniture means considering the spaces you leave empty, just as much as the space you want to fill. Avoid smaller objects and try to choose those with more of a presence.
Consider organizing your books in color blocks for a more abstract look, or have their spines facing towards the room for a more uniform effect.
Neutral Floral Arrangements
You don't have to try too hard to find the perfect minimalist design in your living room.
As this design shows, you can opt for a soft color palette, functional, yet comfortable furniture, interesting abstract art, and cleverly hidden storage to create the perfect formula for a minimalist living space. 
Go Monochrome
The old black and white living room design formula always looks smart and clean. If you feel brave, a great minimalist color monochrome design can be truly eye-catching.
But, it typically requires careful planning along the way. 
If you're not careful, a monochrome living room can appear quite dull and flat. But, if you use texture and some subtle varieties of tone in the room, you can help enhance its style more than ever.
As this design shows, clear, straight edges work together perfectly to achieve a clean, formal living space that is clutter free and simple. Notice the lamp.
This zig-zag movement is crucial to this monochrome design, standing out and giving the room some depth. 
Stay Classic
Our final minimalist living room design requires you to stay classic. You don't have to opt for modern color schemes and interiors for a truly great minimalist design.
You can achieve a simple, elegant living space by combining contemporary ideas with traditional concepts. 
This classic layout oozes comfort and those large, bright windows let in plenty of natural light, making the whole space appear bright, airy, and wonderfully welcoming.
In Summary
Minimalist living rooms can be what you want them to be.
Whether you go for warmer, earthier tones, or a neutral all-white color scheme, your living room can become the perfect minimalistic sanctuary to relax in and escape the world outside.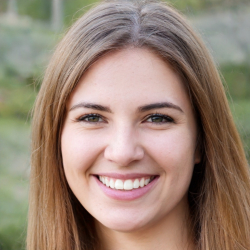 Latest posts by Maisie Park
(see all)