If you're tired of light and airy living rooms and want to try something dramatic and different, why not consider opting for a dark living room?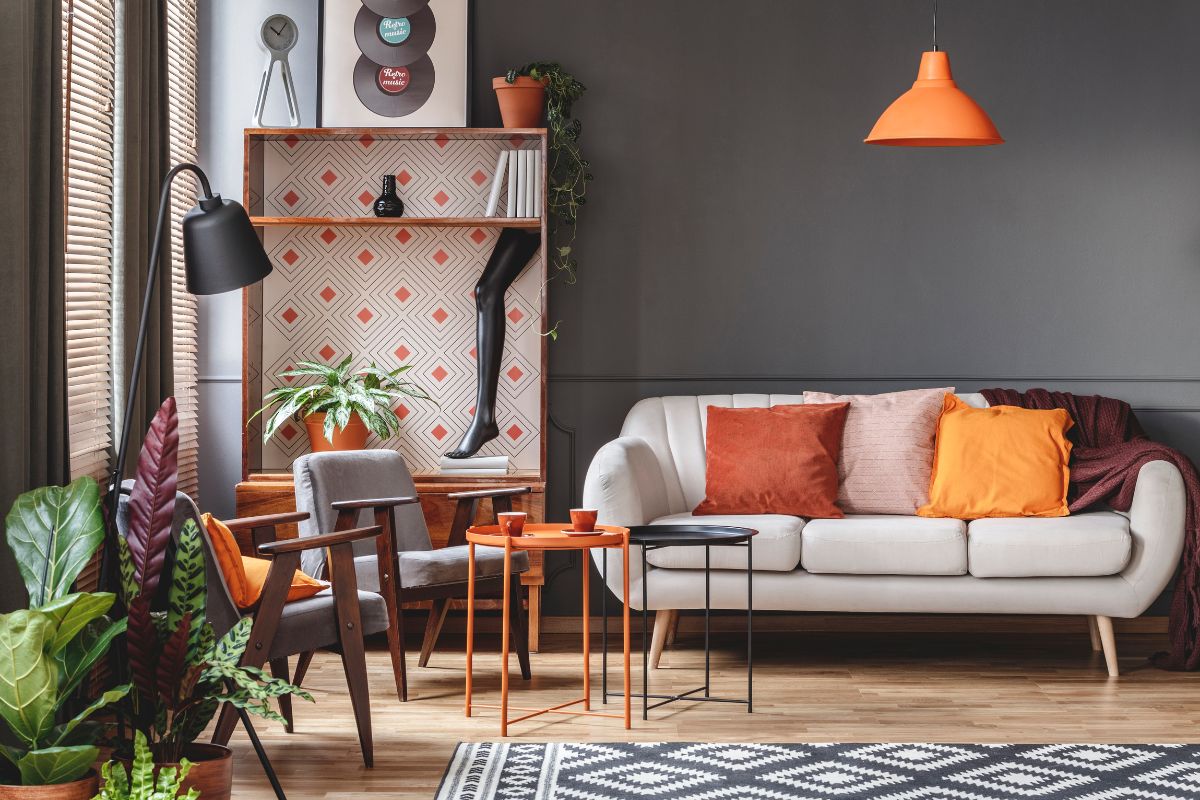 No longer seen as old-fashioned and exclusive to old and opulent homes, dark living rooms have become increasingly popular with modern designers.
A dark living room can add lots of drama and depth to your living space. Dark colors can be bold and draw the eye, making them ideal for anyone that wants to make a statement in their living room.
There are several ways that you can make your dreams of having a dark living room come true. In this article, we will look at 15 dark living room ideas that you will love.
1. Go Dark All Over
You've probably considered painting your walls in a dark tone but why stop there? Painted ceilings have become a popular trend in many design circles over recent years and you don't have to stick to neutral shades.
Ceilings are often kept white because they make the room look taller, however, using the same color for your walls and your ceiling can also have the same effect as it blurs the boundary of the wall and ceiling.
This works for both dark and light colors.
2. Or Stick With A Dark Accent Wall
If you're not brave enough to paint all of your walls and ceiling in a uniform dark color, then you can instead opt for an accent wall.
Painting just one wall of your living room in a dark color will draw the eye to that wall. It will also help other colors stand out and pop more.
A light or brightly colored sofa placed in front of a dark accent wall will take on a new lease of life compared to when it's positioned in front of a light wall, for example.
3. Paint Your Floorboards
Another way to make your living room look darker is by painting your floorboards. You can consider a darker shade of the color on your walls to really tie the room together.
Dark floorboards are a very chic and often overlooked design idea.
If you don't have floorboards, then instead consider laying some dark rugs. Look for rugs that will cover a large floorspace and are a solid dark color or have a dark pattern.
4. Blend Storage Into The Walls
Most living rooms have some sort of storage on the walls. Whether it's freestanding cabinets or fixed shelves, there is usually something to hold photos, books, or trinkets.
These storage solutions are often in colors that stand out from the walls too, such as natural wood colors.
However, if you paint your shelves and cabinets the same dark color as your walls, you will get a wonderful dark effect that will really make your decor stand out.
Any color that's placed on the shelves will become a focal point.
5. Consider Dark Patterns
Your walls don't have to be just one solid color to give your living room a darker look. Patterns that have a dark base or are made of different dark colors will also have a similar effect.
You can look for wallpaper in shades of black and gray or even paint your own patterns. You can keep the patterns simple by sticking with geometric designs or mock animal prints.
We especially love combining shades of dark gray with dark blue and you can use these colors throughout the rest of your living room decor, too.
6. Go Glam
Just because your living room is going to have a dark theme doesn't mean you have to give up the opportunity to have a glamorous living room, too.
Dark colors such as black match amazingly well with gold and you can easily get an aesthetic of both goth and glam by using them both.
Decor items such as crystal chandeliers and animal prints also work well with a dark theme and will add some glam to your living space. You can also opt for a gloss finish to your paintwork instead of a matte one for an extra shine.
7. Stay On Trend With Dark Green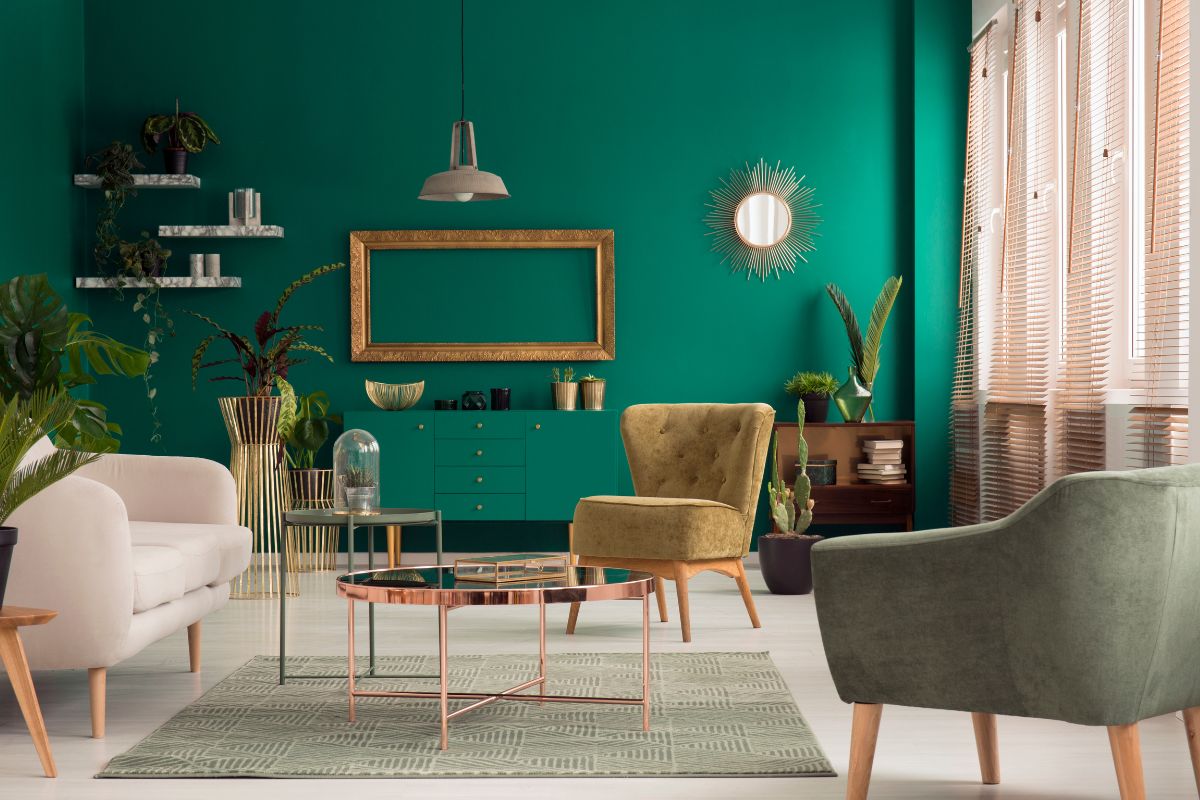 One dark color that has been especially popular in recent years is dark green.
Shades such as emerald and sage are very common in design spaces and make for a perfect accent wall that you can base your entire living room around. 
If you want to make your living room dark but still bring in aspects of nature, then shades of forest green are the perfect backdrop for plants and natural woods.
All of these shades of green work wonderfully with lighter colors so you can add depth and variety to your room.
8. Paint Your Fireplace
If you're lucky enough to have a fireplace as a feature in your living room, then this can also be utilized to create the perfect dark living room.
Many fireplaces are made from light stone or marble but painting it a dark color, such as black, will really help tie your room together.
You can also consider a dark fireguard and decor surrounding the fireplace as well. We guarantee that when you light a fire in a dark fireplace, it will look even more impressive than if the fireplace was light.
9. Consider Deep And Rich Tones
Dark colors don't just cover the blacks and grays of the world. There are many other colors that can add a dark tone to your living room if you find the right shade.
We're big fans of rich warm shades, such as dark burgundy or plum, as well as dark reds such as mahogany and merlot.
These tones will bring you the dark living room you want, while also adding a warmth that isn't always present with black and gray.
10. Swap An Accent Wall For An Accent Ceiling
We mentioned earlier in this list about painting your ceiling the same dark color as your walls. We also suggested using a dark color to make a stunning accent wall.
This idea combines the two to make an accent ceiling.
Consider painting your ceiling black or dark gray while leaving your walls and decor a lighter color. This
will give you a dark tone to your living room without it being as overpowering as it might be if you painted your walls. 
11. Match Dark Furniture To Dark Walls
Pairing bright furniture with dark colored walls makes for a stunning contrast, but using similar shades for your furniture and walls will also make a strong statement.
Choose a single color and then use different shades to bind your living room together in one, unified theme.
We find that this works especially well with colors such as gray and blue as they have a wide variety of shades that have different levels of brightness and different hues.
You should also consider mixing materials by bringing in velvet as well as more common fabrics.
12. Go All Black
The idea of painting your walls and ceiling in the same shade of black might be a bit daunting, but if you pick a softer black that trends towards gray, you'll find that it is softer and less intense than you expect.
It will especially look great if you fully commit and paint any bookcases and shelves in the same color, too.
You will need some pops of color throughout the room so match an all black room with bright furnishings and decor. Avoid white, however, as this will be too much of a contrast.
13. Brown Adds Warmth
If black is a little too drastic an idea, then consider brown as your main color. Shades such as chocolate, toasty espresso, and dark sandy shades can add a warmth to your room and are also very stylish.
Utilizing brown in your living room will take more planning and care than other dark colors such as black and dark green, however.
We would recommend using swatches to make sure that your chosen brown suits your living room and your furniture before you commit.
14. Focus On The Decor Instead
You don't just have to look at your walls, floors, and ceilings to make a dark living room. Choose a neutral color for your walls and instead go all out with dark furniture and furnishings instead.
Look for dark rugs and curtains, for example.
15. Match Dark Gray And Silver
Our final idea uses dark gray as the main color of the room, but utilizes silver as the accent color. Imagine a dark gray ceiling and walls that are then paired with silver framed mirrors and pictures.
You can add in silver flower vases and trinkets, as well as silver-colored throw blankets and pillows.
Final Thoughts
In this article, we listed 15 dark living room ideas that you're sure to love. Whether you want to commit to a full dark living room or just add a few dark touches, there's sure to be something here for you.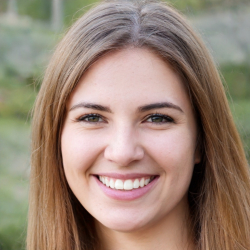 Latest posts by Maisie Park
(see all)