As children grow up, so do their furnishing and decoration tastes.
You shouldn't be surprised if, between the years of elementary school, middle school, and high school, your teenage daughter goes through multiple bathroom themes and designs.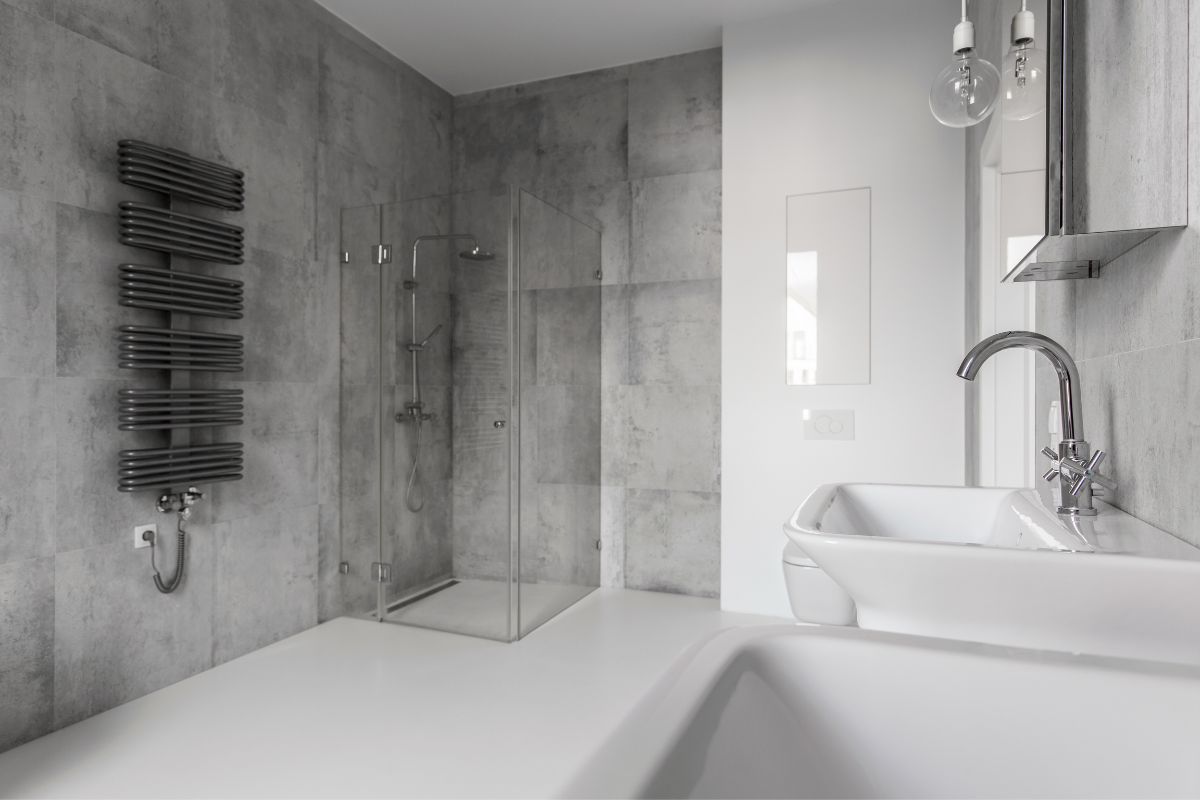 Since, after all, they're growing into themselves and discovering new interests every day.
While they may have once loved their sparkly, cartoon-themed bathroom, this may not be the case anymore.
So, you need to remodel your teenage girl's bathroom but have no clue where to start.
Then not to worry, as we have created a complete guide to provide you with inspiration on girls' bathroom ideas.
With this in mind, let's get straight into 15 girls' bathroom ideas for your perfect home.
Girl Bathroom Ideas
Inherently, bathrooms are typically considered to be a girly place, however, making your older teenage girl enjoy their bathroom space can sometimes be difficult.
Nobody likes a damp and cold space. Therefore, below, you will find some amazing ideas on how to brighten up the bathroom space suitable for a girl.
Like any other room in your house, the bathroom can be uniquely decorated to be warm and inviting. As such, we have compiled a list of ideas to help you achieve this. From pink powder bathrooms to modern girl bathrooms – there is sure to be a design that every girl will love!
1. Blue Ocean
For this blue ocean theme, why not test your hand out with some mosaic tiles for a stunning masterpiece?
The beauty of mosaic tiles is that they come in all different shapes, designs, styles, and colors – so, you're sure to find something that will match your theme.
Not only do they bring a fun element to the bathroom, but they make the most out of available space – making the room feel bigger than it is.
Moreover, you can't go wrong with tiles in the bathroom! In addition to being stunning, they are also incredibly practical – resisting both mildew and damp formation.
Add some colorful towel finishing touches and your girl's bathroom is all set.
2. Pink and Flowers
While this may sound like a typically girly design, you can be guaranteed that a lot of girls will love it!
The combination of pink and flowers will have your little girl giggling in bubbles in no time.
For an added touch, consider implementing pink Victorian wallpaper that naturally has floral prints and patterns all over it.
In addition to being drop-dead gorgeous, this design helps to make the most out of a room while filling it with as much character as possible.
If you're looking for a full-blown-out transformation, then you'll love this design.
3. Inspired Victorian Bathroom
Who said basins had to be boring? Transform your traditional, boring basin with this Victorian-themed basin design. The perfect place for your daughter to enjoy her beauty and bathroom routines.
Pre-industrial features such as a brushed silver faucet would pair perfectly with pale mint green walls; to create a stunning, yet girly atmosphere.
With faded wooden paneling, you'll feel as if you've been transported to the 1800s in an old-school Mississippi steamboat.
With every bath, you'll feel as if you're cruising along the great rivers.
4. Jacuzzi In The Clouds
To soften the look of your bathroom tub, consider adding a cloudy element to the room in the form of drapery.
Whether you go full out; by painting clouds on the walls or keep it simple; with a white and blue theme, your girl is sure to love it!
Turn your regular bathroom into a foamy hangout by adding a bubble bath mat to your tub to create your very own jacuzzi at home.
5. Hot Pink and Mint Trendy Bathroom
Most teenage girls love to stay on top of the latest and greatest trends, and, at the moment, there is nothing more trendy than the combination of hot pink and mint green.
Whether you decide on hot pink wall panels or deep mint wall paint – or vice versa, it will make for a dazzling room.
You could even go one step further by painting any bathroom furnishings in a hot pink-maroon shade to perfectly complement the colors in the room.
6. Pink Powder Bathroom
While your girl may be too old to take pleasure in the likes of Hello Kitty or the Powerpuff Girl, that doesn't mean she no longer adores the color pink. In fact, every girl has a soft spot for the color pink!
Whether you decide to go full out and accessorize the whole bathroom in pink or keep it simple with a few pink accents – whatever you decide, they're sure to love it.
7. Modern Girl Bathroom Style
For stylish girls, consider this pink and bling bathroom idea.
You can't go wrong with pink; however, when you pair it with a built-in vanity, matching faux candle lights, and a studded bathroom stool, you take the experience up a level.
With a ton of open and clean floor space, there is enough space for your little girl to have fun, get dressed, and parade around in her bathroom.
8. Purple Paradise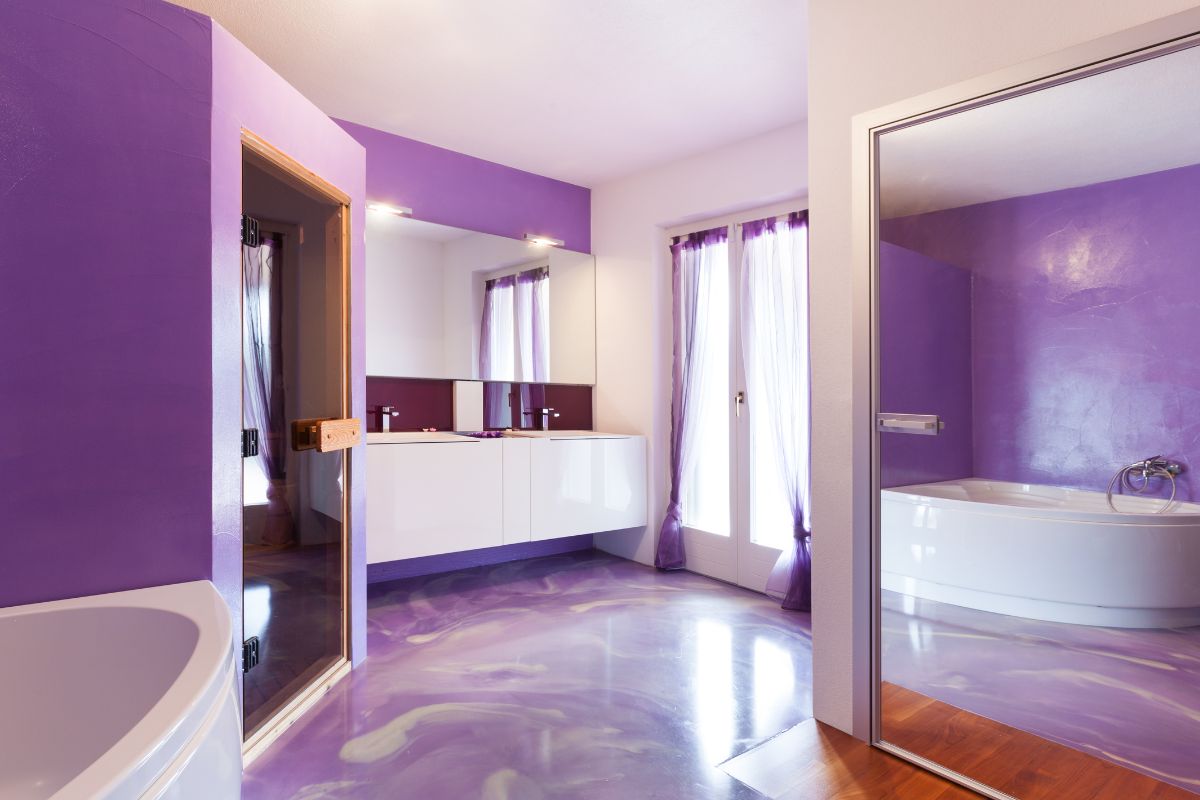 If your girl prefers the color purple, why not surprise them with a purple-themed bathroom? Featuring beautiful lilac undertones, a structured basin vanity, as well as a mosaic shower panel finished – what's there not to love?
To top off your purple-themed bathroom, grab an impressive large-scale mirror featuring a decorative frame to tie everything together.
For the finishing touches, grab a stunning floral shower curtain to frame both the shower and bath areas to complete the look.
9. Large Bathroom For Girls
If you have a larger bathroom dedicated to your girl, then you should consider compartmentalizing all the space in the bathroom to fully make the most out of it.
This ensures a better flow of traffic in the space while minimizing the space spent in the bathroom at the same time.
The beauty of large bathrooms is that you can create a hangout area. This is ideal for teenage girls who want to keep in touch with their friends while browsing makeup or skincare routines or applying their makeup.
Unify the space by using similar tones throughout the bathroom.
10. Small Girl's Bathroom
Sometimes, small bathrooms can be a challenge to decorate. However, don't let this prevent you from experimenting with powerful motifs and impressive patterns!
Try using embossed jacquard-style wallpaper to make those small spaces more impactful.
If you're looking to open up some space, try using a minimalistic basic pedestal and you'll be surprised at how much room is available.
Keep the decorations to a minimum and stick to black and white accessories, this will allow the natural beauty of the area to shine through.
As such, make sure to minimize color variations. Maintaining a black and white color palette will allow you to enhance and enlarge the space available. In addition to this, it also makes for a stylish atmosphere.
11. Girl's Bathroom Furniture Ideas
If you have the available space, consider adding revamped furniture items to the space such as a classic repurposed garden stool to add to the overall girly bathroom flair.
Likewise, you could even spruce up your existing bathroom furnishing with a lick of paint – providing your child with the creative freedom to paint whatever she wants.
12. Teenage Girl Bathroom
Sometimes, you need to give your children creative freedom when it comes to their space. This allows them to truly inject themselves and their personality into the available room.
However, othering their ideas on how to do so are important. For instance, you could try upcycling an old guitar case together to transform it into a jewelry holder. This is a fun and quirky design that your teenager is sure to find enjoyment in.
13. Tiles For Girls Bathroom
Tiles are a great way to customize a bathroom without requiring any necessary upkeep.
Whether you decide to mix and match tiles, follow a theme, or even purchase printed tiles, they are a great way to add some thrill to a room.
14. Paint For Girl's Bathroom
Choosing similar tones will ensure the continuity of a bathroom.
Firstly, consider what colors you're going to paint the walls, then go from there.
If you're looking to liven up the space, then consider brighter colors. Alternatively, for a more modern look, neutral colors are best.
15. Girl's Bathroom Signs
Another fun way to add character to a bathroom is through signs.
These can come in all shapes and sizes with different messages and fonts to truly capture your girl's personality.
Alternatively, you could purchase large wall decal stickers which can add some humor to an otherwise boring room.
Final Thoughts
As your girl grows up, so does her taste. Therefore, she may need a bathroom makeover. Hopefully, this guide has provided you with some information on how to do so.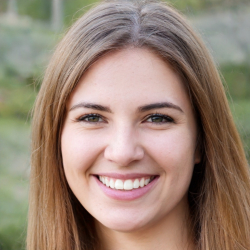 Latest posts by Maisie Park
(see all)