Bedrooms are a safe haven for teenage girls. It's the room they probably spend the most amount of time in, whether it's to sleep, relax, read a book, play with makeup, or just to hang out with friends.
So, it only makes sense why you'd want to get some inspiration for decoration and renovation ideas.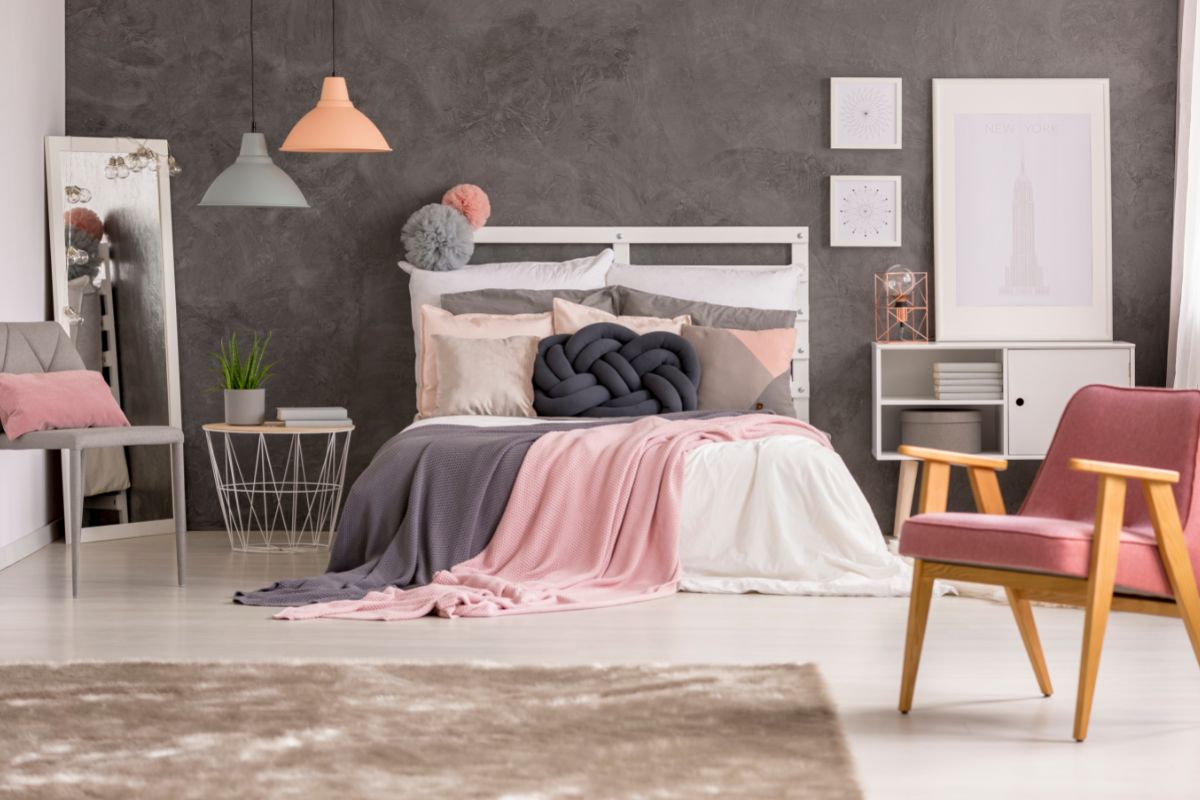 The key to decorating any teenager's bedroom is to give them the creative freedom to choose a theme and design themselves. You want to design a room that reflects their personality and hobbies, as well as something they feel safe and comfortable in.
Fortunately, you don't necessarily have to redecorate the entire room to give it a breath of fresh air. Here are 15 girl bedroom ideas (Also check out Bloxburg Bedroom Ideas) you'll fall in love with!
Statement art pieces are an inexpensive and quick way to instantly enhance a room, especially if you want to stick to a color theme. For example, if your teenager's ideal color scheme is pink and green, you can find statement prints that exhibit these colors to set a theme.
Once you've found your chosen art pieces, you then need to figure out where to hang them. You can even make a gallery wall with multiple frames, which is a stylish way to make a room look cluttered yet tasteful.
A feature wall is another quick way to enhance a girl's bedroom with little effort. All you have to do is pick a chosen color, and then paint a singular wall.
This works especially well for the wall behind the head of the bed. Then, you can add furnishings that match the color of the feature wall to tie the room together.
Alternatively, you can always use wallpaper for a feature wall if you want more dimension in pattern and design. Wallpaper is easy to apply and can be done without the help of a professional, too.
Adding a canopy over a bed is an affordable way to make a girl's bedroom look instantly more luxurious. Not everyone has the funds or space for a four-poster bed, so a canopy works to mimic this design.
Once pulled over the bed, a canopy creates a sense of privacy and comfort that is ideal for girls who like to feel cozy while sleeping.
When pulled back, a canopy makes a bedroom look instantly more princess-like, which is ideal for girls who want to follow a princess theme. If not, there are lots of mature canopies out there for older teens!
If your teenage daughter is growing out of their pink and princess-themed room, but they still want a colorful space to rest, it's time to go big or go home with colors and patterns.
Bold colors and patterns (such as geometric shapes and animal print) provide a sense of personality to a bedroom, which is perfect for a bubbly girl!
The best thing about a bold bedroom is that the colors and patterns don't necessarily have to match. This theme works best with chaos, so go wild with layering patterns and colors to create a stylish blend.
If you've got a teenage daughter, she's going to need space to do her homework and study in private. Sure, she can do her work in the dining room or living room, but she'll probably respect the privacy of being able to study in her room.
It might also help her feel more mature and independent, too.
So, if the room is big enough, adding a desk to a girl's bedroom is a great way to make it look slightly more grown up. This also allows them the chance to decorate it however they like without restriction.
You'll be surprised at how much wallpaper can change the vibe of a room. If you find a wallpaper that fits the aesthetic of the room and your teenager's design choices, then it might be the root to change up the bedroom without doing a full renovation.
There are so many types of wallpaper out there, and the best part is that you don't even have to decorate every single wall in the room with it. As with accent walls, you can make a feature wall with wallpaper.
Not everyone can say they've got a hanging chair in their bedroom, so if you really want to make the girl's bedroom look extra special, why not install a hanging chair?
Hanging chairs not only provide an extra seating area for reading or scrolling through a phone, but they're also super stylish and enhance a room dramatically.
Even if the chair isn't going to be used to sit in, it still works as a stylish piece of furniture when you add a throw and cushion to the chair. You might need the help of a professional for the installation, however.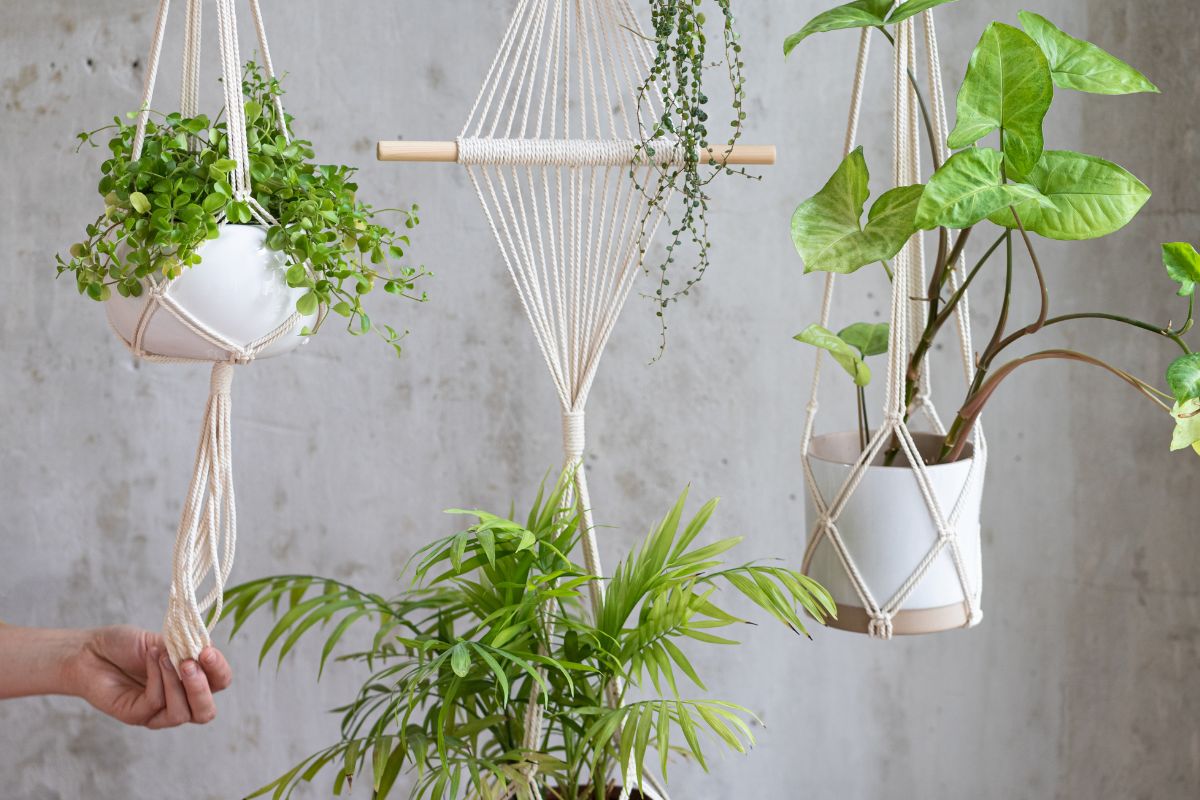 Speaking of hanging furniture, attaching some hanging plants to walls and ceilings is a great way to add some natural color to a bedroom without cluttering the floor or limited surface area. This is a great way to fill up wall space, too, if your teenager wants a minimalistic bedroom.
The only downside to hanging plants is that you'll need to trust that your daughter keeps them alive. However, you can easily remedy this with fake plants, which look just like the real ones except with no maintenance.
Headboards are the unsung heroes of a bedroom. Unless your bed comes with a built-in frame anyway, you can always add a fun headboard to essentially change the design of the bed.
If you match the headboard with some new bedsheets, you might not even realize that the bed frame and mattress haven't even changed!
Not only this, but headboards provide a bit of decoration to the wall of a bedroom. While most headboards are just for practicality, you can find colorful ones that brighten up any room.
Teenage girls will start to explore the world of makeup at some point. If your daughter is becoming more interested in hair and makeup, then building a little vanity in her room is a great way to accommodate this newfound hobby.
The best thing is that you don't have to buy an expensive or large vanity for this! Instead, take a side table, desk, or small chest of drawers, and place a mirror on the top. Then, place a chair by the table, and fill the area with their makeup and hair products.
If you're renovating your teenage daughter's bedroom, it's likely because she has grown out of her childhood room design.
So, a great way to make her bedroom look more mature (and therefore support her wishes to become more independent) is to choose a mature color scheme, such as gold and pink.
Gold and pink is a classy, stylish, and grown-up color palette that is perfect for a teenager who wants a fairly minimalistic bedroom. It also maintains a whimsical and youthful vibe, so she won't feel too grown up to not be a teenager.
If your teenager is an avid reader, then making her a reading corner is a fun way to support her hobby as well as decorate part of her bedroom.
A reading corner can range anywhere from an armchair to a windowsill covered in blankets and cushions – the key is to make it as cozy as possible.
A reading corner isn't a reading corner without lots of blankets, books, and a space to hold snacks and drinks, so make sure to accommodate this too with a nearby table.
Every teenager dreams of having a bunk bed. There's something so appealing about climbing a ladder to your bed. So, if your teenage daughter needs a new bed, why not treat her to a loft bunk bed?
Loft bunk beds are not only gorgeous, but they're incredibly practical and ideal for saving space. Under the bed can reside a desk, couch, reading area, or chest of drawers, allowing for more room elsewhere in the bedroom.
Standing or desktop lamps are a suitable way to light up a room, but an extra fun way to light up and decorate a room is with neon lights. You can find neon lights in any design, and even ones that read words and phrases.
Not only do they light up a space, but they create ambient lighting and look amazing in a girl's bedroom.
A chalkboard wall is the perfect way to allow your daughter to be creative and artistic in her room. She doesn't even need to create extensive drawings – the wall can be used to write down notes, lists, and even provides a space to stick posters to the wall.
For the adults, this is a good way to allow your teen to be creative with her room without causing too much damage.
Conclusion
So, there you have it! Hopefully, this guide has given you some inspiration on how to enhance a girl's bedroom.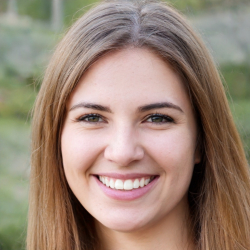 Latest posts by Maisie Park
(see all)