While choosing the perfect lighting for a room sounds like an easy enough task, you'd be surprised at how difficult it can be.
Depending on the size, layout, and design of a space, will influence the type of lighting that would best suit the area.
Your living room is typically your most intimate room, where all your friends and family congregate to talk and enjoy each other's company. Therefore, choosing the perfect lighting to suit the environment is important.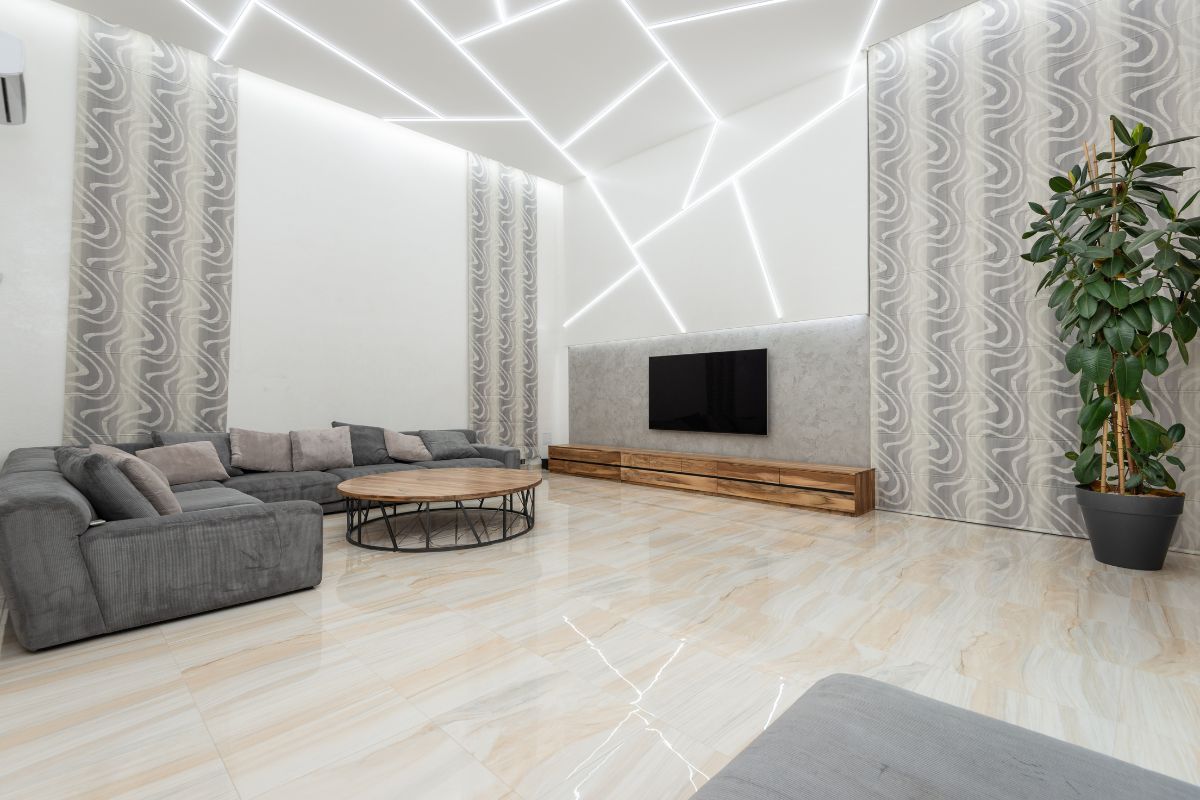 However, there's no need to worry! Whether you're in doubt about the final touches of your living room or unsure about the right lighting fixtures for you, well, this guide has got you covered.
With 15 living room lighting ideas, there is sure to be something that will match your desires. Ranging from chandeliers to hanging lamps, there is something for everyone!
With this in mind, below you will find some inspiration to help you with your living room makeover!
Let's get straight into it!
1. Natural Living Room Lighting Ideas
As its name suggests, this type of lighting utilizes the sun's natural cycle to brighten/ darken a room, based solely on windows.
Thus, when the sun is up, the room will be lit bright, on the other hand, when the sun goes down, the light goes with it. While this can sometimes be difficult to implement, it isn't impossible.
Natural lighting is obtained through big, large windows that almost entirely dominate a room. Likewise, several medium-sized windows will also serve the same purpose.
2. Chandelier Lighting For High Ceiling Living Room
If looking for a dramatic touch and making the most out of your high-ceiling living room, this is the perfect location to display a chandelier.
Not only does it make for a statement piece, but it is also the central attraction when you step foot into the room.
Chandeliers come in all shapes and sizes, so finding one that perfectly complements your space shouldn't be too difficult.
Ranging in size, color, and fixtures, there is a chandelier to suit various household themes.
For instance, you could choose a lightweight, minimalistic chandelier with golden accents to seamlessly incorporate into a bright, white living room.
Moreover, you can make the most out of the room's natural features, such as a rug, plants, as well as furnishing, to bring the whole room together.
3. Living Room With Wall Lights
This is a quirky yet somewhat odd design that is sure to set your living room apart from others!
While they aren't as popular as string lights, they provide a playful and fun atmosphere to a living room.
Coming in a range of different shapes, sizes, and colors, you can mix and match different fixtures to complete a room.
4. String Lights For Fancy Living Room Ideas
Have you ever thought about using string lights to brighten up your area? Well, you should!
While they are commonly used as decoration, many people have started using them for lighting fixtures, too.
The beauty of these lights is that they come in all shapes and sizes, so you'll have no problem finding string lights that match your aesthetic. Their warm, homely atmosphere definitely sets the mood in your living room.
If you're looking for a slight glow, then opt for smaller bulbs. On the other hand, choose larger bulbs for a more intense shine – the choice is up to you!
5. Industrial-Looking Lighting
In recent years, industrial-looking lights have become increasingly popular. You may have already noticed them in your favorite indy restaurants and cafes.
Typically, these types of lighting are found in the form of pendant lamps or vintage-style lighting.
Pendant lamps can come in a range of different shapes and sizes. For instance, you can choose a metallic pendant lamp for overhead lighting. Place it near a couch or in the middle of a room for a strong industrial design.
6. Metallic Lamp On Your Living Room
Whether you have one spot in your living room that is perfect for reading or a cozy corner that doesn't receive much light, then why not consider purchasing a side table featuring a metallic lamp?
This is the perfect maneuverable lighting, place it on the edge of your living room and then move it when necessary.
To help it blend smoothly into your existing area, you could add a few finishing touches including a small bookshelf or a few ornaments.
7. Ornate Sconces Living Room Light Idea
If you're looking for a more dramatic, and somewhat period-themed lighting fixture, then you should consider purchasing sconces lights. These can easily be found online or in-store, and offer several different design options.
For instance, one design may feature oak leaves in a deep, dark gray color. This not only stands out on a stark, white wall but also provides a tough, masculine look.
One tip when looking to feature ornate sconces in your living room is to not be afraid of clashing colors.
8. Contemporary Lighting In The Living Room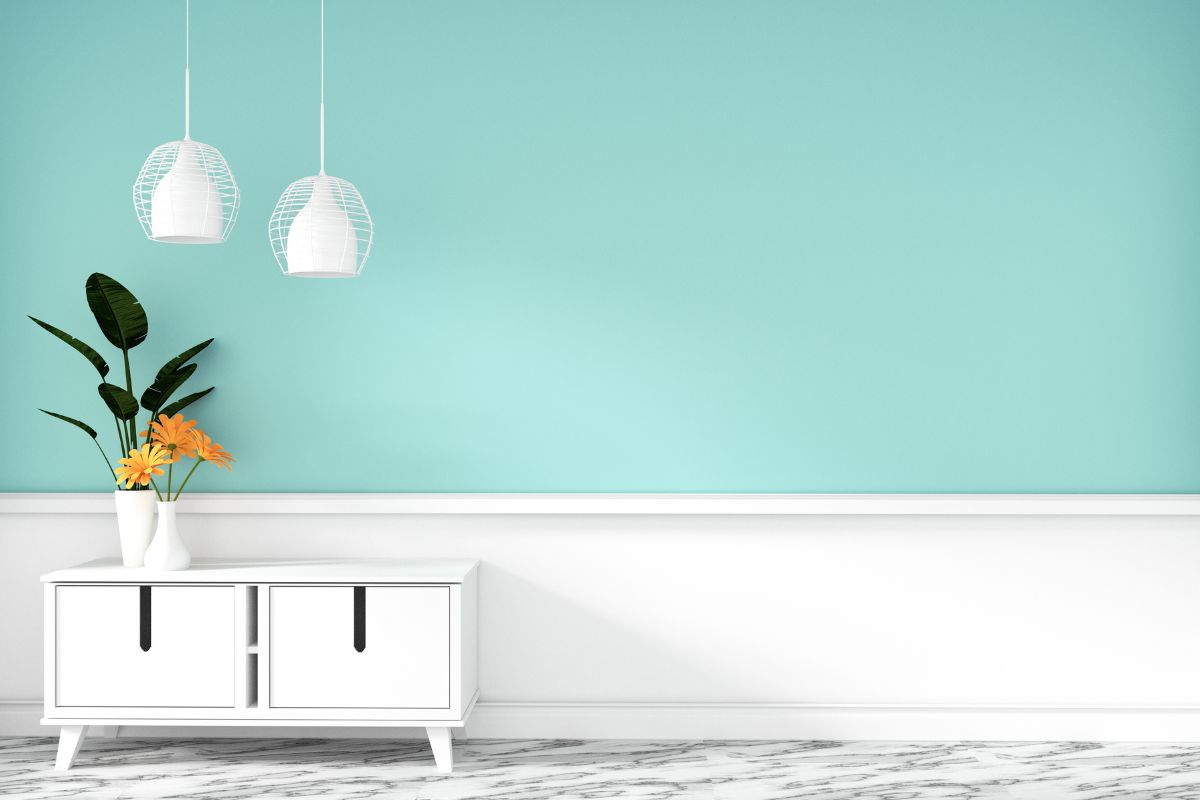 Typically, when choosing lights, many people will go for the traditional bulb style. However, more and more people are beginning to opt for a more quickly, and unique lamp design.
One example would be bulbous lights. Depending on your living room, these can create a dramatic effect that adds both dimension and texture to a room.
9. Living Room Hanging Lampshades Room Lighting
In the colder months, when it begins to get dark earlier, you'll want lighting that provides you with a warm and comfortable atmosphere.
A great way to achieve this is by utilizing lampshades to trap this light. Available in a range of different colors, sizes, and shapes, you can completely customize your lighting to suit your space.
10. Lanterns For Moroccan Living Room Vibes
Utilizing lanterns turns your plain, boring living room into a Moroccan dream. All you need is a couple of lanterns in varying sizes, floor cushions, and many different textiles.
However, make sure to use LED lights to prevent any hazards due to flammable materials. Moreover, for textiles, consider throwing a billowy, soft blanket onto your couch with extra cushions to complete the look.
Blending natural and neutral colors throughout your space.
11. Cove Lighting To Provide A Fresh Looking Living Room
If you're an adventurous person, then you may want to consider this cove lighting design. Forget about traditional lighting fixtures, this ceiling accent will have your living room looking extra elegant
Not only does it accentuate the natural architectural design of your ceiling, but it also enhances your living space.
12. Matching Table Lamps For Your Living Room Lighting
All the best things come in pairs. The same can be said for these matching table lamps which provide additional lighting to a living room.
The great thing about lamps is that you have the creative freedom to place them wherever you desire. Whether this is on the window sill, bookshelf, or coffee table, they will add all the ambient lighting you could need.
13. Central Pendant Living Room Lighting
Installing a pendant light can mean the difference between a boring living room and a room full of life. Not only does it create an inviting atmosphere, but it is also the center of attention, drawing anyone who sees it closer to the room.
To accentuate the soft and homely atmosphere these lights provide, you should add colorful rugs and an array of flowers to complete the look.
14. Decorative Lighting In Your Living Room
Your living room shouldn't be a bleak, uninviting room. In fact, it should be the opposite! Rather than having one serious main lighting, why not opt for various decorative lighting? These can be layered in a room for a range of different light sources and accessories.
For instance, a chandelier may be your main light source, however, you can also include a floor lamp for extra flexibility.
The final touches could include a desk lamp. Not only does this add dimension to your living room but also a homely flair.
15. Drop-Down Living Room Lighting Ideas
These drop-down lighting fixtures will transform your living room into something otherworldly. Essentially, lights are stung down from the ceiling, using strong wire, towards the floor.
The results are an impressive display that is sure to take center stage in your living room.
The lights provide a warm, comforting glow that turns your room into a fantasy land. If you have tall enough ceilings, then this design is a must-try for an artistic, yet luxurious living room.
Final Thoughts
The living room is one of the most social places in a house. Therefore, having the right lighting to establish the atmosphere is important – no one likes socializing in the dark! Therefore, having the right lighting in your living room definitely makes a difference.
Hopefully, this guide has provided you with some inspiration on living room lighting ideas.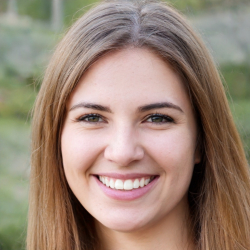 Latest posts by Maisie Park
(see all)