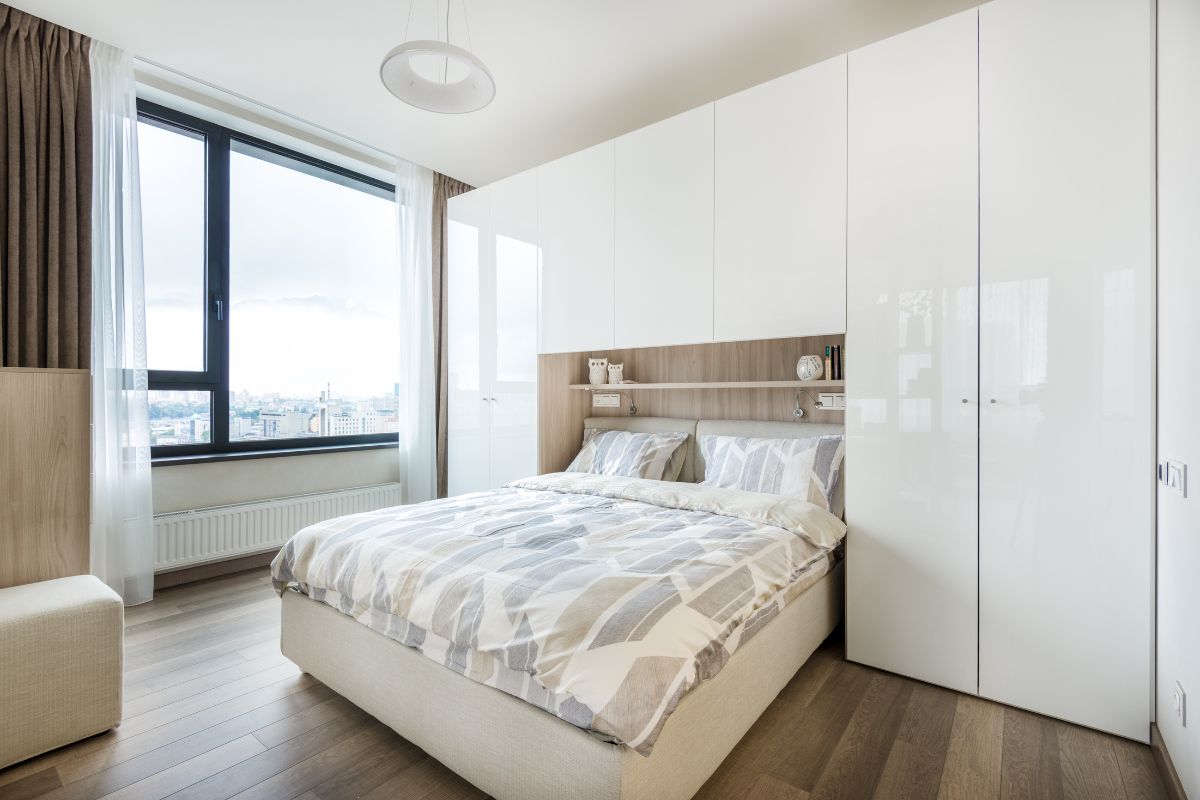 Shelving: it may be the ultimate storage solution, but its decorative potential shouldn't be overlooked, either. If you're ready to take your one-dimensional walls to new heights, keep reading to explore 15 bedroom shelving ideas you're bound to fall in love with.
1: Illuminate Your Shelves
Shelves can be both decorative and practical, and in our opinion, a healthy balance of both makes for some eye-catching decor.
If you're bored of placing ornaments and plants on your shelving units, and you want to find new ways to bring your units to life, why not try illuminating them? 
If you're working on a budget, simply draping some fairy lights over the top of your shelves can do the trick. Adding them inside each nook can also add some extra warmth and depth.
If you really want to push the boat out, try installing some LEDs at the top of your shelving units for some extra visual aesthetic. 
2: Add Floating Shelves To A Nook 
If your bedroom has a nook that you don't know how to decorate, why not add some floating shelves? While standing shelves can be just as practical, they often look bulky and can make your space feel smaller.
If your bedroom is already small, merge the illusion of space with practical solutions like floating shelves to make things look less cluttered but still open.
If you don't need more storage space, you can still decorate your floating shelves with flowers, jars, and neutral-toned ornaments to make your bedroom look and feel more inviting without sacrificing too much space. 
3: Use Free Standing Shelves
If you don't fancy yourself as a DIYer, or your housing situation won't allow you to make permanent fixtures with holes in your walls, you can still take advantage of shelving with simple, free-standing shelves.
Free-standing shelves come in all shapes and sizes, but ladder-style freestanding shelves are great for adding a more rustic, shabby look to your bedroom.
If you want something minimalist, choose plain white or wooden shelves, and decorate with bolder colors, such as yellow and gray, for a modern feel. 
4: Add Some Style With Hanging Shelves
If you're a bit of a sentimental hoarder, you probably have plenty of tiny nicknacks that would be thrown to make space for more important items.
However, by installing some simple hanging shelves in your bedroom, you can keep hold of small, decorative items and display them beautifully. 
However, hanging shelves aren't recommended for uneven walls, and you should always consider the load capacity before adding in your ornaments. If you have an office space in your bedroom, hanging shelves can also double up as a stylish storage space for your post-its, pens, and notebooks.
5: Floating Shelves Above Your Bed
It's easy to neglect the space above your head. Although a simple headboard can be enough to fill your space, why not take advantage of the wall space and install some floating shelves?
Adding floating shelves above your bed creates the perfect space to store anything from books to extra ornaments, decorative candles, and extra lighting solutions.
Floating shelves can be easily installed with screws, and as the name suggests, all installation components are hidden, so you won't have to worry about it looking messy. If you're going for a minimalist theme, these will be a great addition to your space. 
6: Contrast White and Gray
Shelves are more than just storage solutions. If you have a theme in your bedroom, you'll want your furniture to complement it – including your shelves.
If you're on the hunt for a new theme or you're redecorating your bedroom, try contrasting white and gray for a modern, sleek look. 
This could be white shelves against a gray wall or vice versa. It creates a clean, crisp look that can be easily injected with bolder bursts of color, such as gray and blue, or even yellow.
Fill your shelves with decorative items or practical items such as an alarm clock for a balance of practical and ornamental storage. 
7: Try Subtle Industrial Shelves
If you love all things industrial, keep your bedroom theme on brand with some subtle industrial shelves.
Industrial shelving is usually completely metal and wired, and it's a stylish way to store anything from magazines and ornaments to bedding. 
Industrial shelving provides a contemporary look, and although it can look a little clinical at first glance when decorated with plants, books, or any items of bold or neutral colors, your industrial shelving can become a centerpiece in your bedroom.
8: Use Corner Shelves in Small Spaces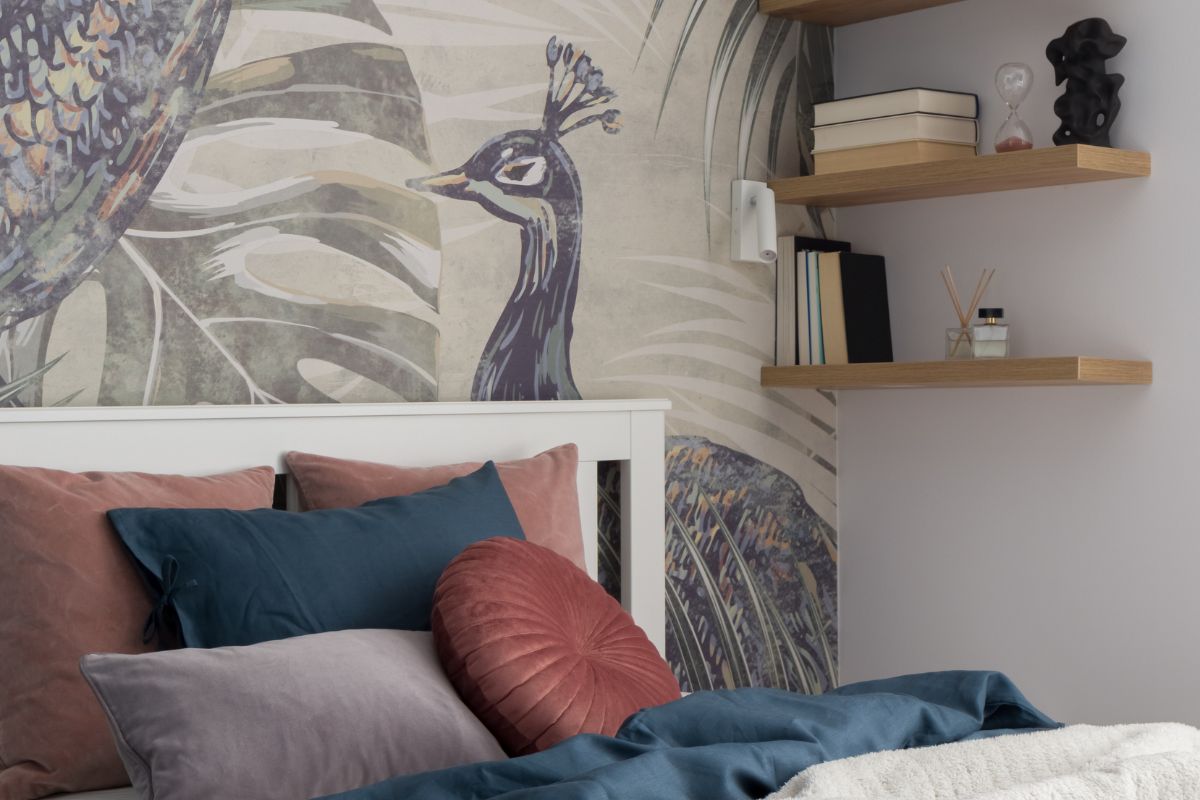 If you have small corners in your bedroom, it's easy to neglect them. Whether they're sitting around as empty space or a dumping ground for your pile of laundry, transform your small corners with some simple corner shelves.
Corner shelves have been popular for decades, and with so many styles available, you can find a set to suit almost any bedroom theme.
Corner shelves are a great way to showcase any important decorative items you want on display, but they look particularly great with houseplants, decorative dishes, and the odd photograph.
Simple, affordable, and stylish, you really can't go wrong with corner shelves! 
9: Maximize Space With Window Shelves
When you're adding shelving to your bedroom, it's easy to focus exclusively on your walls. However, you shouldn't neglect your windows, especially if you're low on wall space.
Window shelves are often glass or clear plastic, so they blend in seamlessly, but they still allow you to display your favorite objects in clear view without being impractical. 
Window shelves are ideal for houseplants that need plenty of natural light, and your shelves will look just as good on the outside as they do on the inside.
Place the odd ornament or book between plants to break up the greenery, and make your shelving feel more inviting and less like a greenhouse. 
10: Add Decor to Over-the-Door Shelves
If you want to add some more subtle, less invasive shelving units into your bedroom, why not install some over-the-door shelves?
These shelving units offer a practical storage solution without dominating your space, and they're ideal for decorative items or books. 
This is one space that's often forgotten about, but shelving above your door is practical, attractive, and especially useful for small bedrooms.
You can store anything here that you don't need to use frequently, and if you want to add some character, choose shelving with some attractive fittings for a more visually appealing solution. 
11: Decorate Bookshelves With Coastal Decor 
If you love all things vintage and shabby-chic but you're not sure how to decorate your new vintage bookshelves, why not opt for a coastal theme?
Coastal themes are one of the most common for vintage bookshelves, and they create an intriguing, inviting, and exciting display for you and your guests to appreciate. 
Load your shelves with reminders of the sea, from photos and shells to coastal-inspired clocks and other ornaments. Who doesn't want a bit of the seaside in their own home!?
If you want to make the experience more personal to you, head to the seaside yourself and collect a few of your favorite rocks to display in a dish or on their own with other features.
12: Don't Be Afraid Of Arched Tops 
Not all shelving units have to be chunky and flat. An arched top unit can add some extra texture and life to your bedroom! Arched top openings can be styled with all sorts of things, including artwork, accessories, and your favorite books.
Arched tops work best when the shelving includes layered wooden panels. If your shelving doesn't have this, incorporate plenty of bold ornaments, or give it a lick of paint for a new lease of life.
13: Use Tall And Narrow Shelving 
If you're low on storage space, you might be intimidated by the thought of adding in large, imposing shelving. Sometimes, it's best to keep things simple, and less can really be more with some tall and narrow shelving units.
This type of shelving, especially when it's built-in, can help frame and reinforce any focal points of your room (such as a fireplace), and when paired with warm lighting, you can draw your guest's eyes to the features you want to be exposed.
14: Wrap Around Shelving
If you're feeling bold and ready for something a little different, wrap-around shelving might be ideal for your bedroom – especially if you have plenty of empty wall space to play with.
Wrap-around shelving does exactly what it says on the tin, and it blends seamlessly from flat walls and around corners to transform your empty walls into the ideal storage space. 
Although these shelving units are incredibly practical, they're most commonly used as display space. To add more depth and texture, break up your displays with bold, contrasting colors and an array of ornaments, including some practical items.
15: Two Tone Shelves By Painting Built-ins 
Your shelving doesn't have to be all one color. If you want to add some extra dimension to your storage space, why not try painting your shelves with a modern, two-tone appearance?
By customizing your own shelving with contrasting colors, you can create a focal point on a budget and add an extra layer of interest and excitement to an otherwise one-dimensional area. 
Final Thoughts
There are so many ways to decorate your bedroom, but by simply shaking up your shelving arrangements, you can transform small nooks, wide walls, and bland units with just a few simple steps!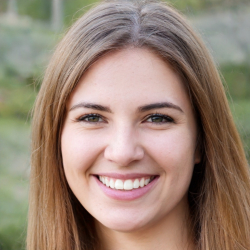 Latest posts by Maisie Park
(see all)