Coziness is something we all crave. We want to feel comfortable, safe, and relaxed in our homes,  and there are many ways to achieve that feeling.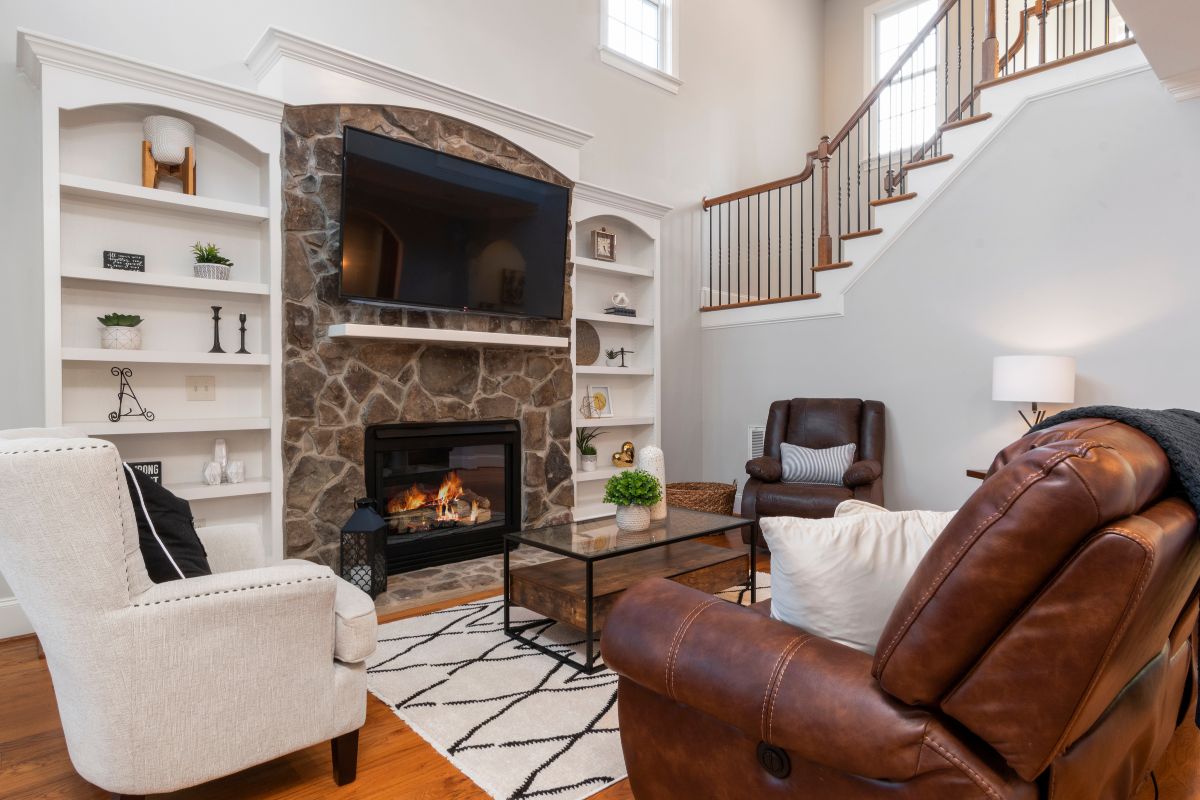 The living room is where we generally enjoy relaxing after a hard day and there are lots of ways to make this a super cozy space. Here are some ideas to achieve this. 
Color
First, let's talk about your color palette. Choosing the right colors for your space is important because they impact how everything else looks.
A good rule of thumb is to stick to colors in the same families. So, if you're choosing reds, oranges, yellows, greens, purples, blues, etc., make sure those shades are close together.
They'll blend well together and feel less overwhelming and more relaxing. 
Next, think about the light sources in your living room.  Is it facing south, where the sun shines brightest during the day?
Or does it face east, where the sunlight hits later in the morning and evening? Does your living room have a big window? All of these factors affect how much natural light enters into the room. 
Finally, consider the furniture you choose. If you're purchasing new pieces, try to avoid buying items with bright patterns or prints.
These can distract from the rest of the room and take away from the overall ambiance. Instead, opt for neutral tones like white, gray, black, brown, tan, and sage green.
Seating
A sectional sofa is one of those pieces of furniture that can transform a room. They're incredibly versatile, and there are many different options out there.
From modern designs to classic styles, there's something for everyone. But what do you look for when shopping for a sectional? Well, we've got some tips for you.
The first thing to consider is the size. Some people like to go big, opting for a larger piece that takes up the majority of the living area.
Others prefer smaller sections that fit snugly into a corner or nook. Either way, you want to make sure that the seating fits comfortably within the space you have.
If you don't have enough room for a large sectional, choose a smaller model instead. This will give you plenty of flexibility without taking up too much space.
Next, think about style. Do you want a traditional couch with armrests and tufted cushions? Or perhaps a sleek leather design with clean lines and minimalistic detailing?
Whatever type of styling you're looking for, there are endless possibilities. So take some time to browse our selection of sectionals and find the perfect match for your living room.
Add blankets
A throw blanket is a great addition to a couch because it adds comfort and style. But what about a blanket? A thick one makes the whole room feel warmer, while a light one keeps things cool.
There are lots of ways to layer blankets on the couch, depending on how much storage space you have and whether you want to go bold or subtle.
Start with a large, fluffy throw and drape it over the entire seat cushion. If you have a smaller space, try a smaller throw and tuck it under the armrests.
Or, fold down a couple of cushions and use those as makeshift seats.
If you prefer to keep everything simple, just pile a few blankets on the floor next to the couch. Covering the entire area with a single blanket gives you plenty of options for layering.
Use the same type of blanket throughout the house—a neutral tone like tan or white works well together. Then, mix in some bright colors to give the space a pop of personality.
Not only do blankets look good, they are great for adding extra warmth on those chilly winter nights.
Texture
If you're looking for a way to bring some texture into your living space without breaking the bank, consider adding layers of texture to your walls and floors.
This simple trick adds depth and interest to a room while keeping it affordable.
Start by choosing a neutral color palette. Then, layer patterns and textures onto the walls and flooring. For example, choose a light gray wall paint and apply a patterned wallpaper over it.
Use a dark brown carpet and add a textured throw pillow. Mix the colors together to achieve a soft balance.
You don't want to go overboard, though. Too much texture can look messy and cluttered. Instead, keep the number of layers low enough to maintain visual interest.
A few subtle touches here and there will give your room character and personality.
Pillows
The best part about decorating a home is being able to make it feel like yours. This doesn't mean you have to spend thousands of dollars on expensive items.
Instead, you can easily update the appearance of your living room (Also check out Long Living Room Ideas) with inexpensive accessories.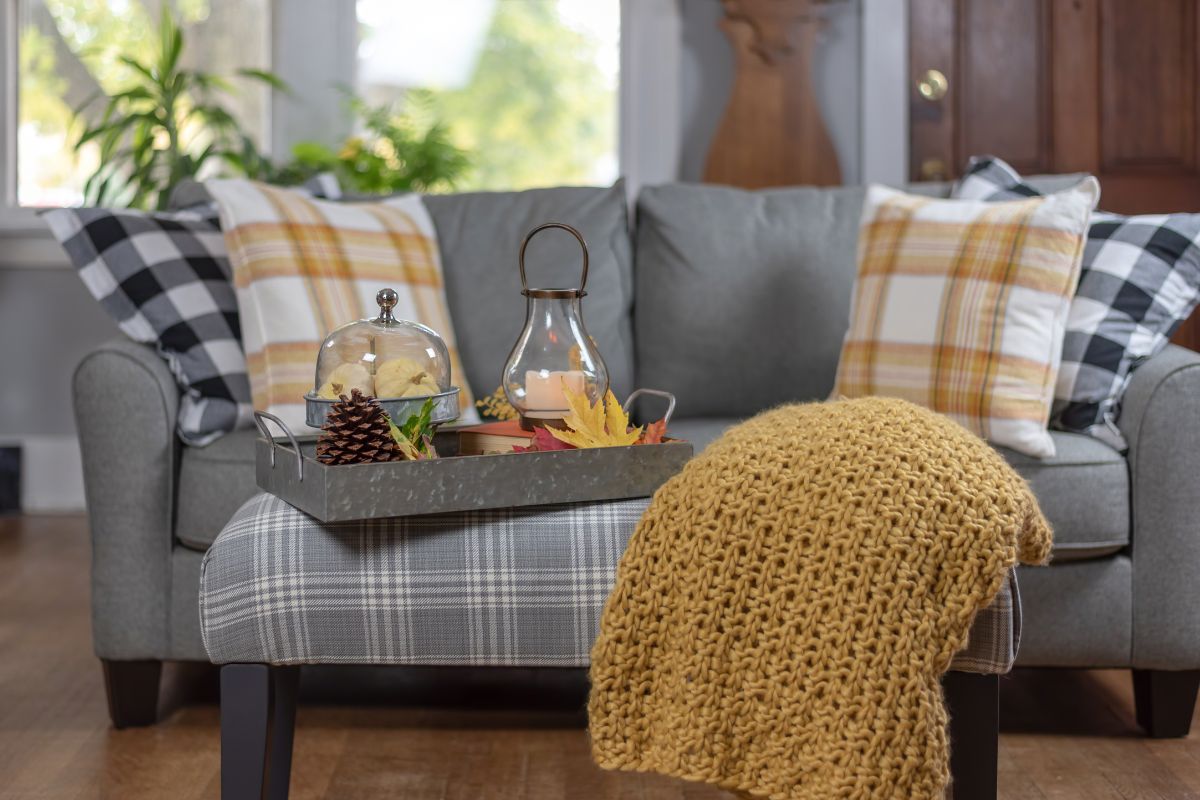 As we've mentioned, adding blankets is a great way to make a living room cozy but you can also  add throw pillows.
These soft pillows are extremely versatile because they come in many different designs, patterns, and styles.
If you're looking for something fun and unique, try mixing up different types of pillows to give your couch a whole new look. Here are four tips to help you choose the perfect throw pillow.
1. Choose Your Size
When choosing a throw pillow, think about how big you want it to be. For example, if you plan on having a small sofa, go with a smaller size.
However, if you plan on sitting on a large sectional, go with a larger size. Keep in mind that throw pillows tend to be smaller than regular cushions.
2. Consider Your Color Scheme
Another important factor to consider when selecting a throw pillow is what type of color scheme you want to incorporate into your room.
Do you prefer bold hues or muted tones? Or maybe you love neutral shades? Whatever your preference, there are plenty of options to meet your needs.
Mixing and matching different colors creates a dynamic look that makes your room stand out.
3. Pick A Pattern
If you want to really jazz up your living room, pick a decorative pattern. There are tons of choices to choose from, including stripes, polka dots, paisleys, plaids, florals, and much more.
To keep things interesting, don't limit yourself to one design. Try pairing multiple patterns together or alternating between different patterns throughout your space.
4. Add Texture
Adding texture to your throw pillow adds depth to your room. Think about incorporating plush fabrics, velvet, suede, leather, or anything else that feels good against your skin.
Although most people think of textiles as being hard materials, softer options are just as effective.
Fireplace
Fireplaces are one of the most beloved parts of a living room. They provide warmth, comfort, and a sense of coziness.
But, did you know there are many other reasons why having a fireplace is a good idea. Here are five things you might not have known about them.
1. A Fireplace Adds Value To A House
One of the biggest benefits of adding a fireplace to your home is that it increases the market value of your property. This is because buyers pay more attention to homes that have fireplaces.
In fact, according to Zillow, homeowners who include a fireplace in their listing receive a median price increase of $15,000 compared to those without.
2. Fireplaces Improve Air Quality
A fireplace can help reduce indoor pollutants such as dust mites and pollen. These microscopic particles can cause allergies and asthma symptoms.
When you burn wood or coal inside a fireplace, these particles are removed from the air.
3. Fireplaces Keep Rooms Warmer
In colder climates, fireplaces can keep rooms warm during winter months. Because fireplaces heat up the entire area surrounding them, including the walls and floors, they can prevent cold drafts and even lower heating costs.
4. Fireplaces Make For Great Focal Piece
If you're looking to add some flair to your living room, try placing a fireplace in front of a window. It's an easy way to bring natural light into your space while also creating a focal point.
5. Fireplaces Are Beautiful Additions
When you place a fireplace in your home, you're making a statement about your style. You can use this to your advantage by choosing a unique theme or design.
For example, if you like rustic styles, go with a log cabin-style fireplace.
Scents And Candles
There is something really comforting about the aroma of burning candles and really increases the cozy feeling of a room as well as smelling awesome. 
If you prefer not to use candles you can try a diffuser. This is a nifty little device that allows you to enjoy the aromas of candles without sacrificing convenience.
Add Books
Adding books to a living room creates a gorgeous cozy atmosphere especially if you are a certified bookworm.
Books are great accessories for any decor style. You can incorporate them into traditional spaces, modern homes, or transitional interiors.
There are a variety of beautiful bookcases that look ornate and sophisticated or you can save space by adding bookshelves to alcoves.
Conclusion
The living room is an integral part of our homes and there are lots of ways we can make it an inviting and cozy space perfect for relaxing and unwinding.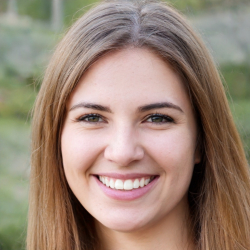 Latest posts by Maisie Park
(see all)