The color blue makes us think of the outdoors. It reminds us of wide open skies and sparkling seas, and can calm a busy mind. Used in the home, blue can help us relax and chill out.
Blue is also an incredibly adaptable shade. In many ways, it works similar to a neutral, and can be paired with a range of colors and textures. Blue can be dressed up or dressed down, add sophistication or bring the fun, create a modern finish or remind us of an elegant past.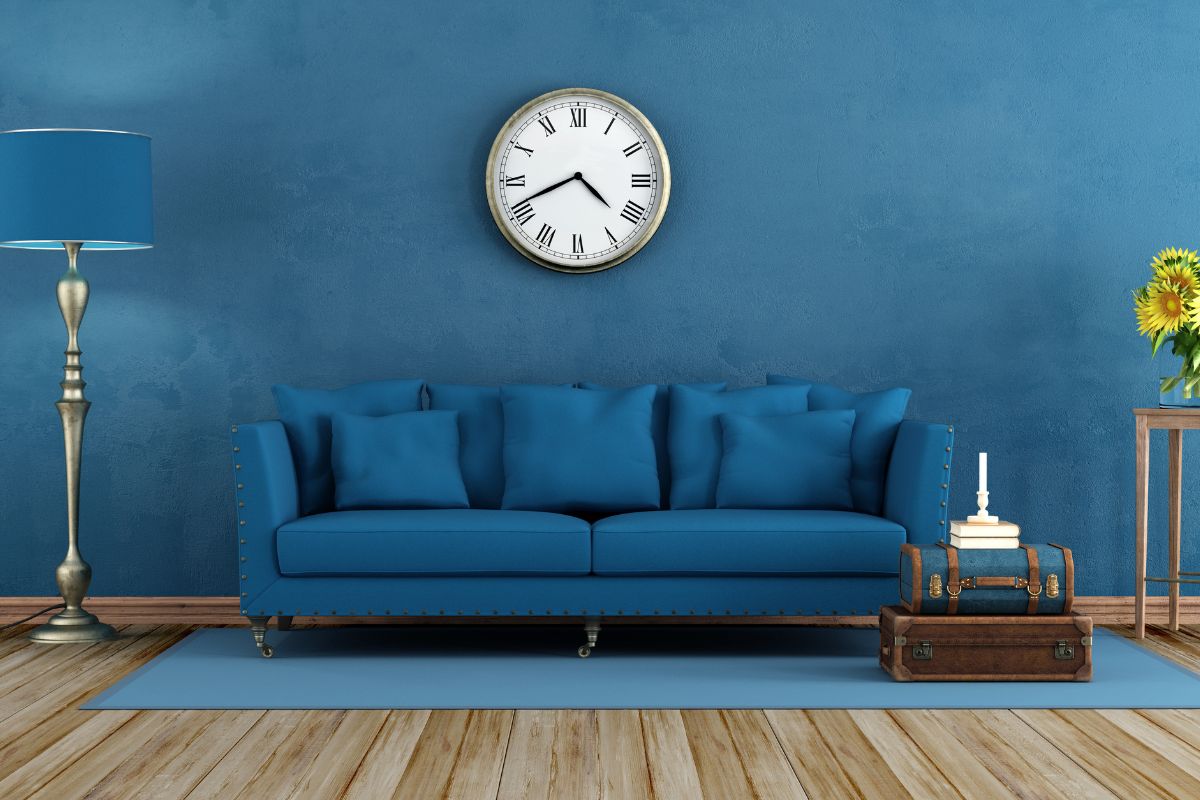 Wondering how blue can be used in your living room? Take a look at these 15 blue living room ideas, and fall in love.
Navy is a classic and adaptable wall color, and right now, dark navy is everywhere. This moody and sophisticated shade fills a space with elegance, and the slight saturation of the darker color makes it a fantastic background for other shades.
Navy blue is often considered a neutral, thanks to its versatility. Use it across the entire room for a dramatic and brooding feel, or center it as a feature wall.
Classic materials such as leather and hardwood can be used alongside an encompassing navy for a traditional look that's still forward-thinking.
2. Bring In Nature With Sky Blue
Sky blue is a serene shade that reminds us of being outdoors. It's incredibly calming, and can lift a room and give it a new lease of life. In a family living room, sky blue brings brightness and optimism, and with a touch of nature, it helps both you and the room feel refreshed.
If you choose a particularly light shade, sky blue can be used across both the walls and the ceilings. Fill the room with plants and greenery, to emphasize the natural features.
3. Keep It Simple With Blue Gray
Gray has been the shade for many years now, an adaptable neutral that remains popular thanks to its ease of use. Cool gray colors use a touch of blue to add some power to the shade without overwhelming the space.
The gray blues often resemble worn denim, and can be the perfect backing to a room with a Bohemian vibe.
By pairing a gray blue with darker navy decorations, brighter blue fabrics, and plenty of patterns, you can create a Boho living room that's visually interesting without clashing.
4. Layer Blue Shades
Love blue? Try going for blue on blue on blue! For a modern look, go uniform. Because blue is such a versatile color, you can often decorate an entire room in a single shade without it becoming dull or tacky. Go for a softer blue, and pair with refined neutrals.
Alternatively, use blues with similar undertones and different intensities across the space. In a living room, this mix and match approach is fun without becoming cluttered.
5. Clean Lines With White And Blue
White and blue are always a perfect combination, and the crisp lines of a dazzling white can really bring out the best in your blue, making the shade appear bolder and more vivid.
For a small living room, paint the walls white, and use blue furniture and decoration. For a larger living room, white trims can add a coastal feel to a lighter blue, or modern minimalism to a rich blue. Or go for a bold look, and segment your blue walls with a white horizontal stripe.
6. Try Teal For A Fresh Feel
Green is an underrated shade for the living room, as this natural color brings the calm of the outdoors. But it can be tricky to get right. Instead of committing to a green living room, try teal instead. Teal combines blue and green, for a subtle and sophisticated nature shade.
Teal is a wonderful pairing for gold and brass, and can be used with luxurious fabrics to create a classy living room. It also pairs well with animal prints, and can be used alongside a printed wallpaper or mural wall.
7. Be Bold With Color Matches
If you tend to choose neutrals because you don't want to limit your color matches, then you need to rethink blue. Blue acts like a neutral in many ways, especially a navy blue.
Pink can be given an air of sophistication by combining it with blue, particularly if you choose a peach or dusky pink. Another excellent blue color match is green.
Or play up the contrast by choosing yellows and oranges. This is a strong choice, so keep the lines simple and let the colors do all the work.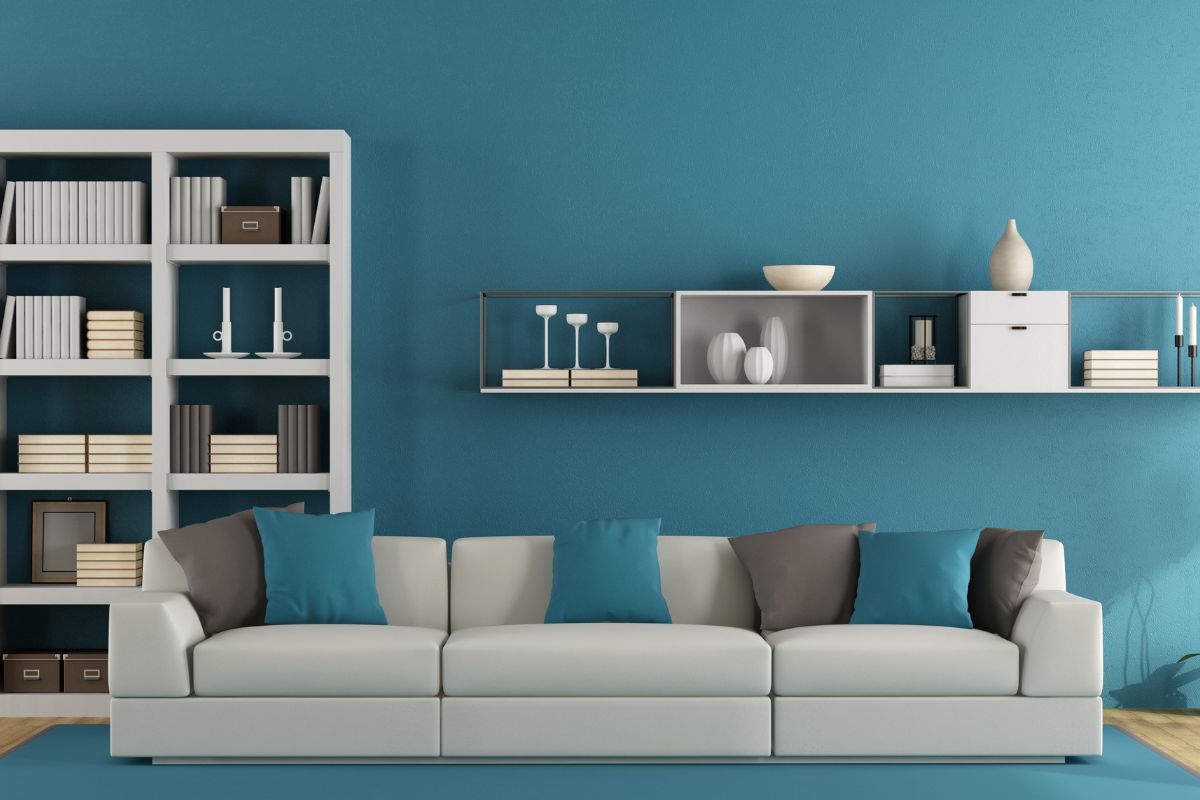 8. Draw Inspiration From The Sea
The coastal theme can be a little overdone, but that doesn't mean you have to stay away from it. Instead, draw your attention away from tacky gift shops, and towards the sea itself.
Replace anchor prints with patterned tiles, bright blues with soft pastel teals, and rattan furniture with warm woods. Painted shiplap helps build a nautical theme, and is very much on trend.
A nautical living room should feel laid back and relaxed, and calm blues can recreate the beach atmosphere we all love.
9. Let Dark Tones Dominate
Dial up the drama by using dark blue tones across the room. An inky blue might seem overwhelming, but this shade can actually serve as the perfect backdrop for a mature living room. And against this moody color, your accessories and decorations can really stand out.
This is a statement look, so it's important to commit. Go for blue all over, and accentuate the design with equally bold contrasting colors. A warm orange or mustard yellow will look fantastic.
10. Add Elegance With Metals
Pair your blue with sleek metallic lines for a modern finish, or add old school luxury with the addition of decorative golds. Rich blues and shiny metals are a perfect match.
Brass can be used to give a vintage charm, particularly when used with dark woods and silky fabrics. Old school glamor can be emphasized by classic and clean golds, with straight lines adding an art deco effect. Or look to the future, and use cool silvers and minimal designs.
11. Finish With Natural Materials
Blue is a wonderful choice for the living room because it reminds us of nature, for a calming effect. And despite being a cool color, it can also be used to make a living room feel warm and welcoming. To do this, use natural materials for a rustic charm.
Leather and wood will bring a sophistication to this outdoors look, or use wools and linens for a cottage charm. Dried flowers and colorful prints make the room feel lived in, and can soften a cooler blue.
12. Look To The Mediterranean
When you think of the Mediterranean, what comes to mind? For us, it's the clear blue sky, a sparkling turquoise sea, clean white lines, and bold splashes of citrus colors.
Use this design palette for your living room to create a breezy and beautiful space, with a slight hint of the exotic.
Add lemon yellow colors to your Mediterranean living room with painted furniture and shutters, and decorate with pottery, tiles, and plants. This looks particularly good in a room with lots of natural light.
13. Introduce Opulence With Jewel Blues
A living room should be a joyful place: it's where the living happens! Pair sapphire blue with bright colors and plush materials to create a living room you can have fun in.
Choose a few statement pieces to create a look that's powerful without being overwhelming: a velvet sofa and a statement light fitting can be used to create a room that packs a punch without becoming crowded.
Let smaller furnishings such as patterned cushions do the rest of the work.
14. Play With Textures
Layering textures can lift darker colors and transform a simple color palette into a visually interesting look. By keeping your blues understated, you can pile on the textures without sticking to a single theme. Think soft suede alongside rustic woods and matte walls.
When it comes to decorating, keep colors toned down. Gray marble can lift a cool blue, and the sleek lines will work with the contrasting textures. Add a few metallic touches for an elegant finish.
15. Finish With Blue Details
Not quite convinced a blue living room is the way to go? Keep the walls white, and let blue be your accent color. A blue velvet sofa will instantly add elegance to a living room, and with a few patterned cushions, can immediately liven up the space.
A blue themed gallery wall is another excellent choice. Blue artwork can be calming and soothing, and a gallery wall gives you a chance to experiment without commitment.
Or if you're thinking of a blue living room, but you're not ready to go all out, start with a blue accent wall.
Final Thoughts
Blue is a revitalizing and refreshing color. It reminds us of being outdoors, and this natural appeal can have a soothing and calming effect. In the living room, blue is an adaptable shade that can be combined with a range of colors and decorations to create a welcoming look.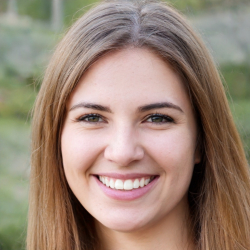 Latest posts by Maisie Park
(see all)