Is your bedroom decor looking washed and aged? Ready to inject a new lease of life into your old walls and wake up to sunshine every day? These yellow bedroom ideas will leave you feeling energized, uplifted, and ready to transform your room.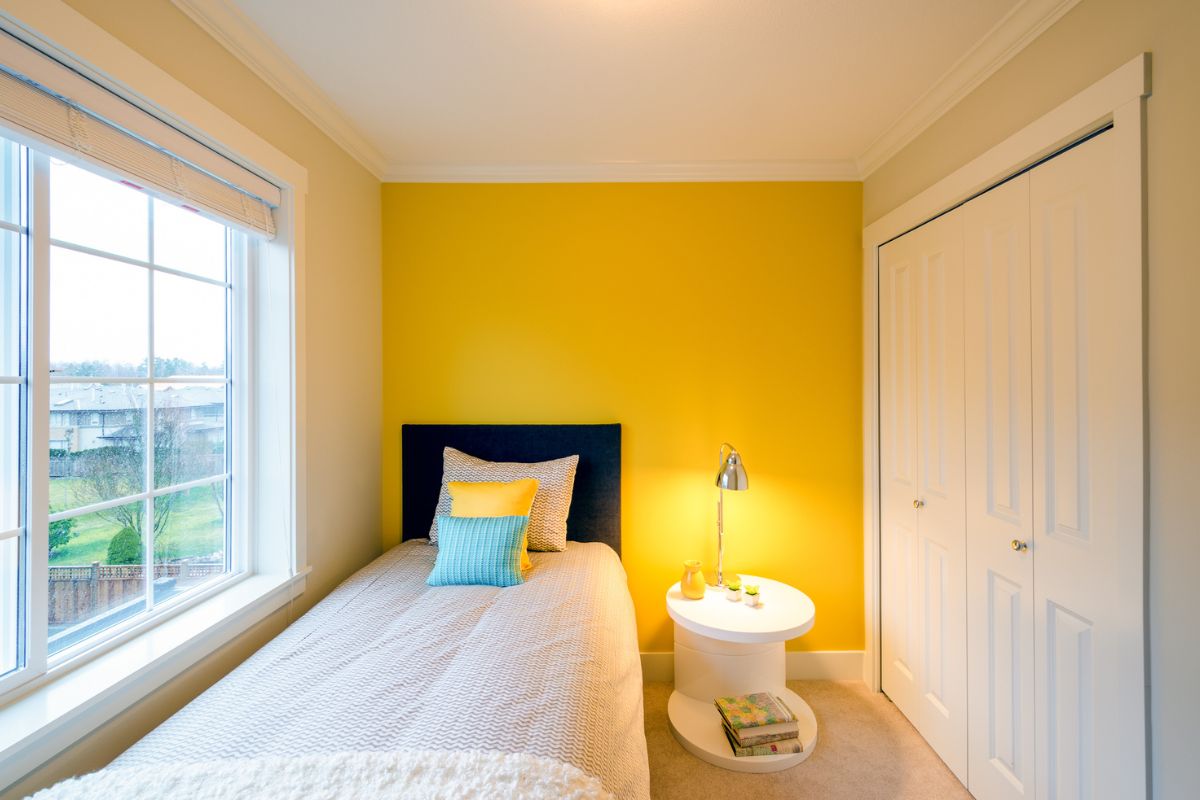 If you're looking to add a splash of sunshine to your bedroom, the opportunities are endless. However, one of the most popular ways you can do it is with bold, yellow walls.
Although we LOVE bright yellow walls, remember, you don't have to! There are so many shades of yellow to choose from that you can make your walls as bright or as muted as you like.
Here, though, we see a beautiful citrussy lemon contrasted with white and dark wood furnishings.
There's something undeniably sophisticated and refreshing about this pairing, and by painting your walls yellow, you won't have to dominate your furnishings with shades of yellow.
If you're decorating on a budget, this is great – a tin of paint is undeniably cheaper than buying a new yellow bed, wardrobe, or vanity.
Yellow furnishings don't have to be overbearing. If you want to inject some color into your bedroom while simultaneously maintaining an understated, chic look, try pairing your yellows with nothing but white.
In this image, we're greeted with a more punchy design – the yellow is the statement of the room, but by pairing it with white, we don't feel like we're walking into anything too busy.
If you want to tone down this pairing, opt for a more muted shade of yellow, especially if you're painting your walls.
You could also pair pure white walls with yellow furnishings, such as rugs, desks, and chairs, to create a slightly more 'grown up' feel.
For kids, though, a bold yellow wall screams happiness and fun without overdoing it.
We may associate yellow with more modern interiors, but it works just as well in older properties, too.
If your property boasts historical or period features, but you still want to inject a few elements of modernity into the place, this design goes to show that it's pretty simple to pull off.
With a muted, pastel yellow on the walls, contrasted with mid-century-esque wooden furnishings, this particular design makes us feel like we're being transported to the south of France.
With a splash of white and green in the mix, you can bring an elegant and timeless feel into your room, and you won't have to change much to achieve it!
There are so many ways to pull off a yellow bedroom. Let's be honest, though, bold yellow walls and furnishings aren't for everyone.
If you want to inject some subtle color and design into your room, take inspiration from these chic yellow florals.
With yellow-patterned wallpaper and a few small yellow accents around the room, you're creating a look that suits all ages and spaces.
It's inviting, homely, and brings an element of your own personality, but when contrasted with white and complementary colors, this isn't inherently bold.
If you don't want to feel like you're falling asleep inside a big ball of sunshine (understandable), using subtle yellow accents that AREN'T dominating is a great way to go.
If you have a period property, this is some excellent decor inspiration. As you can see, this particular bedroom design maintains a historical feel, perfectly balanced with hints of modernism.
If there's one thing you need to know about having a 'yellow bedroom', it's that not EVERYTHING needs to be yellow.
Instead, you can choose one dominating feature to be the infamous yellow centerpiece, and in this instance, we have a rug.
This white and yellow hand tufted rug would complement any large, minimalist space that needs a little life injected into it.
As we can see, having a pattern on your main yellow feature also makes it stand out more – so, even if it's balanced against other colors, anyone walking into your room will still come away considering its main features to be yellow.
If you're on a budget, this is another great way to make a statement without breaking the bank.
Yellow is one of the most versatile colors in the world. Not only can it create a quaint, historical bedroom, but it can also contribute to that modern industrial feel we see more and more of.
Here, a bold, yellow wall is contrasted with black, white, and green furnishings. This is undeniably modern and sophisticated without being overbearing.
When contrasted with black furnishings, a yellow wall is less likely to dominate your space, too. However, it's still loud enough to really make its presence known.
To pull off this look, you'd probably only need to paint one wall yellow, too. As we can see, simply painting the wall behind your bed, and choosing the rest of your furnishings carefully to complement the color, can be enough to make a statement.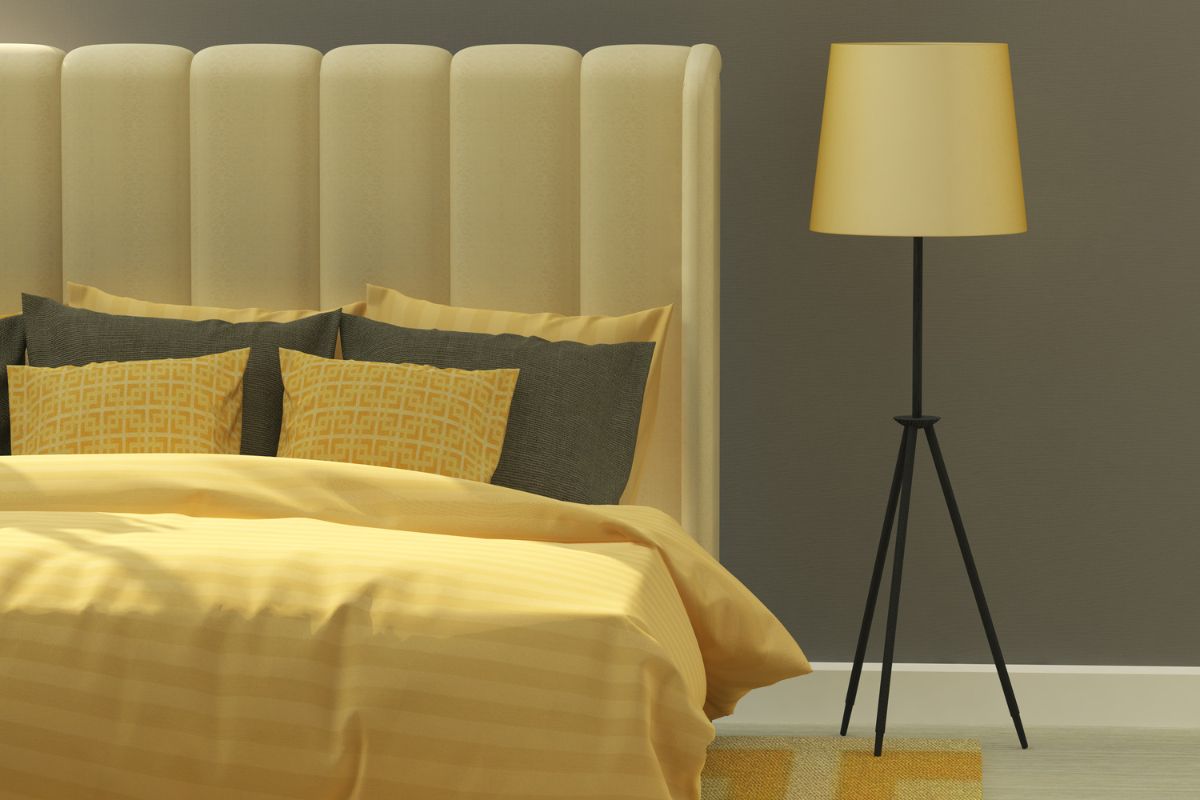 Yellow and gray – need we say more? If you want to stay on trend, try weaving together these two colors in your bedroom to create a gender-neutral, inviting space.
As we can see here, even with gray walls, yellow can become the dominating feature of a room, even when it's just seen in your cushions or bedding. Throw in a few hints of brown and gold for a luxurious feel.
If you're a fan of DYing, why not have a go at upcycling your existing furniture yourself? This gorgeous yellow vanity will make a lasting impression in any room, and as you can see, it doesn't have to be a bold, neon yellow to do it.
Pastel, clay-like tones can help create a warm, shabby-chic feel to any bedroom. Contrast with other vintage furnishings and a fresh pot of flowers, and you'll never want to leave.
If you've been looking for a quick, simple, and somewhat unexpected way to incorporate yellow into your room… paint your ceiling. Yes, really.
Creating a yellow room doesn't mean you have to change all your furniture and paint every wall – painting your ceiling yellow quite literally lights up the space, and adds another dimension of height to your bedroom.
Plus, you'll never wake up feeling down in the dumps again!
If you want your bed to be your yellow centerpiece, a yellow headboard is an unconventional way to do it. Having a yellow headboard also gives you more freedom to play around with other colors in your room.
It'll pair well with anything from black and gray to white or brown, and you can even throw in some patterned features to your room while still keeping the focus on your headboard.
Bright yellows are unwaveringly powerful, but opting for deep yellow decor can change the tone completely. If you don't want to walk into your bedroom and be greeted by energetic, bold hues, a deep yellow (borderline mustard, really) can get you ready to relax and unwind.
A deep yellow wall is classy and stylish, and when paired with dark wood, you can't go wrong.
If you have the space, why not try something a little different and create a yellow alcove? As we can see, with the outside painted yellow, there's no denying that on first appearances, this is the statement piece of the room.
When you get tucked up in bed, though, you won't take the business with you if you opt for a gray interior. Sunny on the outside, nighttime on the inside – what's not to love?
If you want to bring more of a vintage, historical feel to your bedroom, pair bold yellows with light, punchy greens.
In this image, a green wall is contrasted with yellow furnishings, and as you can see, you don't have to throw in too much yellow for it to take precedence over other colors.
Swap out the chair for a yellow throw on your bedding, and you'll feel like you're stepping into a stately home rather than your average urban brick-and-mortar build.
Talking of yellow and green, introducing more houseplants into a yellow bedroom can really balance out the boldness and create a more adult, modern space.
On its own, bright yellow can feel like it's bursting with life and energy. This is great, but if you want to tone it down a little, putting a few more houseplants on your shelf can draw the attention away and change the tone altogether.
While we're on the topic of subtly, let's talk about yellow accent walls. Painting your walls or ceiling yellow is a simple way to make your room a yellow room, but it can also be done with yellow accents.
Here, we see a simple wallpaper where yellow isn't the primary feature, but somehow, it still manages to command its space. If you want to be even more subtle, don't pair this with bold furnishings.
Add subtle yellow accents throughout your space, in the form of ornaments or even on paintings, to really complement the space in a low-maintenance kind of way.
Final Thoughts
Whether you're after subtle, muted tones or a bold, statement design, we hope we've shown you that yellow can do just about anything you want for your bedroom!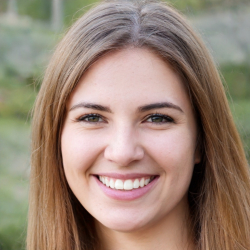 Latest posts by Maisie Park
(see all)