Color Of The Year, Evergreen Fog, is currently generating quite the buzz and many people are asking me the same question – will this color work well in my home?
And the answer, of course, is yes! I love Evergreen Fog, it's a relatively neutral color that provides a welcomed break from those grays and beiges. 
Don't get me wrong, there's nothing wrong with a good beige or gray, but I just find that it's a little overdone by this point.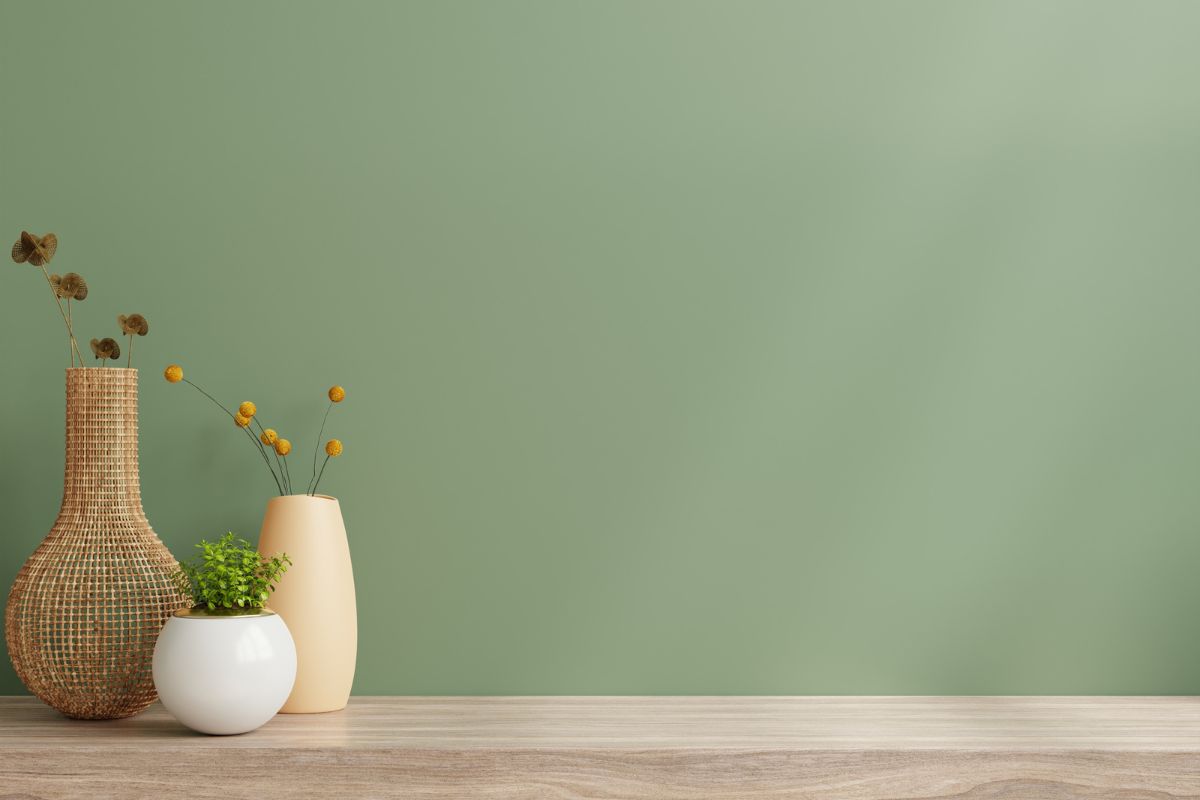 And I don't know about you, but there's something about the idea of my home looking the same as everyone else's that just irks me. 
But Evergreen is this beautifully calming green-gray shade that is really beautiful, and it can fit into your home perfectly, providing you know how to work with it.
The colors that you accent it with are also really important to ensure that it works within the home. So, now that we've established that Evergreen Fog does work in your home, let's take a look at how to make it work. 
What Color Is Evergreen Fog?
Okay, so let's get the basics down first. What exactly is the color of Evergreen Fog? Well, it's an assortment of multiple colors, it's a greeny-gray-blueish color that does work well as a neutral.
However, lighting is also important to remember since your amount of natural light, or lack thereof, can create greener or bluer hues rather than that more neutral gray.
It's also not classed as a light color, regardless of its neutrality. I'd say it's much closer to a medium color.
It is definitely a stunning statement shade though, it has a very calming nature and looks almost serene in the natural light.
While in rooms that lack natural light, it's a much deeper and darker color that reminds me of forestry almost. 
What Undertone Is Evergreen Fog?
There are definitely neutral undertones to this color. However, you can actually manipulate which undertones are noticed in this color from room to room.
For example, decor and lighting can massively influence whether the color is perceived cooly or warmly. 
What Colors Can You Use To Coordinate With Evergreen Fog?
There are quite a few different colors that you can use to coordinate with the color Evergreen Fog, but as a rule, I would say as long as you stick to a neutral color then you should be fine.
However, I find that the following Sherwin Williams colors complement it perfect: 
The warm undertones of these colors work really well with the Evergreen Fog. I'd also try and choose warm-colored materials for decor such as warm wood tones.
Evergreen Fog Home Ideas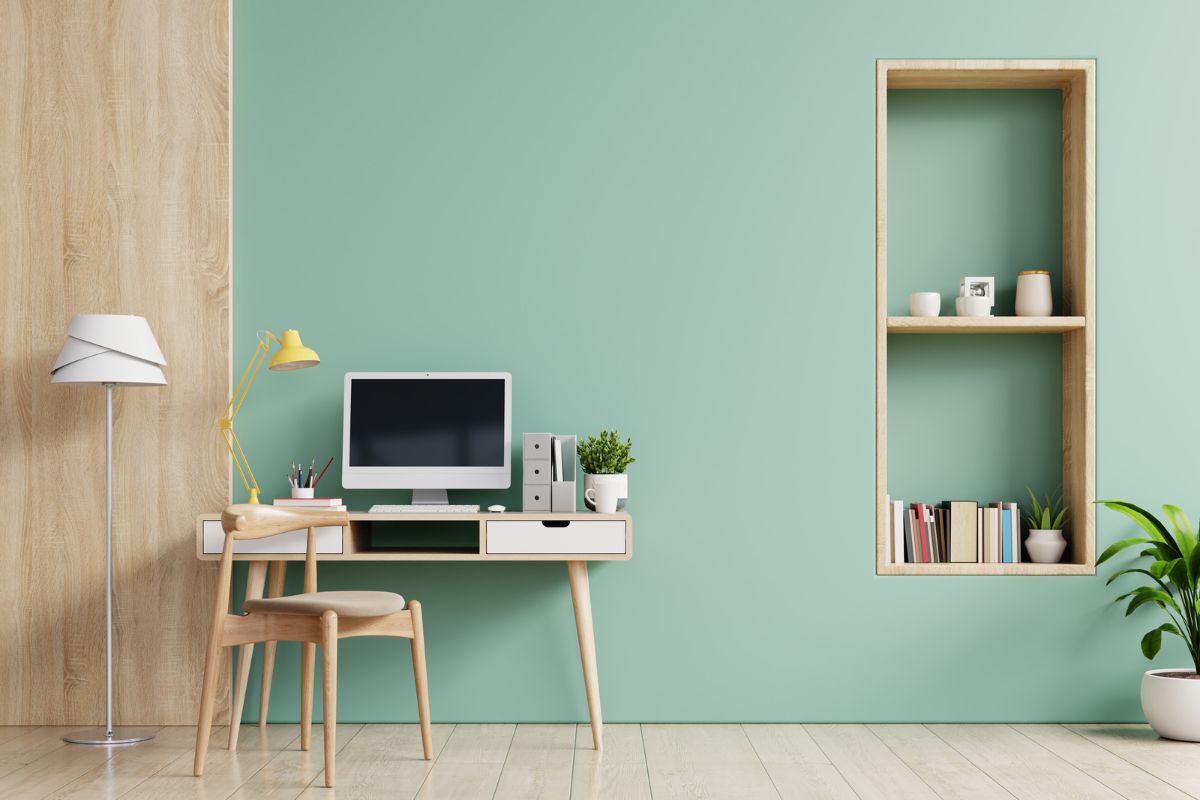 So how can you incorporate Evergreen Fog into your home design? Well, there are plenty of different ways you can do so. Below you'll find a few of my favorites!
1. Evergreen Fog Walls With Natural Materials 
If you want a cozy room that will make you want to sink into the sofa and read for hours then you'll want to paint your walls with the evergreen shade and throw in some warm neutral colored materials.
It's such a calming and chilled-out environment when this is done. Paint your walls in Evergreen Fog and then use wooden furnishings and brown leather for your couches.
Add a cream/white pillow, lamp, or desk, and notice how all those natural colors blend together seamlessly. 
2. Evergreen Fog Walls With White Trim
If you don't like your home to feel too dark, then pairing this color with a nice white trim will have an amazing brightening effect on the room.
I find that doing this makes it not only brighter and lighter, but it also makes the room seem larger and more open, and just a lot fresher. 
I'd usually add a black accent here or there to tie the darker moodiness of that green hue with the light and bright white trim. It's a really flattering color palette and has that perfect balance of light and dark.
3. Evergreen Fog Kitchen Cabinets
Love the Evergreen Fog color, but find it a bit too much for your walls? Then why not try giving your kitchen cabinets a new lease of life with the color?
This way, you get to use the beautiful color without it taking over the whole room while still making a statement. 
Remember that the color changes depending on your abundance or lack of natural light.
I always think that this color looks perfect in a kitchen with big windows and access to lots of natural light as the color itself comes across as a much lighter shade.
If your kitchen does not have much access to natural light then the room will appear quite dark. 
4. Evergreen Fog As An Accent Wall
For some, Evergreen Fog can be a little too much for all four walls, especially if you don't have access to tons of natural light.
However, having an accent wall can be the perfect solution to the issue. You still get to enjoy the unique and stunning shade, but just in a smaller and contained area. 
5. Evergreen Fog Bathroom Walls
For those with dark or dingy bathrooms, Evergreen Fog can be an immaculate option.
Make sure that you kit the bathroom out with light-wood-looking furnishings and black and white accessories, and watch it transform into a stunning modern and sleek-looking room. 
It also has a really calming effect which I think is perfect for those cold winter months when you run yourself a boiling hot bubble bath!
6. Evergreen Fog Accent Wall For Bedrooms
Evergreen Fog can be the perfect backdrop for behind your bed, it's calming and neutral color will help you keep that sleepy feeling at bedtime.
And it also looks absolutely stunning. I think this works best with very white bedrooms.
Keep all of your bedroom accessories white and gray and just watch how well it ties in with that accent back wall. It looks absolutely beautiful. 
7. Add Extra Life To Your Laundry Room
When we start to decorate our homes, we tend to focus on the big rooms. The main rooms that you spend most of your time in. And this makes sense. But sometimes those smaller, less important rooms get forgotten about.
Adding Evergreen Fog to your smaller spaces such as your laundry room can really give these rooms a whole new lease of life.
It's a cheap and easy way to really bring everything together and make your whole home look immaculately planned and styled. 
Frequently Asked Questions
Does Sherwin Williams Evergreen Fog Only Come In Interior Paint? 
Nope! You can get Evergreen Fog in both interior and exterior paint, so regardless of which sheen you prefer, you are guaranteed to be able to find the Evergreen Fog for you.
Is Evergreen Fog A Warm Or Cool Color? 
Evergreen Fog is pretty neutral, so it will work well with pretty much any other color.
Many expect Evergreen Fog to have particularly cool tones due to the green and blue undertones, however, it's really not that cool of a hue. In fact, I would recommend leaning closer towards warm tones than I would cool ones. 
What Are The Best Accent Colors For Evergreen Fog? 
The way that I would put it is, if you can find the color in nature, it can go with Evergreen Fog. Though these aren't the only colors that work, I find these organic colors definitely work best.
Blues, whites, browns, blacks, and golds all tend to look really good next to Evergreen Fog. 
Final Thoughts
It's not hard to see why Evergreen Fog has been named color of the year. It's such a great color that works well and seamlessly in your home.
It's a nice neutral color that also has an underlying pop to it. You can dress it up or dress it down, and it just looks great every time. 
Hopefully, some of my home examples will have sparked some inspiration for you as to how to use this color in your own home.
The only real piece of advice I'll leave you with is to always consider your natural lighting. The color lightens with natural light but becomes much deeper in the dark.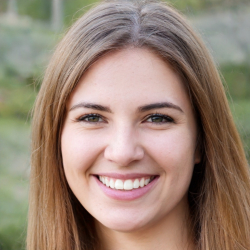 Latest posts by Maisie Park
(see all)